Hello and welcome to the 178th instalment of the SWD.
Military events/news are listed below by the governorates:
Raqqa:
Some days ago the Syrian War Daily reported that SDF fronts in south Raqqa city were connected. Although, the SDF official Mustefa Bali (@mustefa2bali) confirmed later today that western and eastern fronts finally made advances until they connected both fronts. The official SDF press article can be read here.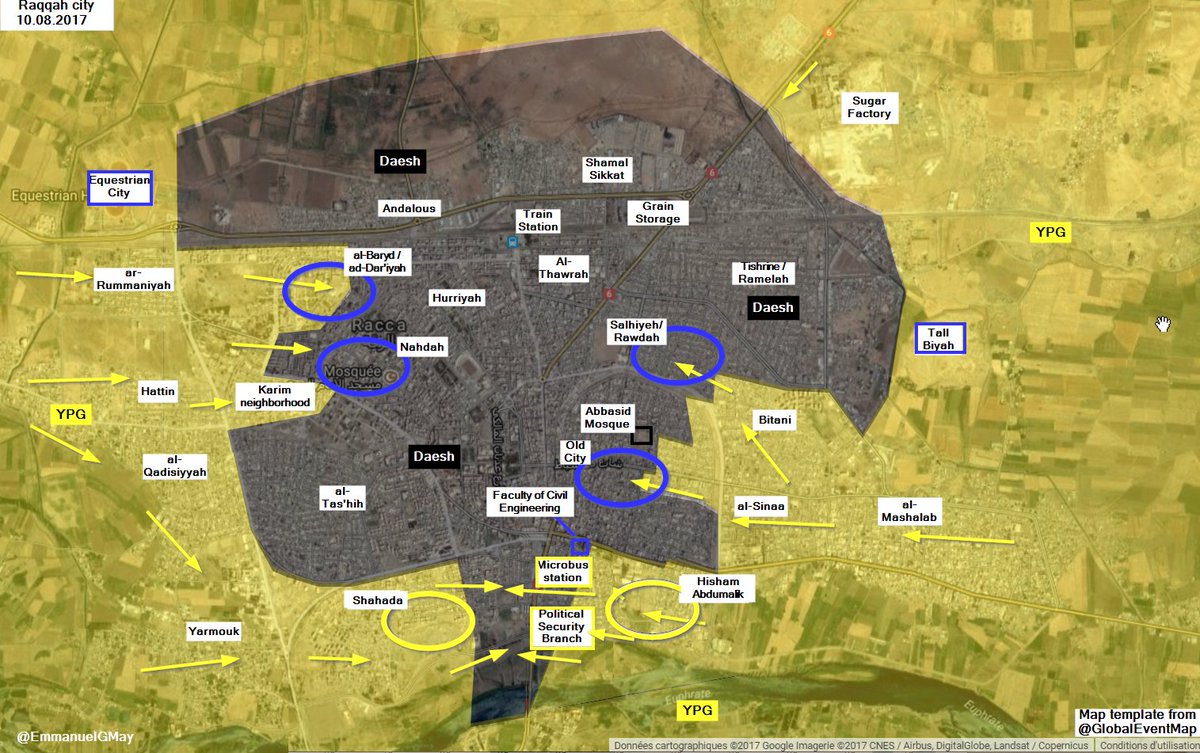 In addition, another 125 civilians have been freed from ISIS by the Syrian Democratic Forces in Raqqa. The Syrian Observatory for Human Rights reports that 79 ISIS fighters have been killed in Homs and Raqqa provinces.
Pro-government sources have reported that Maadan town is being evacuated by ISIS forces. Moreover, the SAA is sending reinforcements from Hama towards Raqqa countryside. This could mean that a fresh offensive could start soon.
Aleppo:
The Coalition spokesperson confirmed that there was a direct attack against US Special Operations Forces vehicles in Manbij, and has confirmed that the US does not know who perpetrated the attacks against the US SOF vehicles.
An ISIS sleeper cell was arrested in an anti-ISIS raid in Jarabulus town. Additionally, the FSA security department issued an order banning the balaclava gear and veils for security reasons.
Ahrar al-Sham announced the group repelled an SDF infiltration attempt into Abla village in northern Aleppo. Meanwhile, SDF and FSA forces continue shelling each other with multiple civilians being injured, Turkish-backed forces report that at least three civilians were wounded in the town of Mare.
Hama:
The SAA made advances and took control of Kharab Al-Qutnah and Jabal Duwaylib, and Tell Mazroor areas south to Marina village.
Some sources report that five prisoners who were held in government prison on charges of terrorism for more than four years were released after their relatives paid fines to the government.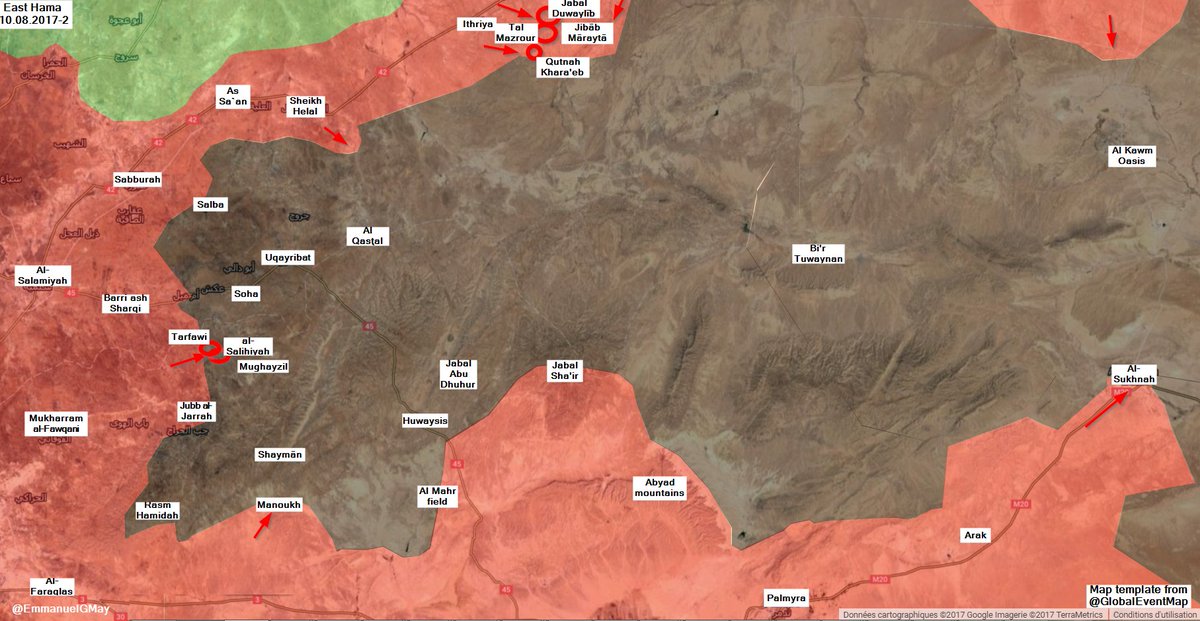 Homs:
Syrian government warplanes strike multiple towns in the northern Hama pocket, hitting the towns of Kafrlaha, Tal Zahab, Houla and Taldo. The strike on Houla city was 15 km away from the recently established Russian Military Police checkpoints.
Syrian Arab Army and allies advanced into al-Salihiyah village, east of Abu al-Alaya, and later on, liberated Tarfawi village from ISIS.
On Sukhnah front, the SAA and allies are advancing in the middle of Sukhnah city, according to the ANNA news reporter.
The Syrian government Airforce targeted ISIS in Jaroud Jarajir in West Qalamoun, the area at the Syrian-Lebanese border in which ISIS controls a significant area.
Damascus:
The Syrian government has announced that it will participate in the Lebanese border offensive against ISIS. Hezbollah and the Lebanese army will attack from the Lebanese side of the front, while the SAA will push ISIS forces towards the Lebanese border.
According to FSA Faylaq Al-Rahman, SAA 4th division was ambushed with at least 20 fighters being killed inside a booby-trapped building (the Post Office)In the area of Ayn Tarma. Although, SAA made advances and captured a whole building block north of the Sunbel gas station. Government units also tried to advance in Jobar from Sawmills axis as shown in the map below: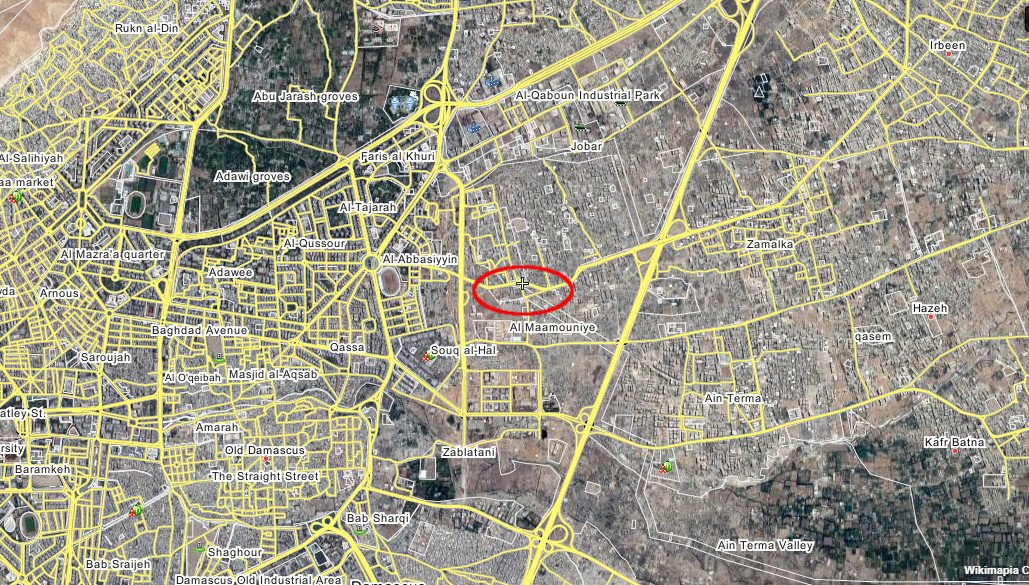 Government forces targeted Ayn Tarma area with surface-to-surface missiles in Eastern Ghouta, warplanes targeted Hamorya town, and heavy artillery targeted Jobar.
As-Suwayda:
The SAA, the Palestinian Liberation Army, the SSNP, and allies took control of the entire Syrian-Jordanian border in Suwayda area after capturing border post garrisons 154 and 143. The entire recaptured area is of 1300 square km.
Deir ez-Zor:
Different images and videos from both SAA and ISIS show that, probably, most casualties were from ISIS and not from Syrian government troops as reported by pro-IS sources. Although, this remains unclear.
Amaq
Egypt
The Islamic State claims responsibility for the killing of a soldier in the south of Al-Arish city in northern Sinai. Moreover, the terrorist group has damaged two armoured vehicles and to have killed of the Army Officer Omar Al-Saqqa in the same area.
CJTF-OIR:
On the 8th of August 2017,  CJTF-OIR has conducted 16 strikes in Syria.  CJTF-OIR's main focus in Syria is Raqqa region where they did 14 strikes supporting SDF's operations against IS destroying 27 fighting positions, five command and control nodes, two heavy machine guns, a mortar system, a vehicle, and an IED factory.
Other areas where two strikes occurred are Abu Kamal and Deir ez-Zor destroying ISIS oil equipment, and an ISIS well-head. The full report on  CJTF-OIR strikes conducted in both Syria & Iraq can be found here.
Other:
Intellectual credited properly used may vary from an edition to edition.
Feel free to voice your opinion in the comments section below, constructive criticism is welcomed.
For those of you interested, you can follow me on my personal, controversial twitter @alextorrell where I constantly tweet about different issues and conflicts.