Hello and welcome to the 170th instalment of the SWD.
Military events/news are listed below by the governorates:
Raqqa:
SDF has captured Shahadah district from ISIS militant, thus capturing the "political security zone" in Hisham bin Abdulmalik district. Almost all the entire southern districts of Raqqa city have already been liberated by the SDF. This permits the US-backed forces to push towards the city centre from the south, too. Syrian Democratic Forces are advancing towards the government headquarters in Berid district from the west part of Raqqa city. According to Brett McGurk, the Special Presidential Envoy for the Global Coalition to Counter the Islamic State of Iraq and the Levant, the recent progress made by SDF has liberated key territory and hundreds of civilians from ISIS control.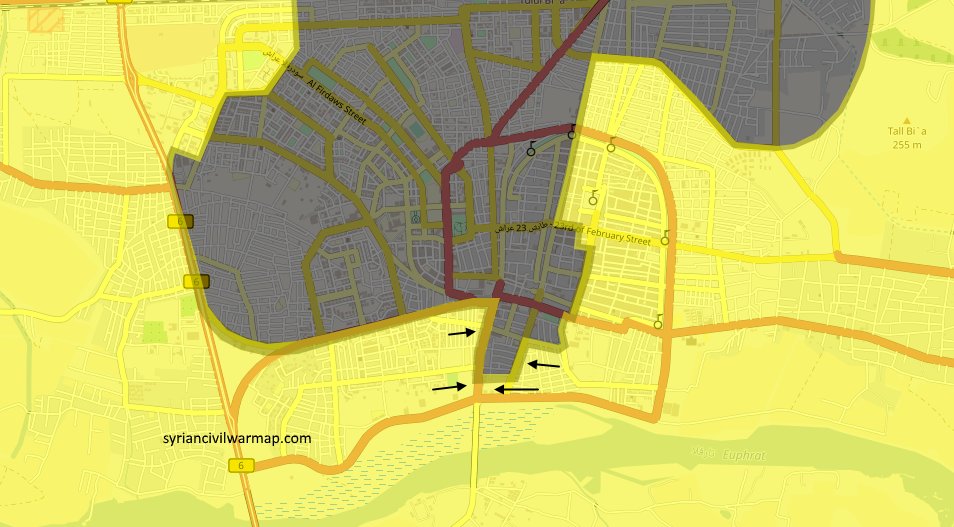 Meanwhile, the Islamic State forces claimed to have killed more than 15 SDF fighters in clashes in Raqqa city.
Today, SAA forces have captured Ghanim Ali village. The Syrian Republican Guard 124th Brigade reportedly infiltrated into ISIS territory and destroyed a technical. Moreover, SAA Tiger Forces have, at least, lost  10 soldiers due to ISIS ATGMs strikes on their vehicles.
Aleppo:
Today, Turkish forces and its proxies continued shelling Kurdish positions in Afrin with heavy artillery.
Another incident involving Syrian refugees being humiliated and beaten by Turkish soldiers took place. The refugees were trying to enter Turkey illegally.
According to Chinese Xinhua News, almost 400 Syrians returned from Manbij to Maskana and 410 left Jarablus and Raqqa to go back to their homes in Aleppo governorate.
Idlib:
US drones have been spotted again over Idlib as can be seen in this video.
Hama:
The Islamic State claims to have stormed a military position somewhere near Ithria and to have killed 33 soldiers, including high ranking officers, and to have captured 1 tank, 2 bulldozers, 2 23-caliber machine gun, 2 ammunition trucks and four-wheel drives. An attack using  VBIED can be the reason for such high number of casualties.
On the government side, Russian air strikes hit Akerbat area in eastern Hama countryside.
Homs:
For the third consecutive day, 6 air strikes targeted Houla city in northern Homs countryside. Furthermore, government tanks also shelled Kafrlaha and Taiba towns. Both attacks resulted in civilian casualties. Shelling also targeted Talbishe, followed by sporadic clashes in its surroundings, as a consequence, an unknown number of civilians have been injured.
Reports emerged about talks taking place between Russia, the Syrian government and northern Homs factions about a reconciliation and ceasefire deal.
A unit of FSA group, Jaysh Maghawir al-Thawra, has been reported to surrender to the Syrian Army after the US forces told them (FSA) to exclusively focus on fighting ISIS. The US-led coalition also warned those factions willing to fight government forces that, "if they choose to pursue other objectives, the coalition will no longer support their operations" you can read the full news here. Reports also suggest that those groups were told to give back their weapons within a limited time. Another FSA unit, Shuhada al-Qaryatayn, reported that the US threatened to bomb their Headquarters and announced that the leadership has decided not to return the weapons to the coalition, "and will continue to use them against the Syrian regime." You can read the full statement here.
Damascus:
Government forces bombed the neighbourhoods of Ein Tarma, Jobar, and Zamalka in Eastern Gouta.
Iraq 
Nineveh:
Iraqi Federal Police Units have cleared 40% of Mosul Old city from IEDs and other explosives left behind by ISIS forces. Also, dozens of weapons were seized.
Iraqi PMU has started operations to clear 17 villages south of Tal Abtha in west Mosul.
Baghdad:
Iraqi security forces killed an ISIS suicide bomber wearing an explosive vest that tried to attack an Iraqi army compound west of Baghdad.
Ambar:
Some reports suggest that ISIS sleeper cells are regrouping.
Amaq
Afghanistan:
The Islamic State released pictures showing its fighters stationed in Tora Bora. Also, the terrorist organisation released a picture of the two suicide attackers who carried out a raid on the Iraqi embassy in Kabul. Yesterday's raid killed 27 people.
Yemen:
ISIS has attacked Houthis in Dhahra area in Bayda.
Philippines:
ISIS forces killed, at least, 3 soldiers and wounded 4 in Marawi city. The city was captured by the Islamic State on the 23rd of March 2017 and still remains under ISIS control. As of 31 July 2017, casualties include 502 ISIS militants killed, 114 government forces killed and 60 missing, and 119 civilians dead. Some reports rise Philippine government forces wounded as high as 900.
CJTF-OIR:
On the 31st of July 2017,  CJTF-OIR has conducted 20 strikes in Syria.  CJTF-OIR's main focus in Syria is Raqqa region where they did 16 strikes supporting SDF's operations against IS destroying 14 fighting positions, a tactical vehicle, a mortar system and a VBIED facility.
Other areas where 4 strikes occurred are Al-Shadaddi and Deir al-Zour, destroying 13 ISIS oil stills, an oil storage barrel, an ISIS chemical weapons factory a command and control node and an ISIS-held building. The full report on  CJTF-OIR strikes conducted in both Syria & Iraq can be found here.
Other:
Intellectual credited properly used may vary from an edition to edition.
Feel free to voice your opinion in the comments section below, constructive criticism is welcomed.
For those of you interested, you can follow me on my personal, controversial twitter @alextorrell where I constantly tweet about different issues and conflicts.