Hello and welcome to the 138th installment of the SWD.
Military events/news are listed below by the governorates:
Raqqa:
Syrian Democratic Forces entered Al-Dariyah district in the western part of Raqqa and captured several localities inside of it. In the eastern part of Raqqa, Islamic State launched a large counterattack in Al-Sinaa district, capturing parts of the district from SDF. Amaq agency claimed death of at least 20 SDF's fighters due to clashes in a number of districts of Raqqa.
Islamic State also launched an attempt to break the siege of Raqqa, SDF addressed the attack, reportedly killing more than 30 IS' fighters, but also lost four fighters of their own.
Syrian Arab Army's units on Ithriya – Resafa road linked up, creating a large Islamic State's pocket east of Khanaser. Encircled area is already being treated as under SAA's control, since most of it is vast, uninhabited area and the parts that are somewhat "urbanized" are guarded by small IS' garrisons, that is, if there is still IS' presence in the pocket.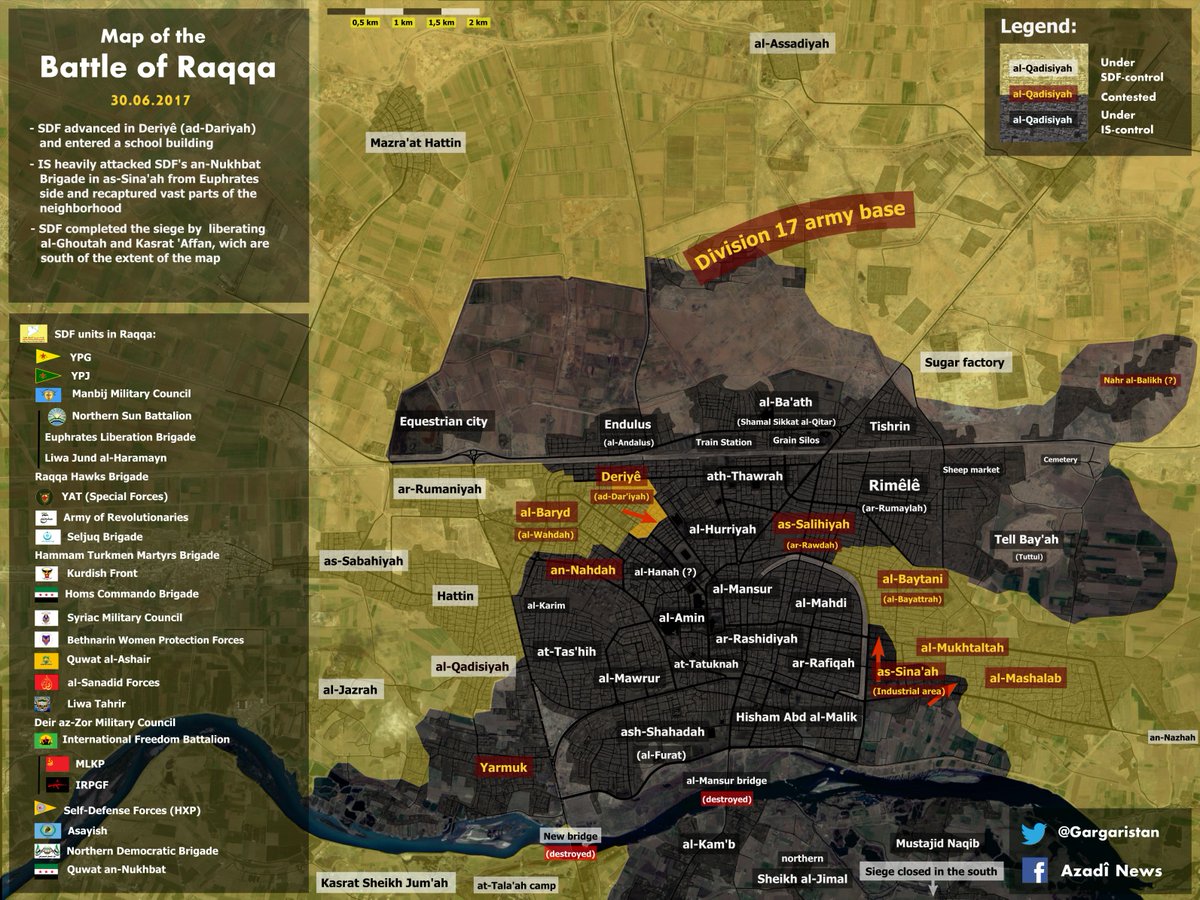 Situation in Raqqa. Source: Gargari
Situation in Ithriyah – Resafa road's area. Source: Global Event Map
Idlib:
City of Idlib was hit by at least five separate explosions today. Out of those five, at least one was safely detonated by the security forces, however, seeing how there were reports about only one injury from those five explosions, it is plausible that all of the explosions were triggered by the security forces.
Hayat Tahrir al-Sham launched another arrestment campaign, focusing on FSA's fighters previously engaged in Turkey-led Euphrates Shield operations, and on members of Ahrar al-Sham. After HTS reportedly arrested around 25 individuals in Al-Maghara, Jericho and Jabal al-Zawiya areas, Ahrar al-Sham arrested 20 HTS' fighters. As HTS was storming houses for the wanted individuals, Ahmed Sabri, brother of one of the wanted FSA's fighters, was killed.
Ahrar al-Sham's headquarters in Harem were affected by an explosion, casualties from the incident are unknown.
Hama:
Amaq Agency released a statement claiming Islamic State carried out an ambush against the Syrian Arab Army near the Abu al-Alaya village, east of Al-Salamiyah. According to Amaq, 22 SAA's soldiers were killed in the ambush.
Damascus:
Syrian Arab Army reportedly captured a gas station in Ain Terma, east of Ain Terma junction. On a Jobar front, a bit to the north, Syrian Arab Air Force conducted 15 airstrikes in the area. Two more SyAAF's airstrikes targeted Zamalka.
Quneitra:
Mutual shelling between rebels and SAA continues in Quneitra governorate, once again, a projectile landed in Israeli-held Golan Heights prompting Israel to retaliate, yet again. Israeli warplane targeted SAA & allies positions close to Samdaniyah al-Sharqiya, engaging a tank and an artillery position.
Daraa:
Syrian Arab Air Force was very active over rebel-held areas of Daraa governorate today, more than a dozen of airstrikes on several localities were reported. Some of the areas targeted by SyAAF are Ghraz, Al-Naima, Muzayrib, and Al-Ashari. Rebel headquarters were allegedly targeted by SyAAF's warplane in Dael.
Rebels and Syrian Arab Army exchanged bodies of the fighters killed in Daraa since the February. SAA received around 22 bodies, while rebels got 11. Second phase of the arrangement is expected to go into effect in a couple of days, around 40 rebel bodies will be handed over. These 40 rebels were killed by SAA's ambush on an abandoned battalion, east of Ibta.
Siege of Hayt village continues for the eight day, Jaysh Khalid ibn al-Walid reportedly damaged a rebel tank in the vicinity of the village.
Iraq
Nineveh:
Iraq Joint Operations officially announced Al-Nabi Jarjis, Al-Shaareen and Abd Khawb areas in Old Mosul, as officially captured by Iraqi forces from Islamic State. To give an impression of how intense clashes in Old Mosul are, IS' casualties for the past 24 hours have been reported at more than 70 fighters. Similarly, IS' Amaq Agency claimed at least 40 Iraqi casualties due to clashes and snipers.
The main part of Amaq's claimed casualties comes from clashes in Bab Laksh neighborhood, IS allegedly killed 18 members of the Iraqi Federal Police, including two officers. Furthermore, Amaq claimed IS' snipers killed six policemen at the outskirts of Al-Kurnish, Bab al-Toub, and Bab Laksh areas.
The remaining Amaq Agency's statements include death of seven Iraqi soldiers due to clashes in Al-Farouk street and death of another nine Iraqi soldiers in Al-Khazraj area.
Yesterday, Iraqi forces captured IS' commander, Jazaa Dabas Rawi, in Old Mosul.
Latest situation in Old Mosul, according to Iraq Joint Operations.
CJTF-OIR

:
On the 29th of June 2017 CJTF-OIR has conducted 30 strikes in Syria. CJTF-OIR's main focus in Syria at the moment is Raqqa region where they did 20 strikes supporting SDF's operations against IS destroying 18 fighting positions, three vehicles, three front-end loaders, two tactical vehicles and a mortar system.
Other areas where 10 airstrikes occurred are Abu Kamal (Al-Bukamal), Al-Shadaddi and Deir al-Zour, destroying seven IS oil trucks, five oil separators, a front-end loader, an oil tank, two well heads, a mortar system and a tunnel, four IS oil stills, four oil storage tanks and a modular oil refiner. Full report on CJTF-OIR strikes conducted in both Syria & Iraq can be found here.
Other:
Intellectual credited property used may vary from an edition to edition.
Feel free to voice your opinion in the comments section below, constructive criticism is welcomed.
For those of you interested, you can follow us on an official Twitter account @SyrianWarDaily, or me personally on my biased twitter @joskobaric where I occasionally tweet some things.