Hello and welcome to the 123rd installment of the SWD.
Military events/news are listed below by the governorates:
Raqqa:
Syrian Democratic Forces completely secured Al-Sinaa district in the eastern part of Raqqa, after four days of clashes with Islamic State. SDF also entered Al-Batani and Al-Bayatra districts. In the western part of Raqqa, SDF repelled Islamic State's attack on Al-Sabahia district.
Amaq claimed Islamic State's improvised explosive device in Al-Mashalab district yesterday killed two SDF's fighters and wounded five more.
SDF's commander, Yahya Muhammad Shehedah, was killed in Raqqa due to clashes with Islamic State.
Southwest of Tabqa, Islamic State launched an attack on the village of Hawrah and reportedly killed five SDF's fighters.
Situation around Raqqa. Source: Emmanuel
Idlib:
Ahrar al-Sham's fighter was killed and several more wounded by Hayat Tahrir al-Sham, during the heated disputed between the two which escalated into light clashes between the groups. Reason for the dispute was the newly-created HTS' checkpoint in Al-Alawin area, Jisr al-Shughur. Two sides quickly reached an agreement which includes, arrestment and prosecution of HTS' fighter responsible for the death of AAS' fighter, he will be tried at Jaysh al-Fatah's court. Agreement also includes HTS' handing over the newly-established checkpoint to AAS' supervision, until Jaysh al-Fatah's court reaches the decision regarding it.
One civilian was killed due to an explosion of improvised explosive device in the town of Al-Dana.
Unknown gunman opened fire in the city of Idlib, near the Abu Dhar mosque, killing a child and wounding his mother. Security forces in Idlib arrested the individual believed to be the perpetrator.
Homs:
East of Arak, Syrian Arab Army captured Syriatell hill from Islamic State.
Damascus:
Free Syrian Army's group, Jaysh Tahrir al-Sham (Liberation Army of Sham/Syria), based in the rebel-pocket of East Qalamoun claimed to have killed a group of soldiers belonging to Hezbollah near Al-Ruhaybah. Jaysh Tahrir al-Sham released a statement explaining the chain of events that led to the alleged death of Hezbollah's fighters. Hezbollah's "public relations officer", Haji Samir, reportedly brought the fighters on the 15th of May to Syrian Arab Army's, Al-Liwa 81 Dababat (81st Tank Brigade), part of Al-Firqat al-Thaalithat (3rd Division), in order to conduct "special operations", such as setting explosive devices and assassinating prominent rebel figures.
According to the Jaysh Tahrir al-Sham, they acted in self-defense as the group was going to kill one of their commanders, sooner or later. Four Hezbollah fighters were allegedly killed, two more arrested and handed over to the court in Al-Ruhaybah where they supposedly admitted to belonging to Hezbollah. The alleged captured Hezbollah soldiers, also reportedly stated that their unit is based in the village of Doura, close to the border crossing with Lebanon, Rankous barrens.
Jaysh Tahrir al-Sham was formed in the March of 2015, and is being commanded by the defected SAA's captain, Firas Bitar.
Commander-in-chief of Jaysh al-Islam, Issam al-Buhadani (Abu Hammam) met with a group of journalists from East Ghouta and explained Jaysh al-Islam's reasons for the latest rebel infighting in East Ghouta, which was aimed at completely removing Hayat Tahrir al-Sham from the region. Abu Hammam covered the time period from last year's rebel infighting in East Ghouta to today's events. Jaysh al-Islam reportedly collected enough evidence to confirm that Hayat Tahrir al-Sham was a perpetrator that started last year's infighting, the latter was also criticized by Abu Hammam, who stated that the HTS changed its name several times, but remains on the same path, continuing to commit the same acts.
Hayat Tahrir al-Sham attacked Jaysh al-Islam last year while the latter manned around 80% of the fronts with SAA in East Ghouta, resulting in weakened fronts and loss of the large areas. After the rebels signed a ceasefire in the May of 2016, HTS started sending cells to assassinate commanders of Jaysh al-Islam, the captured "assassin" told he was receiving orders from Abdullah Hauran, deputy commander of Hayat Tahrir al-Sham in East Ghouta. HTS also sent a large number of recruits to infiltrate Jaysh al-Islam's ranks, steal weapons and flee. Weakening of Jaysh al-Islam was exploited by SAA which firstly captured Al-Bahariyah, and now most of Hawsh al-Dawahariyah. Jaysh al-Islam was very low on weapons because of around 1600 rifles stolen by HTS.
Abu Hammam then started to talk about the events that unfolded in Qaboun-Barzeh pocket. During the peace time, tunnel trade reached its peak, which prompted HTS' fighters and their families to move there. However, once the clashes with SAA started, HTS' fighters along with their families were the first to flee the rebel-pocket towards East Ghouta, abandoning the remaining rebels. Once those HTS' elements that fled Qaboun were in East Ghouta, they started erecting barriers/checkpoints in Arbin, preventing other rebels from sending reinforcements to Qaboun-Barzeh pocket. This resulted in another rebel infighting, the recent one.
Jaysh al-Islam repeatedly tried to keep other rebel groups out of their anti-HTS crusade, including the latter's ally, Faylaq al-Rahman. According to Abu Hammam, Jaysh al-Islam destroyed 80% of HTS' capabilities in East Ghouta, leaving only remnants of the group in the region. As Jaysh al-Islam dismantled HTS in East Ghouta, it found a number of detained people missing for over a year, and weapons stolen by HTS. These are some of the reasons why Jaysh al-Islam is on its anti-HTS crusade in East Ghouta.
Abu Hammam concluded his meeting by saying that he welcomes any defectors from HTS, as  Jaysh al-Islam's problem is with HTS' leadership, most of which is out of the country, according to Abu Hammam.
Daraa:
Rebels destroyed SAA's tank with an anti-tank guided missile in Palestinian Camp, Daraa city.
Rebel "Daraa Martyrs Documentation Office" reported death of three Free Syrian Army's fighters and one Jund al-Malahim's due to clashes with SAA in Daraa city, confirmed rebel death toll since the 3rd of June is at least 34 fighters.
Iraq
Nineveh:
Iraq Joint Operations officially announced Bab Sinjar district in west Mosul as completely captured from Islamic State by the Iraqi Army's 9th Amored Division. With this advance, Iraqi forces reached the outskirts of Al-Farouq neighborhood.
According to Amaq Agency, eight Iraqi troops were killed, including a sniper officer, at the outskirts of Al-Shafaa and Al-Zanjili districts, and Bab al-Toub neighborhood.
Iraqi forces restarted their advance east of Tal Afar, Iraqi Army's 15th Infantry Division captured Al-Buwair, Al-Lazaka, Al-Salam, Al-Mansour, Al-Mansour military factory, and Al-Buwair water purification station. After these advances, Iraqi forces are now around 20 kilometers (12 miles) east of Tal Afar.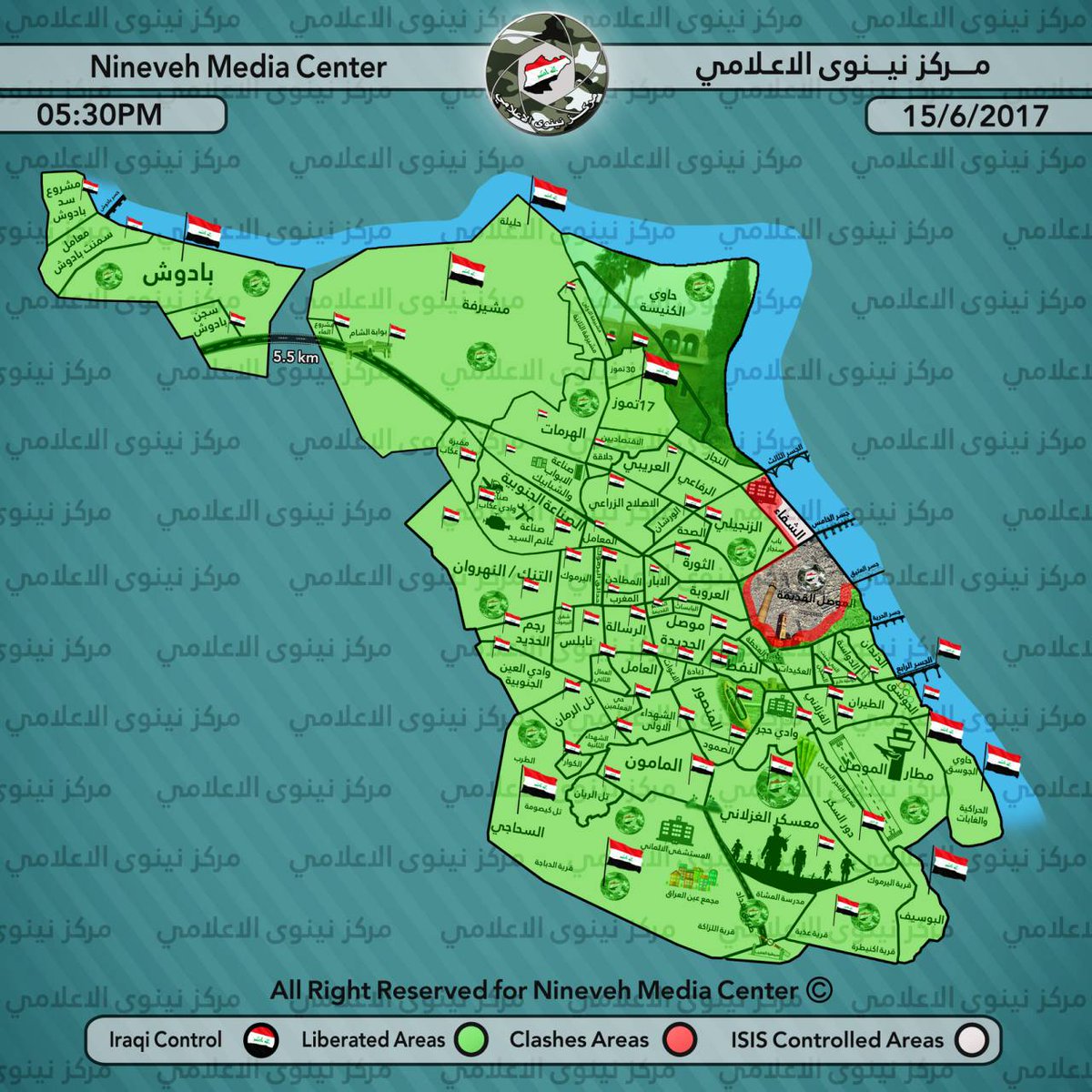 Latest map of west Mosul. Source: Nineveh Media Center
Situation east of Tal Afar. Source: Harakat Tahrir Tal Afar
Salah al-Deen:
Iraqi Air Force conducted several airstrikes over IS-held Hawijah, airstrikes were mainly concentrated on Al-Abbasi district where they destroyed four  IS' HQs, several ammo & weapon depots and killed over a dozen of IS' fighters, out of which, a large number are foreigners.
Yesterday, Islamic State's improvised explosive device reportedly destroyed Iraqi Army's Humvee, west of Tikrit.
CJTF-OIR

:
On the 14th of June 2017 CJTF-OIR has conducted 21 strikes in Syria. CJTF-OIR's main focus in Syria at the moment is Tabqa-Raqqa-Deir al-Zour region where they did 16 strikes supporting SDF's operations against IS destroying eight IS oil storage tanks, four IS oil separator tanks, three IS well heads, nine fighting positions, three IS boats, and a vehicle; and suppressing an IS tactical unit.
Other area where five airstrikes occurred is Abu Kamal (Al-Bukamal) destroying two IS well heads, and damaging a weapons cache, a weapons factory, and a VBIED factory. Full report on CJTF-OIR strikes conducted in both Syria & Iraq can be found here.
Other:
Intellectual credited property used may vary from an edition to edition.
Feel free to voice your opinion in the comments section below, constructive criticism is welcomed.
For those of you interested, you can follow us on an official Twitter account @SyrianWarDaily, or me personally on my biased twitter @joskobaric where I occasionally tweet some things.