Hello and welcome to the 117th installment of the SWD.
Military events/news are listed below by the governorates:
Aleppo:
Syrian Democratic Forces and rebels clashed at the outskirts of Darat Izza, as the former reportedly tried to advanced towards the city, however, rebels were able to repel the attack.
Islamic State's Amaq Agency reported IS' SVBIED targeted SAA at the outskirts of Mohammed Deeb village killing 15 soldiers and destroying four vehicles. Furthermore, the village also experienced two IS' anti-tank guided missile which destroyed a tank and a technical mounted with a machine gun.
Raqqa:
Syrian Democratic Forces continue to make big advances in and around Raqqa. On the eastern axis, SDF fully captured Al-Mashalab district and killed around 20 IS' fighters in the process. Before the district was captured, IS claimed nine SDF's fighters were killed by snipers yesterday, two more today. In the western part of Raqqa, SDF captured Al-Sabahiyah district and seized large quantities of weapons and ammo. In northwestern Raqqa, SDF surrounded Raqqa's grain silos.
West of Raqqa, SDF captured Al-Jazrah and Al-Jazrah water treatment station from Islamic State.
Amaq Agency reported more than 10 strikes by CJTF-OIR targeted the western neighborhoods of Raqqa. According to the agency, CJTF-OIR used white phosphorus in these strikes. The same Amaq Agency also claimed that 15 SDF fighters were killed as well as two American, in the vicinity of Raqqa.
Southwest of Tabqa, Islamic State recaptured Al-Arjawi and Dahr al-Rujum from Syrian Democratic Forces.
Map from earlier today showing situation in Raqqa, keep in mind that the map isn't updated with the latest SDF's gains. Source: SyriacMilitaryMFS
Idlib:
Temporary Truce came in effect in Maarat al-Numaan between Hayat Tahrir al-Sham on one side and Faylaq al-Sham, and Free Syrian Army's Al-Firqat 13 (13th Division) on the other. HTS did capture HQ belonging to Al-Firqat 13 and most of the city, but retreated from the captured areas meaning that Maarat al-Numaan is now again mostly controlled by Free Syrian Army factions. HTS' casualties from the yesterday's assault on Maarat al-Numaan are allegedly 7 dead and 25 wounded fighters.
Already mentioned temporary truce in Maarat al-Numaan didn't last long, clashes erupted once again between the same parties, Hayat Tahrir al-Sham on one side and Faylaq al-Sham, and Free Syrian Army's 13th Division on the other.
Two civilians were wounded by Hayat Tahrir al-Sham's fighters in Maarat al-Numaan during the protest against the group. HTS also arrested four protesters.
In Idlib, Hayat Tahrir al-Sham closed the office of Abdullah al-Muhaysini, popular radical preacher from Saudi Arabia.
Homs:
Islamic State destroyed SAA's tank with an anti-tank guided missile near Huwaysis, another SAA's tank and a bulldozer were destroyed in Al-Abbasiyah area.
Syrian Arab Army captured Al-Talilah reserve from Islamic State, east of Palmyra, in clashes SAA reportedly lost four soldiers and seven were wounded.
Deir al-Zour:
Syrian Arab Army regained all of the positions lost to Islamic State in Panorama roundabout's area.
Damascus:
Jaysh al-Islam and Syrian government conducted a prisoner exchange deal in East Ghouta. Four women were released from SAA's prisons, while Jaysh al-Islam, in return released an unknown number of prisoners.
Free Syrian Army factions in southeastern Syria launched a counterattack against Syrian Arab Army east of Al-Dakwa area, which the latter captured yesterday. FSA recaptured Tell Musaytima and captured one SAA's soldier.
Syrian Arab Army made huge advances in desertous area in eastern Homs governorate, the area captured is reportedly more than 5000 square kilometers (1930 square miles). This advance resulted in SAA reaching Iraqi border, northeast of Al-Tanf which is heavily fortified by Free Syrian Army factions and western troops embedded with them. Today's advances by SAA ruined the planned rebel offensive on the city of Abu Kamal (Al-Bukamal).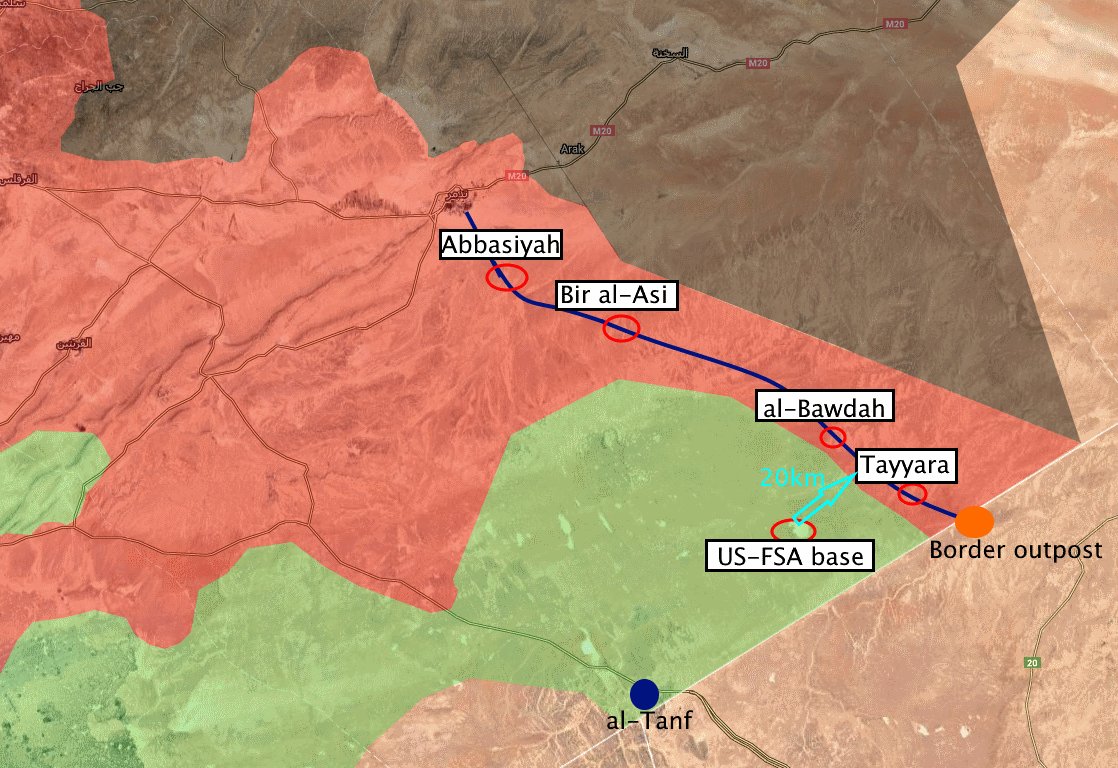 Situation in eastern Homs governorate, around Al-Tanf. Source: O. Reusser
Iraq
Nineveh:
Several sources reported complete capture of Al-Zanjili district in west Mosul by Iraqi forces from Islamic State, however, the reports should be taken with a grain of salt, at least until Iraq Joint Operations confirm the capture. In the same district, Islamic State's improvised explosive device reportedly killed six Iraqi troops including an explosives expert.
Nineveh police, assisted by residents, arrested six wanted individuals in Hamam al-Alil, south of Mosul. Arrested individuals are suspected to be IS' members or somehow linked to the group.
Karbala:
Islamic State's suicide bomber detonated himself in a car garage in the city of Karbala, at least 14 people were killed and wounded in the attack.
Babil:
Another Islamic State's suicide bomber detonated himself in a market in Al-Musayyib killing 20 and wounding 21 civilians. The attacks in Karbala and Al-Musayyib were officially claimed by IS' Amaq Agency and described as the attacks on "Shia gatherings".
CJTF-OIR:
On the 8th of June 2017 CJTF-OIR has conducted nine strikes in Syria. CJTF-OIR's main focus in Syria at the moment is Tabqa-Raqqa-Deir al-Zour region where they did nine strikes supporting SDF's operations against IS destroying six fighting positions, three vehicles and a mortar system.
Full report on CJTF-OIR strikes conducted in both Syria & Iraq can be found here.
Intellectual credited property used may vary from an edition to edition.
Feel free to voice your opinion in the comments section below, constructive criticism is welcomed.
For those of you interested, you can follow us on an official Twitter account @SyrianWarDaily, or me personally on my biased twitter @joskobaric where I occasionally tweet some things.