Hello and welcome to the 85th installment of the SWD.
Military events/news are listed below by the governorates:
Aleppo:
TFSA destroyed two SDF's bulldozers trying to create barriers between the two parties. The bulldozers were destroyed by ATGMs, one around Sheikh Issa and the other one around Ayn Daqnah.
Raqqa:
SDF captured one of the districts from IS north of Tabqa where clashes have been happening for the past week, Islamic State now only maintains presence in two districts north of Tabqa. Clashes still resume in the two remaining districts with both IS and SDF claiming to have repelled each other's attack in the area killing a number of hostile fighters.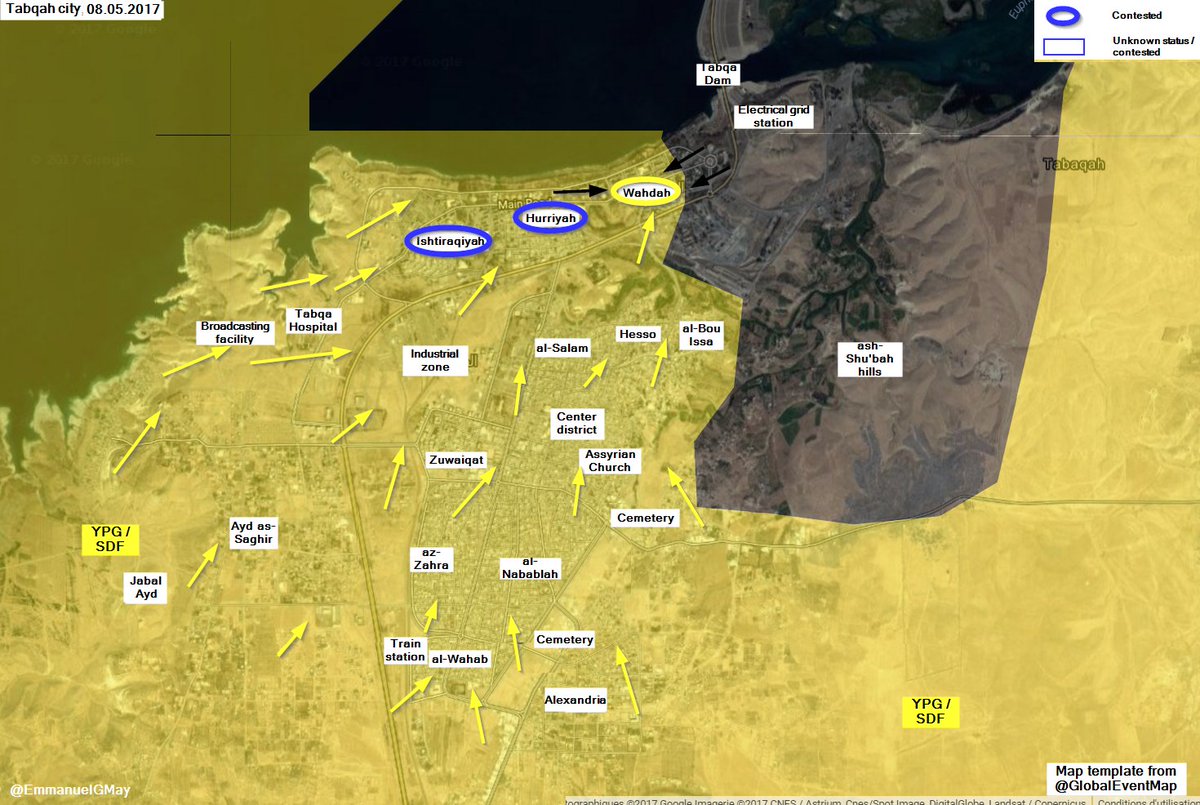 Situation in Tabqa. Source: Emmanuel
Homs:
Islamic State's media outlet Amag Agency released footage showing one captured Syrian Arab Army's soldier around Al-Talila area east of Palmyra. Al-Talila witnessed clashes yesterday between SAA and IS with Amaq reporting that the former lost seven soldiers in clashes.
Two Islamic State's inghimasi (suicide fighters) attacked Maghwar al-Thawra's base close to Jordanian border with Syria. After clashing with Maghwar al-Thawra's fighters both of the IS' attackers detonated themselves killing and wounding 14 rebels during the whole encounter. IS' attackers were known as Abu Muhammad al-Ansari and Abu Muhammad al-Ladhiqani.
Damascus:
Evacuation of Barzeh started today as between 800 and 1000 rebels along with at least 500 people left the pocket towards Idlib. Reports suggest that more than a dozen of rebels settled their cases in Barzeh and Qaboun choosing to stay in their homes. Several pro-rebel reporters based in East Ghouta voiced their criticism of the evacuation deal saying that the East Ghouta is closer than Idlib and people should be transported to it instead.
From the Syrian government's perspective evacuation to East Ghouta would make the whole process much faster and easier both time-wise and logistically. Furthermore evacuation to East Ghouta would also increase already present hostile relations between the groups making it long-term easier for SAA to capture the area once the rebels fight each other out.
Jaysh al-Islam released a new statement announcing its intention to complete Anti-Hayaat Tahrir al-Sham campaign in East Ghouta, Faylaq al-Rahman has been asked to hand over and stop harboring the remnants of the Hayaat Tahrir al-Sham. Rebel infighting then resumed between Jaysh al-Islam and Faylaq al-Rahman in the vicinity of Mesraba.
Liwa Abu Musa al-Ash'ari one of the founding members of Faylaq al-Rahman which defected, now Al-Wiyat al-Majd has rejoined the Faylaq al-Rahman, this information was confirmed by their statement. This decision comes two days after Faylaq al-Rahman has surrounded Al-Wiyat al-Majd's HQs in Hammouriyah. It will be interested to see if Ahrar al-Sham will follow the suit since they've been offered the same treatment by Faylaq al-Rahman.
SAA attacked Jaysh al-Islam-held Beit Naim in East Ghouta, according to Jaysh al-Islam attack was repelled and one SAA's T-72 tank was destroyed. Some pro-government sources claimed SAA fully captured Beit Naim after a very quick operation, take this claim with a grain of salt until more reliable sources confirm/transmit the claim or until evidence emerges confirming the claim.
Four vehicles containing weapons & ammunition were seized while headed towards Hayaat Tahrir al-Sham in the southern part of East Ghouta.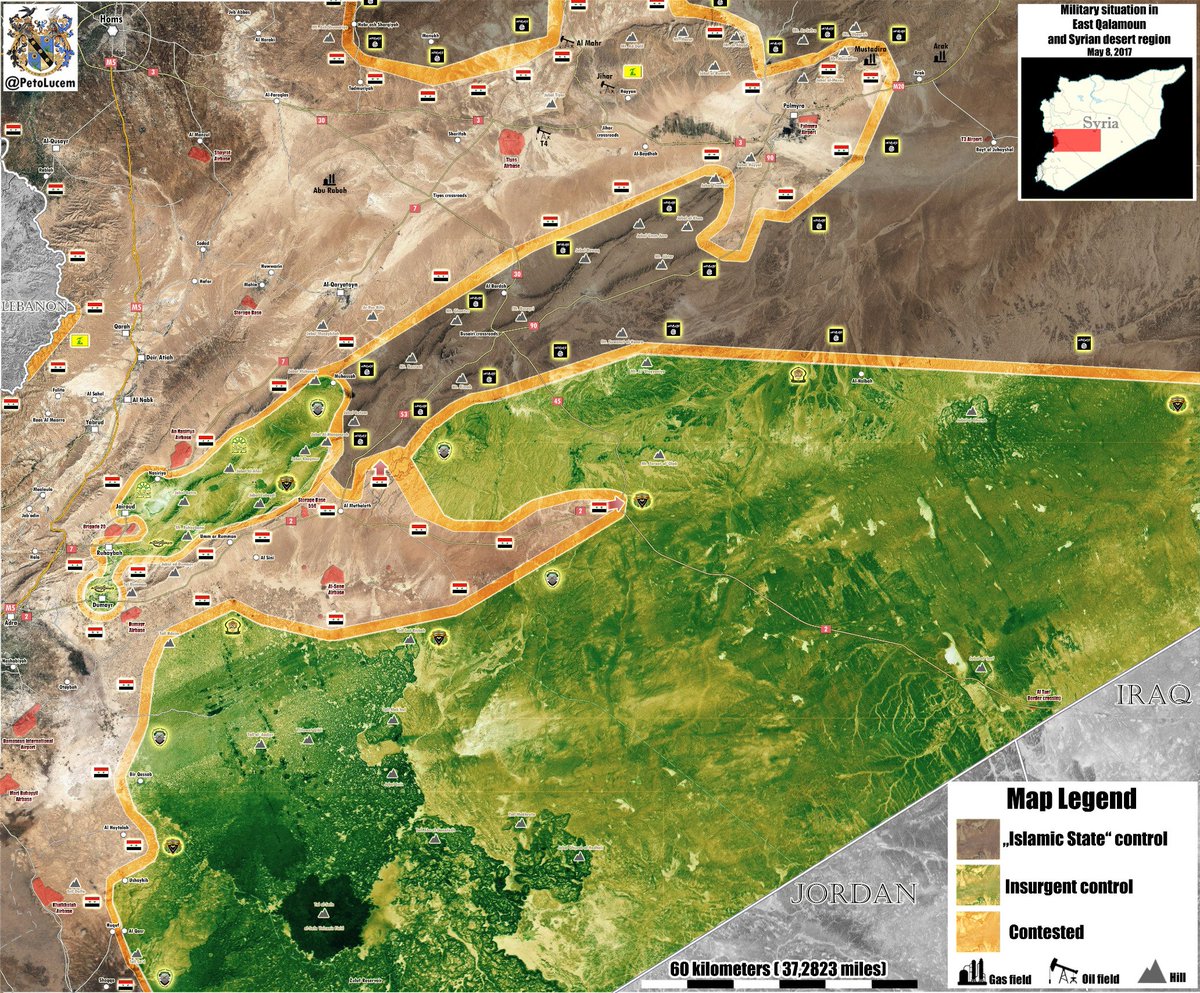 Situation in East Qalamoun, HD version of this map can be found here. Source: Peto Lucem
Iraq
Nineveh:
Iraqi Army made some new gains against IS in northwestern Mosul today but mostly focused on reinforcing captured positions since IS continues to heavily resist in the area. Three IS' SVBIEDs targeted Iraqi Army, the one in Al-Haramat district's outskirts reportedly destroyed two Humvees and caused multiple casualties among the soldiers, the SVBIED in Mushrifa's outskirts damaged a BMP and also reportedly caused casualties among the Army's ranks as well. The last SVBIED was in Wadi Akab's vicinity destroying an M1 Abrams tank and also causing several casualties.
Besides the SVBIEDs, snipers and locally made anti-tank missile launchers also continue to pose as a danger to the advancing Iraqi Army as Amaq's statement claims seven soldiers were killed by snipers and two BMPs were destroyed by RPGs. In Al-Haramat district IS downed two Army's reconnaissance planes/drones.
The most interesting statement from Amag Agency regarding Mosul is the alleged usage of white phosphorus by the US' artillery teams in Mushrifa and Al-Fatah districts, west Mosul. The US has used white phosphorus against IS in the past but targeted areas were the rural ones with little to no collateral damage done to civilians, this allegation if true would be the first time the US has used it in the more urban area which could cause unwanted casualties.
Islamic State's police chief was found and arrested in Hammam al-Alil south of Mosul.
Iraqi Air Forces conducted a number of airstrikes against IS in Nineveh govenorate yesterday. Islamic State's strongholds of Tal Afar, Baaj and Al-Qayruwan were targeted which reportedly resulted in more than 40 IS' fighters being killed.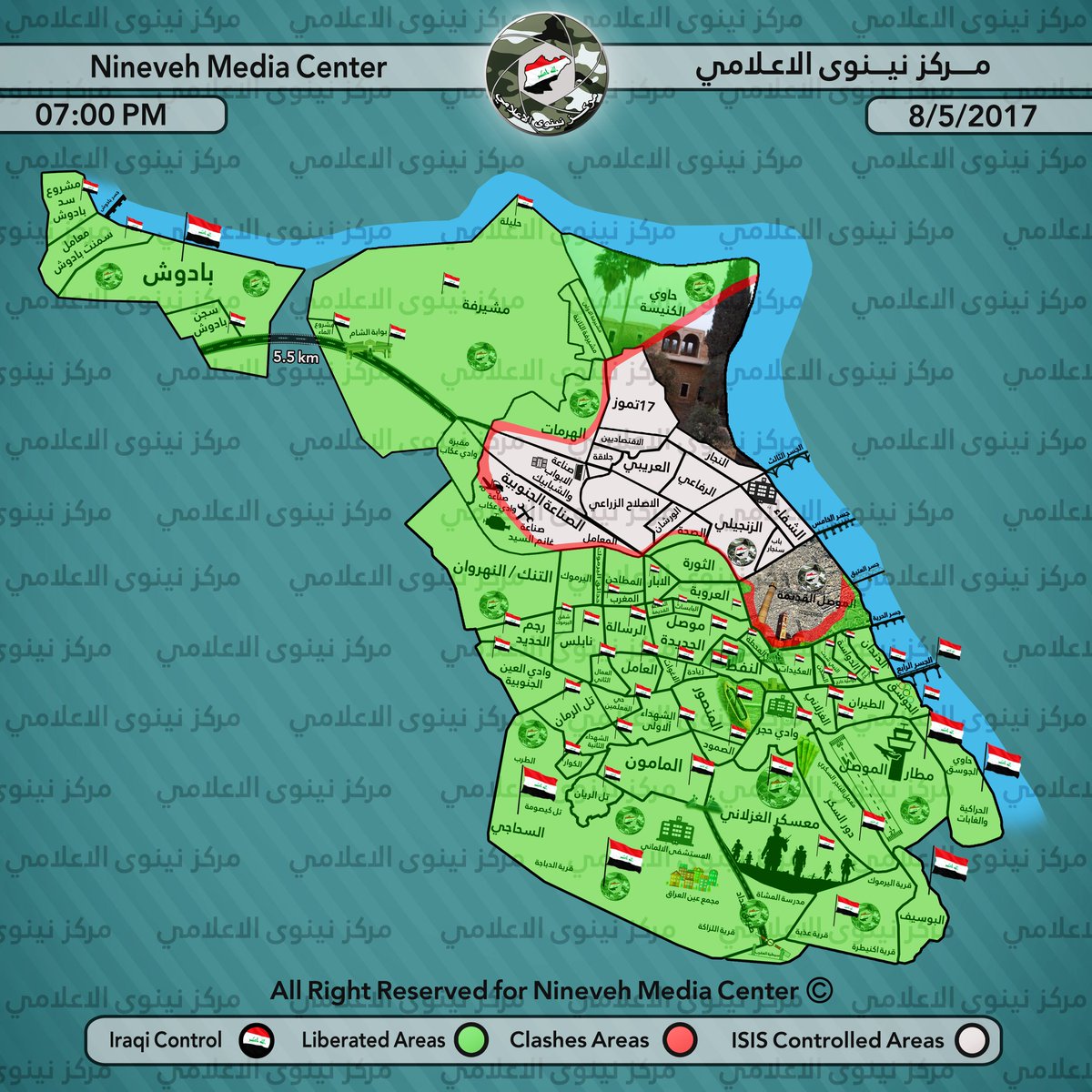 Latest map of west Mosul. Source: NinevehMC
Anbar:
Emir of IS' Wilayat al-Janoub which encompasses the southern part of Iraq was arrested in Amiriyat al-Fallujah south of Fallujah.
Iraqi Army conducted an operation in Naeemiyah district, east Anbar and discovered a large number of IS' improvised explosive devices.
CJTF-OIR:
On the 7th of May 2017 CJTF-OIR has conducted 23 strikes in Syria. CJTF-OIR's main focus in Syria at the moment is Tabqa-Raqqa-Deir al-Zour region where they did 22 strikes supporting SDF's operation against IS destroying eight IS oil tankers, four IS wellheads, two unmanned-aerial-system facilities, an IS barge, three vehicles, a front-end loader, five fighting position, two tactical vehicles; and suppressing an IS tactical unit.
Other area where one strike occurred is Palmyra engaging an IS tactical unit. Full report on CJTF-OIR strikes conducted in both Syria & Iraq can be found here.
Intellectual credited property used may vary from an edition to edition.
Feel free to voice your opinion in the comments section below, constructive criticism is welcomed.
For those of you interested, you can follow us on an official Twitter account @SyrianWarDaily, or me personally on my biased twitter @joskobaric where I occasionally tweet some things.