Hello and welcome to the 54th installment of the SWD.
Military events are listed below by the governorates:
Idlib:
Colonel Mohamad Sawfan pilot of MiG-21 downed on March 4th was arrested by Turkey on charges of border violations and espionage. MiG-21 fell in Hatay province, Turkey and pilot was transferred to a Turkish hospital where he was diagnosed with a broken spine. Some were speculating that Turkey might release pilot as a sign of goodwill towards Russia and Syria, this was being speculated because at that time Turkey was trying to improve relations with Russia. After recovering from his wounds Colonel Mohamad Sawfan was transferred to Hatay prison.
Homs:
US forces targeted Syrian Al-Shayrat Airbase with at least 59 Tomahawk Land Attack Missiles in Homs governorate south of Homs city. Reason provided for the attack was a response to still alleged chemical attack three days ago in Khan Sheikhoun, attack aimed to reduce Syrian Government's ability to deliver chemical weapons. The US intelligence allegedly found out that aircraft from Al-Shayrat Airbase conducted chemical attack over Khan Sheikhoun, furthermore it was claimed that chemical weapons were stored in the airbase. For those interested you can find full Pentagon statement here. Even though 59 Tomahawk missiles were fired, according to the Russian Ministry of Defense only 23 of launched 59 made it to Al-Shayrat Airbase.
Attack was concentrated on the eastern part of Al-Shayrat Airbase targeting airstrip, hangars and fuel tankers. Several sources reported that there was Russian presence in the Airbase but they reportedly suffered no casualties. Syria, however, did suffer some casualties, around six SAA soldiers were killed and a dozen more injured. Reports also suggest that nine civilians were killed including four children. Tomahawk missiles reportedly destroyed at least nine Syrian aircrafts but it is still unclear if they were operational or not. Following this attack Russia suspended USA-Russia deal about flight safety over Syria. In response to US attack RuAF and SyAAF bombed US-backed New Syrian Army's positions in southeastern Homs desert.
This US attack on Syrian Airbase shocked many since investigation is still not finished whether SyAAF was really behind chemical attack on Khan Sheikhoun, this was a rash decision by US which could have big impact on US-Russia relations and on situation in Syria. In case some do not know NATO-led military intervention in Libya in 2011 started with Tomahawk missile strikes on Libya's air defense missile sites.
Islamic State took advantage of this US attack and tried to make advances northeast of Al-Shayrat Airbase towards Al-Faraqlas. Syrian Arab Army repelled this opportunistic IS attack without losing any ground.
South of Palmyra SAA advanced against IS and captured number of localities: Sibaq checkpoint aka "Camel Race Truck" aka Driving school, Al-Sukkari quarries and Haddad & Al-Sukkari farms.
Situation around Palmyra after SAA's advances. Source: loomisroberto
Iraq:
IS reportedly committed new massacre in west Mosul by executing 140 civilians that tried to leave IS controlled districts. Since 3rd of April 2017 when Iraqi Federal Police opened several corridors in old Mosul for civilians to evacuate the district and west Mosul IS has reportedly killed at least 170 civilians trying to leave.
Iraqi Army and PMU advanced west of Badush and captured Ghazilo, New Rayhana and Old Rayhana villages from IS.
Iraqi Air Force was busy in Nineveh governorate today, in west Mosul IS headquarters were targeted in Kanisah district, reports suggest that a couple of foreign influential IS commander were killed in attack. West of Mosul in Tal Afar, more precisely in Al-Salam neighborhood Air Force targeted big concentration of IS VBIEDs and destroyed eight of them. IS is preparing VBIEDs in order to slow down Iraqi forces once battle for Tal Afar starts.
After being constantly attacked by IS over these few days in Salah al-Deen governorate Iraqi Army decided to launch its own attack on IS in the western desertous part of governorate. Heavy casualties were reported for IS during this attack, eight vehicles destroyed and 120 fighters killed.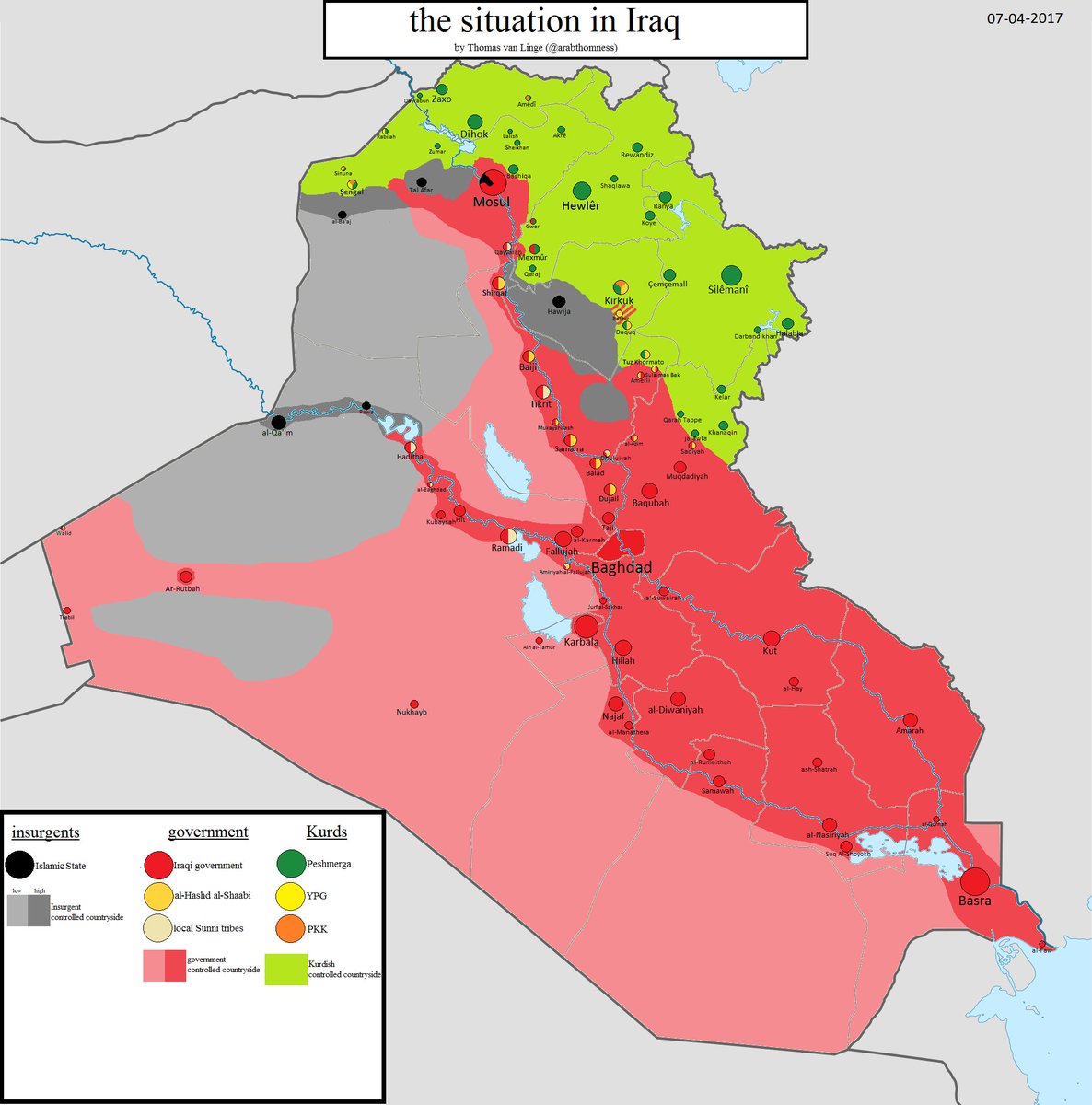 Latest situation in Iraq, HD version of this map can be found here. Source: Thomas van Linge
On the 6th of April 2017 CJTF-OIR has conducted 20 strikes in Syria. CJTF-OIR's main focus in Syria at the moment is Tabqa-Raqqa region where they did 19 strikes supporting SDF's operation against IS destroying five IS wellheads, two pumpjacks, an oil storage tank, an oil equipment piece, two fighting positions, three vehicles, a tactical vehicle and a tunnel; and damaged two supply routes.
Other area where one strike occurred is Shadaddi destroying a fighting position. Full report on CJTF-OIR strikes conducted in both Syria & Iraq can be found here.
Intellectual credited property used may vary from an edition to edition.
Feel free to voice your opinion in the comments section below, constructive criticism is welcomed.
For those of you interested, you can follow us on an official Twitter account @SyrianWarDaily, or me personally on my biased twitter @joskobaric where I occasionally tweet some things.