Hello and welcome to the 49th installment of the SWD.
Military events are listed below by the governorates:
Aleppo:
New report surfaced accusing Turkey and TFSA of changing ethnic makeup of northern Aleppo region by allegedly settling families evacuated from Al-Waer, Homs in previously Kurdish majority towns of Susenbat and Qabassin. It also states that Kurdish families were forcefully displaced from villages of Al-Nouman, Hezwan and Kaeba and allegedly replaced by families from Darayya. This part seems weird because evacuations from Darayya headed for Idlib, either those families were transported by Turkey from Idlib to northern Aleppo through Turkish territory or this part of the report is fake. Take this whole report with a grain of salt as it can't be verified for now.
Raqqa:
Situation around Tabqa is still disputed as one side claims that Al-Safsafah was captured and siege imposed and other side claiming that clashes are still ongoing around Al-Safsafah and Tabqa is not yet besieged. It is impossible to know for sure what the situation is but most likely siege wasn't imposed and SDF are clashing with IS in order to impose it.
Idlib:
Last night RuAF carried a dozen of sorties targeting rebel ammo dumps and HQs across the Idlib. Most sorties allegedly targeted Jaysh al-Islam and Ahrar al-Sham localities but it isn't possible to verify it. Areas allegedly targeted in Idlib and Aleppo governorates by RuAF last night: Dana, Sarmada, Durin, Kafr Naha, Babseqqa, Darat Izza, Khan Asel, Jisr Shughur and Uram.
Al-Hayat article stated that FSA and more moderate groups are preparing for joint attacks against HTS in Idlib. This unified rebel operation allegedly consists of Jaysh al-Nasr, Jaysh al-Izzah, Jaysh Idlib al-Hur, Jaysh al-Mujahideen, Tajammu Fastaqim and other groups. It is interesting that these groups were mentioned since Jaysh al-Nasr, Jaysh al-Izzah and Jaysh Idlib al-Hur participated and had a significant presence in the latest HTS Northern Hama offensive. Jaysh al-Muhajideen and Tajammu Fastaqim do not exist anymore and are part of Ahrar al-Sham. Faylaq al-Sham's Fadlallah Haji will allegedly lead this joint operation that will have 30 000 soldiers at its disposal. I don't know if its even necessary to mention it, but take this with a big grain of salt.
Hama:
SAA and allies launched an attack on Halfaya today, clashes allegedly reached southern outskirts of the city but FSA group Al-Firqa Al-Wusta released a statement claiming to have repelled SAA-led attack on Halfaya.
Homs:
It appears that yesterday's reconciliation talks with "leaders" in rebel-held towns in Northern Homs pocket were somewhat successful, 147 people from Talbiseh, Rastan, Hosn and Adad settled their cases today.
SAA advanced in eastern Homs and captured Abu Adduhur mountain north of T4 Air Base, with this move Abu Kala dam is now under fire control by SAA.
Situation in eastern Homs after today's SAA advances. Source: loomisroberto
Iraq:
Iraqi Army made limited advances in Tanak, Nahrwan, Al-Thawra and Yarmouk districts and clashes continue between Army and IS militants. According to the reports up to 85% of Yarmouk district was liberated and it should be fully secured and officially declared as liberated in the upcoming days. Rajm al-Hadid district was once again secured by Iraqi Army after yesterday's IS inghimasi (suicide fighters) unit infiltrated district, it was claimed that more than 20 IS militants were killed in clashes.
West of Mosul PMU repelled IS attack on nearby villages but bigger news concerning area west of Mosul is coming from Tal Afar where Iraqi Air Force targeted the biggest IS IED/VBIED car bomb factory in the city. Destruction of this factory should hopefully help Iraqi Forces when they start an assault on the city and this should reduce the number of IEDs and VBIEDs they will face.
IS attack on Al-Dour southwest of Tikrit in Salah al-Deen governorate was repelled by PMU reportedly killing many IS militants and destroying a dozen of armored vehicles. A bit to the south in the governorate, Iraqi Air Force targeted IS camps west of Samarra allegedly killing more than 25 militants and flattening a camp, among the killed ones were two commanders Abu Dajana, explosives expert and Abu Abdul Rahman, leader of operations in Samarra area. IS was reportedly preparing for a huge attack on Shia pilgrims near Samarra, however, their intentions were stopped and actions interrupted by Iraqi Air Force. These recent events involving IS in Salah al-Deen governorate can be located at desertous area east of Lake Tharthar and this is strange because PMU claimed to have liberated vast area east of lake in an operation in March 2016.
Today's reports from Anbar governorate claim that large number of IS militants along with commanders are fleeing from western Anbar to Syria. This comes after yesterday's news that Iraqi Air Force killed Ayad al-Jumaili, important figure in IS and alleged Al-Baghdadi's second in command. This move to Syria is out of fear of being targeted by Iraqi Air Force but unfortunate for them Iraq has permission to strike IS positions in Syria and has done in the past.
Iraqi Army killed an IS suicide bomber before he was able to detonate himself in Tarmiyah, Salah al-Deen governorate ~25 kilometers (~15.5 miles) north of Baghdad.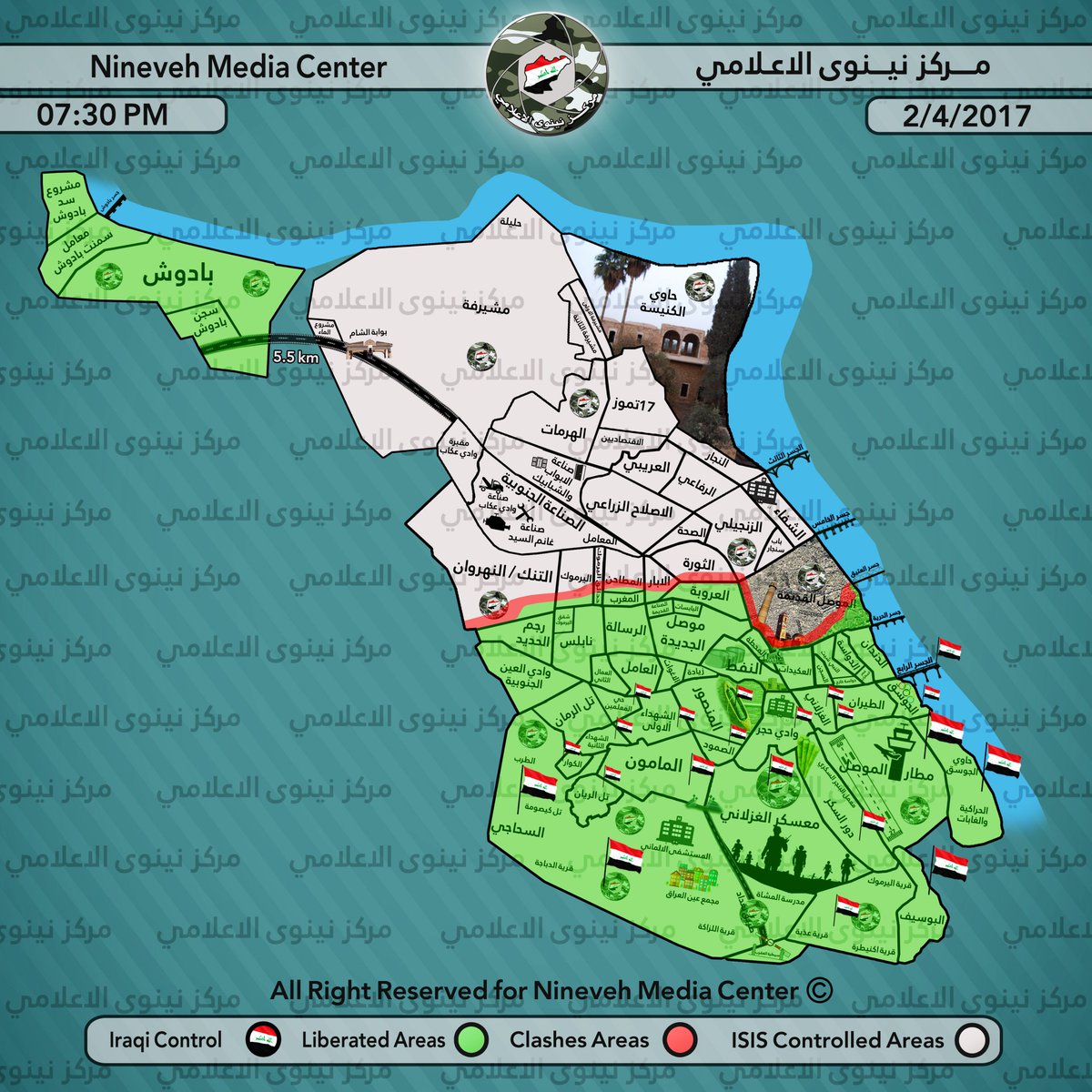 Latest map of west Mosul. Source: NinevehMC
On the 1st of April 2017 CJTF-OIR has conducted six strikes in Syria. CJTF-OIR's main focus in Syria at the moment is Tabqa-Raqqa region where they did four strikes supporting SDF's operation against IS destroying a weapons storage facility and a vehicle-borne bomb; and damaged a bridge.
Other areas where two strikes occurred are Abu Kamal and Palmyra destroying three IS wellheads and two IS-held buildings and a bunker entrance, respectively. Full report on CJTF-OIR strikes conducted in both Syria & Iraq can be found here.
Intellectual credited property used may vary from an edition to edition.
Feel free to voice your opinion in the comments section below, constructive criticism is welcomed.
For those of you interested, you can follow us on an official Twitter account @SyrianWarDaily, or me personally on my biased twitter @joskobaric where I occasionally tweet some things.