Hello and welcome to the 32nd installment of the SWD.
Military events are listed below by the governorates:
Aleppo:
Five SDF fighters were arrested on charges of abusing an alleged IS prisoner just three days after a video surfaced of them committing this war crime. Speaking of videos, a new video allegedly recorder in Al-Bab shows widespread looting of the city by TFSA. Keep in mind that the location of this video can't be confirmed nor if it really shows looting done by TFSA.
Ministry of Information of Syria banned Al-Mayadeen's journalist Rida al-Basha from reporting in Syria. Rida himself acknowledged the ban on his Facebook but he stated that he doesn't know the reason behind the ban. For those of you who do not know, Rida has in the past exposed a lot of the crimes committed by pro-government militas in the city of Aleppo after the liberation of eastern Aleppo. These militias displayed gang-like behavior by entering civilians homes unlawfully, stealing stuff from them and looting markets. The reason Rida was banned is most likely because he showed footage of militias committing crimes in his reports from eastern Aleppo, this move by Ministry of Information is an unacceptable case of censorship.
IS pocket consisting of Tell Ahmar and Asimiyah villages created yesterday appears to be cleared by SAA. Besides these two villages SAA captured Rasm al-Harmel, southwest of Deir Hafer and Rasm al-Kroum northwest of Deir Hafer. Grip tightens around Deir Hafer and direct attack on the city should be soon unless SAA decides to encircle it first.
Map of the eastern Aleppo countryside. Source: v4st0
Raqqa:
SDF were quick to respond to yesterday's IS counterattack launched east of Raqqa. SDF captured; Al-Kulayb & its grain silos and Hamad Assaf. Advances are ongoing in direction of Judayat Khabur.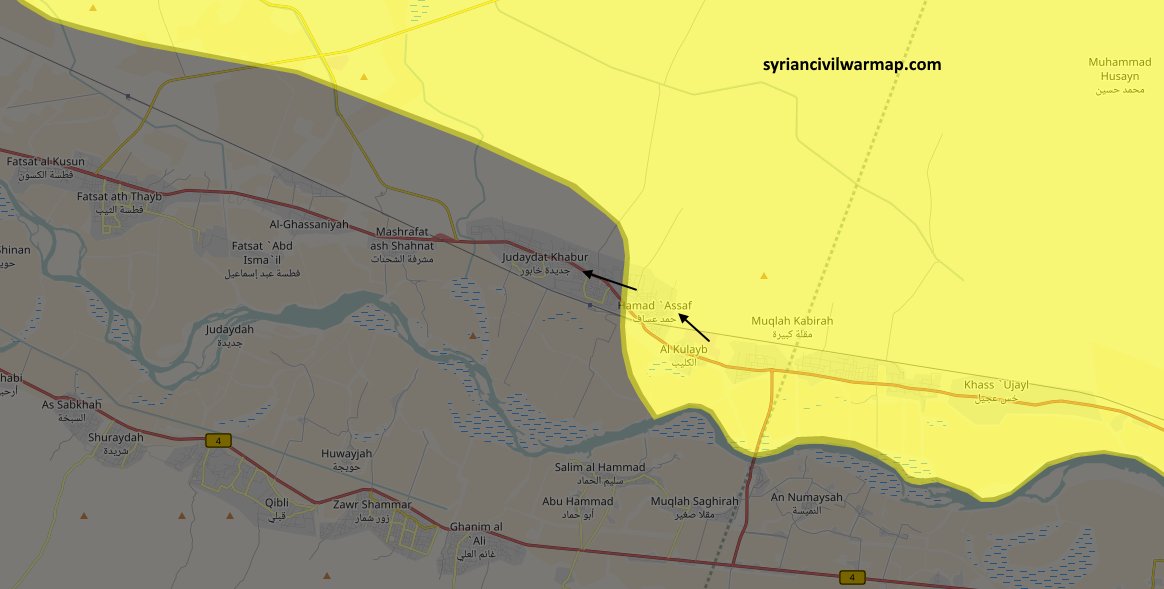 Map of east Raqqa after SDF's advances. Source: Syrian Civil War Map
Homs:
SAA continues to advance north of Palmyra capturing Jabal Mazar and storage base north of it. Situation around brigade 550 is unclear, it should be considered as IS controlled until credible sources confirm its capture.
Map showing SAA gains north of Palmyra, keep in mind that brigade 550 is not yet SAA controlled even though it is marked on the map. Source: loomisroberto
Damascus:
Rebel forces stationed in eastern Qalamoun mountains launched an operation against IS. Part of the FSA, Martyr Ahmad Abdo forces launched an attack on Jabal al-Afai capturing several positions on it, official statement by the group can be found here. Coincidentally, another FSA group Asud al-Sharqiya launched an attack on Jabal al-Batra and seized two hills. Area of operations is northeast from Al-Dumayr and allegedly the attack is coordinated with SAA and Russia.
It's been a day since two suicide attacks hit Damascus and no one has claimed responsibility so far.
Iraq:
Iraqi forces haven't advanced very significantly in west Mosul since yesterday, partially because bad weather conditions in Mosul are restricting Iraqi air force's capabilities from providing support to army on the ground. Despite that clashes continue in Mosul between Iraqi army and IS with the former capturing Al-Ahli hospital in central Mosul.
According to several sources, apparently there was a deal made between Peshmerga and IS. Sources don't really match each other with the info they report, so what can be gathered from the whole situation will be posted here and then you can take it with a grain of salt. Allegedly 17 trucks carrying medicine and food arrived in Tal Afar in exchange for Pesmerga prisoners captured by IS.
New car bomb attack targeted civilians near the main bus station in the city of Hit, Anbar governorate. Casualties were reported, however, official numbers on the number of killed and wounded haven't been released yet.
In this part I would like to address a mistake made in the yesterday's daily pointed out to me by /u/Crocodilian_. Part of the yesterday's daily that wasn't clear:
This was already said on numerous occasions but it should be repeated, as IS gets weaker and a step closer to defeat attacks on civilians are unfortunately becoming a common occurrence.
Looking now at it, I can see that the statement is very vague. I apologize to everyone that was mislead in any way by it, it was never my intention to do that. The point I was trying to make in the statement above is that there is a correlation between IS losing territory in Iraq and the rise of suicide attacks against civilians. I didn't intend to make it seem that attacks in Iraq are at its peak compared to previous years, but I do realize that this wasn't very clear from my statement. I would like to apologize again to everyone misled by the statement and thank /u/Crocodilian_ once again for pointing out my error.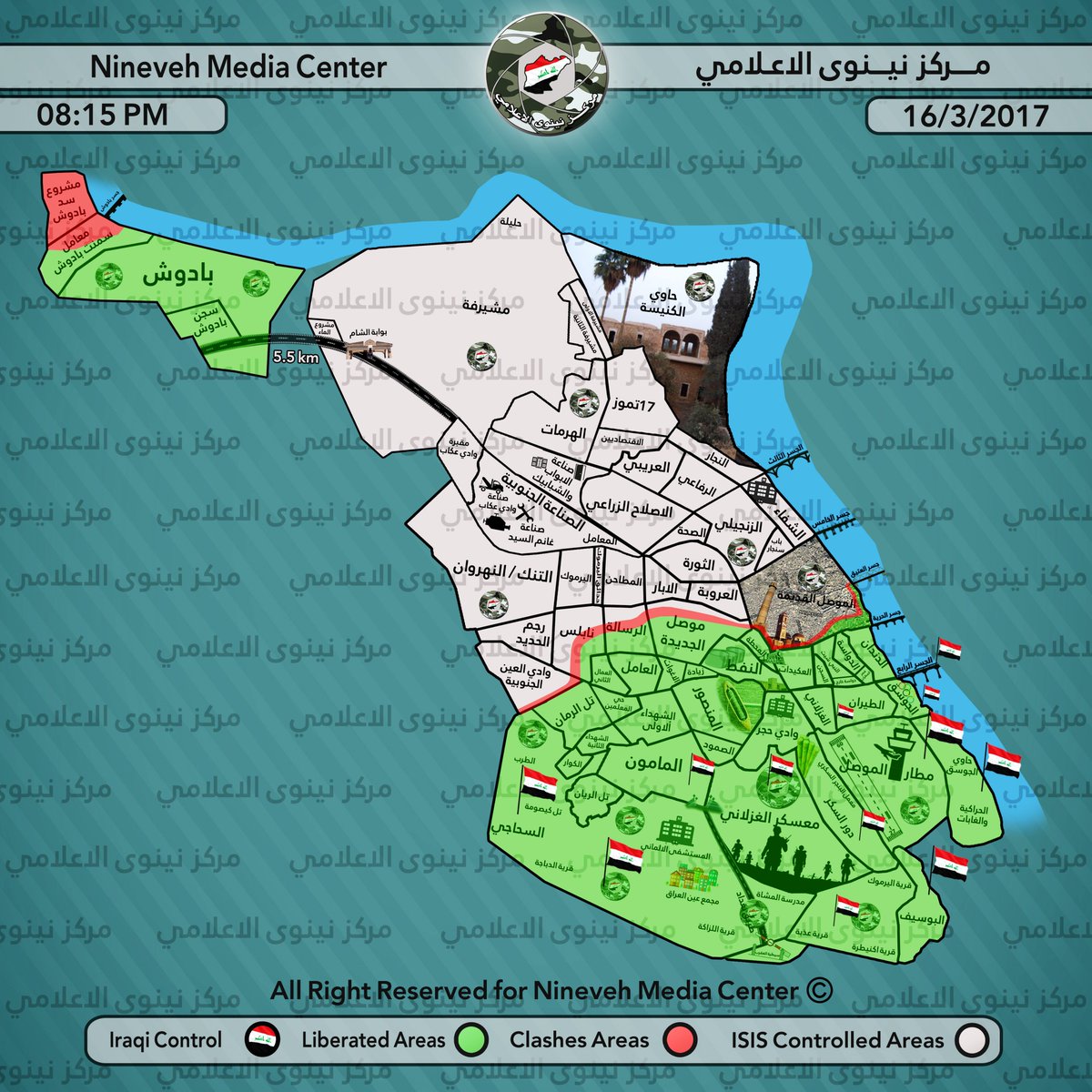 Latest map of west Mosul. Territory added today in the northwest is Badush area. Source: NinevehMC
On the 15th of March 2017 CJTF-OIR has conducted 11 strikes in Syria. CJTF-OIR's main focus in Syria at the moment is Deir al-Zour-Raqqa region where they did 11 strikes supporting SDF's operation against IS destroying six barges, a front-end loader, six fighting positions, two mortar systems, an ammunition cache, an IS-held building and a weapons cache.
Full report on CJTF-OIR strikes conducted in both Syria & Iraq can be found here.
Intellectual credited property used may vary from an edition to edition.
Feel free to voice your opinion in the comments section below, constructive criticism is welcomed.
For those of you interested, you can follow us on an official Twitter account @SyrianWarDaily, or me personally on my biased twitter @joskobaric where I occasionally tweet some things.