Hello and welcome to the 13th installment of the SWD.
Military events are listed below by the governorates:
Aleppo:
Sultan Murad group, part of TFSA announced death of one of its military commanders "Abu Leith" by a landmine in an official statement that can be found here.
Shelling was reported between SDF and TFSA, with former shelling Marea and latter shelling Tal Rifaat. Rumors spreading around pro-TFSA crowd claiming that the new operation against SDF is going to start in the few days, it still remains to see in which area the alleged operation should take place, either Afrin or Manbij region.
Some news are coming from the city of Aleppo city itself, but unfortunately they are not good in any way, an IED exploded in al-Adhamiya district causing several casualties. IED was placed in a container near Bara mosque and Al Ikarda checkpoint.
SAA Tiger Forces made significant progress against IS in eastern Aleppo, taking over a dozen of villages in a blitzkrieg like maneuver. Villages and hills captured today include; Khirbet Kayar, Jabal Sulaym, Qasr al-Bureij, Umm Kharaz, al Mustarihah, al-Shami, Shanhasa, Ruwaydah and Tell Fikhah with unconfirmed reports about capture of Tadef and clashes in Fikhah al Saghirah.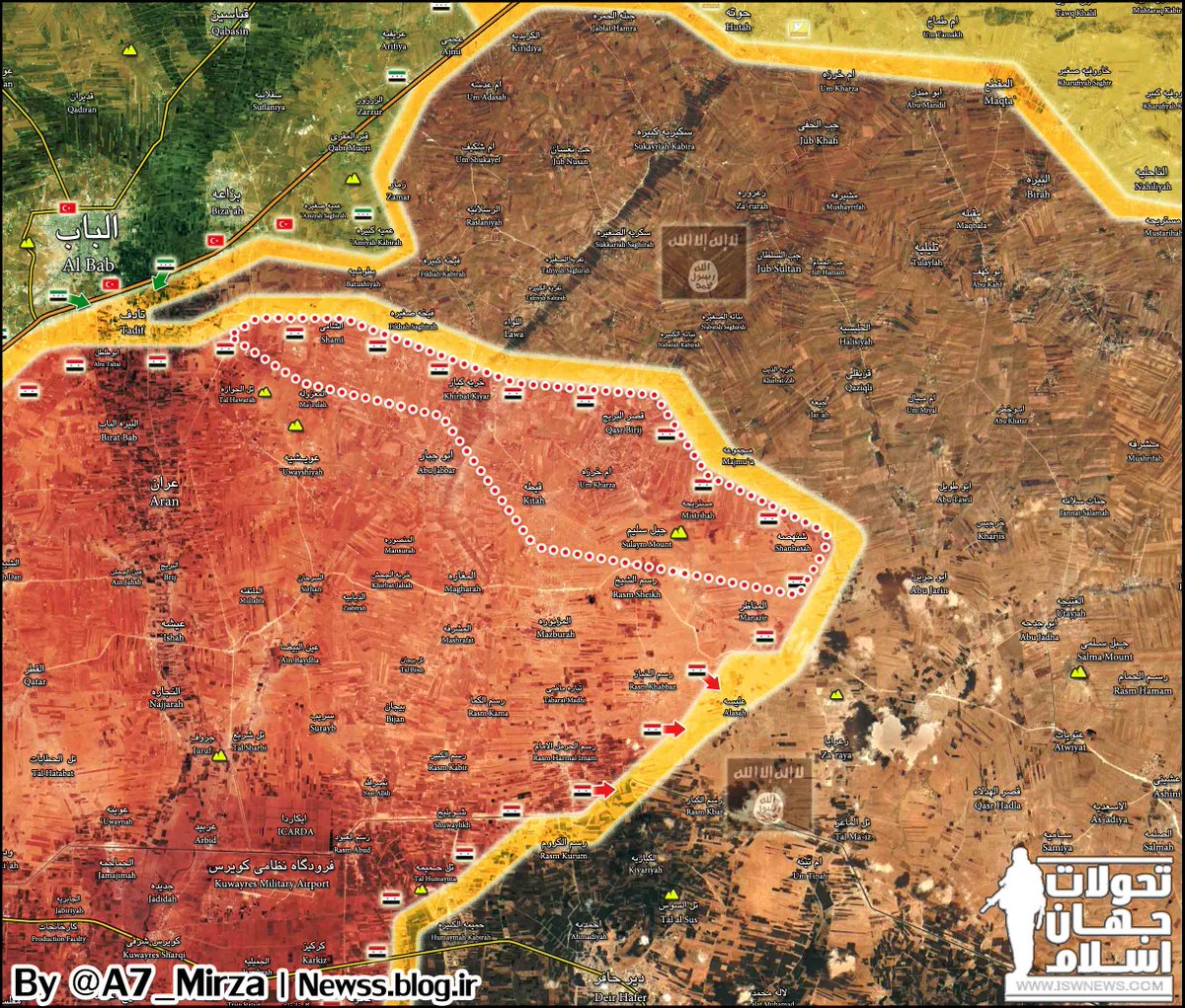 Map showing recent advances by SAA against IS. Source: @A7_Mirza
Homs:
Multiple suicide attacks hit city of Homs, it was reported that 6 HTS militants from the rebel-held Al-Waer district infiltrated multiple areas and detonated, some were reportedly killed before detonating.
Attacks killed at least 30 people, partially military personnel, including a chief of military security Hassan Daboul. In response to the attack, SyAAF launched over a dozen of air strikes on Al-Waer.
Deir al-Zour:
SDF forces continued their advance against IS and took control of villages of Helo, Qamar al-Deen, and Malha al-Serour in Deir al-Zour countryside.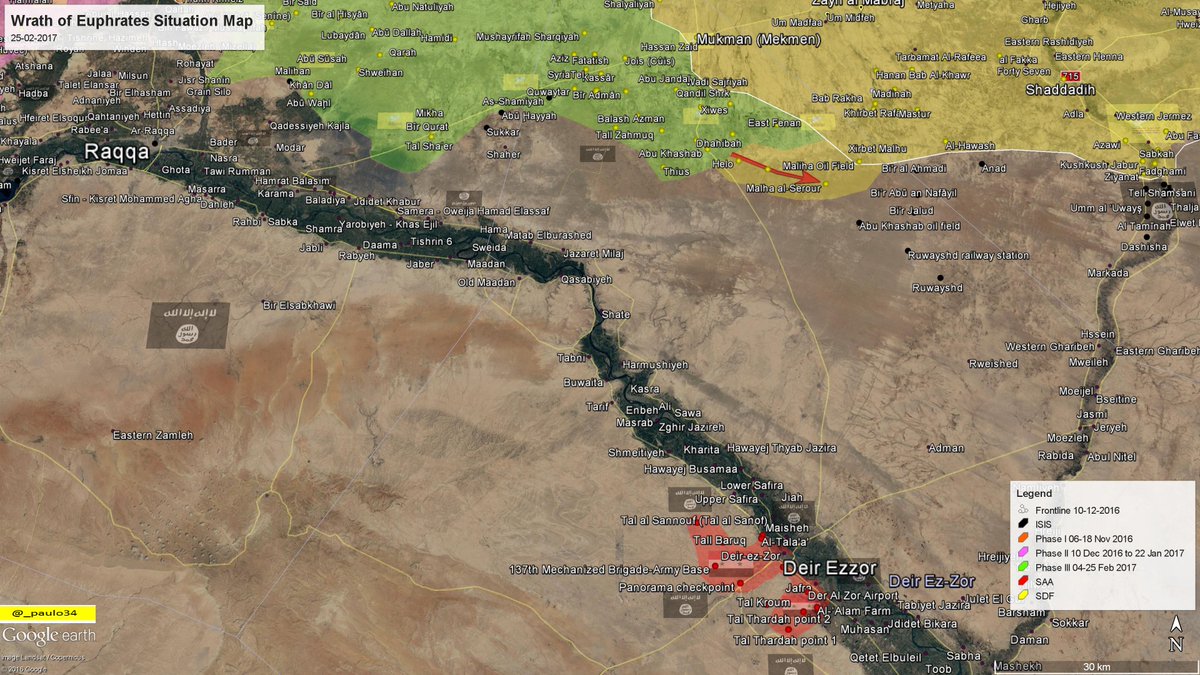 Map showing SDF advances against IS in Deir al-Zour governorate. Source: @_paulo34
Daraa:
IS affiliated JKW made new advances today against rebels in southwestern Daraa countryside, capturing Jallin, Al-Mazirah and Kfar Thamer. Situation is getting bad for rebels as JKW advances in rebel's heartland endangering bigger cities like Tafas.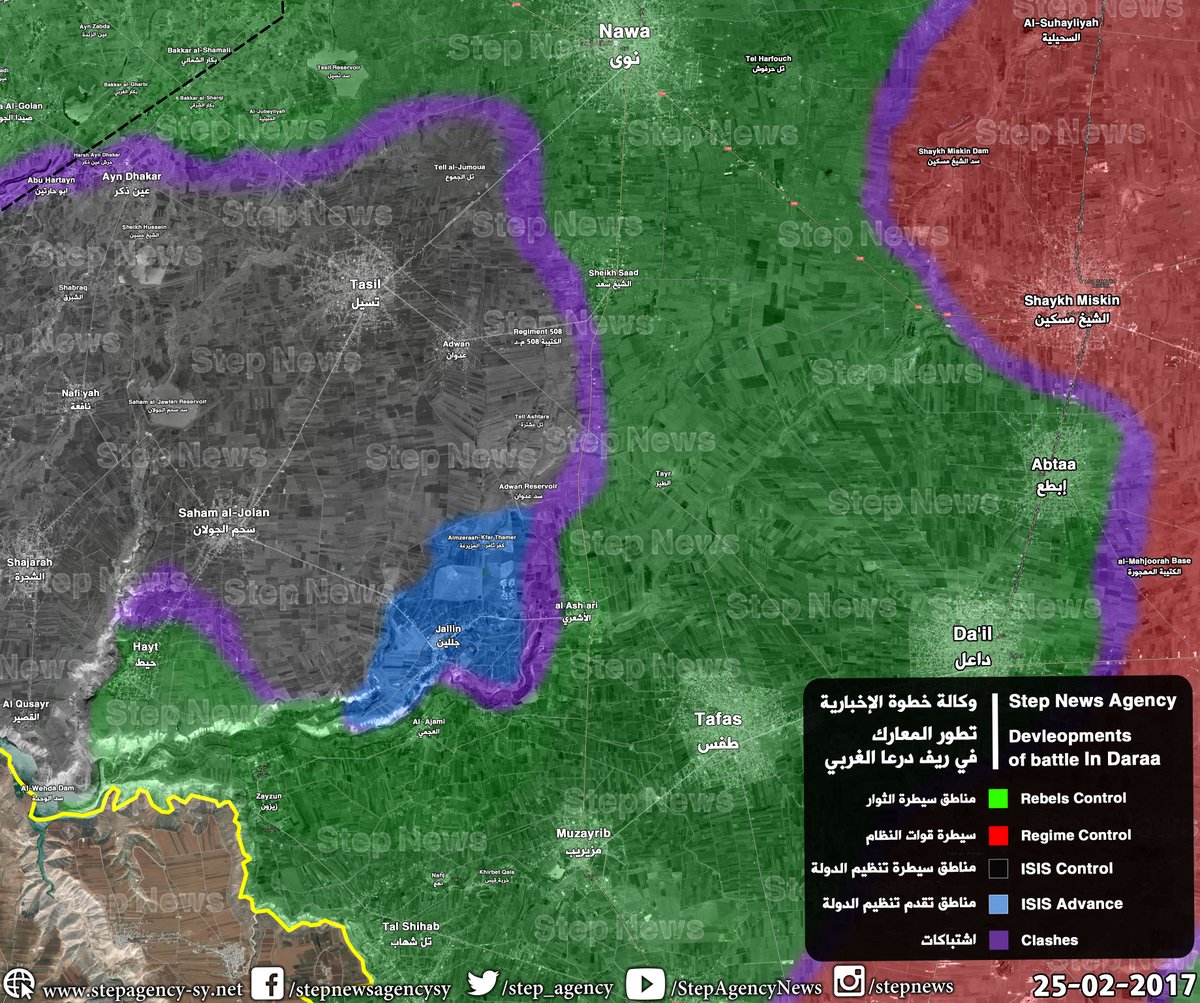 Map of southwestern Daraa after the latest JKW's advances. Source: Step News Agency
Iraq:
Clashes in western Mosul continue between IS and Iraqi army with latter trying to advance in Wadi Hajar and Al-Tayran districts. Al-Mamun district was secured by the army after taking most of the district yesterday. West of the western part of city, army also captured Yarmouk power station that supplies west Mosul.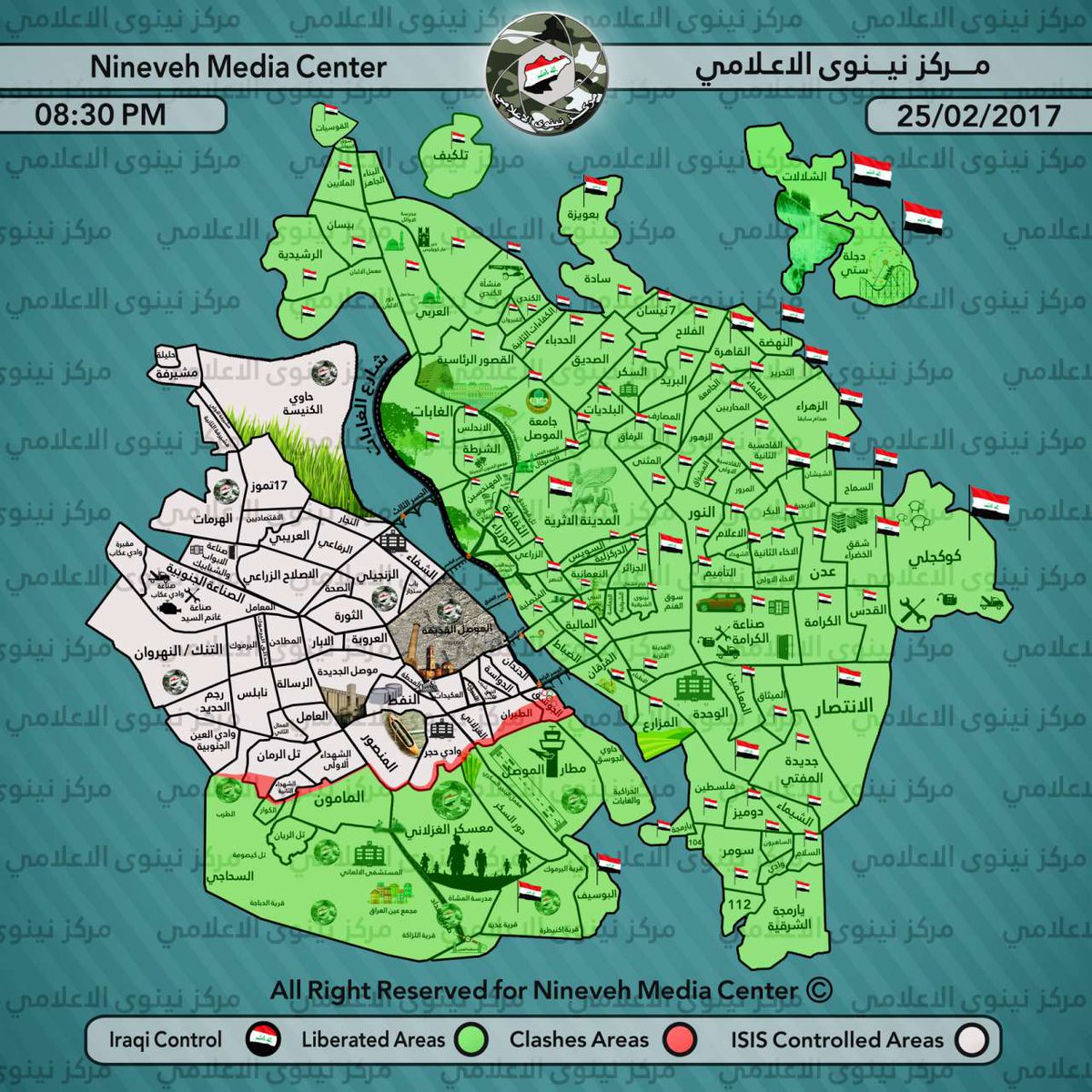 Latest situation in Mosul. Source: @NinevehMC
Sad news are coming from Mosul as Rudaw reporter Shifa Gardi was killed by an IED while covering clashes between IS and Iraqi army, her cameraman Younis Mustafa was injured in the same attack. Full article about Shifa Gardi can be found here.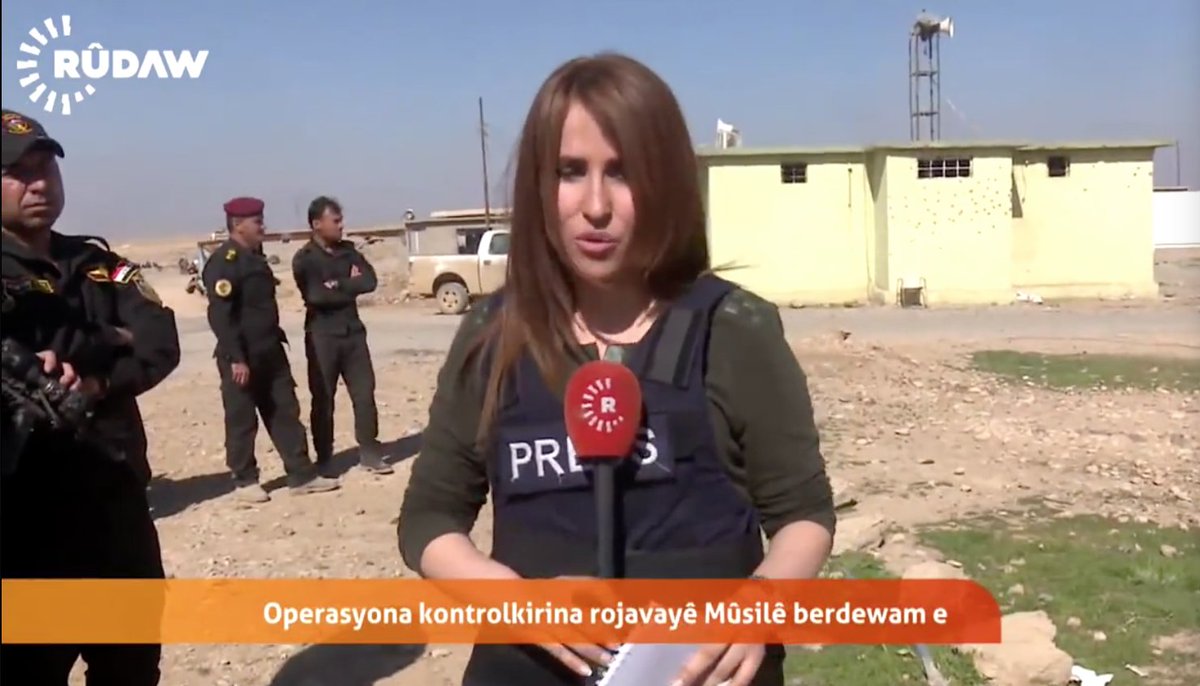 Photo of the now deceased Shifa Gardi reporting in the line of duty. Source: Rudaw
On the 24th of February 2017 CJTF-OIR has conducted 28 strikes in Syria. CJTF-OIR's main focus in Syria at the moment is still Raqqa where they did 17 strikes supporting SDF's operation against IS destroying three pumpjacks, a command-and-control node, a fighting position and a tactical vehicle.
Other areas where strikes occurred include Abu Kamal, Deir al-Zour and Shaddadi destroying four oil separation tanks, six oil tanker trucks and three fighting positions, two vehicles, a storage shed, a tactical vehicle & a weapons storage facility, respectively. Strikes also occurred on Bab and Palmyra. Full report on CJTF-OIR strikes conducted in both Syria & Iraq can be found here.
Intellectual credited property used may vary from an edition to edition.
Feel free to voice your opinion in the comments section below, constructive criticism is welcomed.
For those of you interested, you can follow me on my personal, biased twitter @joskobaric where I occasionally tweet some things.