Hello and welcome to the 874th installment of the SWD.
Military events/news are listed below by the governorates:
Aleppo:
'Afrin Liberation Forces' (Hêzên Rizgariya Efrînê) released a new statement claiming that the group conducted several operations against the Turkey-backed Free Syrian Army in Afrin region. Full statement released by the group;
On August 6th, the Turkish army and jihadists under their control attacked the villages of Shewarixa and Malikiye of Shera town by the use of Haubitzers and Mortars. Those villages contain a larger number of civilians. Under the rain of the artillery-fire, the jihadist gangs attacked the two mentioned villages and wanted to proceed forwards but were cut off by our fighters who answered to the attack and clashes broke out. The attack was repelled after 2 hours of ongoing clashes. 7 jihadists were killed in the clashes with our forces.

After our forces repelled the attack, the invading Turkish army used artillery-fire against the region and caused huge material damages to the properties of the villagers. Our forces answered to the attack with heavy weapons and targeted a Turkish army base in the vicinity of Meryemin village of Shera town. As a result, 2 Turkish soldiers were heavily injured.

Afrin Liberation Forces
Raqqa:
Unknown gunmen killed an element of the Syrian Democratic Forces near the village of Al-Sukkariyah in northern Raqqa.
Al-Hasakah:
Vehicle-borne improvised explosive device targeted the center of Al-Qahtaniyah, east of the city of Al-Qamishli. According to the Syrian Arab News Agency, at least three civilians were killed by the explosion.
Hama:
Syrian Arab Army captured Al-Zakat and Al-Arbein from Al-Jabhat al-Wataniya lil-Tahrir (National Liberation Front) and Hayat Tahrir al-Sham.
Al-Jabhat al-Wataniya lil-Tahrir destroyed a Syrian Arab Army's tank with an anti-tank guided missile on Al-Zakat front in northern Hama.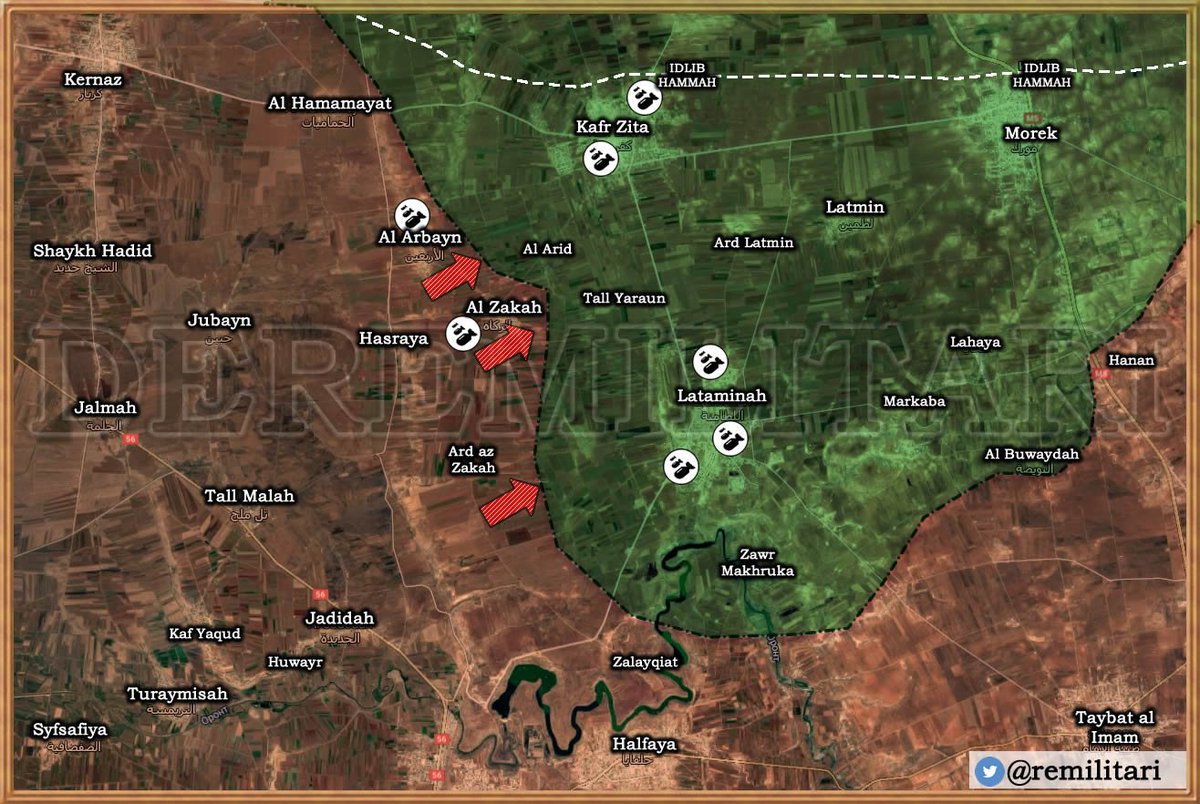 Approximate situation in northern Hama. Source: De Re Militari
Afghanistan
Kabul Province:
Islamic Emirate of Afghanistan (Taliban) conducted a 'suicide vehicle-borne improvised explosive device' operation near a police station in the 6th Police District of Kabul city. According to the Afghan Ministry of Interior, at least 14 individuals were killed and 145 were wounded.
Ghor Province:
Afghan National Security Forces killed 11 elements of the Islamic Emirate of Afghanistan in Chaghcharan district.
Ghazni Province:
Afghan National Security Forces killed three elements of the Islamic Emirate of Afghanistan and destroyed an IED factory in Deh Yak district.
Helmand Province:
Islamic Emirate of Afghanistan's improvised explosive device destroyed an Afghan National Security Forces' vehicle, killing and wounding four elements in Shor Shorak area of Nawa-I-Barakzayi district.
CJTF-OIR

:
CJTF-OIR announced a change in their publishing policy. Now one strike report will be published each week on Mondays.
Amaq Agency:
Other:
If you would like to support Syrian War Daily, please consider whitelisting or turning off your ad blocking software on the website.
Intellectual credited property used may vary from an edition to edition.
Feel free to voice your opinion in the comments section below, constructive criticism is welcomed.
Syrian War Daily is looking for individuals willing to contribute to the project. If you are interested in contributing, please fill out the form on this page.
For those of you interested, you can follow us on an official Twitter account @SyrianWarDaily, or me personally on my twitter @joskobaric where I occasionally tweet some things.