Hello and welcome to the 810th installment of the SWD.
Military events/news are listed below by the governorates:
Aleppo:
'Afrin Liberation Forces' (Hêzên Rizgariya Efrînê) released a new statement claiming that the group conducted two operations against the Turkey-backed Free Syrian Army in northern Aleppo. Full statement released by the group;
On June 2nd our forces carried out an operation against a military base of the group Ahrar al-Sham in the village of Velat al-Qadi of Shera town. As a result of this operation, heavy clashes broke out between our forces and the jihadists and 5 jihadists were killed. An unconfirmed number of jihadists were also injured in the clashes. After the clashes, our forces got their hands on one AK-47 assault rifle, a magazine vest and a mobile phone.

On June 3rd one of our sabotage units carried out a mission against a military vehicle belonging to the Turkish-backed jihadist gang under the command of the so-called commander of Firqat al-Hamza by the name Ebdullah Helawe in the village of Basutah of Sherawa town. As a result, 2 terrorists were injured and the vehicle was damaged.

During clashes, our forces lost contact with one of our fighters. We will later share more information with the general public on the whereabouts and destiny of this fighter.
Improvised explosive device wounded a civilian in the city of Akhtarin in northern Aleppo.
Syrian Democratic Forces arrested an Islamic State's cell consisting of six individuals in the city of Manbij.
Raqqa:
Improvised explosive device wounded three elements of the Syrian Democratic Forces near Al-Kantari village in northern Raqqa.
Idlib:
Syrian Arab Army reportedly captured Al-Humayrat, Al-Qarutiyah, Al-Qiratah, and Al-Hardana from rebel factions in southern Idlib.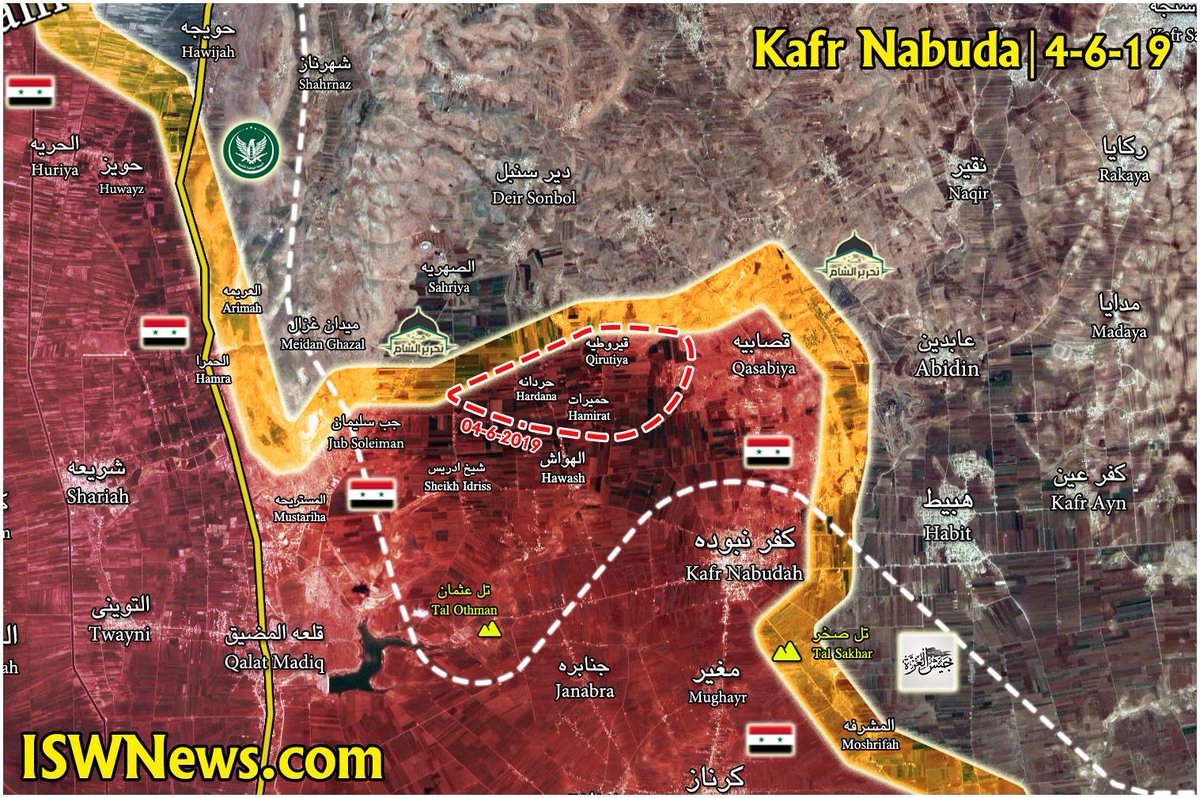 Approximate situation around Kafr Nabudah. Source: IWN
Daraa:
Vehicle-borne improvised explosive device killed one and wounded two civilians near Ali ibn Abi Taleb mosque in Buser al-Harir city.
Al-Suwayda:
Unknown gunmen killed a Syrian Arab Army's commander of the 15th Division, Brigadier General Jamal al-Ahmad near Kafr al-Lahaf checkpoint.
Afghanistan
Baghlan Province:
Improvised explosive device killed two and wounded 14 civilians near a mosque in Nahrin district.
Khost Province:
Afghan National Security Forces killed nine elements of the Islamic Emirate of Afghanistan (Taliban) in Sabari and Nadir Shah Kot districts.
Helmand Province:
Afghan National Security Forces killed 13 and wounded two elements of the Islamic Emirate of Afghanistan in Marjah, Sangin, and Nahri Saraj districts.
CJTF-OIR

:
CJTF-OIR announced a change in their publishing policy. Now one strike report will be published each week on Mondays.
Amaq Agency:
Other:
If you would like to support Syrian War Daily, please consider whitelisting or turning off your ad blocking software on the website.
Intellectual credited property used may vary from an edition to edition.
Feel free to voice your opinion in the comments section below, constructive criticism is welcomed.
Syrian War Daily is looking for individuals willing to contribute to the project. If you are interested in contributing, please fill out the form on this page.
For those of you interested, you can follow us on an official Twitter account @SyrianWarDaily, or me personally on my twitter @joskobaric where I occasionally tweet some things.