Hello and welcome to the 243rd installment of the SWD.
Military events/news are listed below by the governorates:
Aleppo:
The head of the political bureau in Harakat Nour al-Deen al-Zenki, Mohamed Mahmoud al-Sayed stated that Hayat Tahrir al-Sham brought reinforcements from Al-Badiya sector in order to fight against HNDZ.
Hayat Tahrir al-Sham withdrew from the outskirts of Taqad after failing to advance in HNDZ-held locality. Several authorities in Taqad declared commitment to neutrality and demanded to be excluded from the rebel infighting, in order to protect the civilians.
Local councils of the villages in Jabal Saemaan region accused Hayat Tahrir al-Sham of launching attacks on HNDZ and civilians. The head of the local councils of Jabal Saemaan, Ahmed Hilal stated that this message is an attempt to express the suffering of the region, which experiences sieges, cut off roads, and the cessation of work of the civil institutions and organizations. Local councils part of the Jabal Saemaan region are Anjarah, Hawatah, Kafr Bisin, Babis, Busrtoun, Kafr Dael, Khan al-Asal, Aeuijil, Kafr Joum, Maarat al-Artiq, Al-Mansoura, and Dahiat al-Kahraba.
The city's elders and local council of Al-Atarib released a video statement calling for an end of infighting between Hayat Tahrir al-Sham and Harakat Nour al-Deen al-Zenki. Local council and the 'Revolutionary General Assembly' called both parties to hold a meeting in Al-Atarib, in the presence of scholars. The head of the 'Revolutionary General Assembly', Osama al-Bakr said that they pleaded with leaders of HTS and HNDZ to protect civilians, stop fighting, and consider Al-Atarib as a neutral place for a reconciliation meeting.
Several religious scholars and tribal leaders launched an initiative to resolve the HTS and HNDZ infighting. Signatories of the initiative demand that the two sides agree to an "arbitration committee", which would consist of two members of each faction and three scholars. Some of the well-known signatories of the initiative include; Abd al-Rizq al-Mahdi, Abdullah al-Muhaysini, Abu Muhammad al-Sadiq, Musleh al-Olayan, and the Sharia Committee of the Free Syrian Army.
After all the reconciliation attempts by various groups and organization, HTS and HNDZ appear to have agreed on having a meeting in the neutral city of Al-Atarib. The head of Al-Atarib's local council, Yasser Abdul al-Razzaq stated that both parties agreed to meet without preconditions, and just work on a ceasefire deal tomorrow. The head of the 'Revolutionary General Assembly', Osama al-Bakr also stated that meeting between the two will happen in Al-Atarib.
Free Syndicate of Lawyers in Aleppo announced that its headquarters were stormed and attacked by the gunmen from a rebel faction, resulting in syndicate demanding that the civil institutions be excluded from the fighting and considered as neutral areas. Headquarters of the association were subjected to the clashes and theft. Member of the lawyers' syndicate, Yousef Abu al-Zubair said that one of the rebel parties used association's building as a staging point. Free Syndicate of Lawyers in Aleppo did not accuse any rebel party of attacking its headquarters, and just called for rebel groups operating in the area to conduct investigation and return stolen items.
Idlib:
Ajnad al-Sham, once part of Jaysh al-Fatah, officially joined Hayat Tahrir al-Sham. Ajnad al-Sham is a small military group, operating in the northern Hama and southern Idlib areas.
Two unknown individuals threw explosives at Hayat Tahrir al-Sham's checkpoint near Al-Dana's court. The incident caused no reported casualties.
Hama:
Syrian Arab Army's Qalamoun Shield Forces reportedly captured Abu al-Ghar from the rebel forces in the northeastern Hama governorate.
Syrian government and Hayat Tahrir al-Sham reopened Damascus-Aleppo international highway in the northern Hama after six years of closure. The road will be used as a trading route between Syrian government-held and rebel-held areas, as an alternative to the previous route which was through Abu Dali village, now under Hayat Tahrir al-Sham's control. International highway's trade route will be from SAA-held Souran towards rebel-held Morek. Trade route is already in function, and about 25 trucks entered rebel-held areas, while seven trucks entered SAA-held areas.
Deir al-Zour:
Syrian Democratic Forces cleared Al-Basirah (Al-Busayrah) pocket southeast of Deir al-Zour, by fully capturing Al-Basirah from the Islamic State. Spokesperson for the Syrian Democratic Forces' Al-Jazeera Storm (Asifat al-Jazeera) operation, Laila al-Abdullah, confirmed capture of Al-Basirah, and also added that clashes are still ongoing in Al-Shuhail. Reports suggest that at least six Islamic State's fighters were killed during the battles for Al-Basirah.
Reports about the Islamic State controlling majority of Al-Bukamal (Albu Kamal) turned out to be true. Syrian Ministry of Defense, The General Command of the Army and Armed Forces, and Ministry of Defence of the Russian Federation all issued false statements about the capture of Al-Bukamal. SAA and allies only have limited presence in the southeastern part of the city. East of Al-Bukamal, Islamic State's Amaq Agency reported death of three SAA's soldiers and injury of several others, after being targeted with an anti-tank guided missile in Al-Hari village.
Syrian Arab Army reportedly advanced south/southeast of Al-Mayadeen in the desertous area towards the city of Al-Bukamal. Scope of SAA's advances on this front depends on the source, with varying reports about 10 (6 miles), 13 (8), 18 (11), and 30 (18) kilometers of advances. In the same area, Islamic State reportedly destroyed SAA's tank and a technical with two anti-tank guided missiles in Al-Kashmeh village.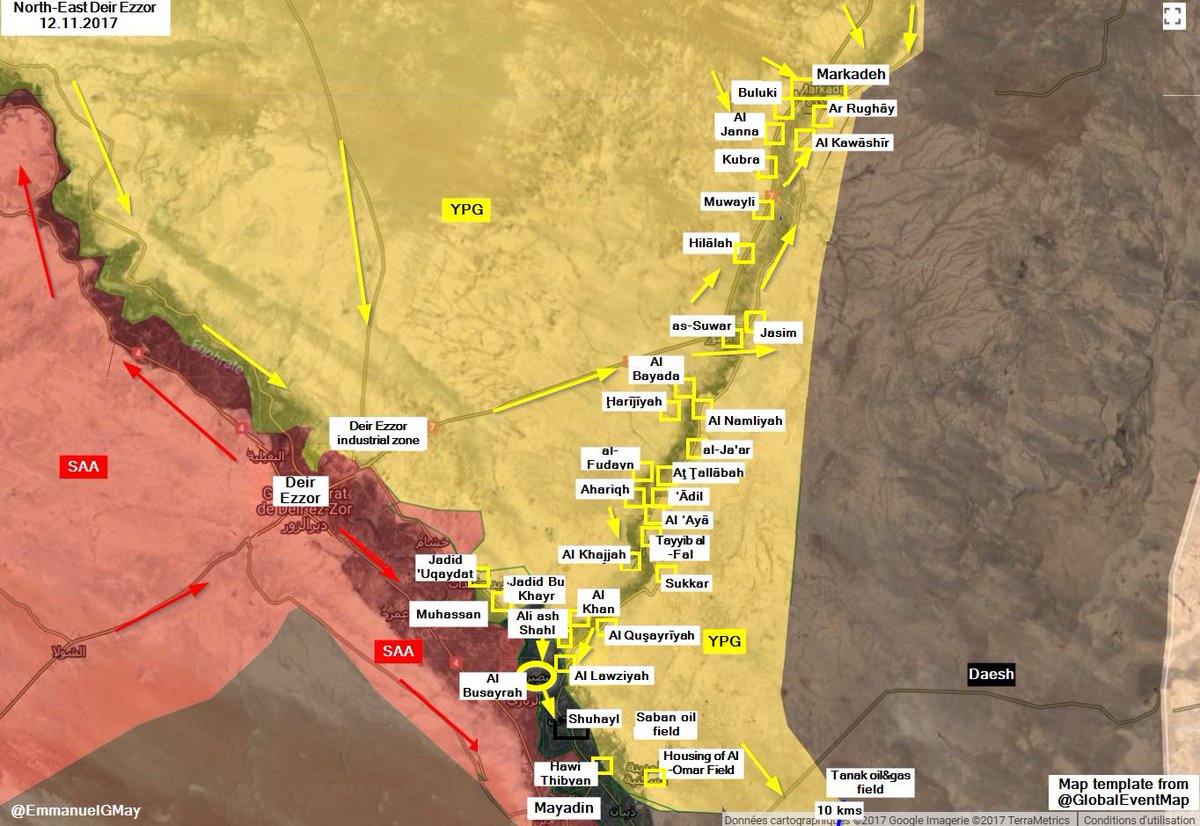 Situation in Deir al-Zour's area. Source: Emmanuel
Damascus:
Syrian Arab Red Crescent's humanitarian aid convoy consisting of 24 trucks entered through Al-Wafideen crossing and reached Douma.
Faylaq al-Rahman repelled Syrian Arab Army's attack on Jobar and Ain Terma fronts. According to the spokesman of Faylaq al-Rahman, Wael Alwan, SAA launched a large-scale attack backed by the armor, but FAR addressed the attack, not allowing SAA to make any progress on the front.
Syrian Arab Army's artillery targeted Ain Terma, Beit Sawa, Beit Naim, Zamalka, Al-Nashabiyah, Harasta, and Arbeen.
Syrian Arab Army backed by allies reportedly took control of Tall Sawada from the rebel forces, west of Kafr Hawar in Beit Jinn pocket.
Situation in Beit Jinn pocket, the red flag shows the location of Tall Sawada. Source: Global Event Map
Iraq
Baghdad:
Iraqi Security Forces conducted operations in Albu Khalid and Al-Haytaween areas in the Baghdad's vicinity. Security forces seized a vehicle-borne improvised explosive device and eight improvised explosive devices. Several wanted individuals were also arrested.
Islamic State's Amaq Agency claimed IS' improvised explosive device killed four Al-Hashd al-Shaabi's (Popular Mobilization Units) fighters and destroyed a vehicle. The explosion occurred yesterday in Al-Ramilat area, near Al-Ishaqi.
CJTF-OIR

:
CJTF-OIR announced a change in their publishing policy. Now two strikes reports will be published each week, on Mondays and Fridays.
Amaq Agency:
Afghanistan:
Islamic State reportedly assassinated a member of Riyasat-e Amniyat-e Milli (National Directorate of Security) in Hujirat village, Sirih Rurid Directorate.
Other:
Intellectual credited property used may vary from an edition to edition.
Feel free to voice your opinion in the comments section below, constructive criticism is welcomed.
For those of you interested, you can follow us on an official Twitter account @SyrianWarDaily, or me personally on my biased twitter @joskobaric where I occasionally tweet some things.