Hello and welcome to the 229th installment of the SWD. We'd like to apologize for the lack of daily editions for the past few weeks, we had some issues that have been resolved. Hopefully, similar scenarios will not occur in the future and we'll be able to provide consistent, unbiased daily editions.
Military events/news are listed below by the governorates:
Idlib:
Hayat Tahrir al-Sham has arrested Jaysh Idlib al-Hurr's (Free Idlib Army's) TOW operator, Bassem al-Hammoud, also known as Rami al-Tow. This is the second time HTS has arrested Bassem, the first incident occurred on the 18th of August and Bassem was released shortly after being imprisoned. Motives for Bassem's imprisonment are still unknown, he is currently being held in Al-Aqab prison, after being arrested in his hometown of Kafranbel (Kafr Nabl). During his time as a TOW operator, according to the estimations, Bassem destroyed about 30 military vehicles belonging to the Syrian Arab Army & its allies.
Hayat Tahrir al-Sham arrested another element of Jaysh Idlib al-Hurr, Ghassan Sadiq al-Qadour, driver of the mortar company in the group.
Two explosions rocked the Idlib governorate and caused civilian casualties. In Hafasraja, a woman was killed and several people injured after a landmine exploded. Remnants of the cluster bomb exploded in Kafrsajna, killing one civilian.
According to the reports, a child was killed by the Turkish border guards in Harim area on the Turkish-Syrian border, after supposedly a group of people tried to illegally enter Turkey.
Hama:
Syrian Arab Army reportedly captured Khirbet Juayad, Al-Hawa, Abu Lfa, Mushrifa, Rajm al-Ahmar and several other localities from Hayat Tahrir al-Sham. Interestingly enough, Mushrifa was captured by HTS from IS earlier today, the former's director of media relations, Imad Eddin Mujahid, stated that the IS only maintains presence in Aniq, Toutah and Hajila. During SAA's advances, two Hayat Tahrir al-Sham's commanders were killed, Abu Abdullah Taftanaz and Nour al-Shami, as well as an official in the group, Anas Abu Malek.
Syrian Arab Army, backed by the National Defense Forces freed 19 people, who were abducted by the Islamic State in Hama's countryside.
Rebels were able to kill SAA's Brigadier General Munther al-Suleiman, individual responsible for the military operations on Abu Dali and Mushrifa fronts. Furthermore, Hayat Tahrir al-Sham destroyed SAA's tank with a Kornet ATGM on Jub Abyad front.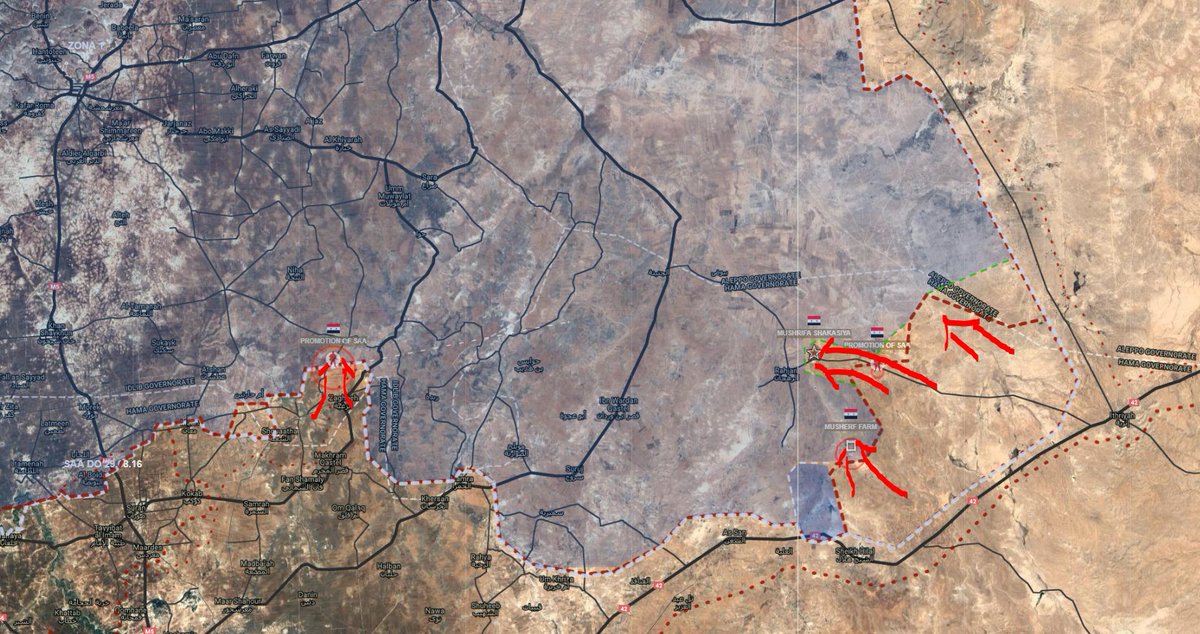 Approximate situation in northeastern Hama governorate, arrows show SAA's attacks. Source: GeromanAT
Deir al-Zour:
Syrian Arab Army made advances in the city of Deir al-Zour, capturing Al-Arfi and Al-Ommal districts from the Islamic State. These advances were confirmed by the Syrian Ministry of Defense in a statement, that also said that the forces are removing improvised explosive devices from the captured districts. Syrian Arab Army also launched an attack on IS-held Al-Hamidiyah, reportedly making advances. However, IS' Amaq Agency released a statement claiming death of 35 SAA's soldiers during the clashes in Al-Ommal district.
Confirmed SAA's casualties in the past 24 hours include; Abdul Rahman al-Meer, commander of Fawj al-Haydar in SAA's Tiger Forces, Thaer Shaish, field commander of the Tiger Forces, Lieutenant Hassan Mohammed Hassan, and Colonel Fouad Kamel Hassan.
Russian soldier, Vladislav Krastonoltsky was killed in the battles for Deir al-Zour against the Islamic State. Exact date of his death is currently unknown.
Amaq Agency reported IS' attack against Syrian Democratic Forces in the Al-Omar field area, east of Al-Mayadin. According to the Amaq, IS killed six SDF's fighters. Similarly, pro-SDF sources also reported clashes in the same area and claimed death of 12 IS' fighters and destruction of several vehicles.
Syrian and Russian airplanes targeted Al-Shuhail and Hajin, causing only material damage in the localities.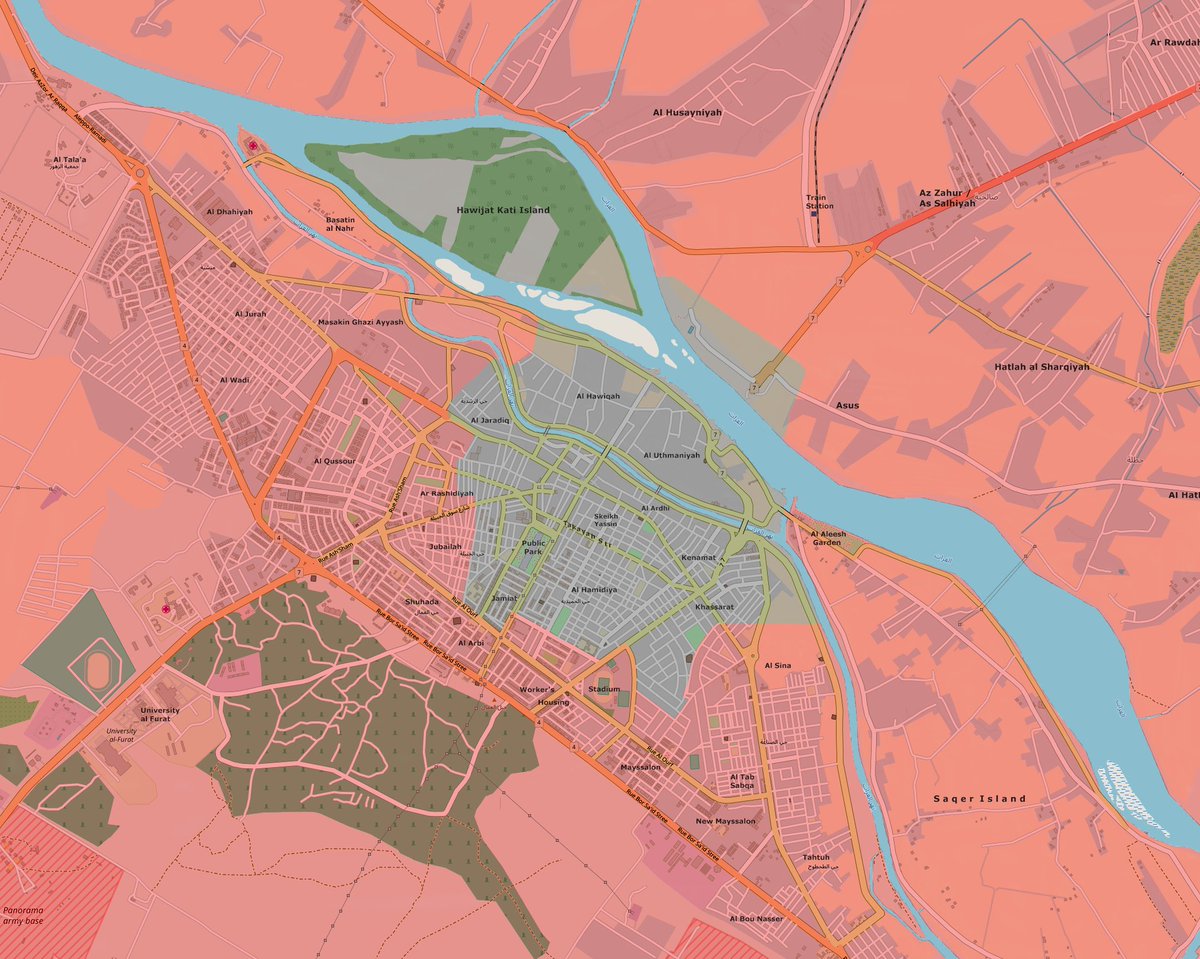 Approximate situation in Deir al-Zour city. Source:  Lucio Cienfuegos
Damascus:
Syrian Arab Army shelled several rebel-held localities in the Eastern Ghouta, some of which are Saqba, Hammouriyah, Kafr Batna, Hawsh al-Dawahirah, Ain Terma, Jisreen and Douma.
Hammouriyah experienced the worst shelling, resulting in at least nine deaths, including Al-Jisr's reporter and director of the channel's office in East Ghouta, Qais al-Jazzar, also known as Qais al-Qadi. Al-Jisr channel acknowledged Qais' death in a report, also stating that the cameraman accompanying Qais, Omar al-Dimashqi, was wounded by the shelling.
In Saqba, number of casualties has been reported at three killed people.
Hayat Tahrir al-Sham reportedly arrested six Faylaq al-Rahman's elements. Some of the arrested individuals are Abu Fares al-Saour, Abu al-Nasr and Abu Muhhamad Rastan.
Daraa:
Prison break took place early in the morning in Ghraz, east of Daraa city. The prison is under the control of Court of Justice in Houran. Prisoners escaped through the window after saws were reportedly smuggled alongside with the food. Number of prisoners that escaped is reported at 20, some of which are charged for murder.
Two Free Syrian Army's fighters were killed by Syrian Arab Army's shelling of Daraa al-Balad area in the city of Daraa. These casualties were confirmed by the rebel "Daraa Martyrs Documentation Office".
The same "Daraa Martyrs Documentation Office" released a statement today about the CJTF-OIR's airstrikes on Sahem al-Joulan, which targeted the locality on the 23rd of October. The aforementioned office stated that the CJTF-OIR targeted residential areas in IS' affiliates Jaysh Khalid ibn al-Walid-held locality, causing civilian casualties. According to the office, in total seven people were killed by the airstrikes, four civilians and three Jaysh Khalid ibn al-Walid's fighters.
Iraq
Baghdad:
Islamic State's suicide attack hit Al-Hashd al-Shaabi's positions in Al-Mshahda area yesterday. The attack, which occurred north of Baghdad, allegedly killed five Iraqi fighters and wounded additional 25, according to the Amaq Agency's statement.
CJTF-OIR

:
On the 27th of October 2017 CJTF-OIR has conducted one strike in Syria. CJTF-OIR's main focus in Syria at the moment is Deir al-Zour region where they did one strike supporting SDF's operations against IS engaging one IS tactical unit.
Full report on CJTF-OIR strikes conducted in both Syria & Iraq can be found here.
Amaq Agency:
Afghanistan:
Islamic State attacked Taliban positions in Wazeir Tanki area, Khukianu directorate. Casualties from the attack reported by Amaq are 11 dead and 12 wounded Taliban fighters. Another IS' attack in Nangarhar governorate occurred yesterday, this time the target was the Afghan National Army in Joudrah village, Hasakah Minah directorate. IS' fighters killed three Afghan soldiers and wounded two more, according to the Amaq Agency.
Other:
Intellectual credited property used may vary from an edition to edition.
Feel free to voice your opinion in the comments section below, constructive criticism is welcomed.
For those of you interested, you can follow us on an official Twitter account @SyrianWarDaily, or me personally on my biased twitter @joskobaric where I occasionally tweet some things.