Hello and welcome to the 185th instalment of the SWD.
Military events/news are listed below by the governorates:
Raqqa:
Although slow, steady progress of SDF in Raqqa to liberate more areas from ISIS militants. According to US officials, ISIS fighters that were captured show a high level of malnutrition and extended use of drugs. This implies that the terrorist organisation members are struggling to defend the besieged city.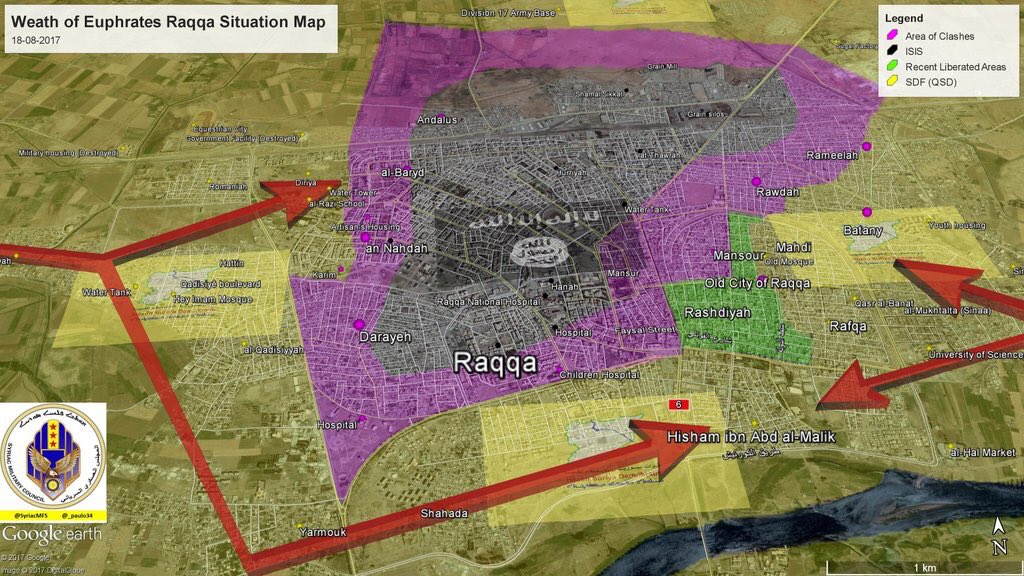 Aleppo:
Shelling between FSA and SDF continued in Harbul area and Al-Bab area respectively. Meanwhile, heavy clashes took place between the different factions in the Euphrates Shield-held area of al-Bab, at least 13 militants have been killed. Apparently, the clashes are between Hamza and Sultan Murad Division.
As can be appreciated in the following map, shelling between Kurdish-held areas and Turkish-backed areas is constant and is slowly expanding.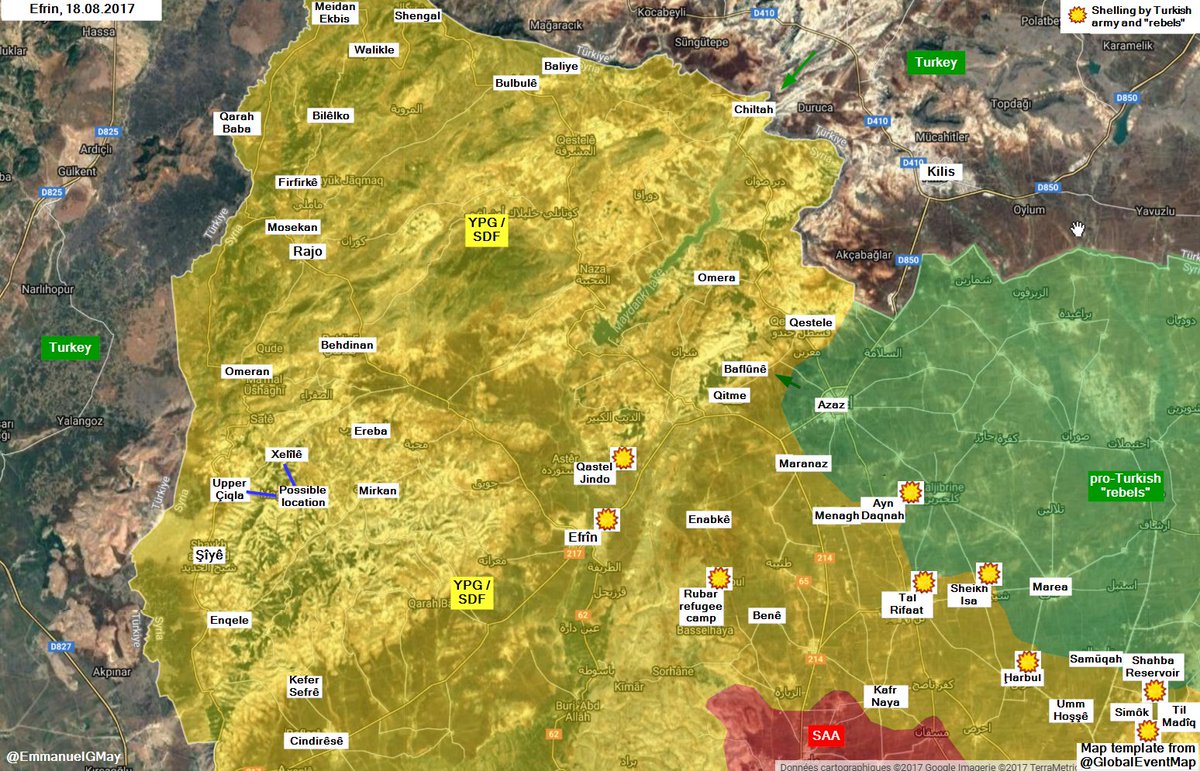 Idlib:
Bassem al-Hammoud, a famous FSA TOW gunner of the Free Idlib Army has been arrested by HTS in Kafranbel earlier today.
Hama:
Several HTS mortars targeted multiple SAA checkpoints around the as-Sa'an-Ithriya road in eastern Hamma countryside.
Government forces shelled targets located in the area of Jisr Al-Shughur.
Homs:
The SAA National Defence Forces captured Talat Gharbiyah and Sharqiyah in central Homs countryside. These advances are made after SAA completely encircled IS forces near Akerbat. Now ISIS forces are besieged in a huge pocket in the desertic mountainous area of central Syria.
After surrounding ISIS in the east of Salamiyah, SAA captured 9000 square kilometres in the last two weeks. Additionally, government forces destroyed 5 tanks, 3 armoured vehicles, 30 cars and almost killed 100 ISIS fighters.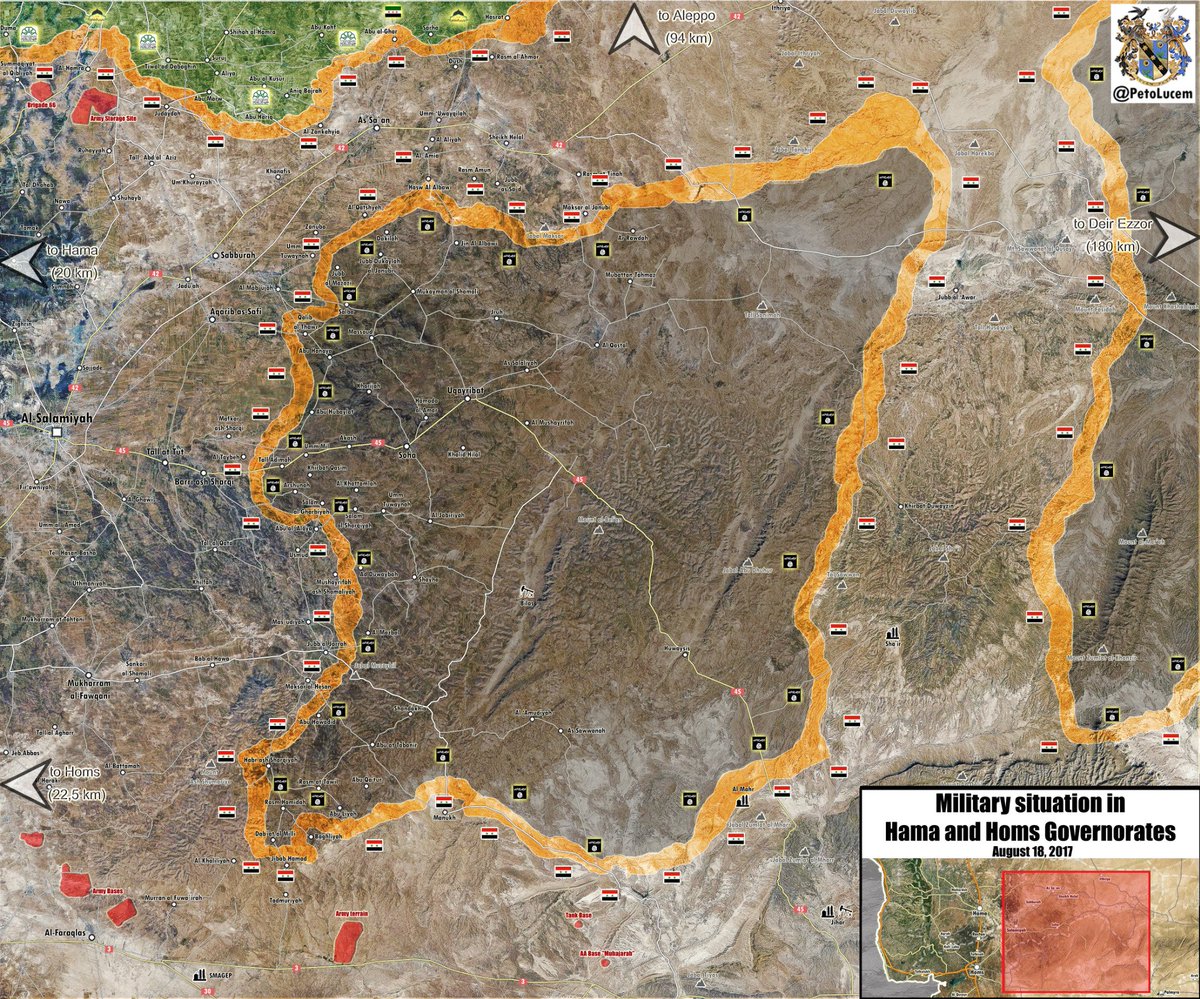 SAA and allied forces monitor fire control over the highly fortified Humaymah area in eastern Homs countryside.
Moreover, the 800th Regiment of the Syrian Republican Guard, an elite SAA group, advanced 17km on the Sukhnah-Deir ez-Zor road by capturing Najib Gas Station and Najib field, and Saroukh. The total area captured is, more or less, of 50 square kilometres.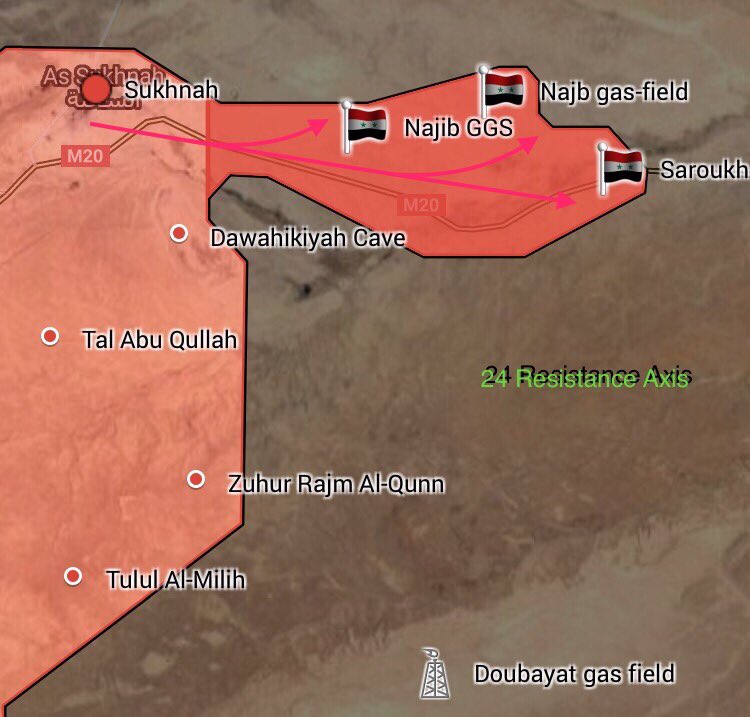 Damascus:
After several days of shelling and battles, Faylaq al-Rahman and other FSA groups negotiated a ceasefire with government forces in Eastern Ghouta. The ceasefire was settled to begun at 9 pm on Friday (18th August 2017). The ceasefire includes the lifting of the siege. Although, the Hayat Tahrir al-Sham-held areas are excluded from the ceasefire.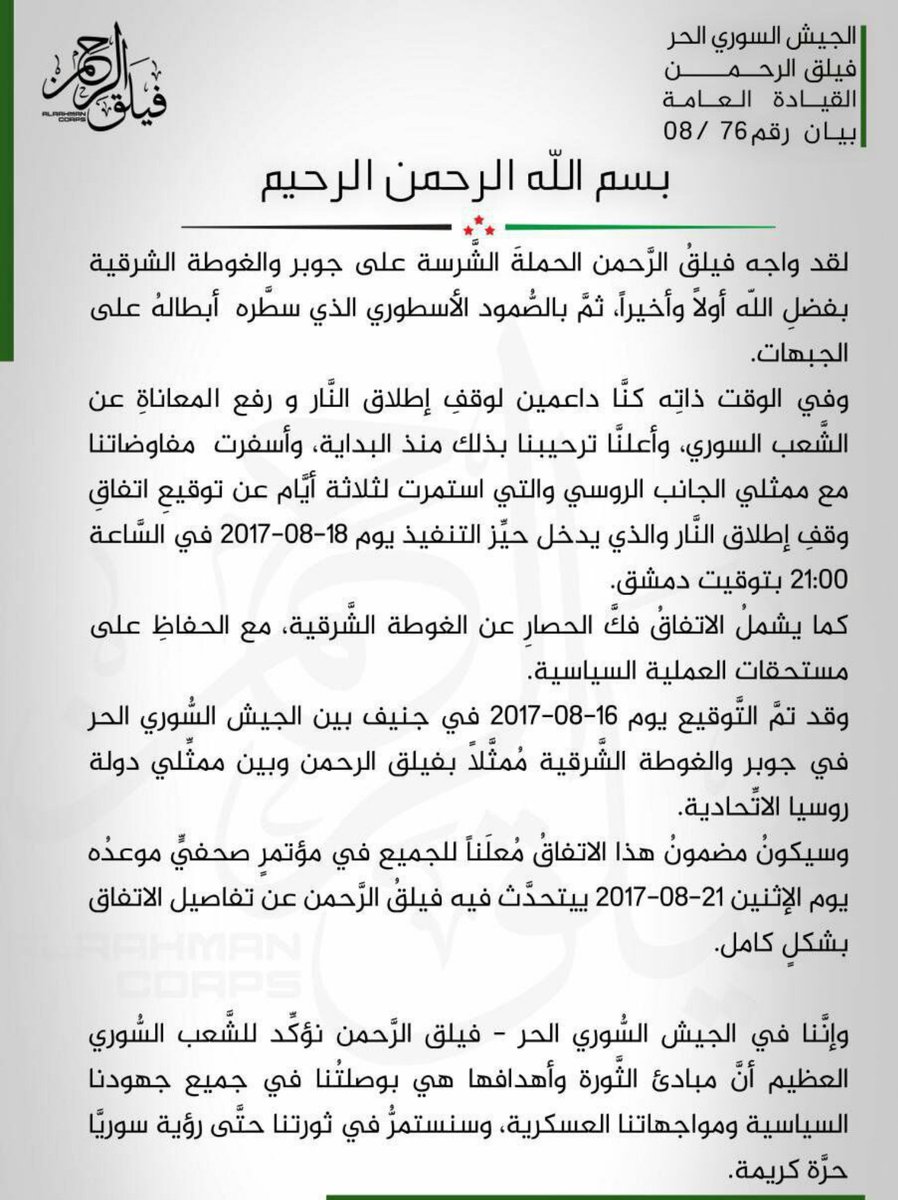 The Syrian Arab Airforce has been targeting the outskirts of Hadallat refugee camp located close to the border with Jordan for several days now.
Daraa:
Heavy clashes took place between FSA and IS as the latter tried to advance on Tell Ashtara area. According to opposition sources, the attack was repelled.
Abu Ali al-Nasir (Nader Dhiab) is the new Emir of Jaish Khalid, an ISIS-affiliated group in Daraa area.
Deir ez-Zor:
Intense Russian air strikes took place today, the goal was to destroy lots of ISIS positions from Oqairbat in eastern Hama to Deir ez-Zor.
Iraq
Nineveh:
Iraq military sent reinforcements towards the forces in Tal Afar. According to officials, the upcoming offensive is expected to begin on Monday.
Baghdad:
The Islamic State executed 4 men in the north of Baghdad accusing them of spies.
CJTF-OIR:
On the 17th of August 2017, CJTF-OIR has conducted 22 strikes in Syria. CJTF-OIR's main focus in Syria is Raqqa region where they did 18 strikes supporting SDF's operations against IS destroying 29 fighting positions, three ISIS communication lines and two logistics nodes.
Other areas where four strikes occurred are Abu Kamal and Deir ez-Zor destroying three ISIS oil stills, two pieces of oil equipment, a weapons cache, an ISIS headquarters and an ISIS media centre. The full report on CJTF-OIR strikes conducted in both Syria & Iraq can be found here.
Other:
Intellectual credited properly used may vary from an edition to edition.
Feel free to voice your opinion in the comments section below, constructive criticism is welcomed.
For those of you interested, you can follow me on my personal, controversial twitter @alextorrell where I constantly tweet about different issues and conflicts