Hello and welcome to the 177th instalment of the SWD.
Military events/news are listed below by the governorates:
Raqqa:
SDF has destroyed the biggest ISIS-held mine factory in al-Bayatra neighbourhood. Advances are becoming slower as US-backed forces reach the hard urban warfare scenarios, the front line is close to Al-Bustan garden in south Raqqa city. SDF announce that at least, 9 YPG militants have been killed in Raqqa city. SDF saved several Christians and Armenians left by ISIS to starve to death, while obligated to pay for an extortion tax to avoid being murdered.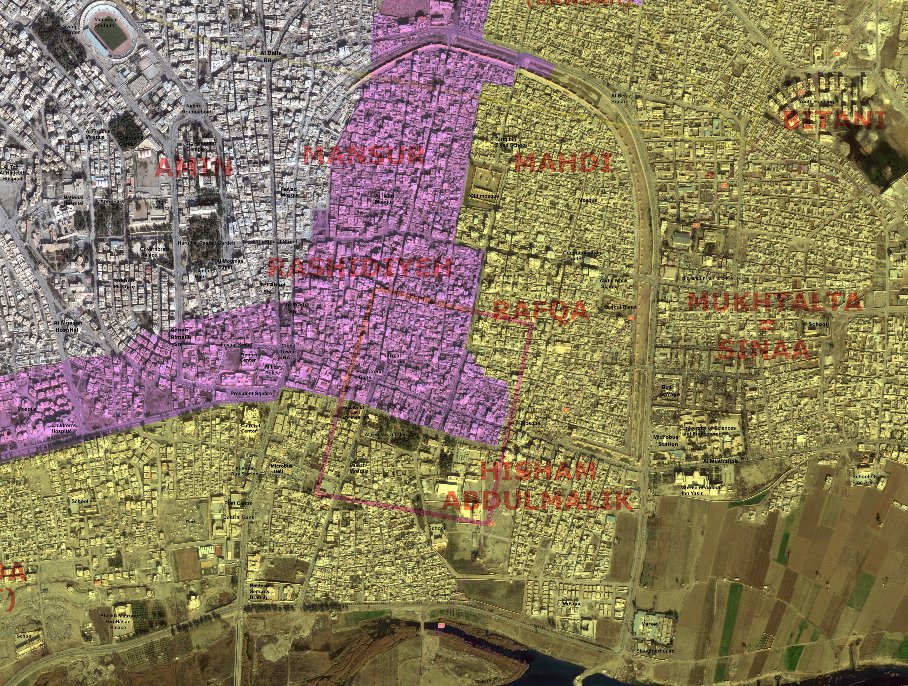 SAA Tiger Forces and Tribal Forces captured Shuyb Al-Fatem and Wadi Susah Valley located south-west of Maadan after clashes with ISIS.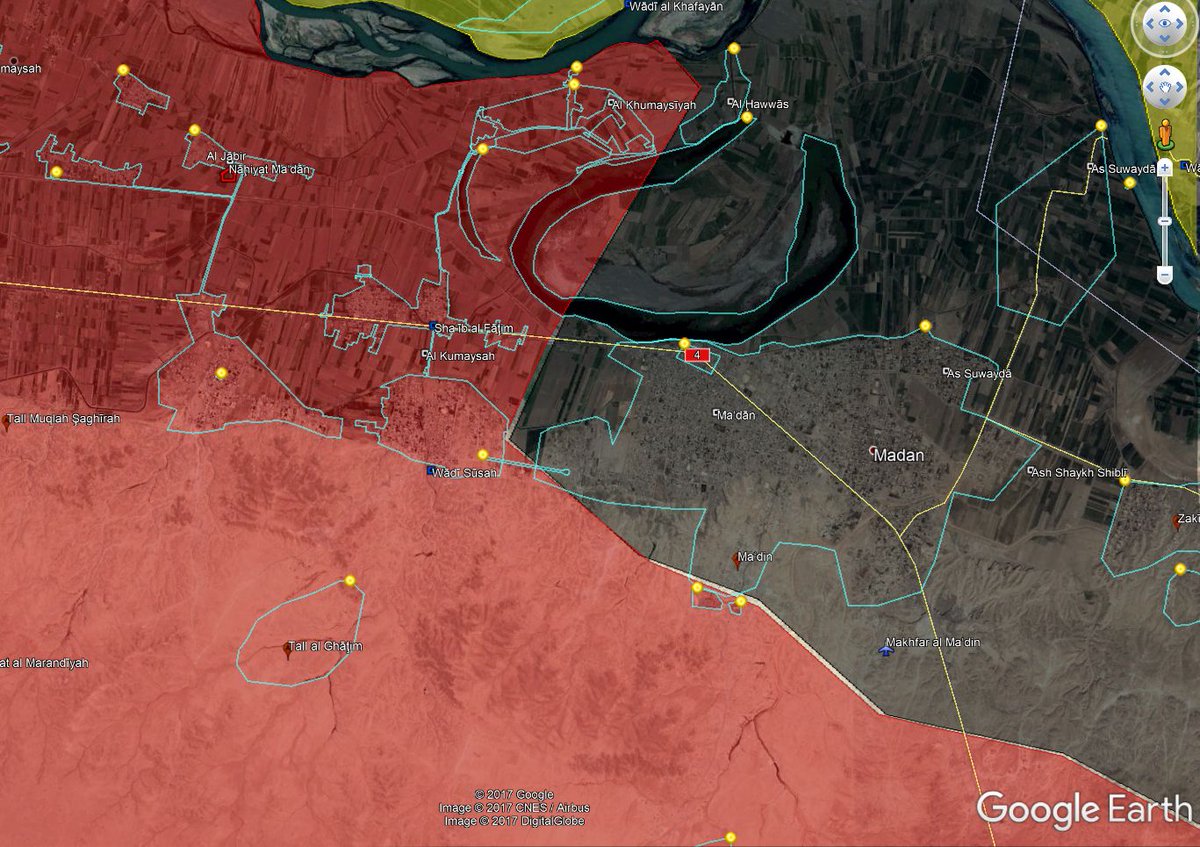 Meanwhile, ISIS claims to have killed 11 SAA soldiers and destroyed two tanks and a car in a blitz attack last night in the area of Ghanim al-Ali village in rural Raqqa. Another tank has been destroyed near the village of al-Zemla south of Raqqa by an ISIS-guided missile.
Aleppo:
SAA announced that Jirah Military Airbase is operative again, at least for attack helicopters.
Violent clashes took place last night between SAA forces and rebel forces south to the Al-Assad suburb in Aleppo city as the first tried to advance on the front. According to Al-Safwa Islamic Battalion, SAA suffered over a dozen casualties and announced to have captured some soldiers in southern Rashideen neighbourhood.
Meanwhile, multiple sources announced that a huge number of reinforcements arrived in west Aleppo military bases. Some pro-government sources reported that a possible military operation may take place in western Aleppo suburbs.
HTS commander of the Central Administration of Badiya has been assassinated in Soth Aleppo governorate by an unknown individual.
Shelling exchange continues in northern Aleppo between Turkish-backed rebels and SDF forces in Afrin front lines. Today, FSA attacked Ain Dikneh with mortars while SDF targeted the town of Kaljibrin.
Hama:
Strikes against ISIS killed more than 30 terrorists, and 10 vehicles destroyed according to the Russian Aerospace Forces.
The Syrian Arab Army is 50 km away to surround ISIS forces inside a big East Hama pocket, and another 40 to 45 km to cut that pocket in two. Although, this strategy seems not to be the best military strategy as the pocket area is mainly made of hills, mountains and valleys, ideal for guerrilla tactics where an air force is less useful or ineffective at all.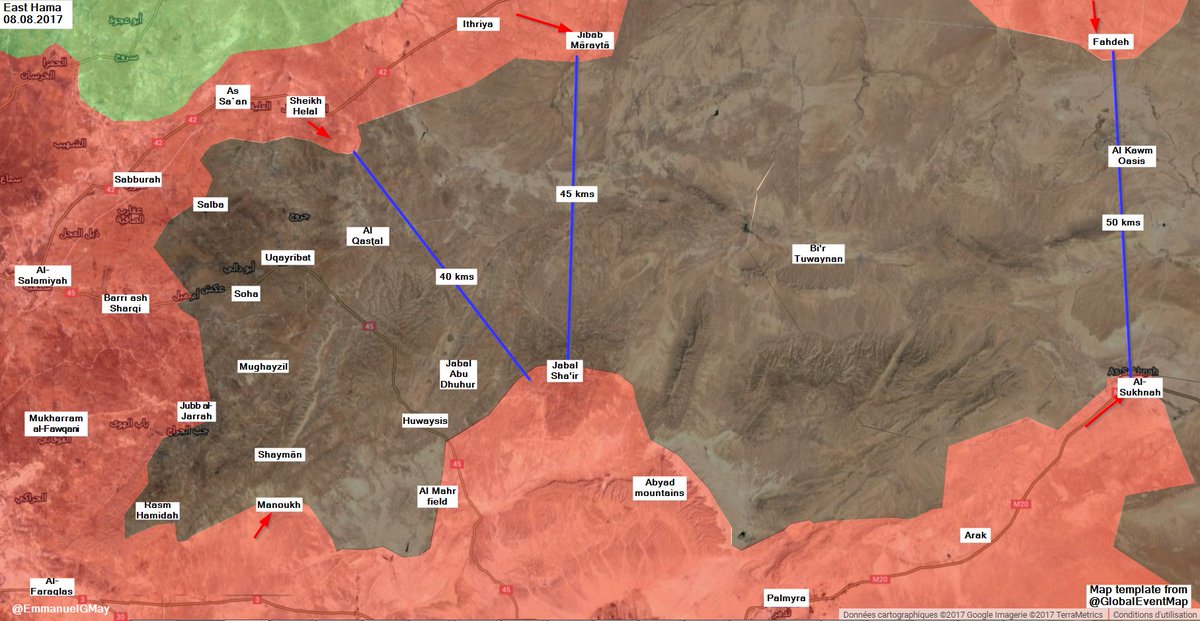 According to Al-Masdar News ISIS has began begun to withdraw its forces from central Syria.
Homs:
Russian war reporter stressed that Syrian government troops haven't fully liberated Sukhnah yet. SAA troops seem to be stalled in the southern and western parts of the town, probably clearing the area of mines and IEDs.
According to the Syrian Ministry of Defence, the Syrian Airforce destroyed six pickups, three prefabricated buildings, two trucks, and an ammunition depot in the area of Badia Al-Sham.
Damascus:
Syrian government forces bombarded multiple villages within the East Ghouta pocket. The hit villages are Zuraiqia, Hosh Dawahra, Douma city, Kafr Batna, Jobar, and Ayn Tarma. Rebel forces responded by launching an artillery shell targeting the 4th division and doing a direct hit on an armoured vehicle. Government shelling caused the death to 5 civilians and over a dozen wounded.
Faylaq al-Rahman damaged two T-72 tanks in another failed attempt by the Syrian Arab Army forces to storm Ayn Tarma positions. In addition, an ambush killed 10 SAA fighters in Ayn Tarma, too. SAA forces also stormed Jobar with. Early reports suggested that government forces captured more than 10 building blocks near the Al-Manasher Roundabout in Jobar.
Syrian security forces seized a large ammunition and weapons depot during combing of the newly liberated areas. Published images show plenty of weapons, explosives, and ammunition.
As-Suwayda:
Syrian Arab Army and allies capture Qa' Sarah, border outpost 133, Wadi al-Shu'ab, and an army border control location in southeastern Sweida countryside.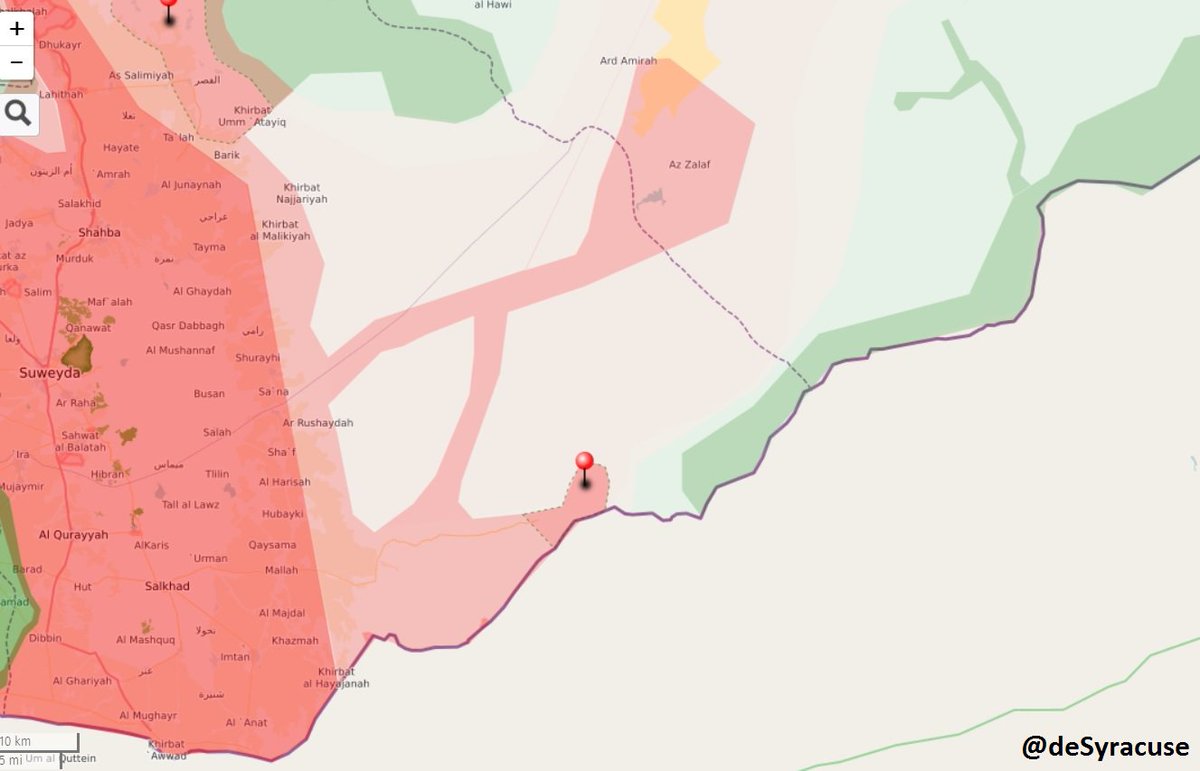 Deir ez-Zor:
Today coalition aeroplanes, as well as Syrian government warplanes, continuously bombed the city of Deir ez-Zor and its surroundings.
The Islamic State forces launched a large attack on Syrian government forces and allies in Humaymah area located on the Homs-Deir ez-Zor governorate border. ISIS attack also hit T3 station with 6 suicide VBIEDs that killed over 40 Iraqi, 10 Aghan, and 9 Hezbollah soldiers. Terrorist reports also suggest that 7 soldiers had been killed. The main attack took place in the village of Humaymah from three different fronts. Major General Ghasan Yunis, commander of the 60th Armored Brigade is among the multiple casualties.
Late reports suggest that ISIS forces have retreated and that SAA and allies still hold Humaymah village after both sides suffered heavy losses, at least 80 ISIS terrorists killed and unknown SAA casualties. Moreover, pro-government sources suggest that government forces have advanced a little bit deeper in the desert towards Deir ez-Zor. In addition, some other sources claim that the gathering was a preparation of a huge attack towards Deir ez-Zor; ISIS wants to avoid SAA from reaching Wadi al-Furat. Although, this information is not confirmed.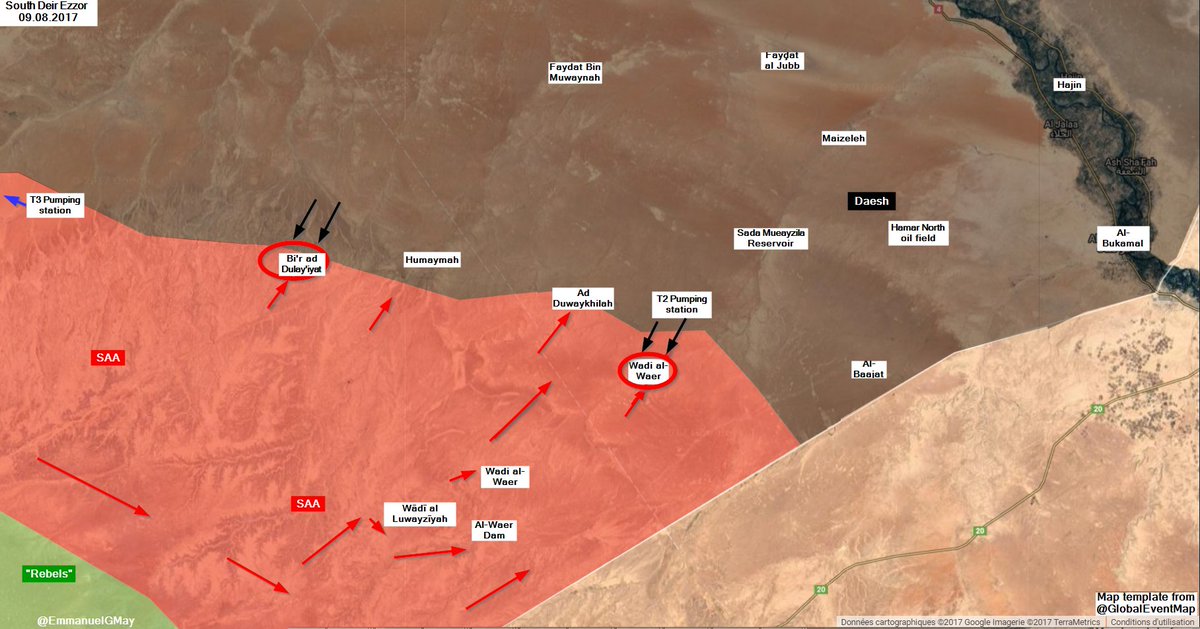 25 rebel groups announced their merger under the Deir ez-Zor Liberation Brigade, led by Yasser Izz al-Din al-Turki. This is the list of groups within the Deir ez-Zor Liberation Brigade:
Mu'tasim Brigade
Revolutionary Shield Brigade
Dignity Battalion
Abbas Battalion
Sons of Islam Movement
Brigade of God
Omar Battalions
Ali ibn Abi Talib Battalion
Ansar Battalions
Descendants of Mustafa Battalion
Sword of Justice Battalion
Liberation Brigade
Badr Brigade
Special Forces Brigade
Sa`d ibn Abi Waqqas Battalions
Euphrates Commando Battalion
Dhi Qar Battalion
Muhajir Brigade
64th Special Forces Brigade
Muhammad Battalions
Iraq 
Mosul:
More than 253.000 displaced people have returned to their homes, yet hundreds of thousands more are expected to return soon.
Iraq Federal Police Units killed senior ISIS judge, Abid Al-Satar Mohammed in Mosul old city when different units were clearing the tunnel.
Amaq
Egypt:
Islamic State media claims to have killed a major in Qena town.
Iraq:
Islamic State executes an Iranian fighter captured from the PMU base near The Al-Tan border cross at the Syrian-Iraqi border.
Yemen:
IS targeted Houtis in Sablat al-Jarm area in Al Bayda.
CJTF-OIR:
On the 8th of August 2017,  CJTF-OIR has conducted 25 strikes in Syria.  CJTF-OIR's main focus in Syria is Raqqa region where they did 22 strikes supporting SDF's operations against IS destroying 20 fighting positions, an IED, an ISIS engineering equipment, a logistics node, and a command and control node.
Another area where three strikes occurred is Deir ez-Zor destroying three ISIS supply routes. The full report on  CJTF-OIR strikes conducted in both Syria & Iraq can be found here.
Other:
According to Ibrahim Al Assil (@IbrahimAlAssil) the Syrian opposition interim government is in bankruptcy and has stopped distributing salaries, work is on a volunteer basis since early August. More on this article. 

Image of the Opposition government resolution 56 announcing the voluntary character of work – via MicroSyria
Intellectual credited properly used may vary from an edition to edition.
Feel free to voice your opinion in the comments section below, constructive criticism is welcomed.
For those of you interested, you can follow me on my personal, controversial twitter @alextorrell where I constantly tweet about different issues and conflicts.