Hello and welcome to the 169th instalment of the SWD.
Military events/news are listed below by the governorates:
Raqqa:
The SDF have made more advances into Shahada district and are now close to connecting with SDF forces at Hisham AbdelMalek district. Such advances would mean that all southern Raqqa city would be under SDF control.
Meanwhile, ISIS forces had launched several attacks on SDF positions with drones, snipers, SVBIEDs and ATGMs despite being completely surrounded.
SAA sources have denied the reports about government forces controlling any village/city placed next to the Euphrates river, thus previous information posted should be considered as fake. Thus, the two pockets created on the southern bank of Euphrates river do not exist.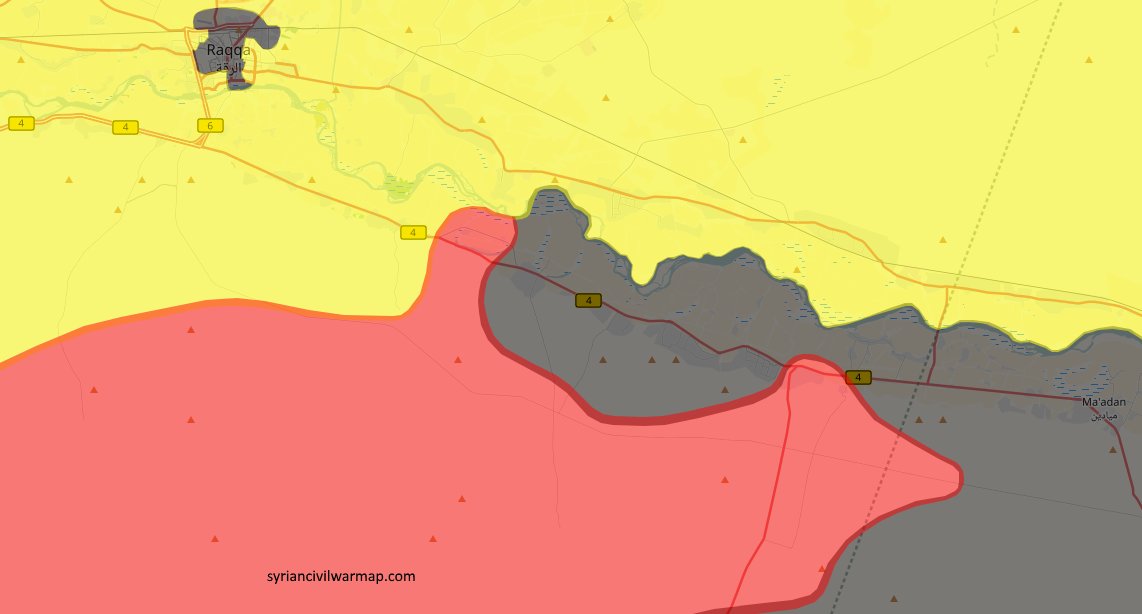 SAA sources also confirmed that ISIS forces are putting lots of efforts on defending the villages next to the river. Government losses reached 50 KIA soldiers and more than 60 injured. ISIS main aggressive defenses include the use of multiple SVBIEDs and ATGMs targeting supply lines and military checkpoints on the main roads.
The following map shows the location of the forces within Shinan village and the path of those VBIEDs that managed to hit SAA's main supply lines.
Government forces captured Qulb Abu Matar (Khirbet Abu Matar) located south east of as-Salam Alaykum village.
Aleppo:
Unconfirmed reports about clashes between YPG and pro-government militant from Nobul and Zahraa towns in Aleppo governorate.
Meanwhile, Turkish backed forces continued bombing the villages of Alqamiya, Ain Dukneh and Balda Meng with artillery and mortar shells. Past night Turkish forces entered Siftik Wastani, Sifti Fawqani and Bubana villages (west of Kobani), but pulled out again shortly after.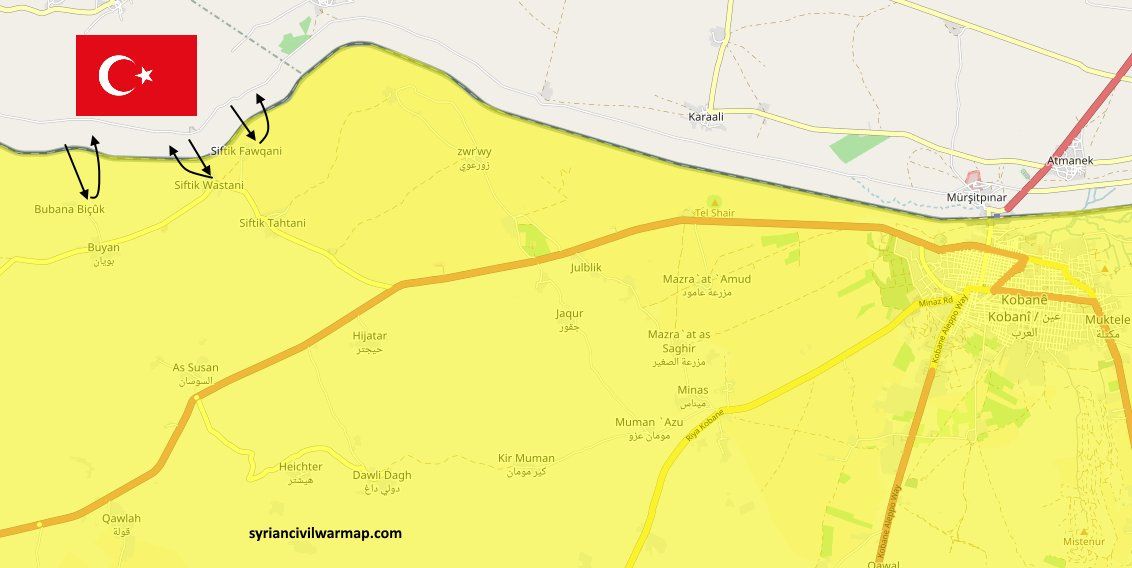 Government helicopters dropped leaflets in rural Aleppo indicating the population of the areas of Anadan, Hritan and Kafr Hamra to get out or "wait for death". Leaflets also had a map with a small zone marked between Idlib and Aleppo as the de-escalation area.
Idlib:
Hassan Soufan is the new head of Ahrar al-Sham. Soufan was sentenced to life in prison but was released after 10 years in a swap for 14 soldiers and abducted children from Lattakia during the Aleppo war past December 2016. He is original from Lattakia and some reports claim that he fought with Zarqawi and Al-Qaeda in Iraq.
Homs:
Government forces have launched air strikes and shelled Teldo city in northerner Homs countryside
Preparations to storm and attack the Syrian city of Sukhnah are still going on as government forces and allies are receiving heavy weapons for the battle. According to preliminary reports, the infantry units, as well as the monitoring and reconnaissance operations, are ready to storm the city. SAA units are 2 and a half kilometres away from Sukhnah city. Thus, expect a fresh attack on the city on the following days.
US-backed forces in Al-Tanf border crossing fired more Grad missiles targeting government forces in the area.
Deir ez-Zor:
A precise map showing the trench digged by SAA forces in Deir ez-Zor city has been uploaded. Although no news have appeared, the following map shows an updated military situation.
Iraq
Nineveh:
Iraqi Counter Terrorism units made their way to the outskirts of Tal Afar in west Mosul countryside.
CJTF-OIR:
On the 30th of July 2017,  CJTF-OIR has conducted 16 strikes in Syria.  CJTF-OIR's main focus in Syria is Raqqa region where they did 14 strikes supporting SDF's operations against IS destroying nine fighting positions, three supply caches, two ISIS-held buildings, a vehicle, a tunnel, and a command and control node.
Other areas where two air strikes occurred are Al-Shadaddi and Deir al-Zour, destroying one vehicle and an ISIS-held building. The full report on  CJTF-OIR strikes conducted in both Syria & Iraq can be found here.
Other:
Intellectual credited properly used may vary from an edition to edition.
Feel free to voice your opinion in the comments section below, constructive criticism is welcomed.
For those of you interested, you can follow me on my personal, controversial twitter @alextorrell where I constantly tweet about different issues and conflicts.