Hello and welcome to the 136th instalment of the SWD.
Military events/news are listed below by the governorates:
Raqqa:
Today's SDF advances and freed the Hattin district from Islamic State control; advances were made in Nahda District in West Raqqa with SDF reporting at least 19 ISIS fighters killed.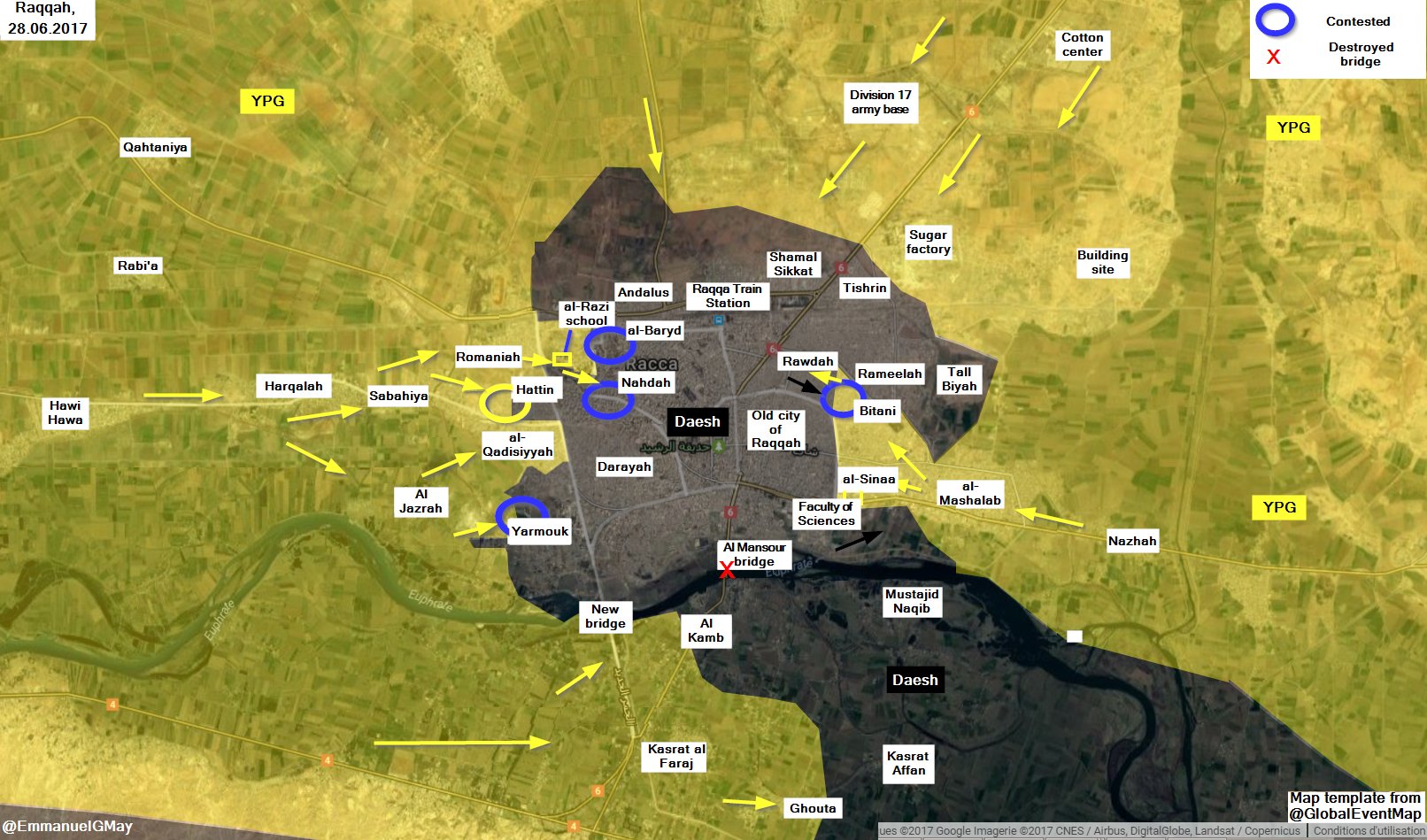 Situation in Raqqa. Source: Emmanuel
Idlib:
After several weeks of IEDs-bombings in Idlib Ahrar Sham has announced the elimination of an ISIS cell of at least 4 members. Two of them were killed in action while the two other blew themselves up.
Turkish army and its backed groups targeted with artillery the Afrin region from Azaz and also Idlib side.
Homs:
The SAA seized a hidden ammo depot in Al Waer, Homs. Contradictory reports of explosions heard in Homs neighbourhoods emerged few minutes after midnight. The origins are yet to be determined.
Desert Hawks units of the Syrian government were seen East to the city of Homs, reports claim that they are about to start a new operation against ISIS in East Salamiyah.
Clashes between ISIS and the SAA took place close to the border between Deir Ez Zor and Homs governorates. Furthermore, the Syrian Minister of Defense announced SAA and allies freed 10 Kms East Arak fields on the Road Arak – Al-Hiel field.
Aleppo:
Reports emerged in Khanaser of an ammunition depot exploding. East to Khanaser, the SAA advanced against ISIS liberating the villages of Al-Shriemea, Al-Aetshane, and Ragem Askar and its surrounding hills.
Regarding the water crisis in Aleppo, its governor explained the reasons behind the crisis. First, the lower water levels in the Euphrates from Turkey to Syria; second, the power cuts from the pumping stations; third, rebels blew up a power line in Zahraa area wich feed some of the vital water tanks.
Daraa:
The SAA targeted with 18 barrel bombs some rebel positions located between the ISIS-held areas and Government-held areas.
The newly appointed leader of the Islamic State in Daraa has been killed. Some still unclear strike targeted a headquarter in Jillen.
Quneitra:
Israel Air Force responded to SAA mortar fire on the Golan height by striking on the SAA position in Samadaniyah Sharqiya that fired the mortar with only material damage being reported.
On the one hand, rebels destroyed an AA gun in Baath City, some reports reported its crew to have died.
On the other hand, SAA forces and its allies have captured 3 new points at the outskirts of the Baath City
Damascus:
In East Damascus, in Jobar, Faylaq Al-Rahman blew up a Regime tank. The SAA assaulted the area South of the Highway's bridge on Aim Terma front, pro-rebel sources claim at least four SAA KIA. Reports suggest that the frontline hasn't changed.
Iraq
Nineveh:
Iraq Federal Police found an ISIS weapon storage in Old Mosul, apart from ammunition, some of the IEDs had chlorine gas. as completely captured by Iraqi forces from Islamic State. Furthermore, Iraqi Federal Police captured Al-Zewani mosque in Old Mosul.
ISIS claims having killed four Iraqi soldiers and wounded other in a failed attempt to advance into the Bab Jadid area. Moreover, ISIS announced it retook the control of several positions in al-Mashada district in Western Old Mosul.
A group of 70 ISIS members managed to infiltrate into the district of Kahraba al Yarmuk. Iraq Counter Terrorism Service had to send 2 battalions to defeat the aggressors.
Anbar:
ISIS successfully raid an Iraqi Army position in Anbar killing some soldiers guarding the position. The attack also damaged an unknown number of vehicles. More images appeared showing how ISIS destroyed a whole column of destroyed Iraqi vehicles. According to different reports, at least 100 soldiers were killed and more than 50 vehicles were either destroyed, captured or damaged.
CJTF-OIR:
On the 27th of June 2017, CJTF-OIR has conducted 32 strikes in Syria. CJTF-OIR's main focus in Syria at the moment is Raqqa region where they did 18 strikes supporting SDF's operations against IS destroying 9 fighting positions, 12 vehicles, and a boat; and suppressed two ISIS tactical units.
Other areas where three airstrikes occurred are Abu Kamal (Al-Bukamal), Al-Shadaddi and Deir al-Zour, destroying an IS well head, a vehicle, a tank, four ISIS-held buildings, two pump jacks, a staging area, a storage facility, a refinery, and a generator. The full report on CJTF-OIR strikes conducted in both Syria & Iraq can be found here.
Other:
Intellectual credited property used may vary from an edition to edition.
Feel free to voice your opinion in the comments section below, constructive criticism is welcomed.
For those of you interested, you can follow me on my personal, controversial twitter @alextorrell where I constantly tweet about different issues and conflicts.