Hello and welcome to the 134th installment of the SWD.
Military events/news are listed below by the governorates:
Raqqa:
South of Raqqa, Syrian Democratic Forces captured the destroyed "New Bridge" and the village of Al-Ghouta from Islamic State. Also south of Raqqa, IS destroyed four SDF's vehicles in the village of Al-Kasra, according to Amaq's statement.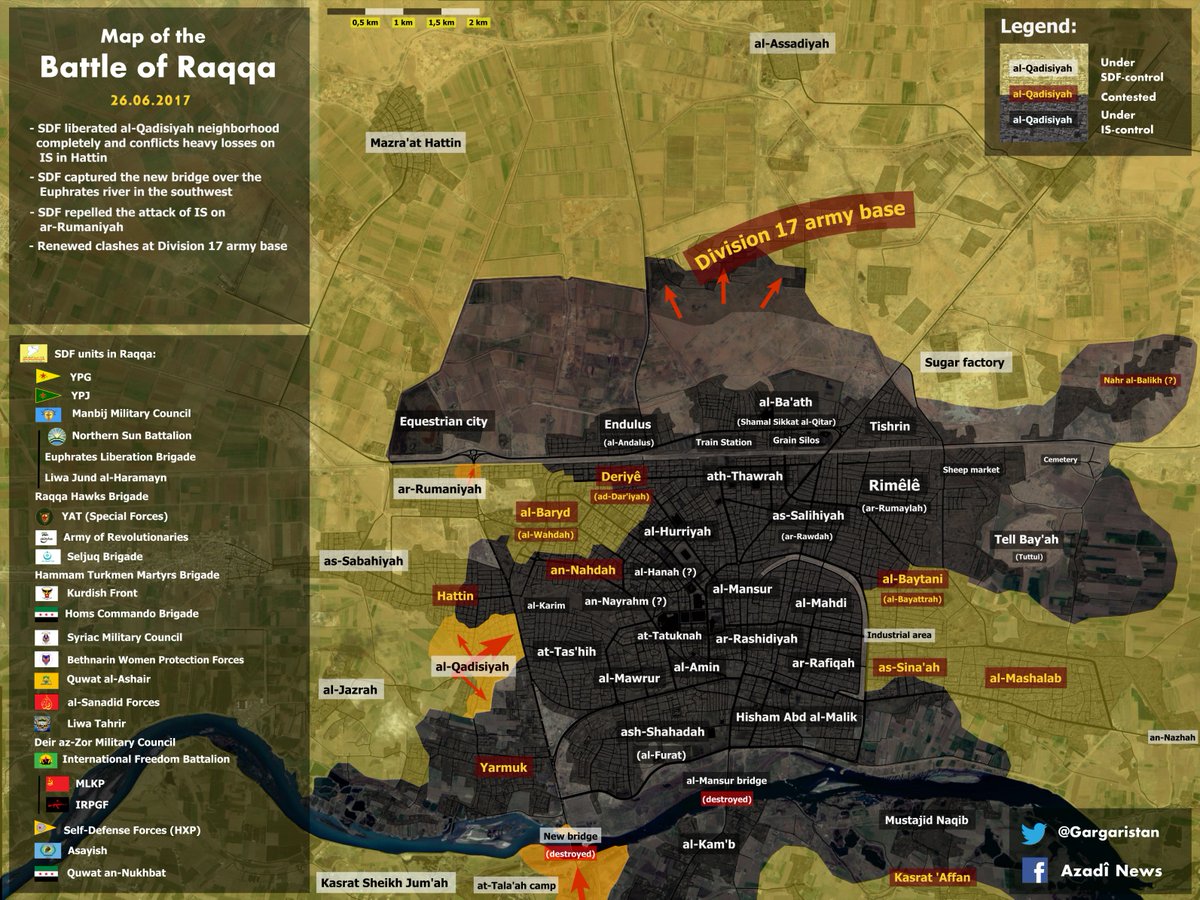 Situation in Raqqa. Source: Gargari
Idlib:
Abna al-Sham released a statement regarding yesterday's events in Idlib, including Hayat Tahrir al-Sham's storming of their HQ. According to Abna al-Sham, masked men affiliated with Hayat Tahrir al-Sham stole one of their technicals mounted with a machine gun, and raided artillery HQ in Maarat al-Numaan.
Turkish Gendarmerie wounded 12 people near Darkush as they've tried to illegally enter Turkey. The group of people trying to enter Turkey were reportedly displaced people from Deir al-Zour and Hama governorates. This isn't the first time Turkish soldiers opened fire on people illegally trying to enter, on the 14th of June, seven people were killed. Turkey is enforcing its warning from 2016, when it announced that it will use force against those who disobey warnings and continue trying to illegally enter Turkey.
Homs:
Syrian Arab Army advanced against Islamic State towards T2 airport & pumping station, and Humaymah by capturing Bir al-Dulayiat, west of the aforementioned localities.
Amaq Agency released a statement saying that four SAA's soldiers were killed and seven injured in an Islamic State's attack southeast of Palmyra.
Situation in southeastern Syria. Source: Rr016
Damascus:
Syrian Arab Army and Faylaq al-Rahman clashed on Ain Terma and Jobar fronts, the former allegedly made limited advances on Ain Terma front. However, these advances were denied by Faylaq al-Rahman's statements, which state that rebels repelled SAA's attacks and damaged a tank and a ZSU-23-4 (Shilka) in the process. According to pro-government sources, SAA captured a junction and reached the outskirts of Al-Khair markets, southwest of Ain Terma.
Free Syrian Army factions launched a new attack against Syrian Arab Army around Bir Qassab area. FSA reportedly captured Rujm Surayhi and destroyed SAA's T-72 tank as clashes still continue in the area.
Unconfirmed situation in Ain Terma area. Source: loomis
Quneitra:
Reports suggest that Israeli Air Force targeted SAA's positions in Quneitra once again, for the third consecutive day. Airstrikes allegedly killed two soldiers and wounded three.
Rebel "Daraa Martyrs Documentation Office" reported death of one Hayat Tahrir al-Sham's fighter and one Free Syrian Army's fighter due to clashes with SAA in and around Madinat al-Baath. Confirmed rebel death toll from the clashes in Madinat al-Baath is at least six fighters.
Iraq
Nineveh:
Iraq Joint Operations officially announced Al-Farouq neighborhood in Old Mosul district, as completely captured by Iraqi forces from Islamic State. Heavy clashes still continue in other neighborhoods/areas of Old Mosul, according to Amaq, 10 Iraqi soldiers were killed and 18 wounded in IS' attacks in Bab al-Toub neighborhood, and Halab and Al-Kurnish streets. Furthermore, IS' snipers allegedly killed four members of Iraqi Federal Police in Bab al-Toub, Al-Kurnish and Al-Mashahedah areas.
It appears that yesterday's infiltration by IS in several districts of west Mosul was overhyped by Amaq, Iraqi forces easily overcame IS' sleeper cells that caused havoc in Al-Tanak district.
Fursan al-Jubur (The Knights of Al-Jubur) aided by the locals killed an IS' suicide bomber before he was able to detonate himself at the entrance to the Al-Houd Fawqani village, south of Mosul.
Salah al-Deen:
Islamic State's improvised explosive device reportedly killed three and wounded another three fighters of Al-Hashd al-Shaabi, in Al-Salihiyah area, west of Tikrit.
Baghdad:
Iraqi security forces discovered a truck loaded with missiles and explosives in Al-Rusafa area, Baghdad. The vehicle was parked near an abandoned building which was raided, resulting in seizure of additional weapons and capture of a person stationed there.
Babil:
The city of Al-Musayyib was targeted by an IS' suicide bomber and a VBIED. Casualties from the suicide attack are practically none, because of an Iraqi police officer, Alaa Abdul al-Hussein Abbas, who "hugged" the bomber forcing him to detonate outside of a mosque. In the same area, Iraqi forces defused a VBIED. Amaq released a statement regarding today's events in Al-Musayyib, according to it, two "martyrdom attacks" targeted two Iraqi Army's checkpoints in Al-Musayyib area.
CJTF-OIR

:
On the 25th of June 2017 CJTF-OIR has conducted 18 strikes in Syria. CJTF-OIR's main focus in Syria at the moment is Raqqa region where they did 12 strikes supporting SDF's operations against IS destroying seven fighting positions, four vehicles and a tunnel system.
Other areas where six airstrikes occurred are Abu Kamal (Al-Bukamal), Al-Shadaddi and Deir al-Zour, destroying eight IS oil storage tanks, three IS-held buildings, four pump jacks and two IS facilities. Full report on CJTF-OIR strikes conducted in both Syria & Iraq can be found here.
Amaq Agency:
Afghanistan:
Amaq Agency released a statement claiming the US conducted an airstrike yesterday which killed 16 civilians belonging to one family, in Behe Tinki area, Ashin directorate, Nangarhar province.
Other:
Intellectual credited property used may vary from an edition to edition.
Feel free to voice your opinion in the comments section below, constructive criticism is welcomed.
For those of you interested, you can follow us on an official Twitter account @SyrianWarDaily, or me personally on my biased twitter @joskobaric where I occasionally tweet some things.