Hello and welcome to the 114th installment of the SWD.
Military events/news are listed below by the governorates:
Aleppo:
Seven rebel groups based in northern Aleppo merged into Kutlat al-Nasr (Victory Bloc), newly founded group is comprised of Faylaq al-Sham (Sham Legion), Firqa al-Safwah (Al-Safwah Brigade), Tajammu Ahrar al-Sharqiyah (Union of the Free Men of the East), Jaysh al-Nukhbah (Elite Army), Al-Fawj al-Awil (1st Regiment), Al-Fawj al-Khamis (5th regiment) ,and Jaysh al-Ahfad (Army of Grandchildren). Leader of Kutlat al-Nasr is Ibrahim al-Najjar (Abu Ahmed al-Safwa), and his deputy is Major Abu Thayir. Full statement by Kutlat al-Nasr regarding the merger can be found here.
TFSA reportedly launched a raid at the entrance of SDF-held Tell Rifaat, east of Afrin, statement by one of the groups claims that seven SDF fighters were killed and their weapons seized. Pro-SDF sources released a footage showing one destroyed TFSA's armored vehicle during the failed attack on Tell Rifaat.
Syrian Arab Army continued, now regular, advances against Islamic State south of Maskanah. Localities captured by SAA today are: Khirbet Muhsin, Khirbet Hasan, Al-Salihiyah, Anz Bukadi, Bir Salba, and Al-Tarqawi.
Situation in Maskanah-Tabqa area. Source: Global Event Map
Raqqa:
Syrian Democratic Forces officially announced the start of the last, 5th phase of "Wrath of Euphrates" operation which includes the capture of the city of Raqqa. SDF started strong and has already advanced east of the city's outskirts towards the city by capturing Tawi, Maksayn, Nazhah, and Al-Mashalab district.
North of Raqqa, SDF reportedly captured Marmah Darwish, army storage and Mazraat Hattin from Islamic State. West of Raqqa, SDF captured Tall Harqalah and Al-Nora.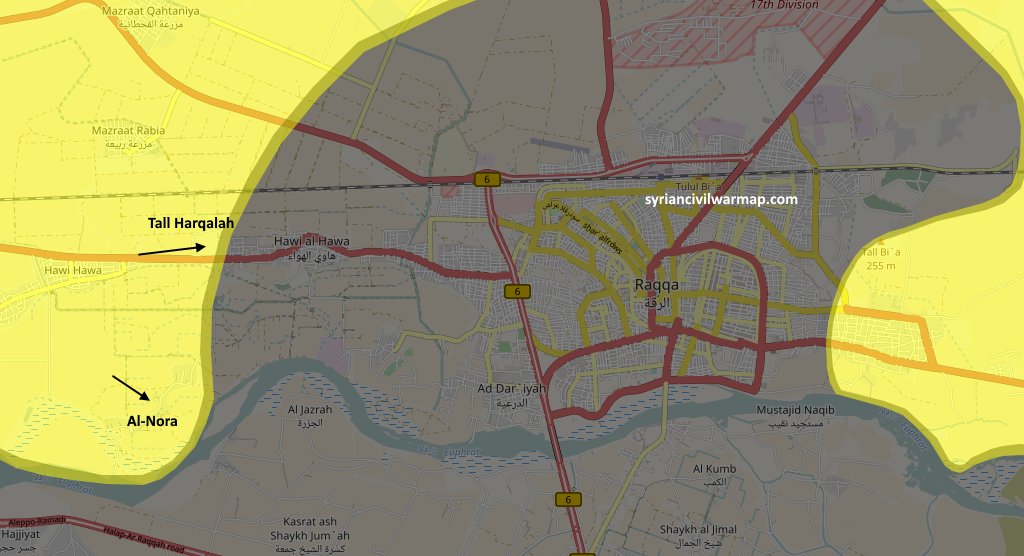 Situation around Raqqa. Source: Syrian Civil War Map
Idlib:
Hostile actions continue between Hayat Tahrir al-Sham's and Ahrar al-Sham's camps across the Idlib governorate. Explosion occurred in Hayat Tahrir al-Sham's HQ in Saraqib, at least three HTS' fighters were injured in the explosion. Hayat Tahrir al-Sham reportedly launched an attack on Tell Touqan, stronghold of Liwa Aswad al-Islam, part of Ahrar al-Sham.
Two fighters of Uzbek group Imam Bukhari Battalion (Jamaat al-Bukhari) were killed by an improvised explosive device in the vicinity of Idlib Central Prison.
Hama:
Syrian Arab Army reportedly captured Maksar al-Shamali village, southeast of Sheikh Hilal from Islamic State. On another front in eastern Hama, Amaq Agency claimed IS killed five SAA soldiers yesterday near Aqarib al-Safi, east of Al-Salamiyah.
Deir al-Zour:
Syrian Arab Army backed by Syrian and Russian warplanes repelled Islamic State's attacks in Deir al-Zour on Tall Syriatel, Tall Brouk, Tall al-Sanouf, and Panorama area. Islamic State allegedly lost 50 fighters due to the failed attacks, but still maintains control over driving school which it captured two days ago.
Damascus:
Free Syrian Army factions launched another attack against Syrian Arab Army and allies in Al-Zuluf area, east Al-Suwayda and along the Damascus-Iraqi border highway. Coincidentally, CJTF-OIR launched airstrikes or artillery strikes against SAA's units in the area, reason for the airstrikes provided by CJTF-OIR is a violation of de-confliction zone.
CJTF-OIR reportedly destroyed two artillery pieces, an anti-aircraft weapon, and damaged a tank, full CJTF-OIR's statement regarding the issue can be found here.
Syrian Arab Army and allies captured Tell Abad southeast of Al-Dumayr Air Base.
Daraa:
Syrian Arab Army and rebels continue to clash in Daraa, mostly in Al-Manashiyah and "Palestinian camp" districts of the city. Rebels' operations room Al-Bunyan al-Marsous claimed death of another 15 SAA fighters, including four officers due to failed attacks against rebels.
Rebel "Daraa Martyrs Documentation Office" reported death of a Free Syrian Army's fighter in clashes with SAA, bringing the confirmed rebel death toll to 14 fighters. The office also reported death of six civilians in rebel-held areas of Daraa governorate due to SAA's shelling. Additionally, two people were killed by landmines in rebel-held Dael and Al-Jaeila. Pro-government sources also reported death of seven civilians due to rebel shelling of Daraa city.
Iraq
Nineveh:
Islamic State launched yet another attack against Iraqi forces in west Mosul as the front lines in the city turn stagnant. IS' attack in Al-Saha reportedly killed seven Iraqi soldiers. Reports surfaced of a new IS' crime against Iraqi civilians, 15 women were allegedly killed as they tried to escape towards Iraqi forces in Al-Farouq, west Mosul.
Al-Hashd al-Shaabi (Popular Mobilization Units) made huge advances against Islamic State west and southwest of Baaj. Iraqi forces captured over a dozen of localities, some of which are: Tawal, Um Thuba, Al-Salhiya, Al-Rawi, Hasnan, Al-Khabaza complex, Awisit, Zawba, Tal Masada, Monas, Abu Raseen, Al-Jaer, Hamdaniya complex, Tal Ghazal, Al-Dwilam, AL-Fouarat, Jaghaify, Al-Nimla, Tal Rem, Abhiri, Al-Reala complex, Bothat al-Madfae, Um Khrab and Wasme al-Maroki.
Latest map of west Mosul. Source: Nineveh Media Center
Situation in Baaj-Sinjar-Tal Afar areas. Source: Harakat Tahrir Tal Afar
Anbar:
Islamic State's suicide bomber detonated himself in Hit (Heet), the bomber reportedly targeted civilians. According to the initial casualty numbers, 11 people were killed and four wounded.
CJTF-OIR:
On the 5th of June 2017 CJTF-OIR has conducted 35 strikes in Syria. CJTF-OIR's main focus in Syria at the moment is Tabqa-Raqqa-Deir al-Zour region where they did 33 strikes supporting SDF's operations against IS destroying five IS oil trucks, four fuel separator tanks, two IS well heads, an IS oil well, 19 boats, 12 fighting positions, eight vehicles, a house bomb, and a weapons storage facility; and suppressing an IS tactical unit.
Other area where two strikes occurred is Abu Kamal (Al-Bukamal) destroying four IS front-end loaders, four IS excavators, an IS crane and an IS well head. Full report on CJTF-OIR strikes conducted in both Syria & Iraq can be found here.
Intellectual credited property used may vary from an edition to edition.
Feel free to voice your opinion in the comments section below, constructive criticism is welcomed.
For those of you interested, you can follow us on an official Twitter account @SyrianWarDaily, or me personally on my biased twitter @joskobaric where I occasionally tweet some things.