Hello and welcome to the 98th installment of the SWD.
Military events/news are listed below by the governorates:
Aleppo:
Syrian Arab Army advanced against Islamic State in eastern Aleppo capturing several localities. Captured localities include Al-Smajilia, Kaziat al-Khazem, Kaziat resevoir, Khanazir and Tall Feddeh. Islamic State didn't resist much today as Amaq only claimed IS destroyed two SAA's machine gun positions south of Jirah Air Base.
Situation around Maskanah. Source: Global Event Map
Raqqa:
Syrian Democratic Forces restarted operations against Islamic State around Raqqa. On the western axis SDF captured Tall Aswad and most of Hamrat Nasir, while on the eastern axis Tall Mallah and Salhabiyat Al-Sharqiya.
Based on these advances, it is possible that we might see an IS' pocket or two around Raqqa unless SDF decides to use a different approach. Clashes between SDF and IS are ongoing in Salhabiyat al-Gharbiya. Islamic State's media outlet Amaq Agency reported seven SDF fighters were killed by IS' attack around Salhabiyat al-Gharbiya.
Report by Amaq Agency claimed CJTF-OIR's airstrikes on Kadiran, east of Mansoura killed 15 and wounded 20 civilians.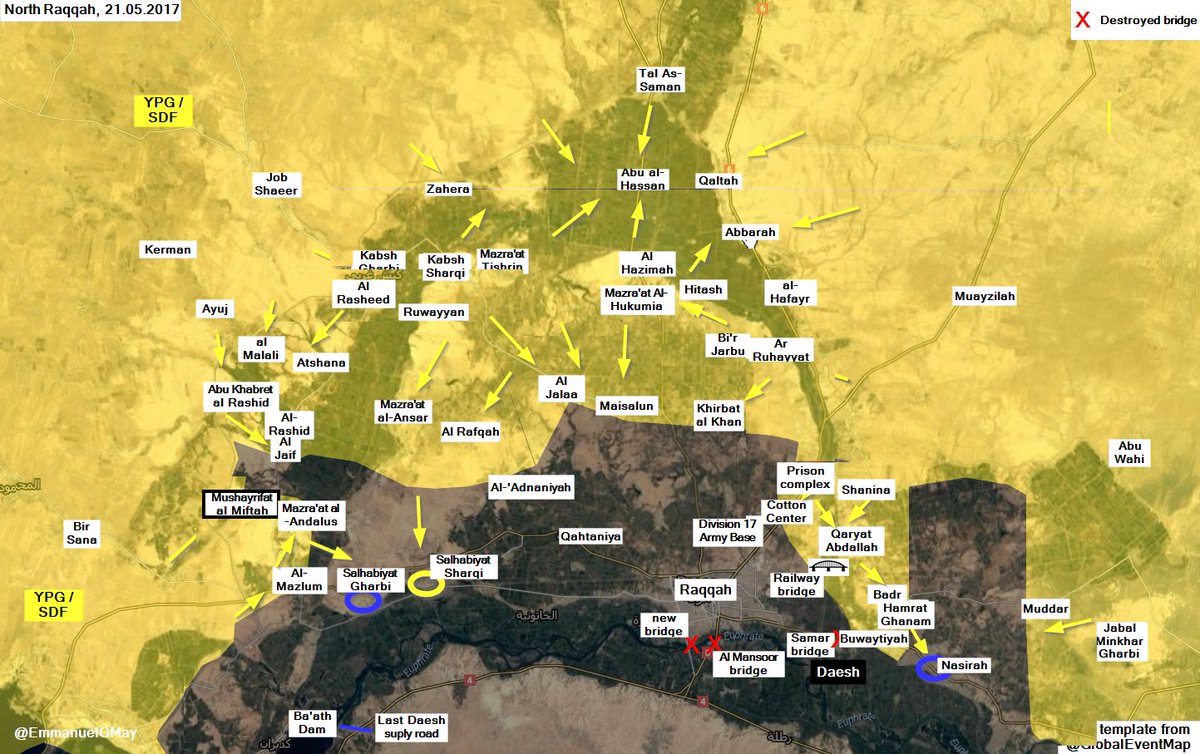 Situation around Raqqa. Source: Emmanuel
Al-Hasakah:
According to Amaq Agency's statement, two SDF fighters were killed by IS' snipers in the villages of Al-Fadghami and Keshkesh Jabbur, south of Al-Shaddadi.
Idlib:
Car bomb and a suicide attack targeted Ahrar al-Sham's HQ near Tell Touqan, east of Idlib. Explosions reportedly occurred during the graduation ceremony of a new batch of fighters, 80 people were present in and around HQ during explosions. At least 25 Ahrar al-Sham's fighters were killed in the attacks and a dozen more wounded. Among the killed fighters is "Coordination Officer" in Ahrar al-Sham's "Office of Resources", Mahrous Abu Ahmed.
Ahrar al-Sham released a statement regarding the incident accusing Islamic State of committing the attacks. Official Islamic State's channels and Amaq Agency are still silent on the subject. Ahrar al-Sham claimed an individual blew himself inside their HQ shortly after a VBIED exploded outside of it.
Homs:
The last batch of evacuees left Al-Waer neighborhood towards Idlib. Batch consisted of around 1000 civilians and 460 rebels. After this evacuation, Al-Waer and the complete city of Homs are under Syrian government control. Russian Military Police is already deployed in Al-Waer in order to maintain security and stability.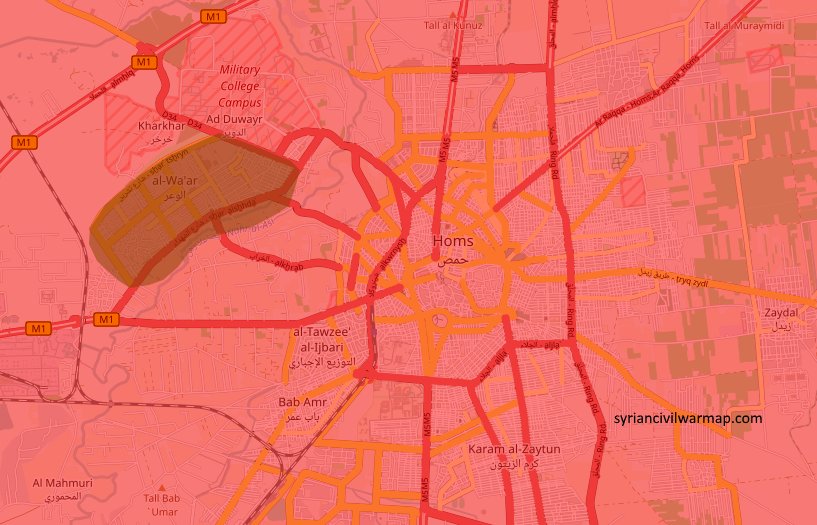 Situation in Homs (Al-Waer is darker). Source: Syrian Civil War Map
Damascus:
Reports surfaced about Islamic State agreeing to evacuate areas south of Damascus under its control. Main area south of Damascus under the control of Islamic State is Yarmouk Camp, but they also have presence in the neighboring neighborhoods. So far the only evidence supporting these reports is Islamic State's message on the paper allowing people to leave the areas towards the "Khilafa".
Syrian Arab Army and allies advanced on several axis against the rebels in the desertous area east of Damascus. East of Al-Seen Air Base on the road towards Al-Tanf, Raj al-Issa area has been captured. Southeast of Al-Seen Air Base, Scientific Research Battalion has been captured. On the axis coming from eastern Al-Suwayda into Damascus, Dharat Umm Salasil was captured. East of Damascus International Airport SAA captured a dozen of localities in Dakhwa area.
Based on these recent SAA advances it is quite possible that they will try to create a large rebel pocket east of Damascus. This would be achieved if troops from Al-Suwayda advanced north while those southeast of Al-Seen Air Base continued to advanced south.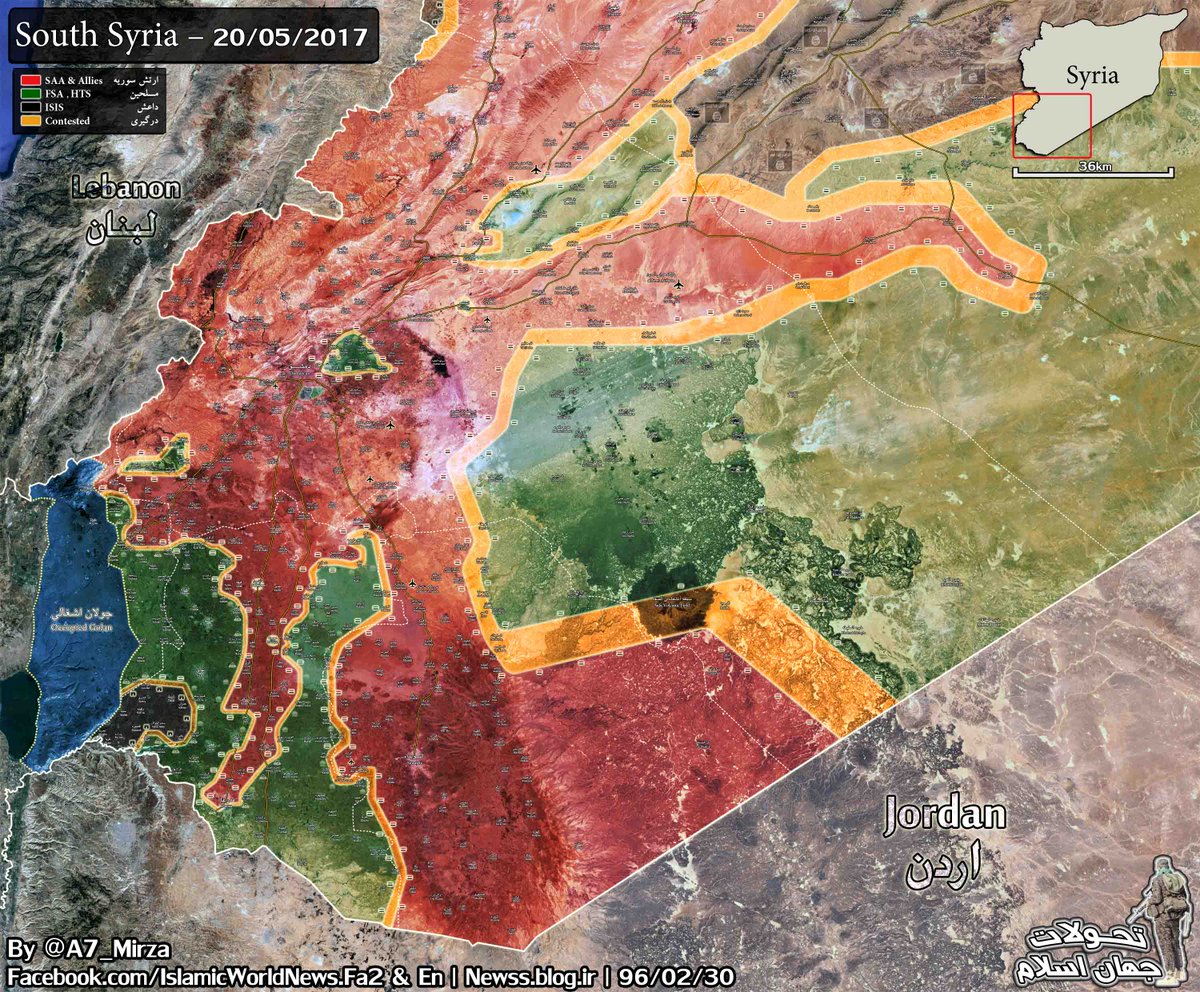 Approximate situation in southern Syria, HD version of this map can be found here. Source: Islamic World News
Daraa:
Two rebels were killed in a vehicle by an improvised explosive device on the road between Dael and Tafas.
Al-Suwayda:
Several sources reported Russia deployed the 9th Battalion of the 31st Air Assault Brigade to assist SAA and allies in reaching the Iraqi border. If the Russian deployment is confirmed, it would also mean that the advancing Syrian troops wouldn't have to worry about CJTF-OIR targeting their positions in the area again.
Iraq
Nineveh:
Iraq Joint Operations officially declared 17 Tammuz district in west Mosul as fully liberated by the Iraqi forces from Islamic State. However, an IS SVBIED detonated in the district near the place where civilians were evacuating towards safer areas.
Islamic State put up a fight in recently lost Al-Rifai district, according to Amaq an SVBIED destroyed three Humvees and killed nine Iraqi soldiers. Also in Al-Rifai, three members of Iraqi Special Operations Forces were reportedly killed, including an officer and one bulldozer damaged. In Al-Tharwa district Amaq claimed two members of Iraqi Special Operations Forces were killed and an arms depot destroyed.
Al-Hashd al-Shaabi (Popular Mobilization Units) resumed operations around Al-Qayrawan capturing several villages from Islamic State. Localities captured today include Al-Niliya, Thara al-Awsat, Al-Masbis, Ain Fathy an Sadaa Zobaa.
On the 16th of May, Yazidi "Kojo Regiment" issued a statement saying they are joining Al-Hashd al-Shaabi. Kojo Regiment is led by Nayef Jasim Qassem and consist of around 700 fighters based around Sinjar (Shingal). Kojo's defection, previously mentioned on the 18th of May in SWD has had a negative impact. Kurdistan Democratic Party reportedly expelled the leader of Kojo Regiment. The main reason Kojo defected is KDP's continuous refusal in advancing south of Sinjar, area predominately inhabited by Yazidis. Full statement by Kojo Regiment regarding the defection can be found here.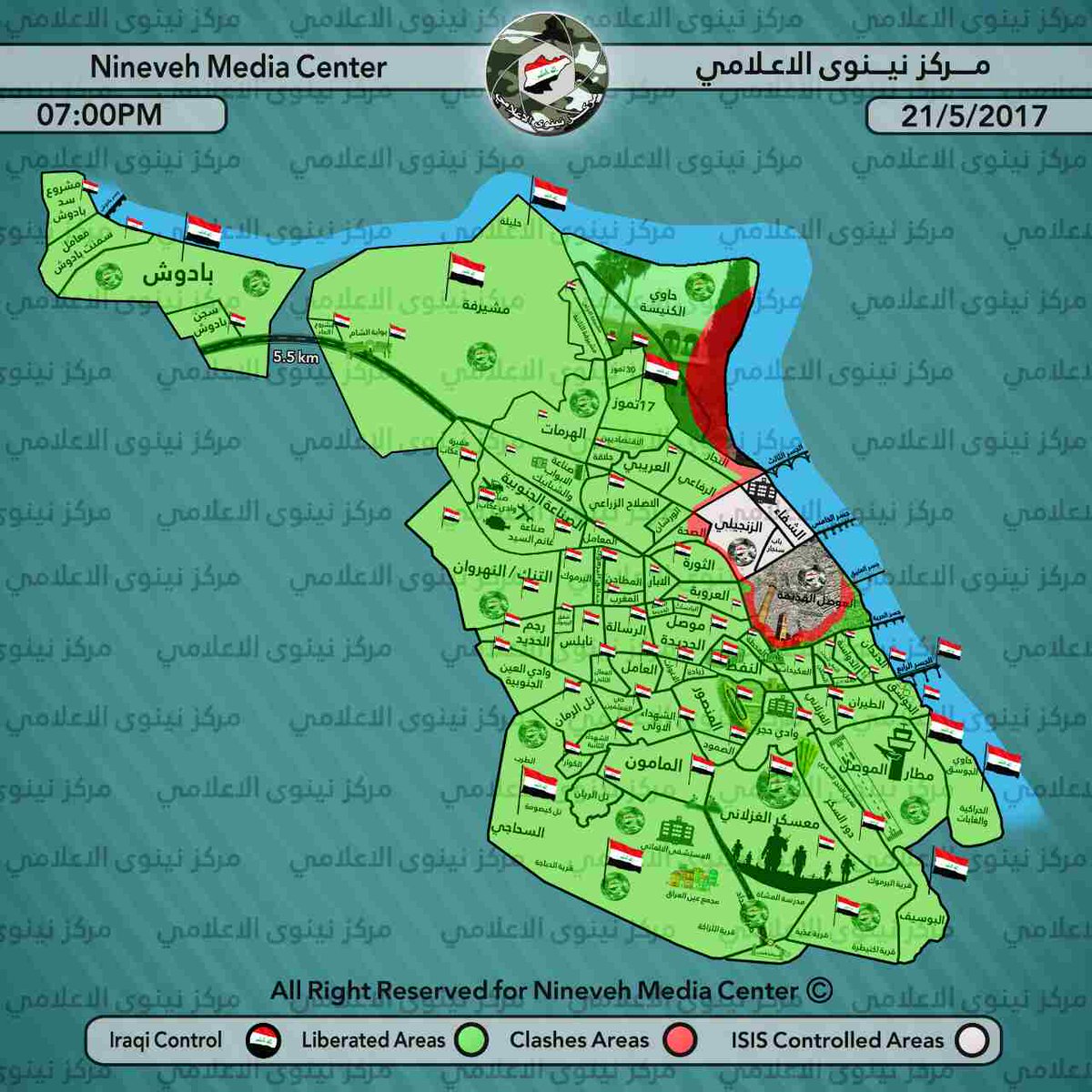 Latest map of west Mosul. Source: NinevehMC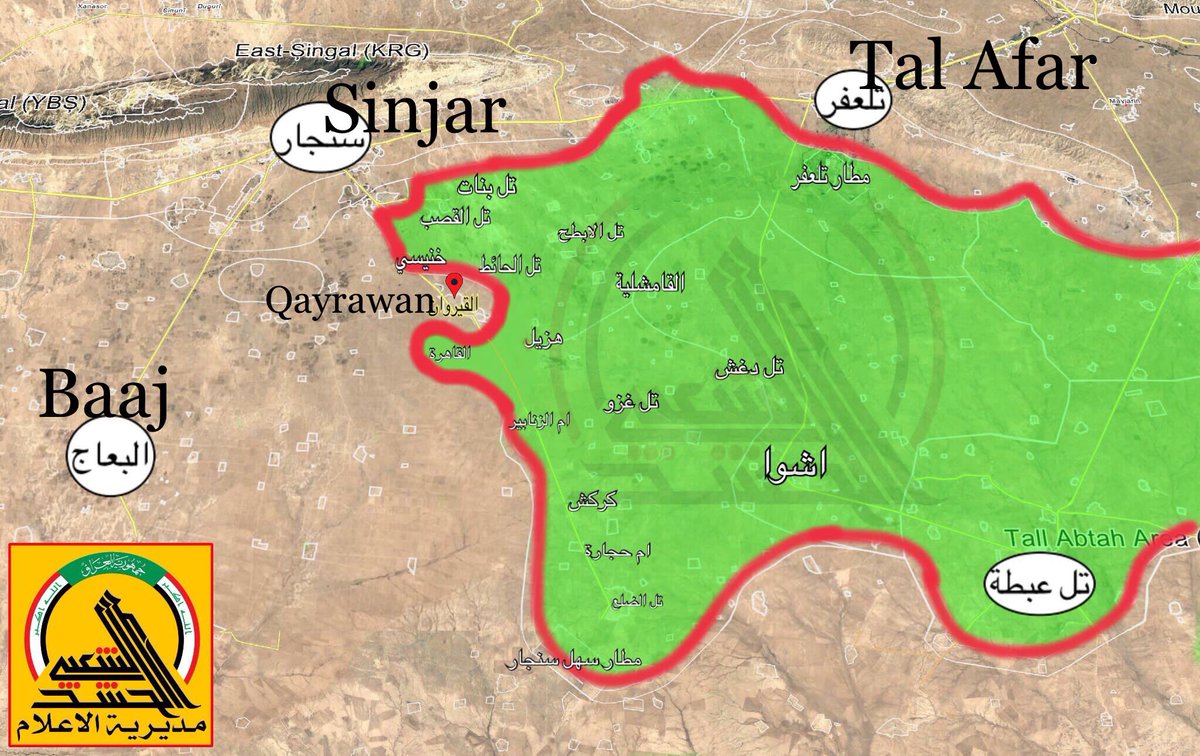 Situation around Al-Qayrawan. Source: Iraqi Day
Kirkuk:
Amaq Agency claimed Islamic State destroyed Al-Hashd al-Shaabi's bulldozer southwest of Kirkuk.
Salah al-Deen:
Islamic State reportedly attacked village of Al-Huria north of Al-Shirqat, four Al-Hashd al-Shaabi fighters were killed and a vehicle destroyed according to a statement by Amaq.
CJTF-OIR:
On the 21st of May 2017 CJTF-OIR has conducted 16 strikes in Syria. CJTF-OIR's main focus in Syria at the moment is Tabqa-Raqqa-Deir al-Zour region where they did eight strikes supporting SDF's operation against IS destroying three IS oil tanker trucks, two IS wellheads, six fighting positions, two vehicles, an IS staging area and a construction vehicle.
Other areas where eight strikes occurred are Abu Kamal and Hawl destroying six IS oil tanker trucks, five IS wellheads, three IS oil tanks, an IS oil storage tank, eight fighting positions and a mortar site. Full report on CJTF-OIR strikes conducted in both Syria & Iraq can be found here.
Intellectual credited property used may vary from an edition to edition.
Feel free to voice your opinion in the comments section below, constructive criticism is welcomed.
For those of you interested, you can follow us on an official Twitter account @SyrianWarDaily, or me personally on my biased twitter @joskobaric where I occasionally tweet some things.