Hello and welcome to the 89th installment of the SWD.
Military events/news are listed below by the governorates:
Aleppo:
SAA captured Jirah Airbase in eastern Aleppo from the Islamic State.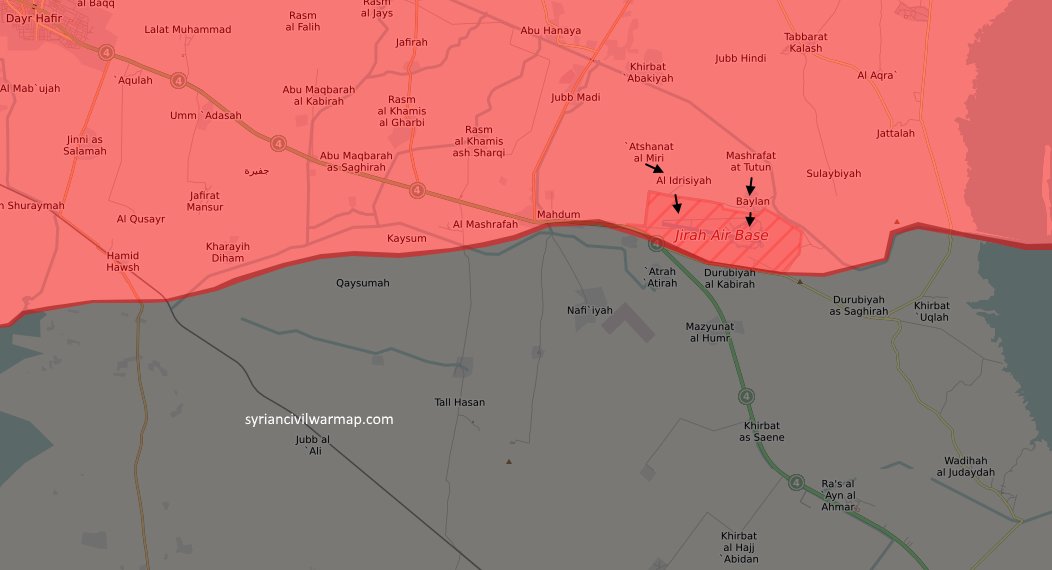 Situation around Jirah Airbase. Source: Syrian Civil War Map
Raqqa:
SDF captured Al-Rafiqah and Al-Ansar villages from the Islamic State northwest of Raqqa, during the advances one IS' SVBIED was destroyed.
East of Raqqa in the village of Lekson Amaq Agency reported that IS' sniper killed two SDF fighters.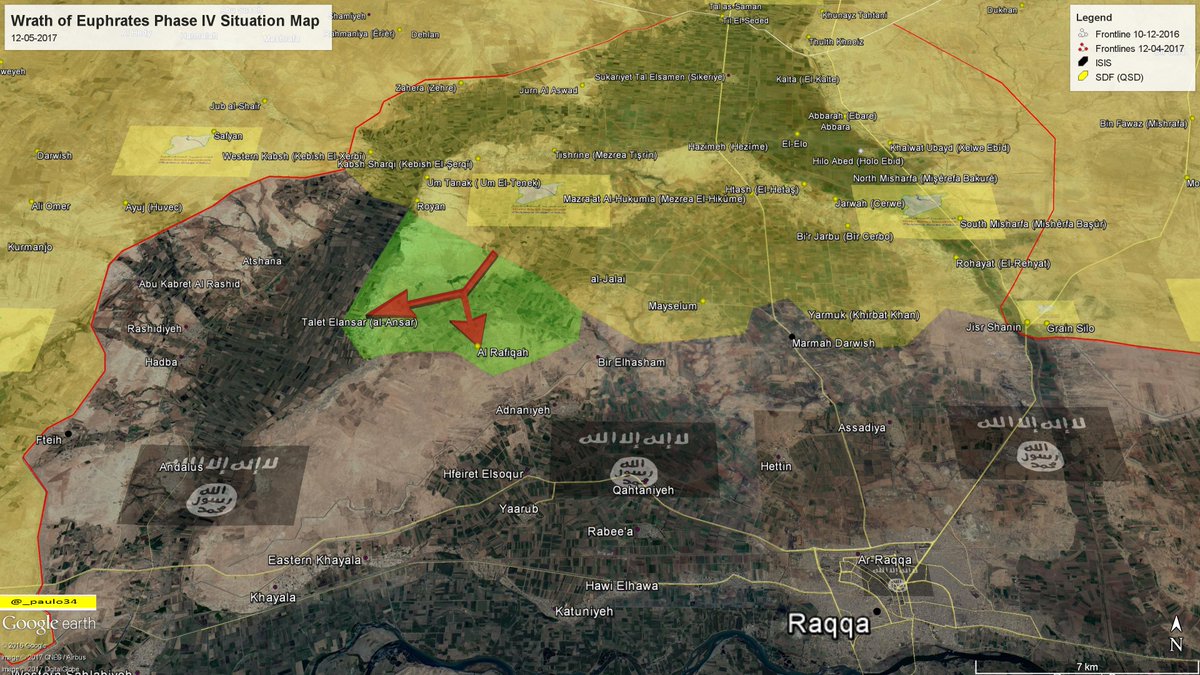 Situation north of Raqqa. Source: _paulo34
Idlib:
Former Free Syrian Army's commander Samir al-Ahmad was killed in Hayaat Tahrir al-Sham's raid on his house in Hafsarjah northwest of Idlib. Al-Ahmad tried to flee from Hayaat Tahrir al-Sham's fighters which arrived at his house in three vehicles but he was wounded in the process and transferred to Idlib National Hospital where he died the same evening. Samir al-Ahmad participated in Battles for Harim (Harem) and Bab al-Hawa Border Crossing retiring in 2014 after Jabhat al-Nusra (Hayaat Tahrir al-Sham) and several factions of Free Syrian Army started to clash.
Ahrar al-Sham stormed Tajammu Fastaqim Kama Umirt's (Fastaqim Kama Umirt Union) headquarters in Babasqa northern Idlib governorate close to Turkish border. Fastaqim's fighters were asked to surrender by Ahrar al-Sham, however, after failing to do so Ahrar al-Sham arrested a number of fighters including the leader of Fastaqim Abu al-Husnin (al-Hassinin). Fastaqim Union joined Ahrar al-Sham in January of 2017 and Ahrar al-Sham tried to justify their actions by saying that Fastaqim violated the terms of joining the movement (Ahrar al-Sham).
Hama:
Islamic State launched an attack on SAA's positions in Wadi al-Adhib area on Al-Salamiyah – Ithriya road part of Ithriya -Khanaser supply route to Aleppo. SAA repelled IS' attack but lost at least nine soldiers including two officers and one T-72 tank in the process. Islamic State attacked Wadi al-Adhib area on 18th of April but the attack was also repelled by SAA.
Homs:
SAA advanced on multiple fronts against Islamic State, east of Palmyra Al-Talila area was captured. East of Jabal al-Shumariya which is east of Homs SAA captured Al-Musheirfa quarries. Amaq Agency released a statement saying three SAA soldiers were killed and a dozen more wounded while they tried to advance in Jabal al-Shumariya's area.
Situation east of Homs. Source: loomis
Damascus:
Second batch of rebels and civilians were evacuated from Barzeh to Idlib, between 100 and 200 as well as around 600 civilians left the neighborhood. Agreement has also reportedly been reached in Tishreen neighborhood regarding the rebel and civilian evacuation, those that wished to stay in Tishreen settled their cases today.
Deal regarding the Qaboun neighborhood seems unlikely as battle-hardened rebels in the neighborhood would rather die defending Qaboun than accept any kind of deal with Syrian government.
Ahrar al-Sham released a statement saying that Harasta-based Liwa Fajr al-Umma joined their ranks in East Ghouta.
SAA restarted its offensive east of Damascus aimed at reopening Damascus – Iraqi border highway capturing today from rebels Zaza checkpoint and Tulul al-Muhaddad. SAA also captured Jabal al-Subaihiyah in East Qalamoun from rebels.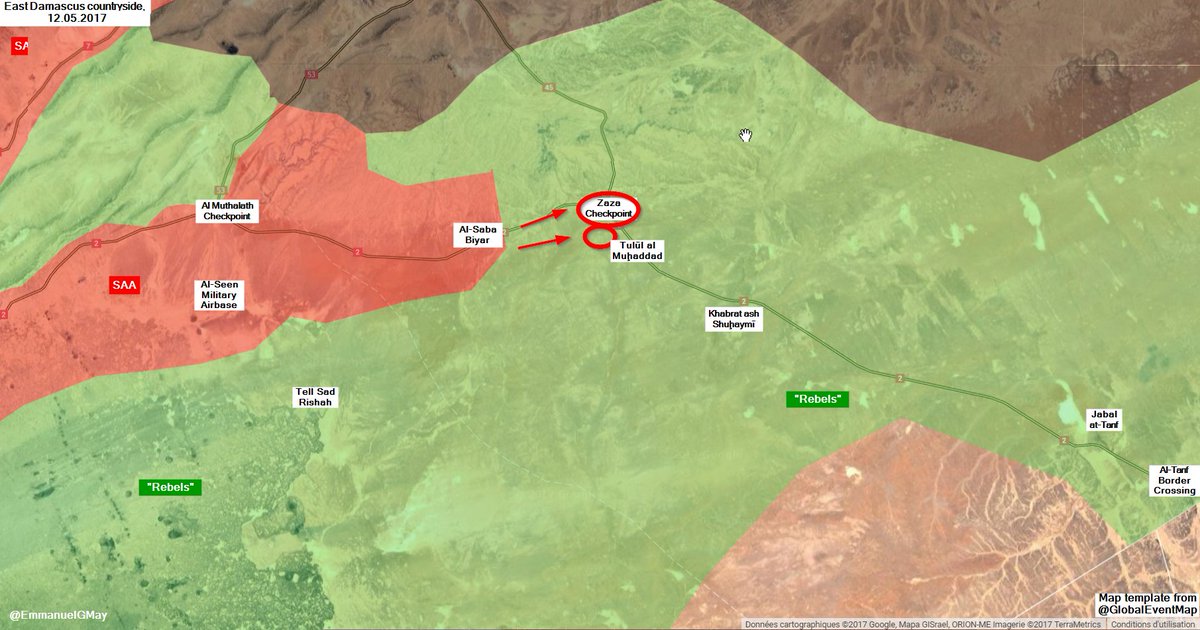 Situation east of Damascus. Source: Emmanuel
Iraq
Nineveh:
Iraq Joint Operations officially announced Al-Islah al-Zeraei district in west Mosul as completely captured by the Army from the Islamic State.
The most intense clashes against Islamic State weren't led in west Mosul today, but for a change they occurred west of the city. Al-Hashd al-Shaabi (Popular Mobilization Units) launched an offensive southwest of Tel Afar aimed at capturing Al-Qayrawan area close to Syrian border from the Islamic State. Iraqi forces advanced on several axis capturing a dozen of localities: Umm Kabeera, Tell Hajm, Sadkhan, Sabiya Haroush, Abu Lahaf, Hayat, Tal Hasaynat and Mahdi Mahal.
After these advances Al-Hashd al-Shaabi opened several corridors for civilians to leave Al-Qayrawan and surrounding villages in order to minimize civilians casualties before advancing further into more urban areas. During today's advances Iraqi Air Force destroyed one IS' SVBIED that tried to target Iraqi force's positions. However, as always IS fighters were somewhat prepared for this offensive as they've destroyed a Humvee in newly captured Tell Hajm village as well as another Humvee and M1 Abrams tank near Mkibra village.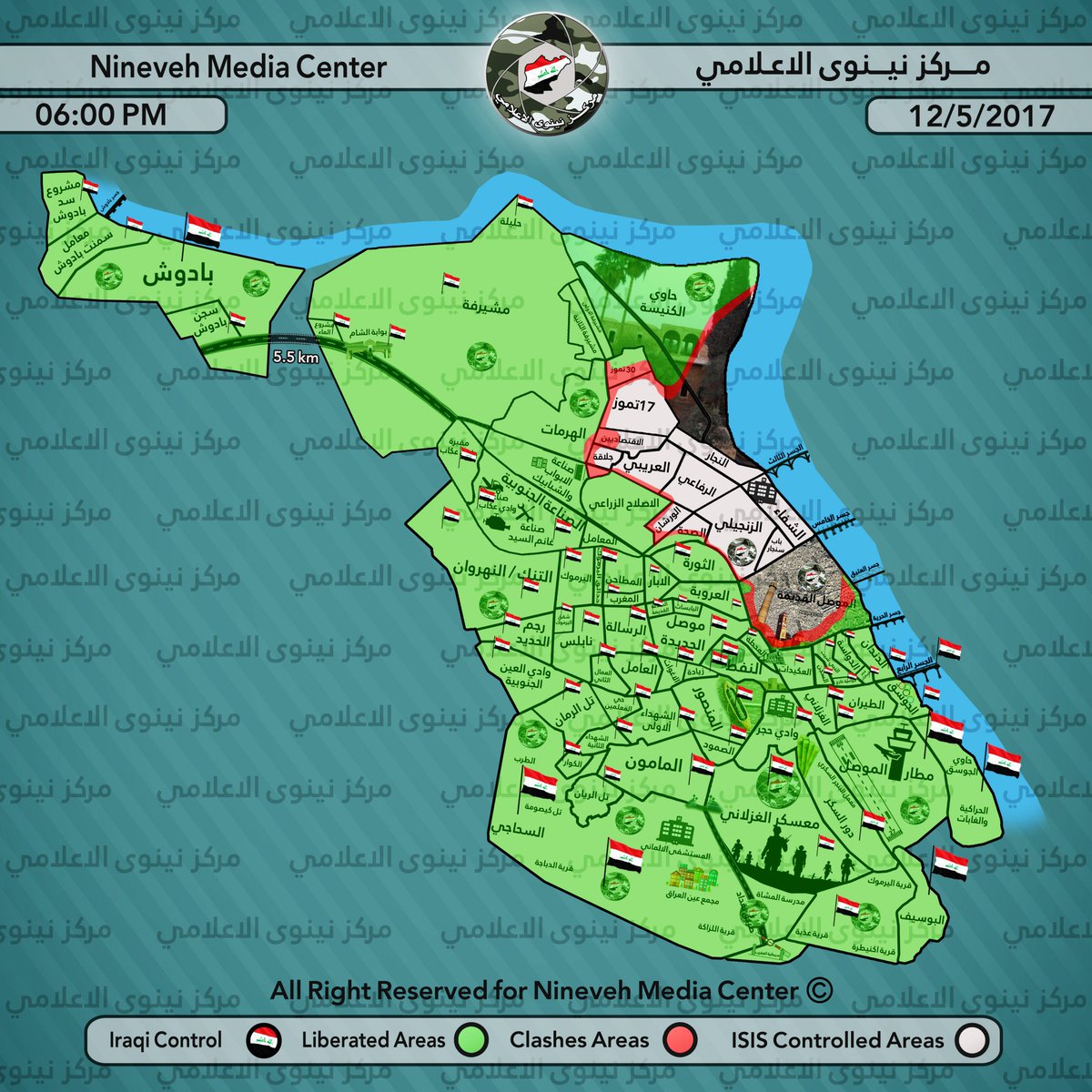 Latest map of west Mosul. Source: NinevehMC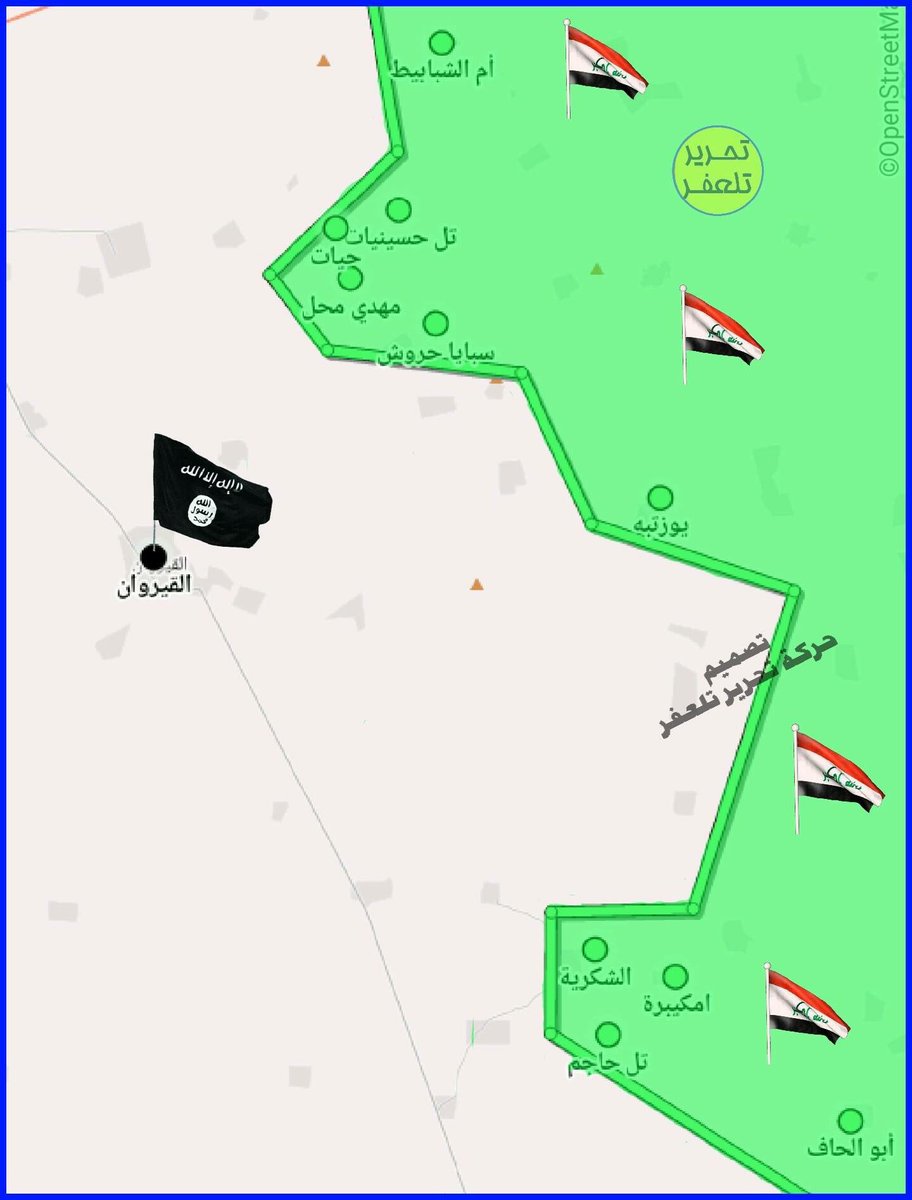 Situation around Al-Qayrawan. Source: Iraqi Day
Erbil:
According to Amaq Agency Islamic State launched an attack on the village of Shialat al-Imam west of Makhmur seizing weapons and ammunition as well as killing one Al-Hashd al-Shaabi fighter.
Salah al-Deen:
Amaq Agency reported IS destroyed two Al-Hashd al-Shaabi's (Popular Mobilization Units) vehicles killing everyone on board with improvised explosive devices near Balad, north of Baghdad.
Diyala:
Islamic State's improvised explosive devices reportedly killed three Iraqi soldiers, injured another four including an officer and damaged two vehicles in Qaryat al-Kubbah, northeast of Baqubah.
CJTF-OIR:
On the 11th of May 2017 CJTF-OIR has conducted 15 strikes in Syria. CJTF-OIR's main focus in Syria at the moment is Tabqa-Raqqa-Deir al-Zour region where they did 15 strikes supporting SDF's operation against IS destroying two IS headquarters, seven vehicles, five fighting positions, an IS barge, a vehicle bomb factory, a weapons storage facility; and damaging two IS supply routes
Full report on CJTF-OIR strikes conducted in both Syria & Iraq can be found here.
Intellectual credited property used may vary from an edition to edition.
Feel free to voice your opinion in the comments section below, constructive criticism is welcomed.
For those of you interested, you can follow us on an official Twitter account @SyrianWarDaily, or me personally on my biased twitter @joskobaric where I occasionally tweet some things.