Hello and welcome to the 87th installment of the SWD.
Military events/news are listed below by the governorates:
Aleppo:
SAA's Tiger Forces restarted their east Aleppo offensive by capturing Al-Mahmoud (Al-Mamurah) village from IS west of Jirah Airbase. However, IS had more than enough time to prepare for this newly launched offensive as they've shown heavy resistance today in the area. Around Jarah Saghir village SAA's T-72 tank was destroyed by one of IS' armed drones, furthermore a BMP with personnel inside it was also reported as destroyed.
IS also detonated two SVBIEDs near Al-Atashana village north of Jirah Airbase, both SVBIEDs targeted gatherings of SAA's soldiers causing several casualties among the SAA's ranks according to statements released by Amaq Agency.
New rumors have surfaced about SDF handing over territory captured in February of 2016 in northern Aleppo to TFSA. Liwa al-Mustasim, part of the TFSA is allegedly very close to reaching an agreement with SDF about the "disputed" territory, deal is allegedly sponsored by the United States. These rumors should be taken with a large grain of salt until confirmed by both parties as the deal could have serious consequences regarding the balance of powers in northern Aleppo countryside.
Situation around Jirah Airbase. Source: Ian Grant
Raqqa:
SDF captured both districts north of Tabqa where IS was still making a stand, southern part of Tabqa dam and surrounding buildings were also captured. After these advances Tabqa is free from Islamic State, 50 days after SDF started an attack to capture it.
SDF resumed offensive north of Raqqa and have captured villages of Al-Jalai and Mayselum from Islamic State.
According to Amaq Agency's statement CJTF-OIR's airstrikes killed 10 and injured 20 people in Al-Salihiye village north of Raqqa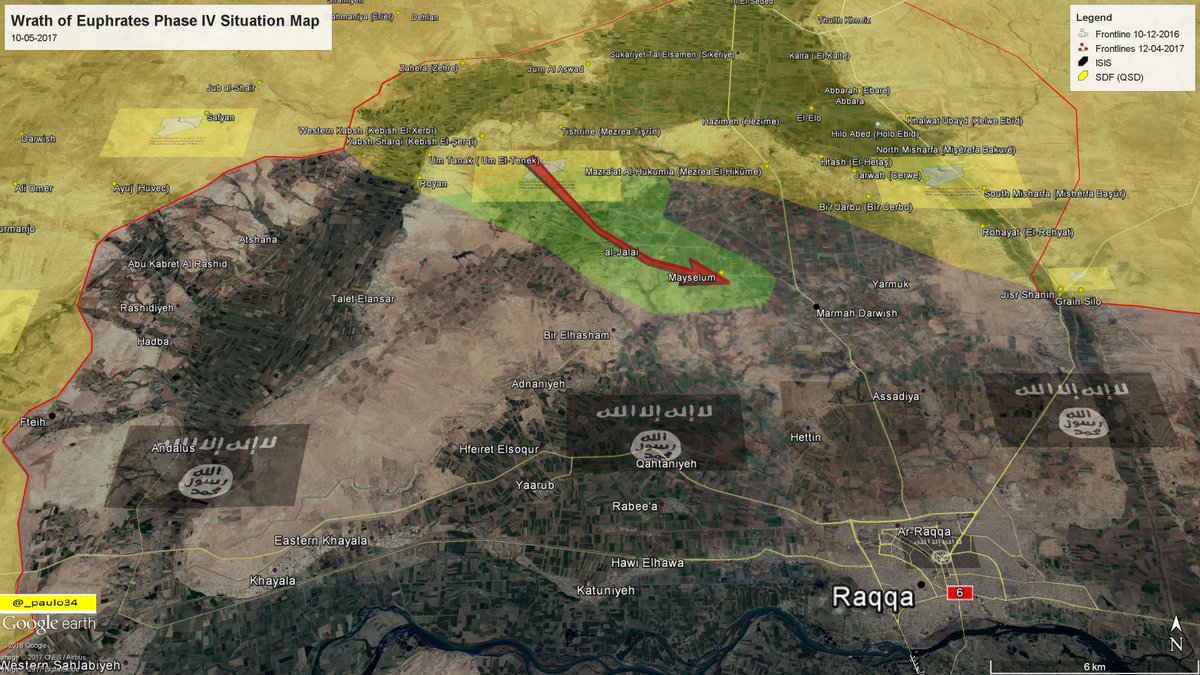 Situation north of Raqqa. Source: _paulo34
Homs:
Ninth batch of rebels and civilians were evacuated out of Al-Waer neighborhood towards rebel-held territory.
SAA advanced east of Jabal al-Shumariya and captured three hills overlooking IS-held Rasm Hamidah village as well as advancing on hills overlooking Al-Mushrifa al-Janoubiyah and Umm Sahrij.
Damascus:
SAA targeted Jaysh al-Islam-held Beit Naim and Hawsh al-Salihiyah in southern East Ghouta with artillery.
Several sources reported that Syrian Arab Red Crescent's humanitarian convoy entered East Ghouta through Al-Wafideen crossing, however, a number of sources including Rebel Police Command in Damascus and countryside denied that any sort of convoy entered the East Ghouta.
Iraq
Nineveh:
Iraqi Army captured Al-Maemal district from IS in west Mosul, advances also occurred in Al-Haramat district where the "second" part of the district was secured by the Army. Islamic State responded to these advances the best way they know, by sending SVBIEDs, one SVBIED struck Al-Maemal district causing casualties among the Army's ranks, the second SVBIED in Al-Haramat also caused several casualties as well as damaged a bulldozer. In Mushrifa IS reportedly damaged a bulldozer with an RPG.
IS' snipers also continue to prove to be one of deadliest weapons IS has in west Mosul as Amaq claimed seven Iraqi Federal Police members were killed by snipers in Al-Haramat.
Conflicting reports were spread today about Hawi al-Kanisa north of Mosul as both Amaq and pro-Iraq sources claimed advances in the area. According to the Amaq IS regained several localities from the Army and captured weapons along with ammunition. Pro-Iraq sources reported Iraqi Army restarted their advance in Hawi al-Kanisa in order to fully rid it of IS' presence.
During the yesterday's clashes for Northern Industrial district which was captured by the Army IS lost around 50 fighters, furthermore 12 improvised explosive devices planted by IS were safely detonated in the district.
Islamic State's commander from Syria, Abu Ayoub al-Shami was killed today in clashes with Iraqi Army in west Mosul.
Amaq Agency reported that the US' and Iraqi shelling of west Mosul's districts killed 74 civilians, mostly women and children and injured additional 117 civilians.
Iraqi Air Force conducted a new series of airstrikes across the IS-held part of west Mosul reportedly killing more than 30 IS' fighters.
Iraqi Army backed by Al-Hashd al-Shaabi (Popular Mobilization Units) repelled IS' attack west of Tal Afar reportedly killing 15 and injuring 25 IS' fighters as well as capturing three vehicles.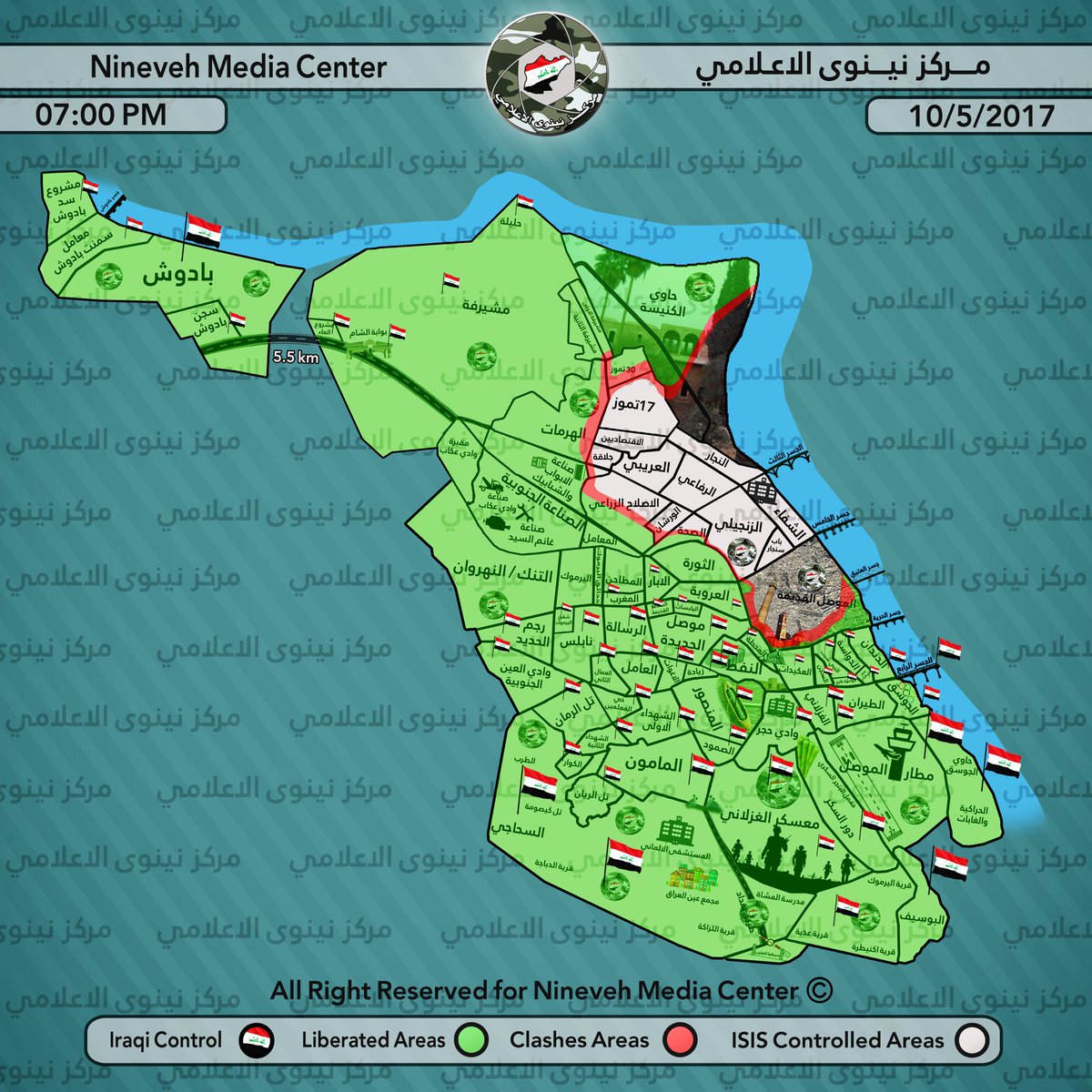 Latest map of west Mosul. Source: NinevehMC
Anbar:
According to Amaq Agency's statement Islamic State detonated two improvised explosive devices north of Al-Rutbah destroying a Humvee and killing one Iraqi soldier.
CJTF-OIR:
On the 9th of May 2017 CJTF-OIR has conducted 16 strikes in Syria. CJTF-OIR's main focus in Syria at the moment is Tabqa-Raqqa-Deir al-Zour region where they did 15 strikes supporting SDF's operation against IS destroying four IS oil tankers, an IS wellhead, five weapon storage caches, an IS barge and five fighting positions.
Other area where one strike occurred is Abu Kamal destroying an IS oil rig. Full report on CJTF-OIR strikes conducted in both Syria & Iraq can be found here.
Intellectual credited property used may vary from an edition to edition.
Feel free to voice your opinion in the comments section below, constructive criticism is welcomed.
For those of you interested, you can follow us on an official Twitter account @SyrianWarDaily, or me personally on my biased twitter @joskobaric where I occasionally tweet some things.