Hello and welcome to the 57th installment of the SWD.
Military events are listed below by the governorates:
Aleppo:
SAA and Liwa al-Quds reportedly started a new offensive in western Aleppo, first objective is to completely capture Al-Zahraa district from rebels. Reports about this offensive first surfaced on 31st of March 2017 after HTS attack was repelled in Al-Zahraa. End goal of this offensive is most likely securing Aleppo's northwestern surroundings by capturing all rebel-held towns in Anadan plains.
However, Liwa al-Quds led offensive didn't start so smoothly since no advances were made today and rebels claimed to have repelled all attacks. Furthermore Faylaq al-Sham released a video of them destroying a BMP belonging to pro-government forces with a TOW missile.
General situation around Aleppo. Source: Interactive Rurikmap which can be found here.
Raqqa:
SDF captured Ayed Kabir village south of Tabqa from IS, this comes after yesterday's reports that SDF was advancing in this area. Clashes continue between SDF and IS on a number of fronts around Tabqa and former reportedly destroyed one SVBIED and killed a dozen of IS fighters.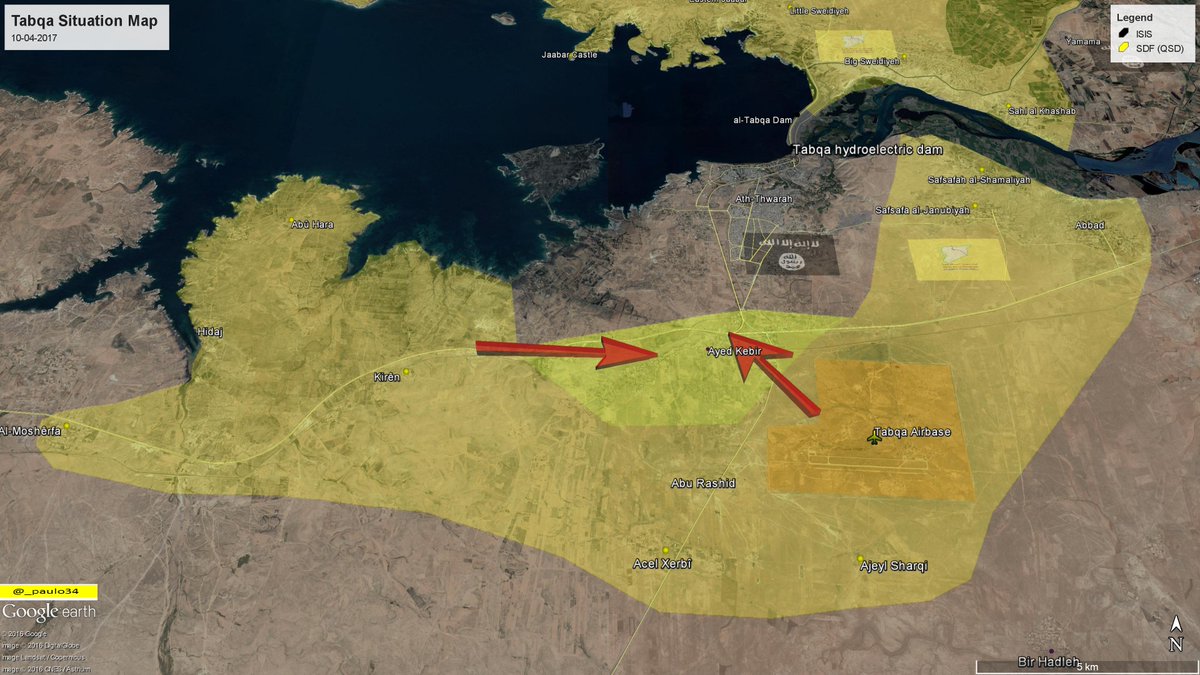 SItuation around Tabqa after SDF's advances. Source: _paulo34
Hama:
SAA Tiger Forces recaptured Maardes from rebels after losing it on 4th of April, in the second part of the day clashes were reported on the outskirts of Maardes as rebels tried to storm it before SAA had enough time to build defenses, however, attack by rebels on Maardes was repelled. Besides capturing Maardes SAA captured two checkpoints around it, Qabban and Al-Mabaker.
Rebels led by HTS tried to advance towards Maan, Kubbariyah and Kawkab from Tall Bizam and Tall Huwayr. SAA repelled all attacks in the area and allegedly destroyed an SVBIED before it reached their positions around Maan.
Situation in Tayyibat al-Imam and Souran area after SAA's advances and directions of rebel attacks. Source: v4st0
Homs:
SAA advanced southwest of Palmyra and have captured Syriatel tower around 25 kilometers (15.5 miles) from Palmyra on Palmyra-Damascus road.
Situation south of Palmyra after the latest SAA advances. Source: Ian Grant
Iraq:
In a new advance in west Mosul Iraqi Army captured Al-Yarmouk, Al-Osa and Al-Matahin districts from IS. Clashes continue in Al-Abar district after Iraqi Army captured big part of it today but IS presence still remains at outskirts.
IS executed 13 civilians that tried to flee from Al-Zanjili to Al-Thawra district, IS fighters were disguised in Iraqi Special Operations Forces uniforms and tricked civilians giving them an excuse to execute them, all 13 of them were reportedly shot in the head. Info shared by Mosul Eye.
Last night Iraqi Air Force targeted IS camp near Al-Qaim governorate and killed more than 14 fighters that were reportedly ready to do suicide attacks across Iraq. Today, Iraqi Air Force targeted IS headquarters and ammo depots in Tal Afar allegedly killing over 40 IS fighters.
According to Sinjar (Shingal) mayor a mass grave was found reportedly containing remains of more than 1500 Yazidis killed by IS in 2014 and 2015.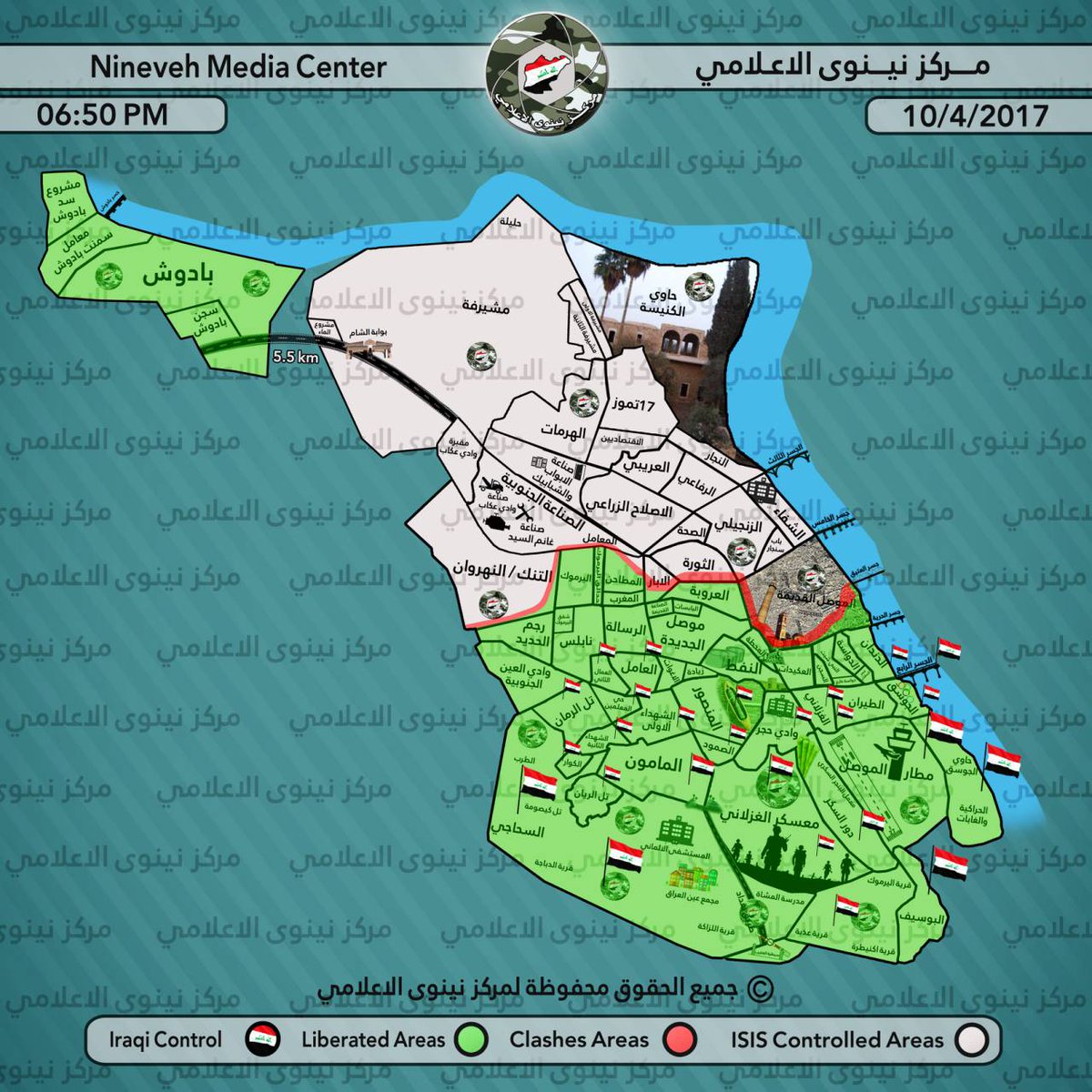 Latest map of west Mosul. Source: NinevehMC
CJTF-OIR:
On the 9th of April 2017 CJTF-OIR has conducted 16 strikes in Syria. CJTF-OIR's main focus in Syria at the moment is Tabqa-Raqqa region where they did 15 strikes supporting SDF's operation against IS destroying two defensive fighting positions, four IS vehicles, an IS wellhead, a fighting position and tactical vehicle; damaging five IS wellheads and five anti-air artillery systems.
Other area where one strike occurred is Abu Kamal destroying an IS wellhead. Full report on CJTF-OIR strikes conducted in both Syria & Iraq can be found here.
Intellectual credited property used may vary from an edition to edition.
Feel free to voice your opinion in the comments section below, constructive criticism is welcomed.
For those of you interested, you can follow us on an official Twitter account @SyrianWarDaily, or me personally on my biased twitter @joskobaric where I occasionally tweet some things.