Hello and welcome to the 53rd installment of the SWD.
Military events are listed below by the governorates:
Latakia:
HTS, Faylaq al-Sham, FSA's 1st and 2nd Coastal Divisions backed by Chechen and Turkestani groups launched an attack from Kabaneh towards Kinsabba. Attack was reportedly repelled by Syrian Arab Army even though rebels used three SVBIEDs that were all destroyed according to a pro-government source. Besides three SVBIEDs SAA also destroyed a tank, a BMP and a technical vehicle equipped with a 23mm machine gun.
General situation in Latakia governorate. Source: loomisroberto
Raqqa:
After capturing southern part Al-Safsafah al-Janubiyah SDF captured northern part of Al-Safasafah, Al-Safasafah al-Shamaliyah therefore encircling Tabqa city and dam.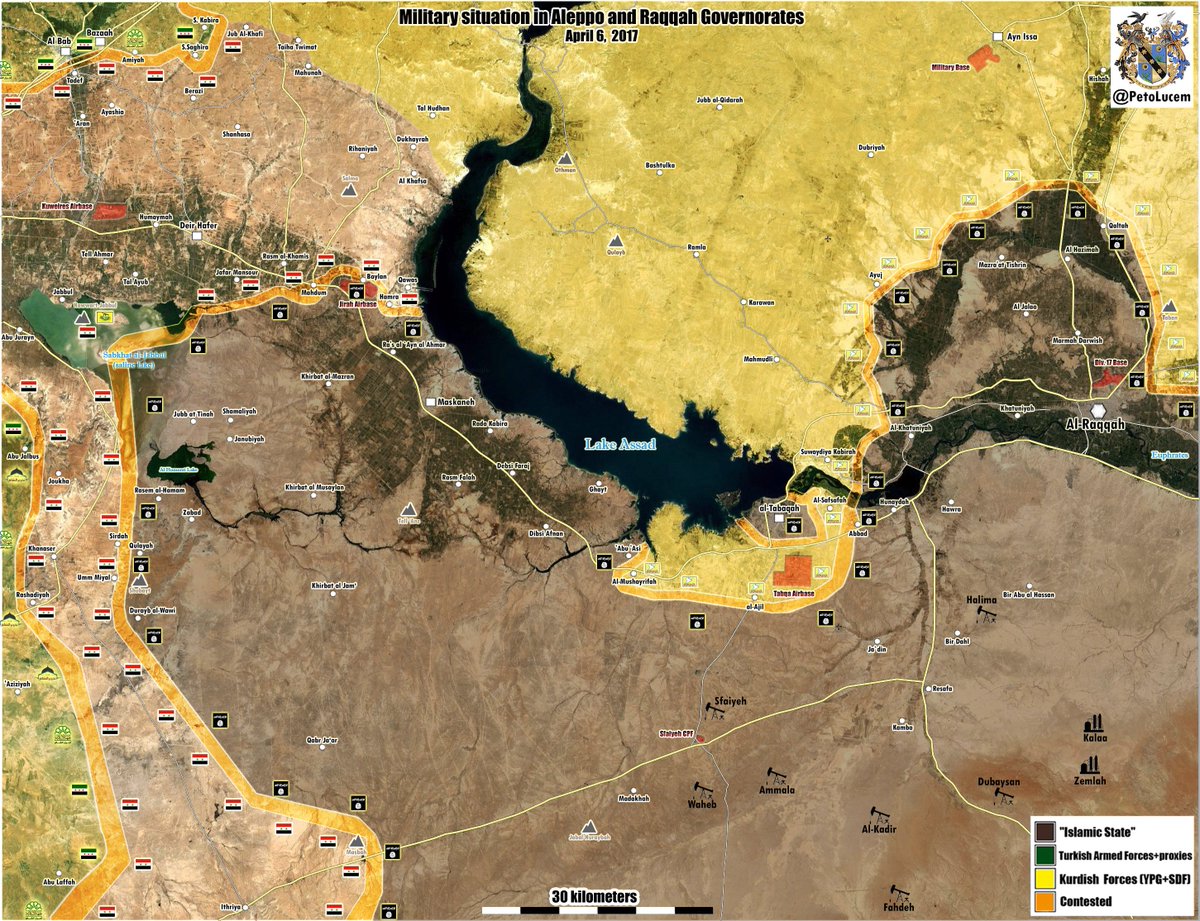 Situation in western Raqqa and Eastern Aleppo governorates, HD version of this map can be found here. Source: PetoLucem
Daraa:
New rebel attack in Al-Manashiyah district, Daraa started with an SVBIED in Faez al-Adib area which allowed rebels to capture some areas in western part of Al-Manashiyah. Al-Binyan al-Marsous operation room claimed control of air, military and security headquarters and over a dozen of buildings. Higher than usual RuAF and SyAAF activity was spotted above Daraa bombing rebel forces in an attempt to stop their advance.
Pro-government sources reported that SAA launched a counterattack in Al-Manashiyah and allegedly recaptured Syriatel checkpoint and several buildings, as always when advances are unconfirmed or disputed between two sides it is best to wait and see what the situation is really like on the ground.
Situation in Daraa showing claimed rebel advances in al-Manashiyah district (blue). Source: NORS Studies
Iraq:
Iraq Joint Operations officially announced that Al-Yarmouk district in west Mosul was fully liberated from IS by Iraqi Army.
Iraqi Bell 407GT helicopter was downed by IS over west Mosul while it was providing close air support to Iraqi Army in Old Mosul district. Helicopter crashed in Al-Muhandaseen district and both pilots were killed in a crash.
CJTF-OIR's airstrike reportedly killed more than 50 IS fighters when it hit a field hospital in "17 Tammuz" district, northern part of west Mosul.
Iraqi Army attacked Akashat area northwest of Al-Rutbah in western Anbar governorate. Akashat consists of a phosphate mine, rail yard and station, abandoned airfield and residential complex. Akashat was a site of an Islamic State of Iraq ambush in March of 2013 targeting unarmed Syrian Arab Army's convoy accompanied by Iraqi Army, convoy was headed for al-Waleed border crossing. 51 Syrian and 13 Iraqi soldiers were killed in an ambush.
IS conducted a number of failed raids in Salah al-Deen governorate, last night another suicide bomber was killed in Tikrit, connected to a group of five bombers that infiltrated Tikrit two days ago. South of Baiji four IS suicide bombers attacked village of Al-Hajjaj, three bombers were neutralized before being able to detonate and the fourth one reportedly detonated himself inside a house and killed a six year old child. Just like bombers in Tikrit two days ago, Al-Hajjaj attackers were also dressed in police uniforms. IS also attacked Jabal Makhoul, area north of Baiji and Seneia west of Baiji. Reason for all these sudden IS attacks in Salah al-Deen governorate is because IS is allegedly trying to open a route between Hawijah pocket and Syria so IS leaders trapped in pocket can escape.
On the 5th of April 2017 CJTF-OIR has conducted 15 strikes in Syria. CJTF-OIR's main focus in Syria at the moment is Tabqa-Raqqa region where they did 13 strikes supporting SDF's operation against IS destroying five fighting positions, three vehicles, a mortar system, a rocket system, an excavator, 10 IS wellheads, an explosives cache and an oil inlet manifold.
Other area where two strikes occurred is Abu Kamal destroying eight IS oil tanker trucks and two wellheads. Full report on CJTF-OIR strikes conducted in both Syria & Iraq can be found here.
Intellectual credited property used may vary from an edition to edition.
Feel free to voice your opinion in the comments section below, constructive criticism is welcomed.
For those of you interested, you can follow us on an official Twitter account @SyrianWarDaily, or me personally on my biased twitter @joskobaric where I occasionally tweet some things.