Hello and welcome to the 21st installment of the SWD.
Military events are listed below by the governorates:
Aleppo:
Town of Azaz was hit by a suicide attack today, attack occurred near ammunition depot belonging to Jabhat al-Shamiyah, suicide attacks aren't uncommon in Azaz as the city has significant number of IS cells which no one is attempting to take down for now. Maybe the situation will change after today's attack and with the arrival of Free Syrian Police trained by Turkey.
Clashes between TFSA and SDF are still continuing west of Manbij with the latter capturing Jubb al-Hamir from the former. Jubb al-Hamir has changed hands at least 3 times in the last few days, indicating that a "ping-pong war" could occur between the two parties which would be more favorable to SDF. In the same area clashes happened near the village of Abu Hayj, new statement by Hawar Kilis operation room claimed they killed 9 SDF fighters including a female commander during the shelling of Abu Hayj, full statement can be found here.
Turkish Prime Minister Binali Yıldırım said today that Turkey wouldn't consider government's takeover of Manbij as a negative development, proving the fact that Turkey would like to see anyone else in Manbij that isn't SDF.
TFSA's trend of capturing soldiers continues with them claiming to have captured 2 SDF and 2 SAA soldiers today, 1 SAA soldier later died from the wounds.
SAA Tiger Forces continue to steamroll IS in the eastern Aleppo taking control of; Rashidiyah, Samiyat, Khirbat al-Saniya, Jubb Abyad, Sakiyat, Tabbarat Kalash, Umm Mayyal, Abou Hanaya and Rasm Duwali. With the current advances Tiger Forces are simultaneously closing in on Al-Khafsa, Jihar airbase, slowly encircling Deir Hafer and cutting SDF from advancing alongside the western bank of Euphrates towards Tabqa.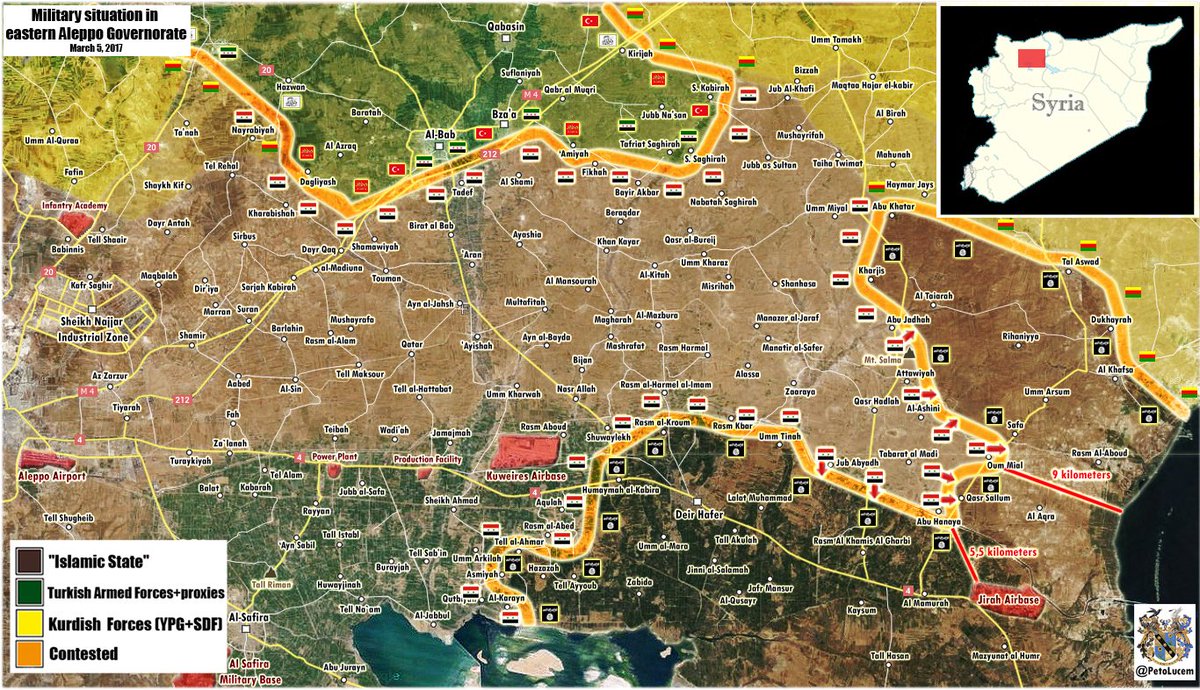 Map of eastern Aleppo countryside after today's advances by SAA. Source: @PetoLucem
Idlib:
Pilot of the MiG-21 downed yesterday has been found by Turkish rescue team after 9 hours of intensive search. He was transferred in to a Turkish hospital where he was diagnosed with a broken spine, however, he is in stable condition and resting. Pilot was identified as Colonel Mohamad Sawfan allegedly from the Fuah-Kafraya pocket in Idlib.
Colonel supposedly made a statement saying his plane was shot down, if this statement is genuine and not false or forced, it would confirm Ahrar al-Sham's claims that they have downed a warplane over Idlib governorate yesterday.
Deir al-Zour:
SDF's operation Wraith of Euphrates has continued today after a brief stagnation, reason provided for the sudden stop after rapid advances are bad weather conditions. Unlikey, but also a possible, secondary reason why SDF stopped advancing in Deir al-Zour countryside might be TFSA's attacks on western Manbij front. Villages captured today by SDF are; Jubb al-Khalil, Abdul Mutanabi and Muhammad al-Ayash.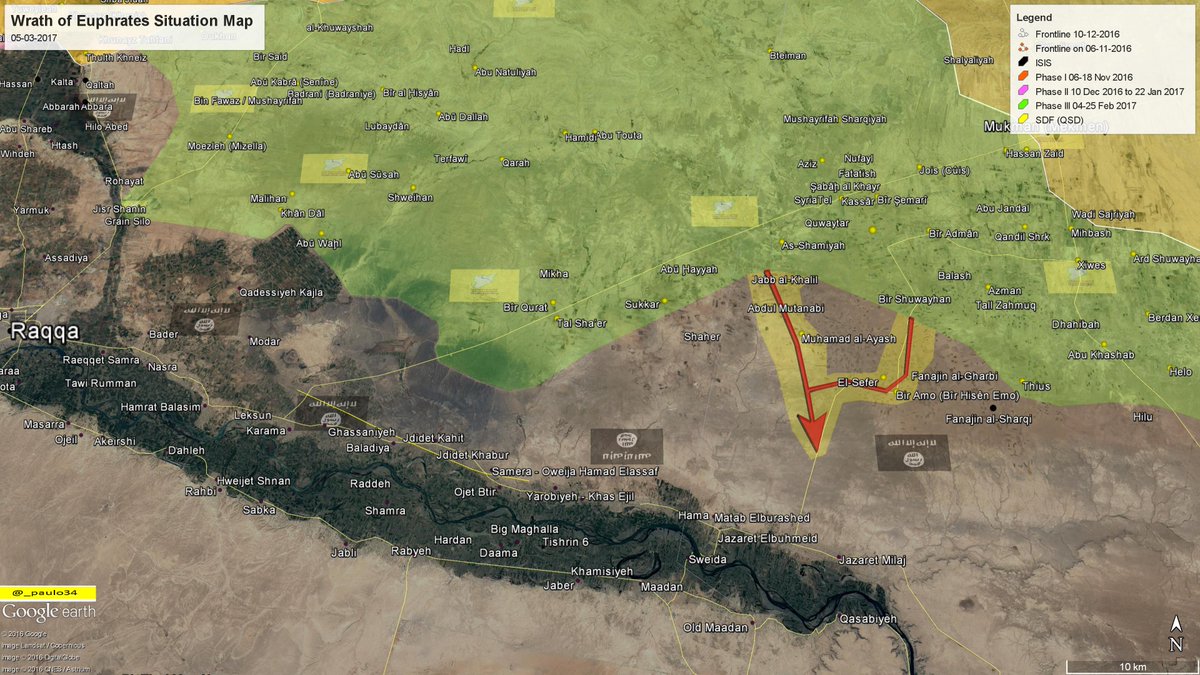 Map showing SDF's progress against IS in Deir al-Zour countryside. Source: @_paulo34
Homs:
SAA captured Jazal field from IS today, process of removing IEDs is in the progress.
Map showing situation in eastern Homs Source: @v4st0
Iraq:
Iraqi army made some progress in the west Mosul after days of clashes with IS, most of the progress happened in Al-Dandan and Al-Dawasa districts with clashes also taking place near government complex and in Al-Samoud and Tal al-Ruman districts. West of the Mosul in Tal Afar, a meeting between high ranking IS commanders was reportedly targeted by Iraqi Air Force, six of them were killed. Of those six killed four were foreigners, three from Turkey and one from Tunisia.
Situation in Sinjar (Shingal) is still tense as new reports came out of claiming KDP arrested around 80 Rojava Peshmergas (Syrian Kurds) because they refused to fight in Sinjar. They were allegedly handed over to the MIT, Turkish intelligence organization.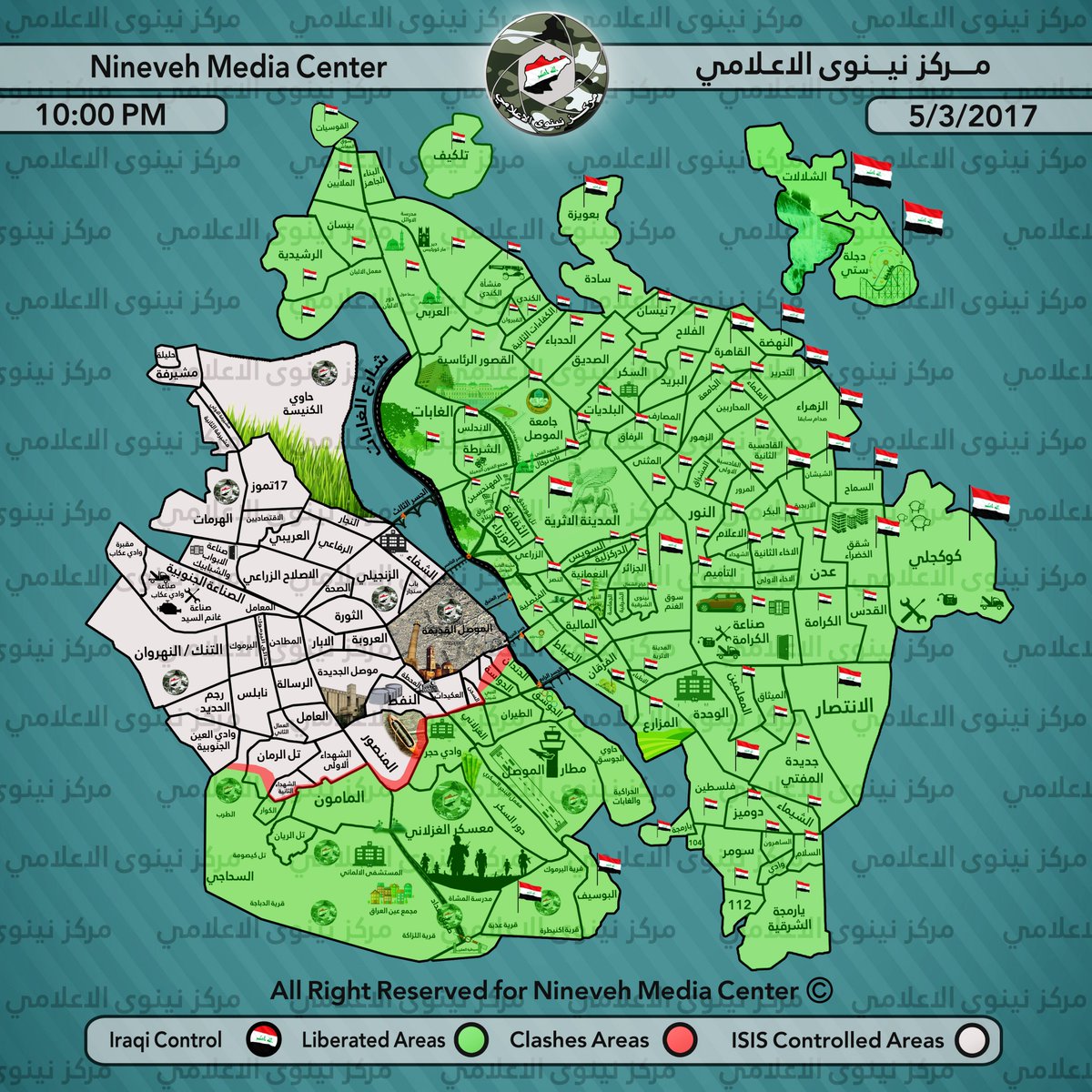 Latest situation in Mosul. Source: @NinevehMC
On the 4th of March 2017 CJTF-OIR has conducted 7 strikes in Syria. CJTF-OIR's main focus in Syria at the moment is still Raqqa where they did 5 strikes supporting SDF's operation against IS destroying four fighting positions, a vehicle bomb factory and a vehicle bomb staging area.
Other areas where strikes occurred are Abu Kamal and Deir al-Zour destroying a gas oil separation plant and damaging a bridge, respectively. Full report on CJTF-OIR strikes conducted in both Syria & Iraq can be found here.
Intellectual credited property used may vary from an edition to edition.
Feel free to voice your opinion in the comments section below, constructive criticism is welcomed.
For those of you interested, you can follow us on an official Twitter account @SyrianWarDaily, or me personally on my biased twitter @joskobaric where I occasionally tweet some things.