Hello and welcome to the 882nd installment of the SWD.
Military events/news are listed below by the governorates:
Raqqa:
An improvised explosive device wounded an individual in Al-Taminat neighborhood of Raqqa city.
Idlib:
The Syrian Army captured Madaya and Abdeen northwest of Khan Sheikhun from Hayat Tahrir al-Sham and Jabhat al-Wataniya lil-Tahrir (National Liberation Front).
Hayat Tahrir al-Sham launched a large counterattack against the Syrian Army on the Sukayk front. Hayat Tahrir al-Sham made only minor advances on the front, failing to capture any significant areas.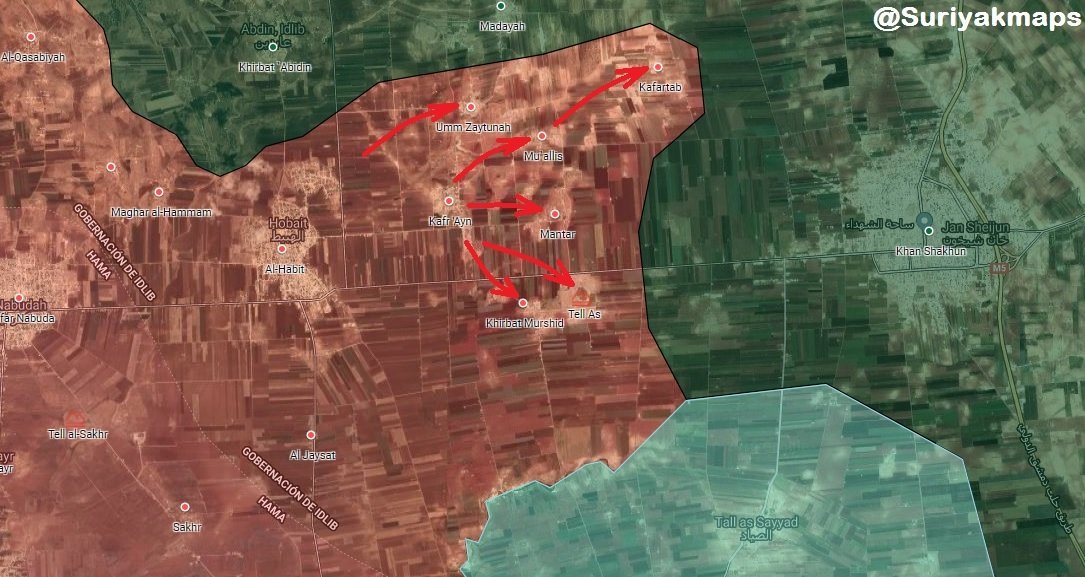 Approximate situation west of Khan Sheikhun. Source: Suriyak
Afghanistan
Logar Province:
Afghan National Security Forces reportedly killed 11 members of the Islamic Emirate of Afghanistan (Taliban) and destroyed 40 improvised explosive devices in a raid in Charkh district.
Paktia Province:
The Taliban killed 8 and wounded 5 members of the Afghan National Security Forces in attacks in Wuza Zadran district.
Ghazni Province:
Afghan National Security Forces killed 2 and wounded 3 members of the Taliban, as well as destroyed three motorcycles in Marwardar area of Qarabagh district.
CJTF-OIR

:

CJTF-OIR announced a change in their publishing policy. Now one strike report will be published each week on Mondays.
Other:
If you would like to support Syrian War Daily, please consider whitelisting or turning off your ad blocking software on the website.
Intellectual credited property used may vary from an edition to edition.
Feel free to voice your opinion in the comments section below, constructive criticism is welcomed.
Syrian War Daily is looking for individuals willing to contribute to the project. If you are interested in contributing, please fill out the form on this page.
For those of you interested, you can follow us on our official Twitter account @SyrianWarDaily, or personally on Twitter at @joskobaric or @peter_bucci where we occasionally tweet some things.