Hello and welcome to the 881st installment of the SWD.
Military events/news are listed below by the governorates:
Aleppo:
'Afrin Liberation Forces' (Hêzên Rizgariya Efrînê) released a new statement claiming that the group conducted an operation against the Turkey-backed Free Syrian Army in Afrin region. Full statement released by the group;
On August 13, our forces detonated two explosive devices with a group of elements of the Turkish occupation mercenaries in the vicinity of Mukhtar hamlet related to Tal al-Mudiq village in Shahba areas, during which two mercenaries were killed, followed by a clash of medium weapons between our forces and mercenaries which results were not known.

At the same time, the Turkish occupation forces and their mercenaries shelled the villages of Shara (Marnaz – Al-Malikiyah) and the villages of Al-Shahba (Tal Al-Mudiq, Samuqa and Umm Hosh) with heavy weapons and armed drones which caused physical damage to civilian property.
Idlib:
The Syrian Army captured Tell As, Umm Zaytunah, Khirbat Murshid, Al-Muntar, and Al-Muntar farms from Hayat Tahrir al-Sham and Al-Jabhat al-Wataniya lil-Tahrir (National Liberation Front). All of these locations are west of the city of Khan Sheikhun.
Hayat Tahrir al-Sham reportedly downed a Syrian Air Force Su-22 jet airplane over Tamanah town near the city of Khan Sheikhun in southern Idlib. The pilot, Mohammad Ahmad Sleiman, ejected from the aircraft and was later captured alive by members of Hayat Tahrir al-Sham, who interrogated him and published photos of him online.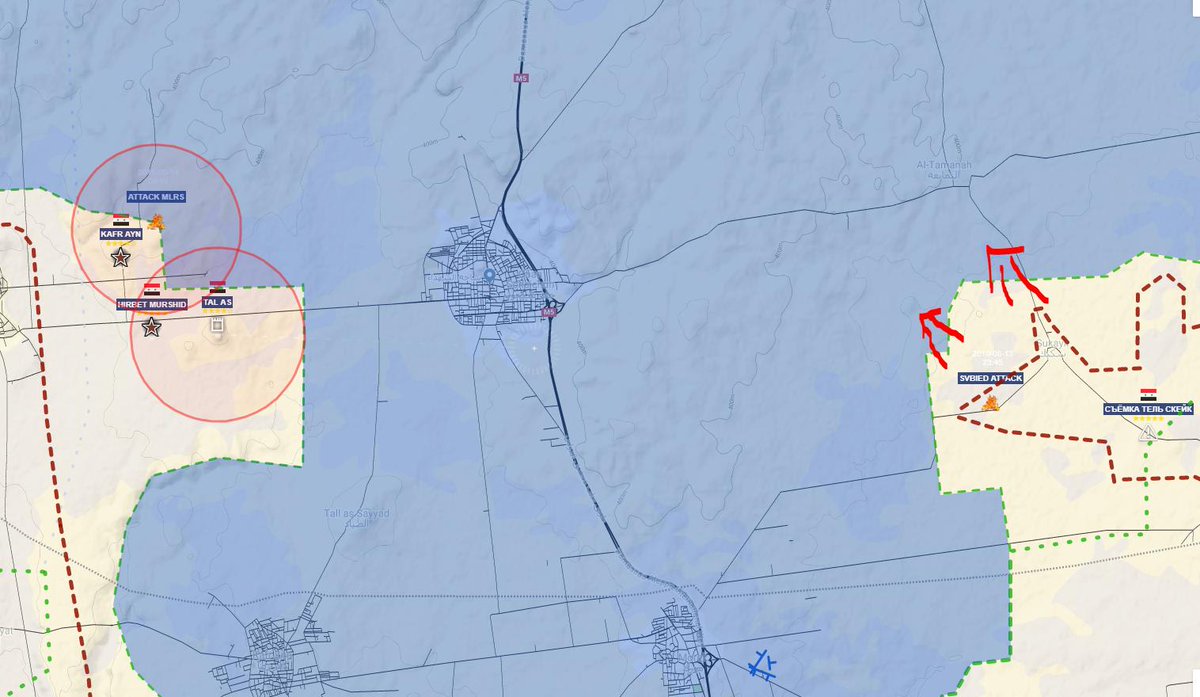 Approximate situation around Khan Sheikhun. Source: Geroman
Homs:
A left-over improvised explosive device killed two and wounded three civilians in Hawsh Hajou village in northern Homs.
Afghanistan
Faryab Province:
Afghan National Security Forces killed ten members of the Islamic Emirate of Afghanistan (Taliban) in Gurziwan district.
Urozgan Province:
Afghan National Security Forces reportedly killed 13 and arrested three members of the Taliban in Tarinkot district.
CJTF-OIR

:

CJTF-OIR announced a change in their publishing policy. Now one strike report will be published each week on Mondays.
Other:
If you would like to support Syrian War Daily, please consider whitelisting or turning off your ad blocking software on the website.
Intellectual credited property used may vary from an edition to edition.
Feel free to voice your opinion in the comments section below, constructive criticism is welcomed.
Syrian War Daily is looking for individuals willing to contribute to the project. If you are interested in contributing, please fill out the form on this page.
For those of you interested, you can follow us on our official Twitter account @SyrianWarDaily, or personally on Twitter at @joskobaric or @peter_bucci where we occasionally tweet some things.