Hello and welcome to the 832nd installment of the SWD.
Military events/news are listed below by the governorates:
Aleppo:
A counterterrorism operation took place in Manjib and Raqqa after the roadside bomb that exploded near a military patrol near the city of Manjib. Five people were arrested by the counter-terrorism units (YAT) linked to Daesh sleeper cells.
A wildfire near Kobani started one to two days ago on the Turkish side of the border by Turkish forces was reported to have jumped to the neighbouring Syrian city. This comes as no surprise since Syria an Iraq are currently suffering a severe episode of wildfires. Most of the areas burned by these wildfires are farmlands.
While it is true that different actors blame each other for the wildfires, the actor taking advantage of the situation is Daesh. To read more about this issue, please click on this link – via @integrity_UK.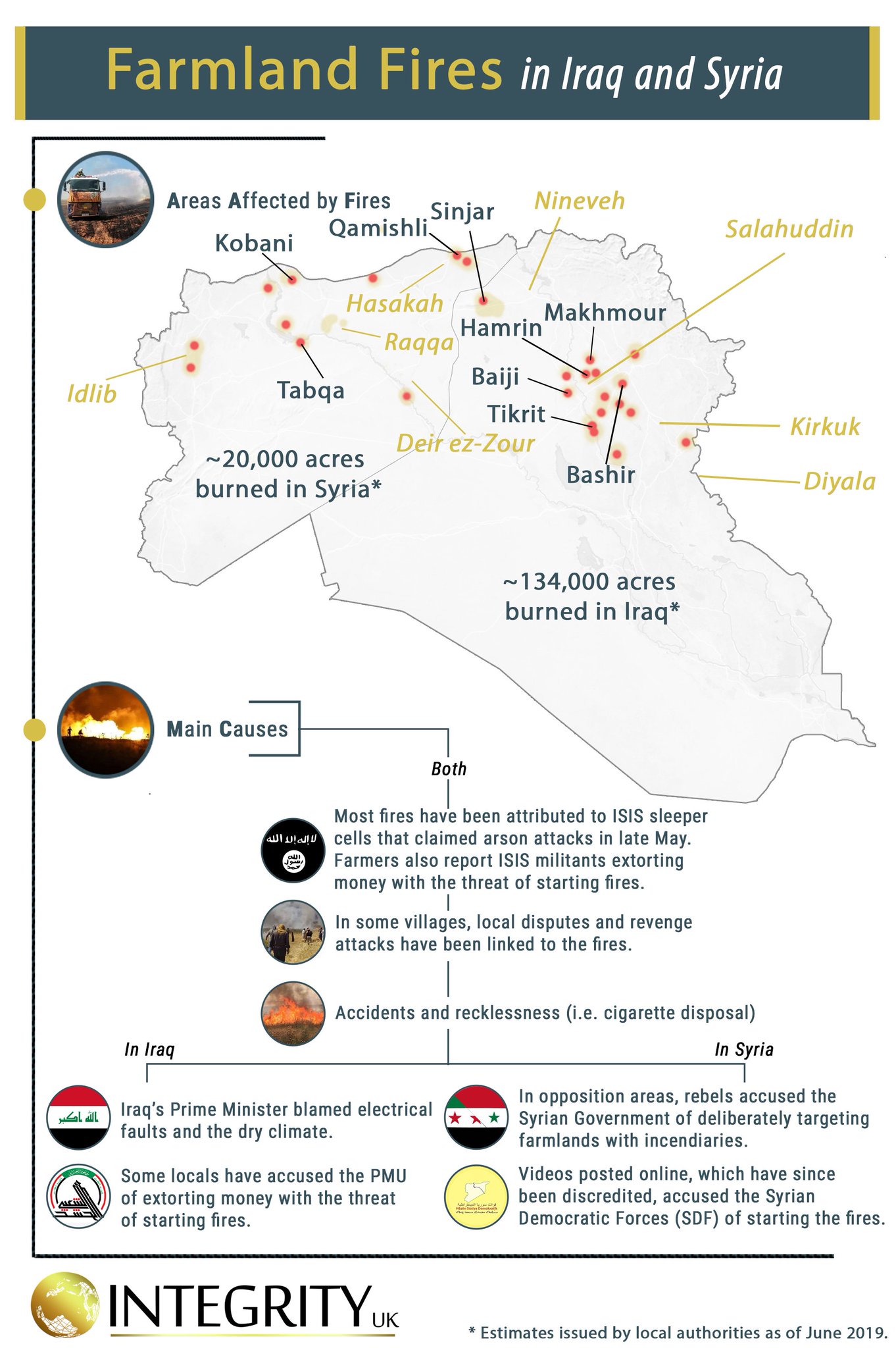 There were clashes between the YPG and Turkish forces near the village of Kimar. According to the Turkish Defense Ministry, one soldier was killed and 3 to 5 soldiers were wounded after the Kurdish forces targeted Turkish positions with mortars.
Idlib:
Clashes between government and rebel forces continued to escalate in the Idlib-Hama frontlines.
Russian and Syrian Air Forces continued targeting multiple areas across Idlib countryside. Different sources report civilians to be: three near Arab Sa'id, eight in Idlib (as well as an unknown number of wounded), three"civil defence volunteers" in Khan Sheikhun and two dead at the outskirts of Ma'arat (as well as one wounded). All these casualties are reported to be from airstrikes.
Rocket attacks were resumed by pro-government forces also targeted multiple areas with rockets, mortars and artillery. The affected areas include Hish, Ma'ran al-Nu'man, Muqair, Habit, amongst other places.
Video evidence proves the use of cluster bombs, allegedly near the city of Ma'ran al-Nu'man – although this is hard to prove since the video was recorded at nighttime, making geographic location close to impossible.
A convoy of Turkish forces was spotted coming from Hatay's Kirikhan district, en route to the Turkish Armed Forces observation posts in Idlib.
Deir ez-Zor:
Abdul Qadir Saleh al-Aqla al-Abuni was reported dead by a landmine left behind by Daesh forces near the village of Jadid Bakara, east of the city of Deir ez-Zor.
According to local sources, clashes between Syrian forces and Iran-backed forces took place in the city of Al Mayadin/Mayadeen. According to the local sources, seven government-backed forces were killed after clashes broke out between Government forces on one side, and the Fatimiyon Brigade and Iranian Revolutionary Guards on the other.
Raqqa:
A member of the Syrian Democratic Forces was killed by unidentified gunmen near the village of Hamra Blasim, southeast of the city of Raqqa.
International:
According to The Times of Israel, Russia officials stood by Iran's claim that the US drone was shot down in Iranian airspace. Nikolai Patrushev, secretary of the Russian Security Council, also defended the right of foreign troops to remain in Syria despite Israeli opposition. By keeping close ties with Iran and Israel, Russia may become a key interlocutor between Western countries and Iran.
Other:
Intellectual credited property used may vary from an edition to edition.
Feel free to voice your opinion in the comments section below, constructive criticism is welcomed.
For those of you interested, you can follow me on my personal, controversial twitter @alextorrell where I constantly tweet about different issues and conflicts.