Hello and welcome to the 781st installment of the SWD.
Military events/news are listed below by the governorates:
Aleppo:
Vehicle-borne improvised explosive device wounded eight civilians at a market in the city of Qabasin near Al-Bab.
Raqqa:
Unknown gunmen killed two elements of the Syrian Democratic Forces' Asayîş (Security) in the village of Al-Safsafah in western Raqqa. The gunmen reportedly belonged to the Islamic State.
Hama:
Syrian Arab Army started a new offensive against rebels in northwestern Hama. The army captured Tell Othman and Al-Janabra, however, Hayat Tahrir al-Sham launched a counterattack spearheaded by a suicide vehicle-borne improvised explosive device. Clashes between the two sides continue, as the aforementioned localities are still contested. Free Syrian Army's Jaysh al-Izza also launched several anti-tank guided missiles against Syrian Arab Army's armor, reportedly destroying at least one T-72 tank.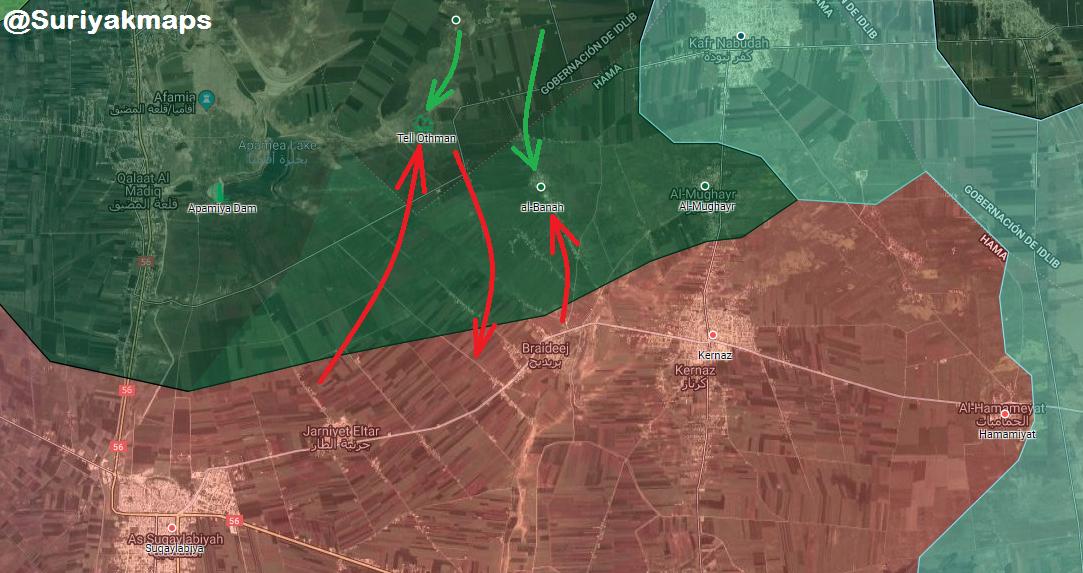 Approximate situation around Qaalat al-Madiq. Source: Suriyak
Al-Suwayda:
Unknown gunmen wounded three elements of the Syrian Arab Armed Forces at a checkpoint in the village of Al-Thaela in western Al-Suwayda.
Afghanistan
Kunar Province:
Afghan National Security Forces allegedly killed 48 and wounded eight elements of the Islamic State in Chapa Dara and Manogi districts.
Farah Province:
Islamic Emirate of Afghanistan (Taliban) overran an Afghan National Security Forces' post in Toth area of Gulistan district. According to the Islamic Emirate of Afghanistan's Al-Emarah News, 29 elements of the Afghan National Security Forces were killed, 12 were wounded, and two were captured in the encounter. Islamic Emirate of Afghanistan seized two armored personnel carriers, two PK machine guns, and nine assault rifles from the post.
Zabul Province:
Islamic Emirate of Afghanistan destroyed two Afghan National Security Forces' armored personnel carriers, reportedly killing at least eight elements in Kotani area of Arghandab district.
CJTF-OIR

:
CJTF-OIR announced a change in their publishing policy. Now one strike report will be published each week on Mondays.
Amaq Agency:
Other:
If you would like to support Syrian War Daily, please consider whitelisting or turning off your ad blocking software on the website.
Intellectual credited property used may vary from an edition to edition.
Feel free to voice your opinion in the comments section below, constructive criticism is welcomed.
Syrian War Daily is looking for individuals willing to contribute to the project. If you are interested in contributing, please fill out the form on this page.
For those of you interested, you can follow us on an official Twitter account @SyrianWarDaily, or me personally on my twitter @joskobaric where I occasionally tweet some things.