Hello and welcome to the 753rd installment of the SWD.
Military events/news are listed below by the governorates:
Aleppo:
Improvised explosive device wounded an element of Hayat Tahrir al-Sham near Khan al-Assal in western Aleppo.
Raqqa:
Syrian Democratic Forces arrested six individuals accused of targeting civilians with improvised explosive devices in the city of Raqqa.
Idlib:
Russian Navy's battleships reportedly launched two long-range missiles targeting the city of Jisr al-Shughur in western Idlib. According to the Syrian Civil Defense (The White Helmets), 12 civilians were wounded by the aforementioned targeting of the city.
Improvised explosive device killed one and wounded two civilians in the city of Al-Dana. Similarly, an improvised explosive device wounded two civilians near Al-Abrar mosque in Al-Muhandisin neighborhood of Idlib city.
Improvised explosive device targeted a vehicle of Faylaq al-Sham, wounding an element in the city of Kafr Nabl in southern Idlib.
Hama:
Russian Air Force conducted several air raids over the city of Kafr Zita in northern Hama. According to the Syrian Civil Defense (The White Helmets), one civilian was killed and ten were wounded by the air raid.
Approximate situation in northern Hama. Source: Syrian Civil War Map
Libya
Tripoli:
Government of National Accord's forces launched a counterattack against the Libyan National Army and regained the Tripoli International Airport, as well as Al-Hira and Al-Aziziyah areas.
Libyan Air Force conducted air raids over the Mitiga International Airport in Tripoli city, which resulted in the airport's closure until further notice.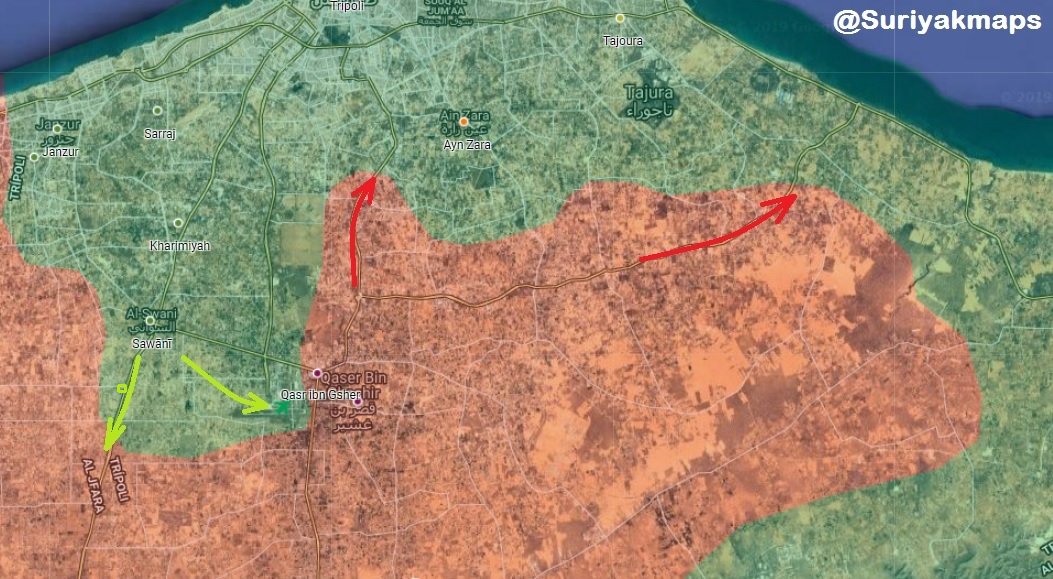 Approximate situation south of Tripoli. Source: Suriyak
Afghanistan
Paktia Province:
Two elements of the Afghan National Security Forces surrendered to the Islamic Emirate of Afghanistan (Taliban) in Laja Mangal district.
Badghis Province:
Afghan National Security Forces allegedly killed 35 and wounded 22 elements of the Islamic Emirate of Afghanistan, as well as destroyed 35 vehicles and several weapons depots and ammunition caches in Murghab district, according to the Afghan Ministry of Defense.
Islamic Emirate of Afghanistan killed five and wounded seven elements of the Afghan National Security Forces during clashes in Murghab district.
Ghazni Province:
Islamic Emirate of Afghanistan's improvised explosive device targeted an Afghan National Police's vehicle, killing two and wounding four policemen in Gelan district.
CJTF-OIR

:
CJTF-OIR announced a change in their publishing policy. Now one strike report will be published each week on Mondays.
Amaq Agency:
Other:
If you would like to support Syrian War Daily, please consider whitelisting or turning off your ad blocking software on the website.
Intellectual credited property used may vary from an edition to edition.
Feel free to voice your opinion in the comments section below, constructive criticism is welcomed.
Syrian War Daily is looking for individuals willing to contribute to the project. If you are interested in contributing, please fill out the form on this page.
For those of you interested, you can follow us on an official Twitter account @SyrianWarDaily, or me personally on my twitter @joskobaric where I occasionally tweet some things.