Hello and welcome to the 731st installment of the SWD.
Military events/news are listed below by the governorates:
Aleppo:
Left over Islamic State's improvised explosive device killed a civilian in the city of Qabasin near Al-Bab.
Deir al-Zour:
Syrian Democratic Forces' Media Center released a report regarding recent engagements with the Islamic State near Al-Baghouz;
Our forces continue their fight against terrorism, the last phase of which started on 9TH January 2019. Our forces have won great victories against terrorist Daesh organization the fighting is now confined to a small area in Al-Bagouz town in the eastern countryside of Deir Ezzor.

After our forces had evacuated thousands of civilians who had been used as "human shields" by terrorists, the terrorist organization had been besieged in the town. Under the blows of our forces and in support of the international coalition to provide air support; a large part of the elements of the organization and their families forced to surrender to our forces, while hundreds of them were killed and others wounded. The following are the number of civilians evacuated, as well as members of the terrorist organization, including their families who surrendered to our forces, in addition to the number of martyrs we have offered in this battle, since the beginning of the last battle on 09/01/2019 to date:

1- Number of terrorists and their families who surrendered to our forces (29,600)

2-The number of terrorists arrested in special operations by our forces (SDF): /520 / Terrorist.

3- The number of civilians evacuated: /37000 / civilians.

4-The number of terrorist deaths: 1306 terrorists and in addition to a large number of wounded

5- The number of the martyrs of our fighters : (11) martyrs.

6-Number of wounded of our fighters: /61/ fighters.

SDF Media Center
Unknown gunmen reportedly killed two and wounded three elements of the Syrian Democratic Forces in the city of Hajin in eastern Deir al-Zour.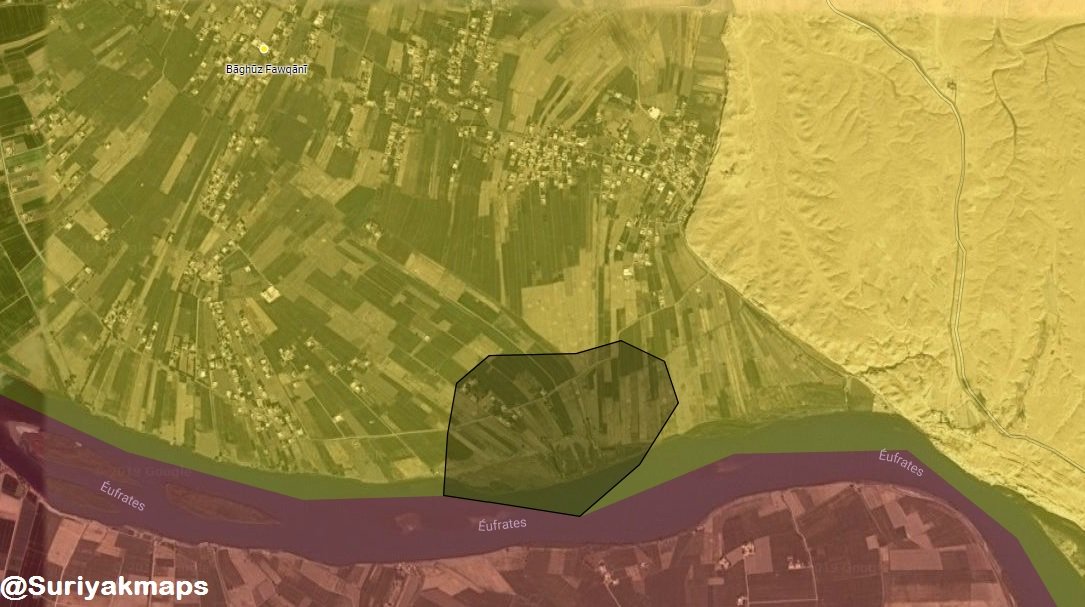 Approximate situation around Al-Baghouz. Source: Suriyak
Afghanistan
Faryab Province:
Islamic Emirate of Afghanistan (Taliban) overran an Afghan National Security Forces' military base and a nearby post in Atkalik area of Qaysar district. Islamic Emirate of Afghanistan's Al-Emarah News reported that 21 elements of the Afghan National Security Forces were killed, while 15 elements were wounded and four were arrested. Islamic Emirate of Afghanistan seized an armored vehicle, a DShK heavy machine gun, two PK machine guns, and 21 assault rifles from the base.
Badghis Province:
Afghan National Security Forces killed 12 elements of the Islamic Emirate of Afghanistan and destroyed four motorcycles in Murghab district.
Helmand Province:
Islamic Emirate of Afghanistan ambushed and killed two elements of the Afghan National Police in Namro area of Lashkar Gah district.
Approximate situation in Helmand province, HD version of this map can be found here. Source: Afganistan Bülteni
Kandahar Province:
Islamic Emirate of Afghanistan's snipers killed two elements of the Afghan National Security Forces in Loy Karez area of Maywand district.
CJTF-OIR

:
CJTF-OIR announced a change in their publishing policy. Now one strike report will be published each week on Mondays.
Amaq Agency:
Other:
If you would like to support Syrian War Daily, please consider whitelisting or turning off your ad blocking software on the website.
Intellectual credited property used may vary from an edition to edition.
Feel free to voice your opinion in the comments section below, constructive criticism is welcomed.
Syrian War Daily is looking for individuals willing to contribute to the project. If you are interested in contributing, please fill out the form on this page.
For those of you interested, you can follow us on an official Twitter account @SyrianWarDaily, or me personally on my twitter @joskobaric where I occasionally tweet some things.