Hello and welcome to the 706th installment of the SWD.
Military events/news are listed below by the governorates:
Aleppo:
'Afrin Liberation Forces' (Hêzên Rizgariya Efrînê) released a new statement claiming that the group conducted an operation against the Turkey-backed Free Syrian Army in Afrin region. Full statement released by the group;
Our units carried out an operation against Turkish-backed Firqat al-Hamza jihadists in between Basuta and Kurzala villages in occupied Afrin on February 17. 3 terrorists were killed, 5 were wounded as result of clashes.

-We have earlier announced that a soldier and 2 terrorists were injured in an operation carried out by our forces against Turkish-backed terrorists in Bilbul town of Afrin on February 17. We confirmed that the injured soldier called Umut Öznütepe has later died of his wounds on February 18.
Approximate situation around Manbij. Source: Suriyak
Hama:
Syrian Arab Army's artillery reportedly targeted positions of Hayat Tahrir al-Sham in Al-Ghab Plain. Syrian Arab News Agency released a report regarding the event;
SANA's reporter said that army units conducted a series of bombardments against positions of Jabhat al-Nusra terrorists east of al-Ghab Plain, adding that terrorist leader "Abu Omar al-Masri" was identified among the killed terrorists.

The reporter affirmed that an army unit foiled an infiltration attempt by a terrorist group from the direction of al-Arbain town towards military posts positioned in al-Jabin town in Mharda northern countryside, killing or injuring its members.
Libya
Murzuq:
Libyan National Army, backed by the Libyan Air Force reportedly took full control over the city of Murzuq from militias (including militias from Chad), after several hours of clashes between the two in the city. The capture of Murzuq was announced by the spokesman of the Libyan Armed Forces, Brigadier General Ahmad al-Mesmari.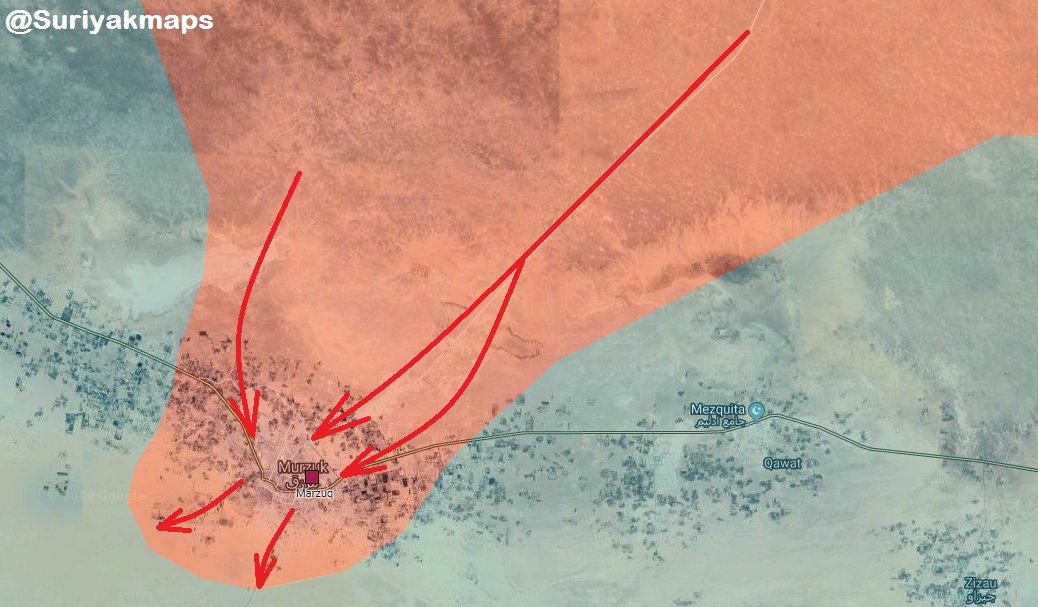 Approximate situation around Murzuq city. Source: Suriyak
Afghanistan
Faryab Province:
Afghan National Security Forces killed 14 and wounded nine elements of the Islamic Emirate of Afghanistan (Taliban), as well as destroyed three weapons depots and ammunition caches in Gurziwan and Dawlat Abad districts.
Islamic Emirate of Afghanistan killed two and wounded one element of the Afghan Local Police in Ghajar Abad area of Andkhoy district.
Ghazni Province:
Afghan National Security Forces killed six and wounded four elements of the Islamic Emirate of Afghanistan, as well as destroyed a vehicle in Andar and Qarabagh districts.
Helmand Province:
Islamic Emirate of Afghanistan's snipers killed two elements of the Afghan National Security Forces in Shaglan Sarak and Tangano Godar areas of Nawa-I-Barakzayi district.
Approximate situation in Helmand province, HD version of this map can be found here. Source: Afganistan Bülteni
Kandahar Province:
Afghan National Security Forces killed eight and wounded eight elements of the Islamic Emirate of Afghanistan in Ghorak district.
Islamic Emirate of Afghanistan attacked an Afghan National Security Forces' convoy heading towards Maruf district center in Naiko area of the aforementioned district. Two Kamaz trucks and an armored personnel carrier were destroyed in the attack.
CJTF-OIR

:
CJTF-OIR announced a change in their publishing policy. Now one strike report will be published each week on Mondays.
Amaq Agency:
Other:
If you would like to support Syrian War Daily, please consider whitelisting or turning off your ad blocking software on the website.
Intellectual credited property used may vary from an edition to edition.
Feel free to voice your opinion in the comments section below, constructive criticism is welcomed.
Syrian War Daily is looking for individuals willing to contribute to the project. If you are interested in contributing, please fill out the form on this page.
For those of you interested, you can follow us on an official Twitter account @SyrianWarDaily, or me personally on my twitter @joskobaric where I occasionally tweet some things.