Hello and welcome to the 705th installment of the SWD.
Military events/news are listed below by the governorates:
Idlib:
Syrian Arab Army's artillery shelled Khan Sheikhun, Al-Habit, Maarat al-Numaan in southern Idlib and Sukayk in northern Hama. According to the Syrian Civil Defense (The White Helmets), six civilians were killed and eight wounded by the shelling.
Hama:
Free Syrian Army's Jaysh al-Izza targeted a gathering of Syrian Arab Army's elements at a checkpoint near Al-Musasana village with an anti-tank guided missile. The group stated that the attack was conducted in response to the Syrian Arab Army's shelling of Hama and Idlib governorates. Reports claimed that seven elements of the Syrian Arab Army were killed and wounded by the targeting.
Deir al-Zour:
Dozens of trucks entered Islamic State-held parts of Al-Baghouz Fawqani in order to evacuate the remaining civilians from the pocket.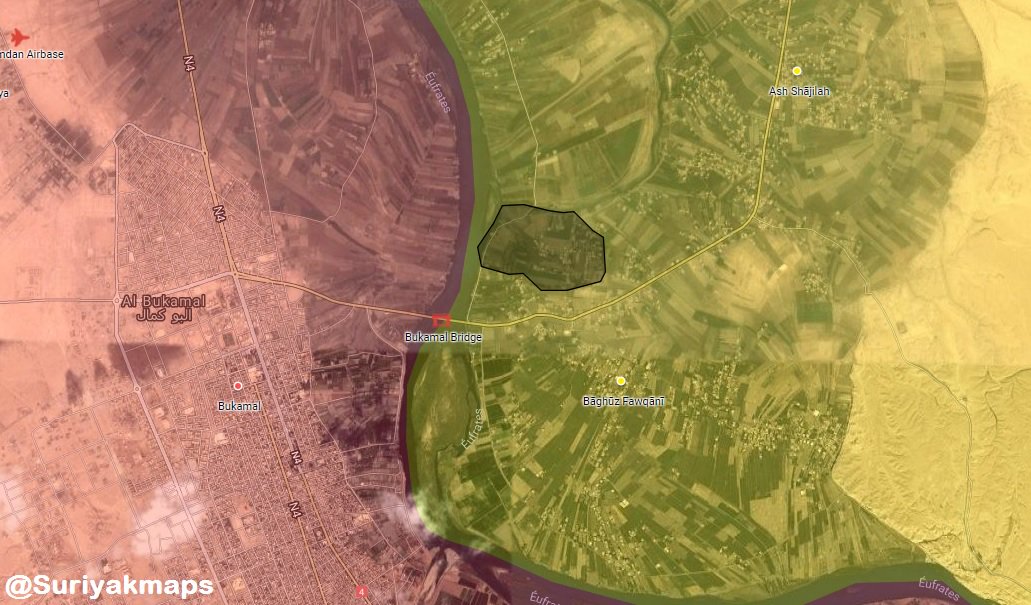 Approximate situation around Al-Baghouz. Source: Suriyak
Daraa:
Unknown gunmen attempted to assassinate a former commander of the Free Syrian Army, Khaled al-Hari (Abu Abdul Rahman) in the city of Athman. Al-Hari was wounded in the attempt.
Afghanistan
Ghazni Province:
Afghan National Security Forces killed eight and wounded two elements of the Islamic Emirate of Afghanistan (Taliban) in Andar, Waghaz, and Qarabagh districts. Separately, an Islamic State's element was killed in Khogyani district.
Helmand Province:
Islamic Emirate of Afghanistan ambushed and destroyed an Afghan National Army's armored personnel carrier, reportedly killing and wounding six elements in Yakchal area of Nahri Saraj district.
Approximate situation in Helmand province, HD version of this map can be found here. Source: Afganistan Bülteni
Kandahar Province:
Afghan National Security Forces killed 11 and wounded eight elements of the Islamic Emirate of Afghanistan in Ghorak district.
Islamic Emirate of Afghanistan killed two elements of the Afghan National Security Forces in Zangitan area of Shah Wali Kot district.
Islamic Emirate of Afghanistan's improvised explosive device destroyed an Afghan National Security Forces' Kamaz truck in Germawok area of Maywand district.
CJTF-OIR

:
CJTF-OIR announced a change in their publishing policy. Now one strike report will be published each week on Mondays.
Amaq Agency:
Other:
If you would like to support Syrian War Daily, please consider whitelisting or turning off your ad blocking software on the website.
Intellectual credited property used may vary from an edition to edition.
Feel free to voice your opinion in the comments section below, constructive criticism is welcomed.
Syrian War Daily is looking for individuals willing to contribute to the project. If you are interested in contributing, please fill out the form on this page.
For those of you interested, you can follow us on an official Twitter account @SyrianWarDaily, or me personally on my twitter @joskobaric where I occasionally tweet some things.