Hello and welcome to the 700th installment of the SWD.
Military events/news are listed below by the governorates:
Homs:
Syrian Arab Army clashed with the Islamic State in desertous areas near Palmyra, with reports that a number of elements of the Islamic State were killed in the clashes. Full report released by the Syrian Arab News Agency;
Units of the army killed a number of Daesh terrorists in Palmyra Badyah, confiscating their weapons and vehicles.

A field source told SANA that following pursuit and monitoring operations in the depth of Badyah, units of army clashed with a group affiliated to Daesh in Palmyra countryside, eliminating many of them and destroying their dens and two vehicles, one of them was equipped with a heavy machine gun.
Deir al-Zour:
Syrian Democratic Forces' Media Center released a report regarding today's engagements with the Islamic State in the governorate;
As a part of the ongoing battle of finishing the remained terrorists of ISIS, in their last enclave, in the village of Al-Baghoz, in the eastern countryside of Dair Al-Zor, alongside the Iraqi border, our forces of SDF swept the points that they liberated, where our fighters discovered an amount of ammo and big number of weapons that were hidden in one of the locations, however they discovered some terrorists bodies.

In other direction of this axis, separate clashes took place between our forces and terrorists, which led to killing many of them.

Our fighters seized the following during the evening hours of today:

1-explosive car, prepared for bombing

2-10 mortars artillery 120 M.

3-artillery 122M.

SDF-Media Center.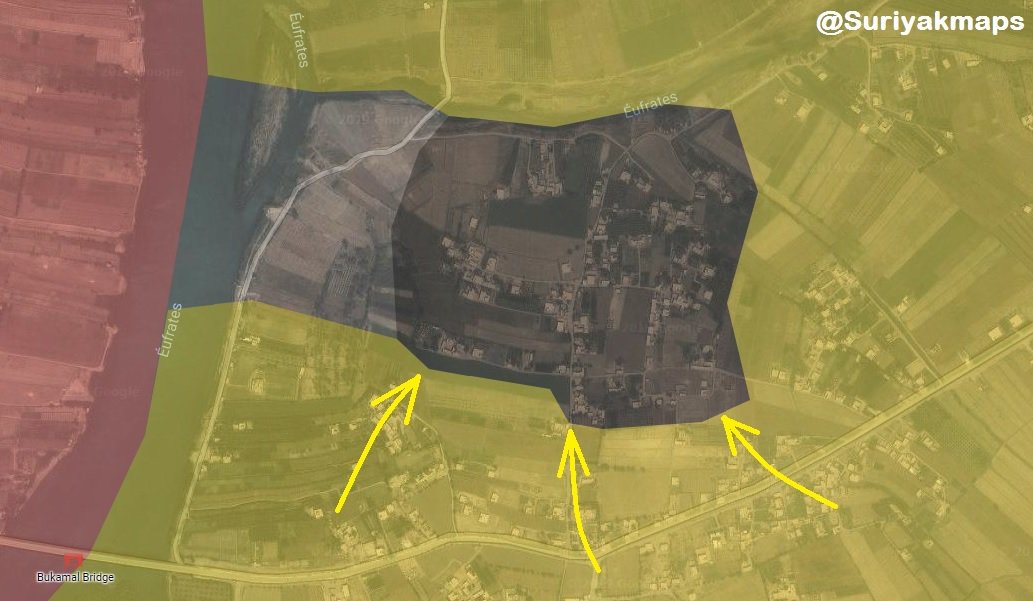 Approximate situation around Al-Baghouz Fawqani. Source: Suriyak
Daraa:
Unknown gunmen assassinated a Syrian Arab Army's officer, Nazir al-Sobh (Abu Hassan) on the road between Tafas and Daraa.
Afghanistan
Faryab Province:
Islamic Emirate of Afghanistan's (Taliban) Al-Emarah News stated that the group attacked Afghan National Security Forces' positions near Almar district's administration center. According to Al-Emarah, 14 elements of the Afghan National Security Forces were killed and five wounded, as well as six vehicles destroyed in the attack.
Nimruz Province:
Afghan National Security Forces killed two and wounded three elements of the Islamic Emirate of Afghanistan in Delaram district.
Helmand Province:
Afghan National Security Forces killed 11 and wounded eight elements of the Islamic Emirate of Afghanistan, as well as destroyed three motorcycles and several weapons depots and ammunition caches in Sangin and Kajaki districts.
Approximate situation in Helmand province, HD version of this map can be found here. Source: Afganistan Bülteni
Kandahar Province:
Islamic Emirate of Afghanistan's snipers killed two elements of the Islamic Emirate of Afghanistan in Sara Baghal area of Maywand district.
CJTF-OIR

:
CJTF-OIR announced a change in their publishing policy. Now one strike report will be published each week on Mondays.
Amaq Agency:
Other:
If you would like to support Syrian War Daily, please consider whitelisting or turning off your ad blocking software on the website.
Intellectual credited property used may vary from an edition to edition.
Feel free to voice your opinion in the comments section below, constructive criticism is welcomed.
Syrian War Daily is looking for individuals willing to contribute to the project. If you are interested in contributing, please fill out the form on this page.
For those of you interested, you can follow us on an official Twitter account @SyrianWarDaily, or me personally on my twitter @joskobaric where I occasionally tweet some things.