Hello and welcome to the 595th installment of the SWD.
Military events/news are listed below by the governorates:
Raqqa:
Unknown gunmen executed an individual in the village of Al-Adnaniyah in western Raqqa.
Idlib:
Hayat Tahrir al-Sham raided a Syrian Arab Army's position in the village of Abu Qamis, west of Abu al-Duhur. According to Hayat Tahrir al-Sham's Ibaa News Agency, three elements of the Syrian Arab Army were killed in the raid.
Syrian Arab Army's artillery shelled Tell al-Sultan, Tawil al-Halib, and Masouda in eastern Idlib.
Deir al-Zour:
Islamic State's Amaq Agency stated that an element of the Syrian Democratic Forces was killed and two wounded in an attack in the village of Suwaidan in eastern Deir al-Zour.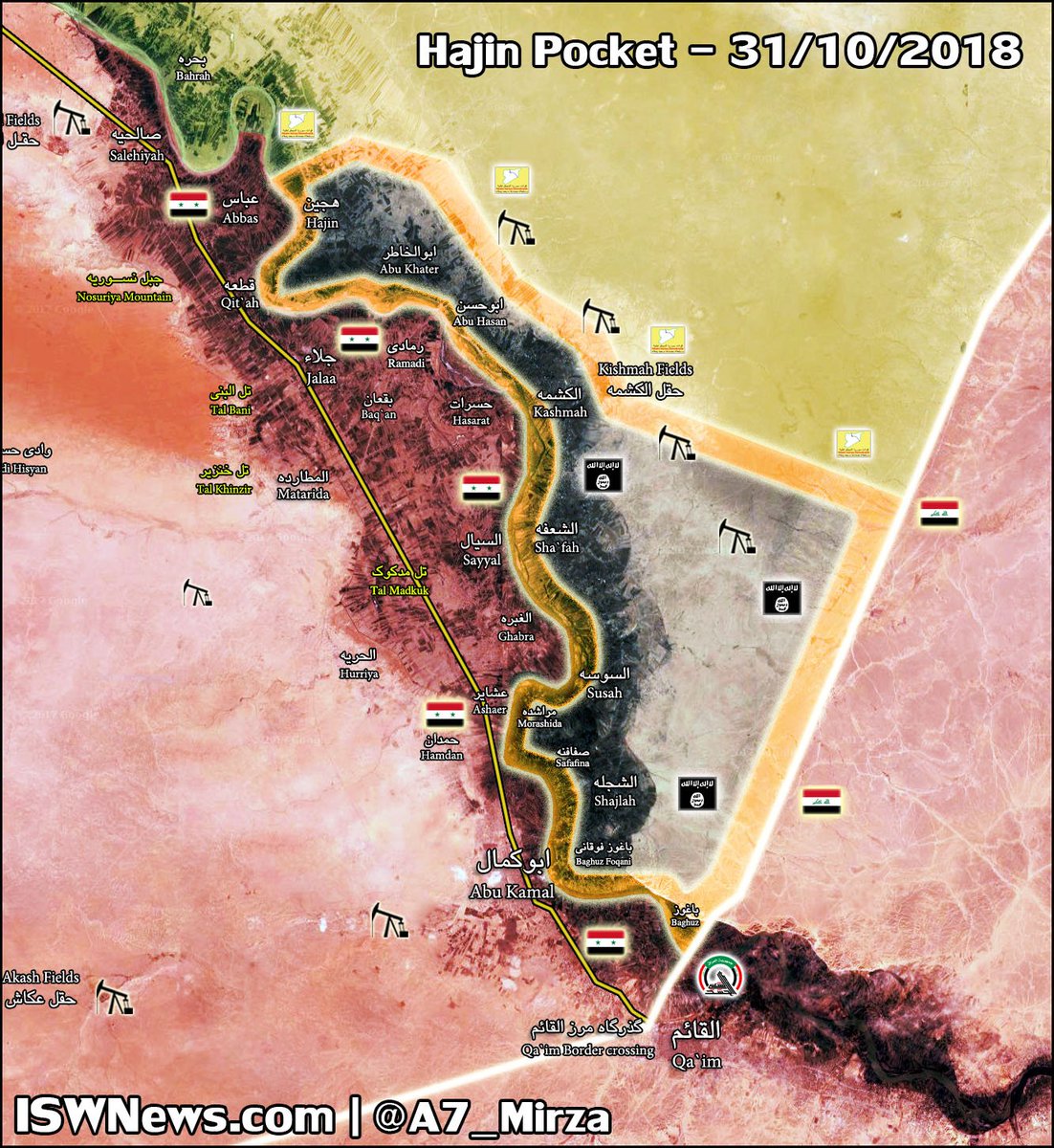 Approximate situation in eastern Deir al-Zour. Source: IWN
Afghanistan
Ghazni Province:
Afghan National Security Forces reportedly killed 19 and wounded ten elements of the Islamic Emirate of Afghanistan (Taliban), as well as destroyed a vehicle in Qarabagh, Ab Band, Waghaz, Andar, and Gelan districts, according to the Afghan Ministry of Defense.
Islamic Emirate of Afghanistan ambushed and killed four elements of the Afghan National Army in Andar district.
Urozgan Province:
Islamic Emirate of Afghanistan's improvised explosive device destroyed an Afghan National Army's armored personnel carrier, killing three and wounding two elements in Kotwalo area of Tarinkot district.
Kandahar Province:
Islamic Emirate of Afghanistan attacked an Afghan National Army's checkpoint in Sangbar area of Maywand district, killing two and wounding one soldier in the attack.
CJTF-OIR

:
CJTF-OIR announced a change in their publishing policy. Now one strike report will be published each week on Mondays.
Amaq Agency:
Other:
If you would like to support Syrian War Daily, please consider whitelisting or turning off your ad blocking software on the website.
Intellectual credited property used may vary from an edition to edition.
Feel free to voice your opinion in the comments section below, constructive criticism is welcomed.
Syrian War Daily is looking for individuals willing to contribute to the project. If you are interested in contributing, please fill out the form on this page.
For those of you interested, you can follow us on an official Twitter account @SyrianWarDaily, or me personally on my twitter @joskobaric where I occasionally tweet some things.