Hello and welcome to the 584th installment of the SWD.
Military events/news are listed below by the governorates:
Aleppo:
Yekîneyên Parastina Gel's (People's Protection Units) Media Center stated that two elements of the Turkey-backed Free Syrian Army were killed in an operation conducted by the group in Bulbul subdistrict of Afrin. Full statement by the Media Center;
Within the scope of the second phase of the resistance against the Turkish invasion army and its terrorist allies in Afrin, our forces carried out an operation against the mercenary allies of the occupying Turkish army in Afrin's Bilbile district.

On October 18th, our units carried out an operation against the Turkish-backed terrorist group Ahrar al-Sharqiya in the village of Qastal Khadriya in Bilbile district. As a result, two of the terrorists, namely Sulayman al-Muhammad and Muhammad Mahran, were killed.
Improvised explosive device wounded two elements of the Free Syrian Army's Al-Liwa 51 (51st Brigade) near one of the group's headquarters in the village of Tilalyan, near Marea.
Idlib:
Vehicle-borne improvised explosive device killed three and wounded around 16 civilians in Al-Qusour neighborhood of Idlib city. The explosion also caused significant material damage.
Deir al-Zour:
Syrian Democratic Forces' Media Center released a report regarding today's advances and encounters with the Islamic State in the governorate;
1- Baguz axis: Strong clashes erupted in this axis after IS mercenaries' attempts to strike the sites of our forces using the shells of RBG, PKC, Kalashnikovs and snipers. Our forces repelled their movements and turned them back.

These clashes resulted in wounding three fighters, killing six mercenaries in addition to seizing their weapons.

Moreover, the Global Coalition's aircrafts carried out several raids on the terrorists' sites that led to cutting off the road between al-Murshda and al-Soseh villages, destroying an ammunition depository that belongs to the mercenaries.

In the result of the mines planted by the mercenaries, one of our fighters martyred and another one got wounded.

2- The final outcome:

The number of the terrorists' killed: 6 terrorists.

The raids of the Global Coalition: 6 raids.

The mines that were dismantled: 1 mine.

The weapons seized by our fighters: A Dushka, 2 Kalashnikovs, 1 M16 weapon, two walky-talky devises of Hitra type.

The terrorist gang's losses: An ammunition depot and 6 cars were destroyed.

The number of our martyrs: 1 martyr.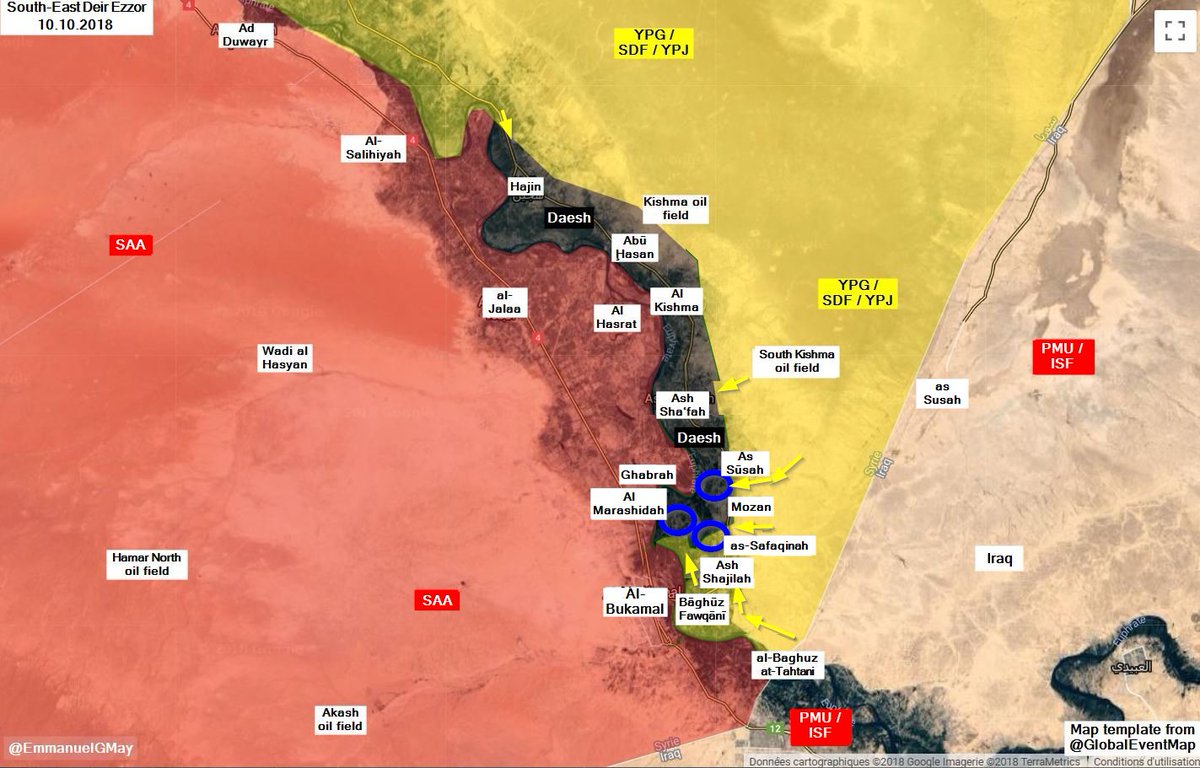 Approximate situation in eastern Deir al-Zour. Source: Emmanuel
Afghanistan
Afghan Ministry of Defense didn't release any reports regarding Afghan National Security Forces' operations across Afghanistan today.
Nangarhar Province:
Improvised explosive device killed 11 civilians in Momand Dara area of Achin district. Local authorities in Nangarhar stated that the Islamic State is present in the area, without directly blaming the group for the explosion.
Approximate situation in Nangarhar province (red = Afghan National Security Forces, blue = Islamic Emirate of Afghanistan, and yellow = Islamic State), HD version of this map can be found here. Source: Afganistan Bülteni
Herat Province:
Islamic Emirate of Afghanistan (Taliban) killed one and wounded one element of the Afghan National Security Forces in Meer Ali area of Adraskan district.
Helmand Province:
Islamic Emirate of Afghanistan's improvised explosive device killed two elements of the Afghan National Army in Haji Abdul Qayum area of Jerashk district.
Islamic Emirate of Afghanistan's snipers targeted an Afghan National Army's foot patrol, killing four soldiers in Yaklang area of Nahri Saraj district.
Approximate situation in Helmand province, HD version of this map can be found here. Source: Afganistan Bülteni
CJTF-OIR

:
CJTF-OIR announced a change in their publishing policy. Now one strike report will be published each week on Mondays.
Amaq Agency:
Other:
If you would like to support Syrian War Daily, please consider whitelisting or turning off your ad blocking software on the website.
Intellectual credited property used may vary from an edition to edition.
Feel free to voice your opinion in the comments section below, constructive criticism is welcomed.
Syrian War Daily is looking for individuals willing to contribute to the project. If you are interested in contributing, please fill out the form on this page.
For those of you interested, you can follow us on an official Twitter account @SyrianWarDaily, or me personally on my twitter @joskobaric where I occasionally tweet some things.