Hello and welcome to the 583rd installment of the SWD.
Military events/news are listed below by the governorates:
Aleppo:
'Wrath of Olives Operation Room' executed an individual accused of being a double agent near the city of Jarabulus in northern Aleppo. Full statement by the 'Wrath of Olives Operation Room';
We were in the Wrath of Olive Operations' Room had issued earlier a warning statement to all the agents and traitors who are trying to work double; with our fighters and the Turkish occupation at the same time, we assured them that our fighters are very vigilant and aware of their detection and accountability at the right time.

Based on this, we in the Operations' Room of the Wrath of Olives had monitored the movements and actions of agents and traitors, and we were able to detect a number of them and reduce their role and dirty tasks and accounted them

In the last operation carried out by our fighters, the mercenary client Muhannad Zer was arrested from the city of Tal Rifat, who was trained by the Turkish intelligence on various means, tools and intelligence methods. He tried to work with us in double, thinking that he would be able to deceive us and serve the Turkish occupation, but he had been detected and liquidated on 15/10/2018 in Jarablus area to be an example to other agents

Therefore, we renew our warning to other agents who have been deceived and bought their consciences by the Turkish occupation, and assure them that they are identified with us by name and the task entrusted to them and the way they will carry out their dirty operations, where they will be in the fire range of our fighters no matter how hidden from view.
Idlib:
Unknown gunmen kidnapped and killed a civilian in the city of Sarmin. Separately, unknown gunmen kidnapped a civilian on the road between Kafr Rouma and Maarat al-Numaan.
Deir al-Zour:
Syrian Democratic Forces' Media Center released a report regarding today's advances and encounters with the Islamic State in the governorate;
1- Baguz axis: IS terrorists tried to launch an attack on the points of our forces with heavy weapons and booby-trapped vehicles as they attacked with 3 booby-trapped vehicles, but our forces repelled them and managed to blast one of the vehicles and strike that other which in the result blasted before reaching their aims. In the result of the pressure caused by the explosion, two of our fighters got wounded. Moreover, the third vehicle was blasted by the Global Coalition's aircraft.

In addition, fierce clashes erupted between our forces and the elements of IS terrorist organization as they resulted in killing 8 terrorists. Moreover, our forces withdrew tactically from one of the points and IS mercenaries penetrated into the point; then, the Global Coalition's aircraft intervened and killed everybody were inside the point. After that, our fighters managed to install other 3 points in addition to the point from which they withdrew.

Our forces advanced 1 km in this axis after fierce clashes that lasted for an hour. After that, our fighters managed to set up 9 points. Furthermore, the Coalition's aircrafts destroyed an ammunition depository and two vehicles that belong to the mercenaries in addition to destroying two booby-trapped vehicles and killing an IS Amir.

A mine blasted at one of our fighters and led to wounding him.

2- Hejin axis: Our forces clashed with elements of IS who were fortified in the trenches as two of them tried to blast themselves among our fighters, but our fighters managed to hit them so that their explosive belts exploded away from our fighters.

In the result, our fighters closed the trenches in which the mercenaries used to fortify and combed the area. During the combing operation, two mines blasted inside the houses and did not cause any damage, while our forces seized a Dushka of 12.5 caliber and 2 Kalashnikovs.

Furthermore, our forces significantly progressed in this axis and combed a number of houses in addition to installing other 5 points.

Due to the intensity of the mines planted by IS, our forces progressed cautiously as the machineries for blasting the mines blasted 13 mines in the area.

3- The outcome of the clashes and battles on all exes:

The number of the killed in the ranks of the terrorists: 31 terrorists.

The raids of the Global Coalition's aircrafts: 15 raids.

The number of mines blasted: 16 mines.

The weapons seized by our fighters: 1 Dushka of 12.5 caliber and 2 Kalashnikovs.

The points that were set up: 17 points.

The losses of the terrorists: A mortar cannon, 2 depots of ammunition, 5 booby-trapped vehicles, 2 cars and a trench were destroyed.

The number of our fighters' wounded: 3 wounded.
Syrian Arab News Agency claimed that CJTF-OIR's air raids killed 62 and wounded dozens of civilians in Al-Suseh and Al-Bubadran villages in eastern Deir al-Zour. Full report by the Syrian Arab News Agency;
At least 62 civilians were martyred in three new massacres committed by the US-led international coalition in the villages of al-Suseh and al-Bubadran in al-Bukmal region in Deir Ezzor southern countryside.

Civil sources told SANA that aircrafts of the US-led coalition, over the past 24 hours, launched airstrikes on al-Alyat area in Al-Suseh village, al-Boukamal countryside, claiming the lives of 15 civilians, mostly children and women.

The source added that 37 civilians were also martyred as dozens were injured in the airstrikes of the coalition raids on the mosque of Othman bin Affan.

The third airstrike by the US-led coalition, according to the sources, targeted Ammar bin Yasser mosque in the village of al-Boubadran, claiming the livers of 10 civilians and wounding others.

The sources said that the death toll is likely to rise as most of the wounded sustained serious injuries and the difficulty of being evacuated from the rubble of houses destroyed by the airstrikes.
Al-Suwayda:
Syrian government reached a partial exchange agreement with the Islamic State, regarding the release of civilians captured by the latter in attacks during July. Islamic State released six captured civilians, in exchange for 17 detainees, who were bussed and already arrived at Qalaat al-Madiq crossing in northern Hama. According to the reports, Islamic State still holds 21 civilians, who will reportedly be exchanged in two similar exchange deals.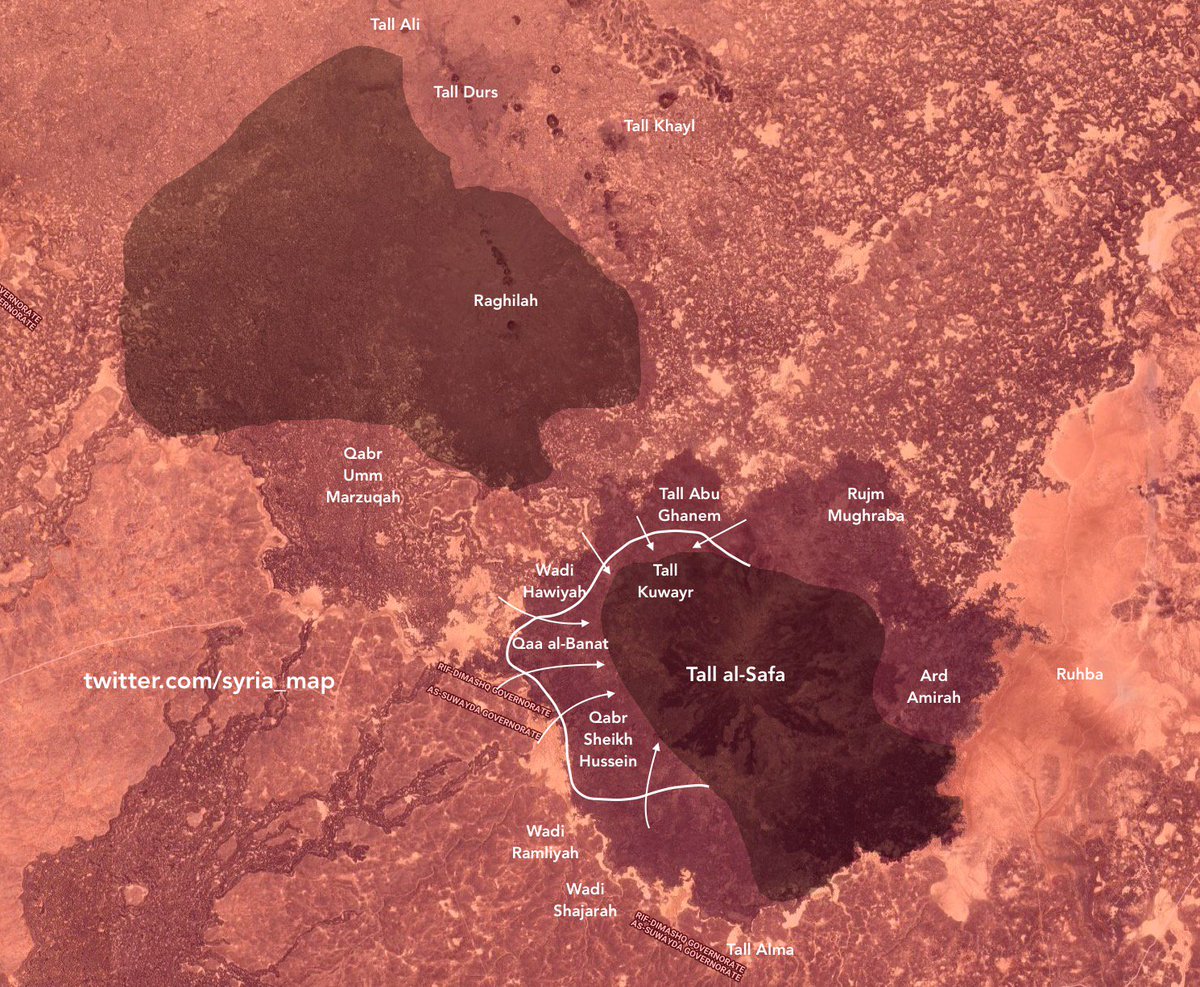 Approximate situation around Tell al-Safa. Source: SyriaInfo
Afghanistan
Afghan Ministry of Defense didn't release any reports regarding Afghan National Security Forces' operations across Afghanistan today.
Nangarhar Province:
Islamic State's improvised explosive device destroyed an Afghan National Army's vehicle, killing one and wounding one soldier in Mano area of Chaparhar district.
Approximate situation in Nangarhar province (red = Afghan National Security Forces, blue = Islamic Emirate of Afghanistan, and yellow = Islamic State), HD version of this map can be found here. Source: Afganistan Bülteni
Farah Province:
Islamic Emirate of Afghanistan (Taliban) killed and wounded five elements of the Afghan National Police in Khaki Safed district.
Approximate situation in Farah province, HD version of this map can be found here. Source: Afganistan Bülteni
Zabul Province:
Islamic Emirate of Afghanistan killed five and wounded five elements of the Afghan National Security Forces in Faizo Killi, Haji Killi, and Takair areas of Mizan district.
Kandahar Province:
Islamic Emirate of Afghanistan's improvised explosive device destroyed an Afghan National Army's armored personnel carrier in Mandozo area of Maywand district.
Four elements of the Afghan National Security Forces surrendered to the Islamic Emirate of Afghanistan in Zhari and Maywand districts.
CJTF-OIR

:
CJTF-OIR announced a change in their publishing policy. Now one strike report will be published each week on Mondays.
Amaq Agency:
Other:
If you would like to support Syrian War Daily, please consider whitelisting or turning off your ad blocking software on the website.
Intellectual credited property used may vary from an edition to edition.
Feel free to voice your opinion in the comments section below, constructive criticism is welcomed.
Syrian War Daily is looking for individuals willing to contribute to the project. If you are interested in contributing, please fill out the form on this page.
For those of you interested, you can follow us on an official Twitter account @SyrianWarDaily, or me personally on my twitter @joskobaric where I occasionally tweet some things.