Hello and welcome to the 282nd installment of the SWD.
Military events/news are listed below by the governorates:
Aleppo:
Rebel forces shelled Al-Nil street and Al-Mukambou neighborhood in the city of Aleppo. The shelling of Al-Nil street reportedly killed two and wounded four civilians, while the shelling of Al-Mukambou caused only minor material damage in the neighborhood.
Hayat Tahrir al-Sham stopped Jaysh al-Ahrar's convoy at one of its checkpoints, as the latter was transferring eight Syrian Arab Army's soldiers, which were captured by Jaysh al-Ahrar in clashes yesterday near Rasm al-Siyala village, south of Khanaser. Hayat Tahrir al-Sham then took four out of eight prisoners, on the pretext of questioning them. Several pro-HTS sources said that the group is currently interrogating the prisoners and will eventually return them to Jaysh al-Ahrar. However, reports suggest that Hayat Tahrir al-Sham will not return the prisoners, as they are considered "ghanima" (war spoils) and will be used in the exchange deals with the Syrian Arab Army.
Turkey-backed Free Syrian Army's Military Council of Al-Bab released a statement prohibiting its elements from entering hospitals with weapons. The prohibition decision applies to the city of Al-Bab and its surroundings. The elements that violate the decision will be held legally responsible.
Hama:
Hayat Tahrir al-Sham regained control of Tell Umm Qabab from the Islamic State, after the latter captured the hill in the morning from Hayat Tahrir al-Sham.
Hayat Tahrir al-Sham, backed by Free Syrian Army's Jaysh al-Nasr and Jaysh al-Izza, repelled Syrian Arab Army's attack towards Al-Mushayrifah from Tell Khanazir's direction. Joint HTS–FSA forces reportedly killed five SAA's elements, including a commander.
Syrian Arab Army's artillery shelled Al-Lataminah in the northern Hama. Syrian Civil Defense's (The White Helmets) spokesman, Ahmad al-Miqdad stated that one civilian was killed and another wounded by the shelling. The wounded civilian was transferred to a hospital in Kafr Zita. Furthermore, Russian Air Force conducted several air raids over Umm Miyal and Al-Shakusiyah villages in the eastern Hama, without any reports about casualties.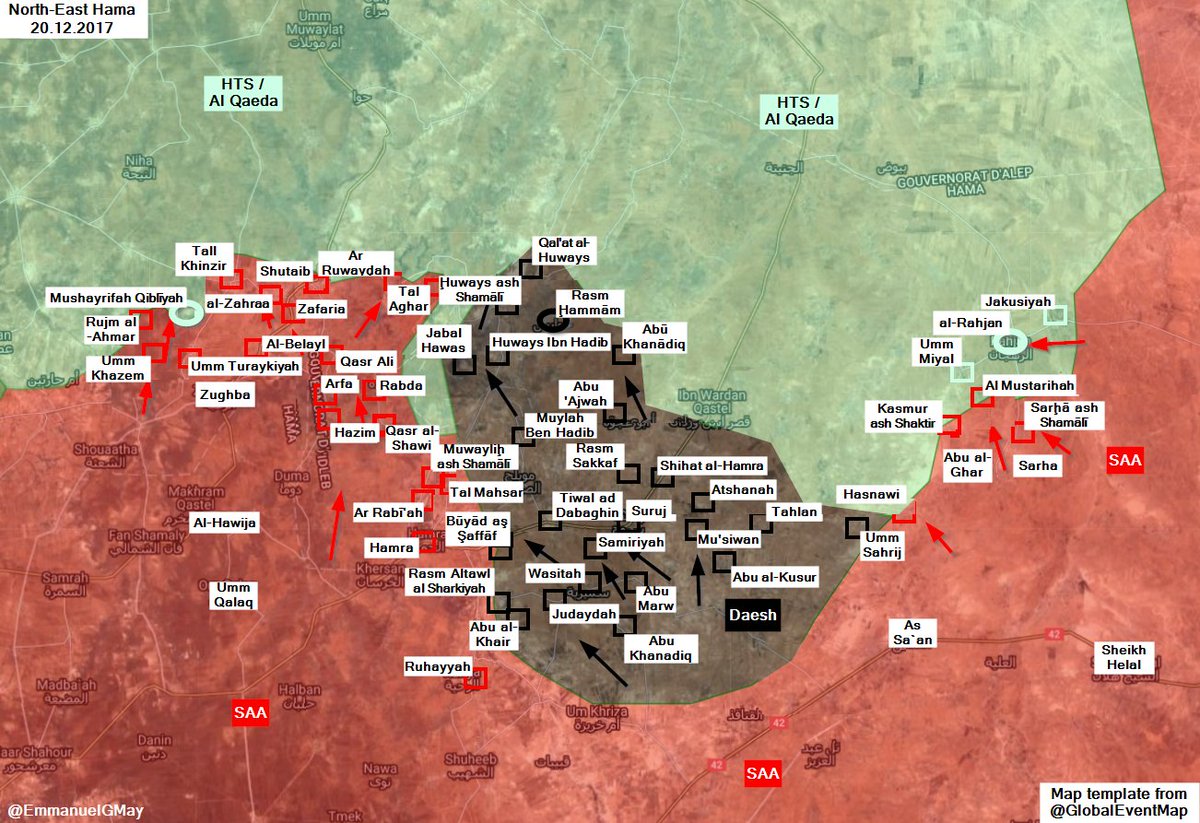 Approximate situation in the northern Hama. Source: Emmanuel
Damascus:
Syrian Arab Army's artillery shelled Douma, while the Syrian Arab Air Force targeted Zamalka in the East Ghouta. According to the Syrian Civil Defense, several civilians were wounded by the shelling of Douma.
It appears that the Syrian Arab Army's capture of Tell Marwan reported by pro-SAA sources on the 18th of December was false. Clashes between Syrian Arab Army and rebel Jabal al-Sheikh operations room continue around the hill south of Mugh al-Meer and it should be considered as disputed for now.
Iraq
Diyala:
Islamic State's improvised explosive device targeted elements of Al-Hashd al-Shaabi (Popular Mobilization Units) in Abu Khanazir area of Abu Saida subdistrict. The explosion killed two and wounded four elements of the Al-Hashd al-Shaabi, according to the Amaq Agency.
Afghanistan
Balkh Province:
Afghan National Security Forces arrested 19 individuals accused of belonging to the Islamic Emirate of Afghanistan in Chimtal district.
Nangarhar Province:
Islamic Emirate of Afghanistan's improvised explosive device allegedly targeted United States Army's military headquarters in the city of Jalalabad, the capital of Nangarhar Province. Islamic Emirate of Afghanistan claimed that two US soldiers were killed and another three wounded by the explosion.
Islamic State assassinated an element of the Afghan government in Ghani Khel directorate.
Ghazni Province:
Afghan National Security Forces killed four and wounded three fighters of the Islamic Emirate of Afghanistan in Qarabagh district.
Islamic Emirate of Afghanistan ambushed elements of the Afghan National Police in Arroz area of Ghazni city, destroying a tank and killing two policemen.
Urozgan Province:
Islamic Emirate of Afghanistan attacked Afghan National Army's infantry in the province, killing four soldiers, including a commander.
Zabul Province:
Afghan National Police foiled a VBIED attack in the city of Qalati Ghilji, the capital of Zabul Province. According to the Zabul governor's spokesman, Ali Salih, the VBIED is linked to the Islamic Emirate of Afghanistan, and was supposed to be used to target government buildings in the area. VBIED was safely removed and detonated in a controlled explosion by the Afghan National Police.
Helmand Province:
Afghan National Security Forces conducted operations against the Islamic Emirate of Afghanistan in Marjah district, killing three fighters of the group and destroying 100 kilograms (220 pounds) of explosive materials, two positions, and two motorcycles.
Islamic Emirate of Afghanistan's spokesman, Zabiullah Mujahid announced withdrawal of Afghan National Security Forces from six checkpoints in Turabi Hotel area, Greshk district, after the fighters of the Islamic Emirate of Afghanistan captured a checkpoint in the area last night, killing nine and capturing three soldiers.
CJTF-OIR

:
CJTF-OIR announced a change in their publishing policy. Now two strikes reports will be published each week, on Mondays and Fridays.
CJTF-OIR released a news release regarding the elimination of three IS leaders in the past three weeks. CJTF-OIR listed eliminations in the chronological order:
Abu Faysal, a senior Daesh leader, and his deputy Abu Qudamah al-Iraqi, were killed in a Coalition strike on Dec. 1 in the middle Euphrates River valley region of Syria.

Mustafa Kamal Jasim Muhammad al-Zawi, a Daesh senior leader courier, was killed in an operation on Nov. 28 near al-Sharqat, Iraq.

The Coalition will continue to exert pressure on Daesh senior leaders and associates across multiple networks in order to degrade, disrupt, and dismantle Daesh structures and remove the extremist terrorists throughout Iraq and Syria.
Amaq Agency:
Other:
Intellectual credited property used may vary from an edition to edition.
Feel free to voice your opinion in the comments section below, constructive criticism is welcomed.
For those of you interested, you can follow us on an official Twitter account @SyrianWarDaily, or me personally on my biased twitter @joskobaric where I occasionally tweet some things.