Hello and welcome to the 274th installment of the SWD.
Military events/news are listed below by the governorates:
Aleppo:
Syrian Arab Army reportedly captured Tellat al-Syriatel, Al-Hijara, Rajm al-Sawan, and Al-Rashadiyah from Hayat Tahrir al-Sham, south of Khanaser. The advances were made from Katiba Obaidah axis.
Hayat Tahrir al-Sham downed Syrian Arab Army and allies' armed reconnaissance drone in the village of Hamira, southern Aleppo.
Raqqa:
Left over Islamic State's improvised explosive device killed a civilian in the city of Raqqa, as he was inspecting his house in Al-Nour street.
Idlib:
Unknown gunmen wounded a civilian in the city of Idlib and stole one and a half million Syrian pounds (5000 dollars) from him. The wounded civilian is a cashier and was transferred to a hospital in Idlib.
Hama:
Hayat Tahrir al-Sham's Ibaa News Agency reported that five Syrian Arab Army's soldiers were killed in an ambush, as they tried to advance on Tellat al-Syriatel, near the village of Balil.
Hayat Tahrir al-Sham reportedly destroyed Syrian Arab Army's BMP and killed its crew with a Fagot anti-tank guided missile, on Al-Zafariyah front.
Homs:
Free Syrian Army's Jaysh Maghawir al-Thawra (Revolutionary Commando Army) spotted and engaged Islamic State's convoy near the "Area 55" in the vicinity of Al-Tanf border crossing. Jaysh Maghawir al-Thawra's media spokesman, Mohammed Mustafa al-Jarrah said that 15 Islamic State's fighters were killed and 25 captured.
Deir al-Zour:
Islamic State claimed destruction of a Syrian Democratic Forces' vehicle carrying fighters near the village of Abu Hammam. Furthermore, Islamic State's sniper reportedly killed a Syrian Democratic Forces' fighter in the village of Suwaidan.
Islamic State's Amaq Agency reported capture of Al-Kashma village south of Al-Mayadeen from the Syrian Arab Army. Two Islamic State's anti-tank guided missiles killed three SAA's soldiers and destroyed a vehicle and a tank near the village of Al-Abbas, according to the agency's statements. Amaq's statements also claimed additional two anti-tank guided missiles launches yesterday, damaging a BMP and destroying a tank, in the villages of Al-Salihiyah and Al-Duwair.
Yesterday, Syrian Arab Red Crescent in cooperation with the International Committee of the Red Cross and Red Crescent and the United Nations, delivered a humanitarian aid convoy to the city of Al-Bukamal (Albu Kamal), consisting of 15 trucks.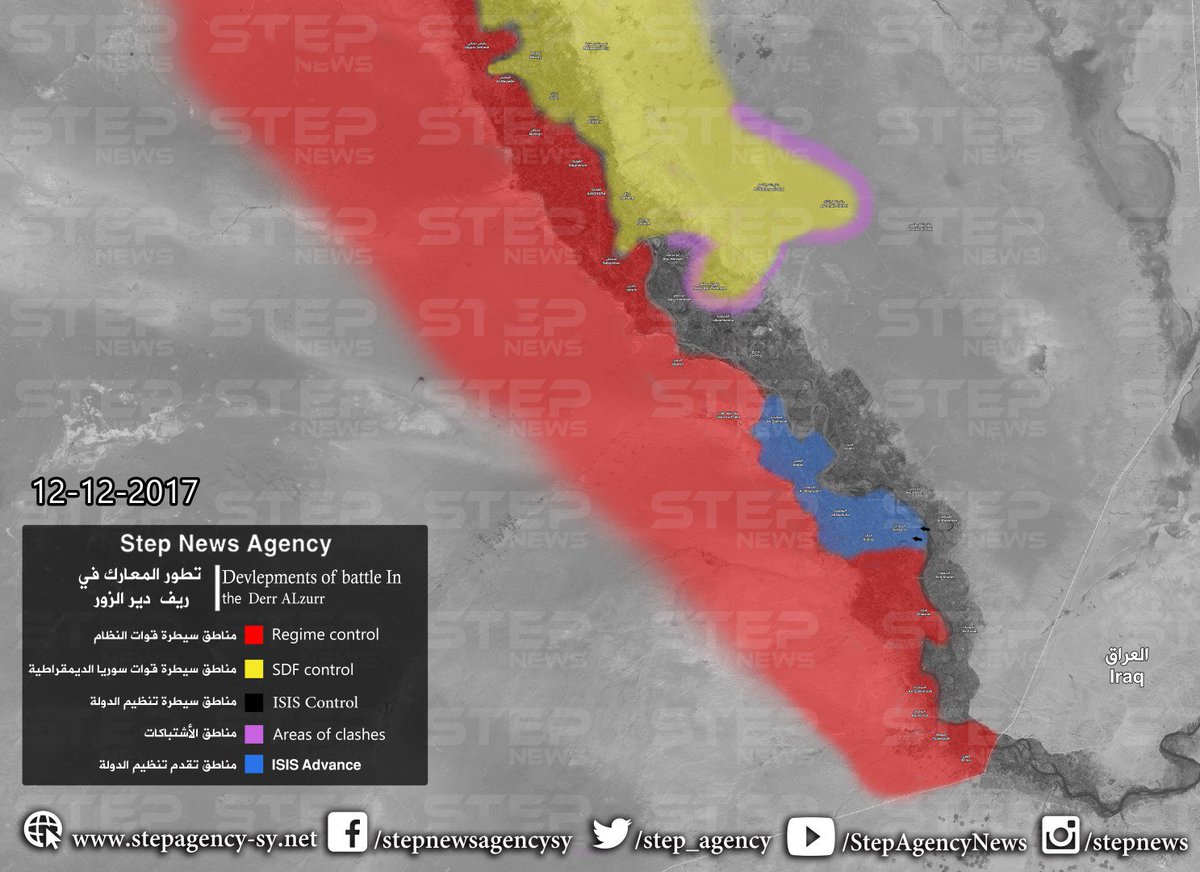 Approximate situation in the eastern Deir al-Zour with reported Islamic State's advances. Source: Step News Agency
Damascus:
Syrian Arab Army's artillery shelled Beit Sawa, Hawsh al-Dawahirah, and Hammouriyah in the East Ghouta. The shelling of Beit Sawa reportedly resulted in death of two civilians and injury of several others.
Islamic State's fighters from Al-Yarmouk camp launched an attack against the National Defense Forces in Al-Tadamon neighborhood, southern Damascus. Islamic State was able to capture ten buildings on Nasreen street, which were later recaptured by the NDF. One of the Islamic State's fighters conducted a suicide attack, without any information regarding the casualties. Three members of the National Defense Forces were killed in the clashes with the Islamic State.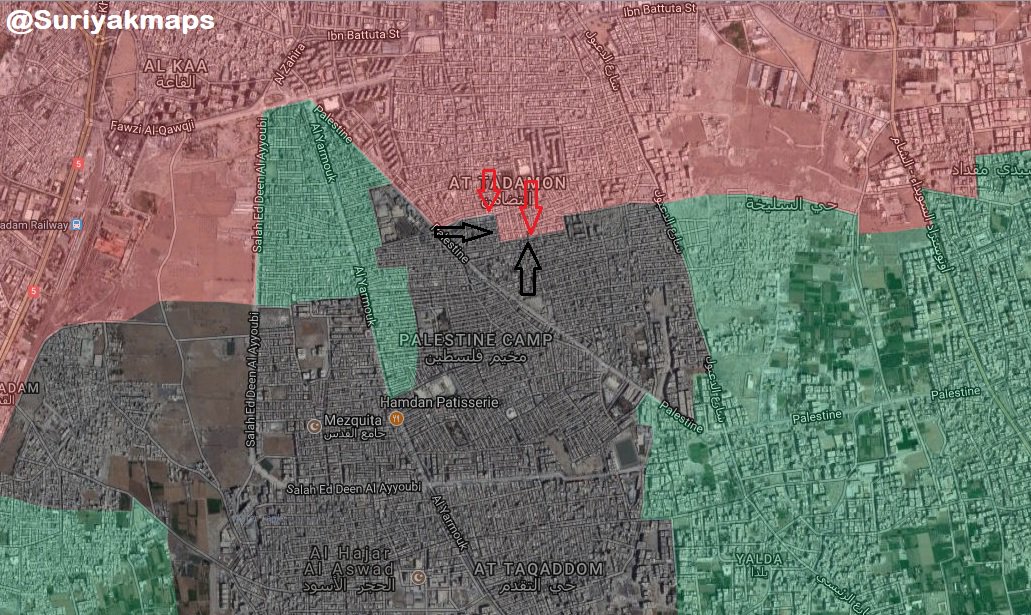 Approximate situation in Al-Tadamon and Al-Yarmouk camp neighborhoods. Source: Suriyak
Daraa:
Leader of Jaysh al-Yarmouk (Liwa al-Mutawakilun), part of the Free Syrian Army's Jaysh al-Thawra, Maher al-Masri (Abu Hudhayfah al-Shami) was killed by an improvised explosive device, which targeted his vehicle in the city of Daraa. Al-Masri was also one of the commanders of the rebel Al-Bunyan al-Marsous operations room.
Jaysh al-Thawra's Jaysh al-Muetaz Biallah and elements of the Jabhat Thawra Suriya (Syrian Revolutionaries Front) conducted mutual arrests in the southern Daraa. The whole dispute between the two factions started when the elements of the Syrian Revolutionaries Front stopped and arrested a group of fighters from the Jaysh al-Muetaz Biallah, that was returning to its positions after aiding one of their wounded fighters on the front line against the IS-linked Jaysh Khalid ibn al-Walid. Syrian Revolutionaries Front defended their act by saying that Jaysh al-Muetaz Biallah arrested their elements in the past. After the front's act, Jaysh al-Muetaz Biallah escalated the whole dispute by detaining more than 20 civilians coming from Quneitra at one of its checkpoints near the village of Jallin. The dispute between the two groups was solved after a mediation and all of the detained/arrested individuals were released.
Al-Suwayda:
Gunmen from the town of Libin kidnapped six civilians from Daraa province, including a university doctor, Ghazi al-Miqdad. The gunmen said that they kidnapped the civilians after three of their relatives were kidnapped on the road between Arika and Libin villages last month. The gunmen reportedly demanded a ransom of 45 million Syrian pounds (87000 dollars) for the kidnapped civilians.
Iraq
Nineveh:
Islamic State assassinated two individuals accused of spying for the Iraqi Army in Al-Antisar neighborhood, East Mosul, according to the Amaq Agency.
Baghdad:
Iraqi Army's 6th Infantry Division conducted clearing operations in Al-Shourtan and Albu Abeid areas, west of Baghdad. Iraqi forces found 33 Islamic State's improvised explosive devices, which were safely detonated in a controlled explosion. Furthermore, several wanted individuals were arrested.
Afghanistan
Fayrab Province:
Afghan National Security Forces launched "Prophet 8" operation against the Islamic Emirate of Afghanistan (Taliban), in order to clear Khaja Sahib Posh, Shirin Tagab, and Dawlat Abad districts from the group's presence. Afghan Air Force conducted one air strike in Khaja Sahib Posh district last night, killing four IEA fighters.
Sar-e Pol Province:
Islamic Emirate of Afghanistan repelled large Afghan National Security Forces' attack on Tabor area in Sangjark directorate. According to the IEA, this attack comes after Afghan National Army's senior commander Karim defected to the group with 40 of his soldiers.
Maidan Wardak Province:
Islamic Emirate of Afghanistan ambushed a group of Afghan National Army's soldiers in Otrio area of Saydabad district. IEA killed one and wounded two soldiers.
Ghazni Province:
Islamic Emirate of Afghanistan raided Afghan National Army's checkpoint in Deh Yak district, killing two soldiers.
Islamic Emirate of Afghanistan's improvised explosive device destroyed Afghan National Police's vehicle and wounded five policemen.
Paktika Province:
Three elements of the Afghan National Police defected to the Islamic Emirate of Afghanistan.
Helmand Province:
Islamic Emirate of Afghanistan's snipers killed three members of the Afghan militia in Marjah district.
Kandahar Province:
Islamic Emirate of Afghanistan raided Afghan National Army's checkpoint in Shorabak district. Afghan National Army's casualties from the raid are unknown, while one IEA fighter was killed and two wounded.
Islamic Emirate of Afghanistan's improvised explosive device destroyed a motorcycle and killed two members of the Afghan militia in Arghandab district.
CJTF-OIR

:
CJTF-OIR announced a change in their publishing policy. Now two strikes reports will be published each week, on Mondays and Fridays.
Amaq Agency:
Somalia:
Islamic State's improvised explosive device destroyed Somali National Army's vehicle, killing one soldier and wounding additional three in the city of Bosaso.
Islamic State's fighters assassinated a member of the National Intelligence and Security Agency in Afgooye, Lower Shebelle province.
Other:
Intellectual credited property used may vary from an edition to edition.
Feel free to voice your opinion in the comments section below, constructive criticism is welcomed.
For those of you interested, you can follow us on an official Twitter account @SyrianWarDaily, or me personally on my biased twitter @joskobaric where I occasionally tweet some things.