Hello and welcome to the 260th installment of the SWD.
Military events/news are listed below by the governorates:
Aleppo:
Syrian Arab Army briefly captured Ramlah village from the Hayat Tahrir al-Sham, south of Khanaser. Besides recapturing Ramlah, HTS' commander Edi Abu Faisal stated that HTS regained control of Talafah, Al-Rashadiyah, Siyala, and Abeisan. Abu Faisal also stated that 15 SAA's soldiers were killed and three captured, as well as one tank destroyed and two vehicles with ammunition seized. According to Abu Faisal, a number of HTS' fighters was wounded in today's encounter with the SAA.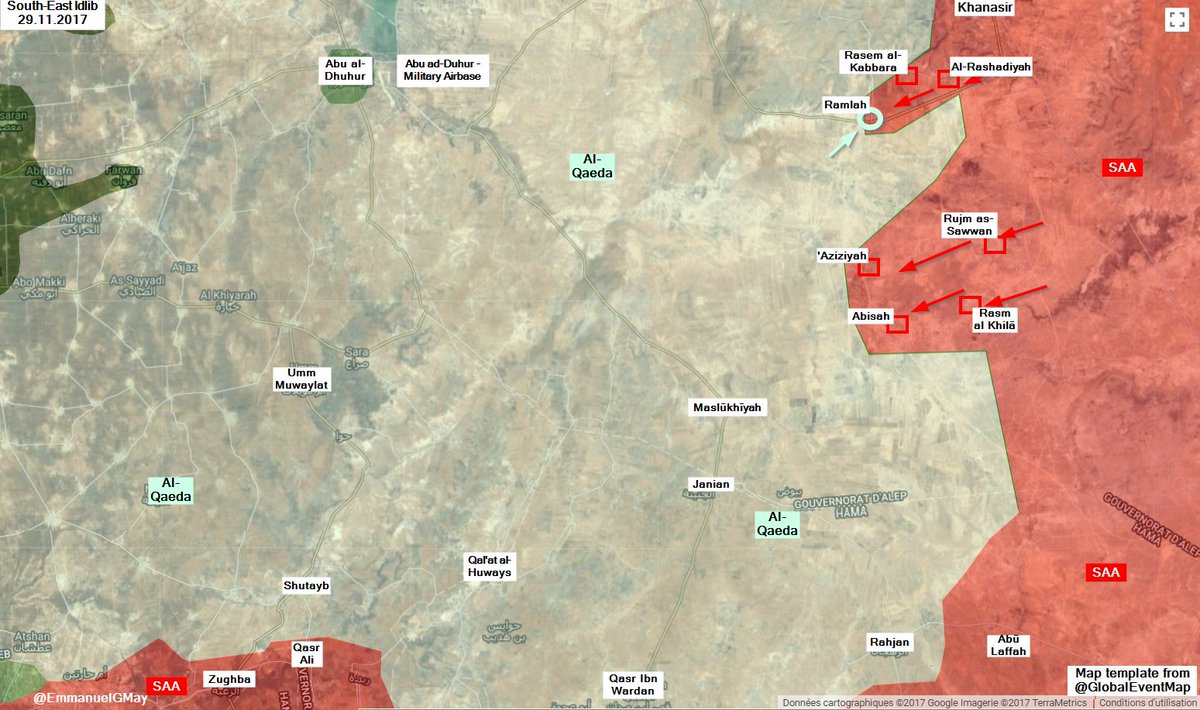 Approximate situation south of Khanaser. Source: Emmanuel
Raqqa:
Two Islamic State's improvised explosive device exploded in the city of Raqqa. The first explosion reportedly killed a civilian and wounded another one, as they were checking their house in the city. The other explosion wounded a civilian in the Old City of Raqqa.
Deir al-Zour:
Around 20 civilians were killed and more than a dozen wounded, as they tried to flee from the Islamic State's areas due to the shelling towards the Syrian Democratic Forces-held Abu Khashab. The civilians reportedly entered a minefield in the vicinity of Abu Khashab.
CJTF-OIR reportedly targeted Islamic State's vehicle in the vicinity of Hajin, killing six IS' fighters.
Islamic State's Amaq Agency claimed destruction of Syrian Arab Army's bulldozer with an anti-tank guided missile at the outskirts of the city of Al-Bukamal (Albu Kamal). Another statement from the Amaq Agency claimed destruction of a 23mm "cannon" and damage of a tank, with two anti-tank guided missiles west of Al-Bukamal.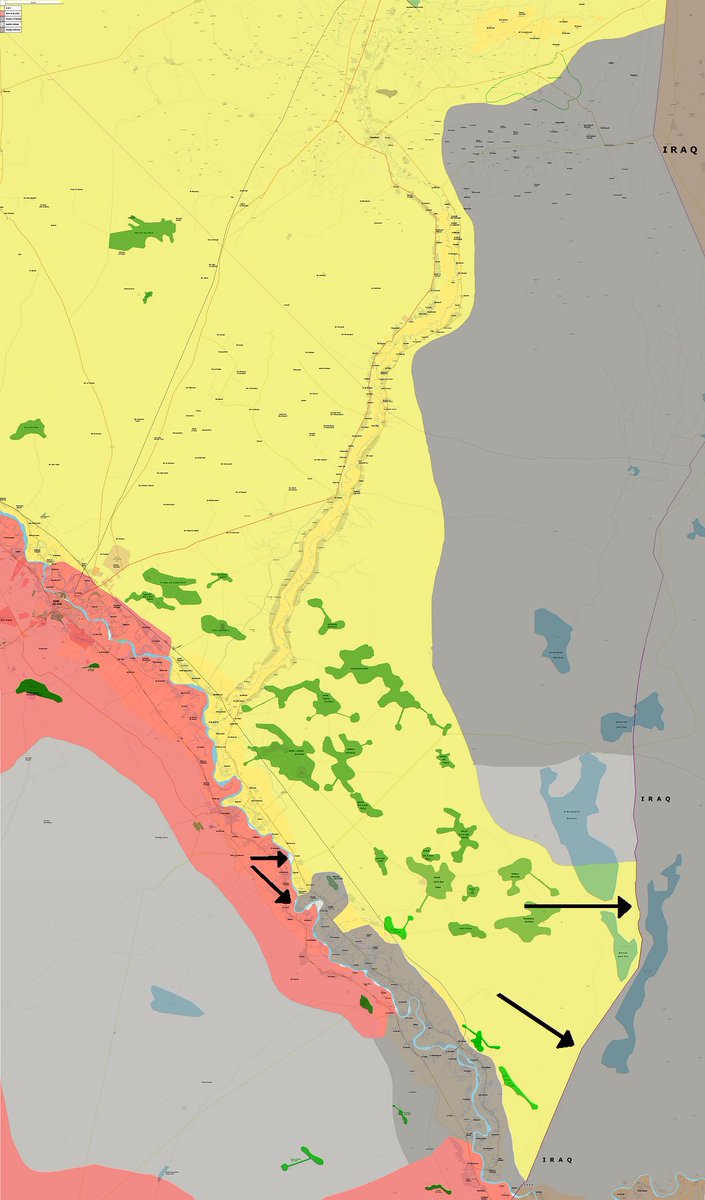 Situation in the eastern Deir al-Zour, HD version of this map can be found here. Source: Lucio Cienfuegos
Damascus:
Ahrar al-Sham repelled another Syrian Arab Army's attack on its positions in the 'Army Armored Vehicle Base' in Harasta. Ahrar al-Sham's spokesman for the East Ghouta, Mundhir Fares stated that AAS destroyed Syrian Arab Army's T-72 tank and killed its crew.
Syrian Arab Air Force's raids over Arbeen reportedly killed one civilian and wounded several others. Syrian Arab Army's artillery targeted Mesraba, Douma, and Ain Terma, wounding a civilian in Mesraba.
Daraa:
Two Free Syrian Army's factions engaged in the "People of the Land" (Ahl al-Ard) offensive against the IS-affiliated Jaysh Khalid ibn al-Walid, killed and wounded 35 of the latter's elements so far, according to the commander in Tajammu al-Ahrar, Abu Khaled. Abu Khaled also said that two Free Syrian Army's fighters were wounded in the offensive, one belonging to the Tajammu al-Ahrar and the other to the Tajammu al-Shahid Abu Hamza al-Naeimi.
Improvised explosive device wounded a Free Syrian Army's fighter near Al-Omri mosque, as he was driving in Daraa al-Balad neighborhood of Daraa city. Coincidentally, Syrian Arab Army's artillery shelled Daraa al-Balad neighborhood.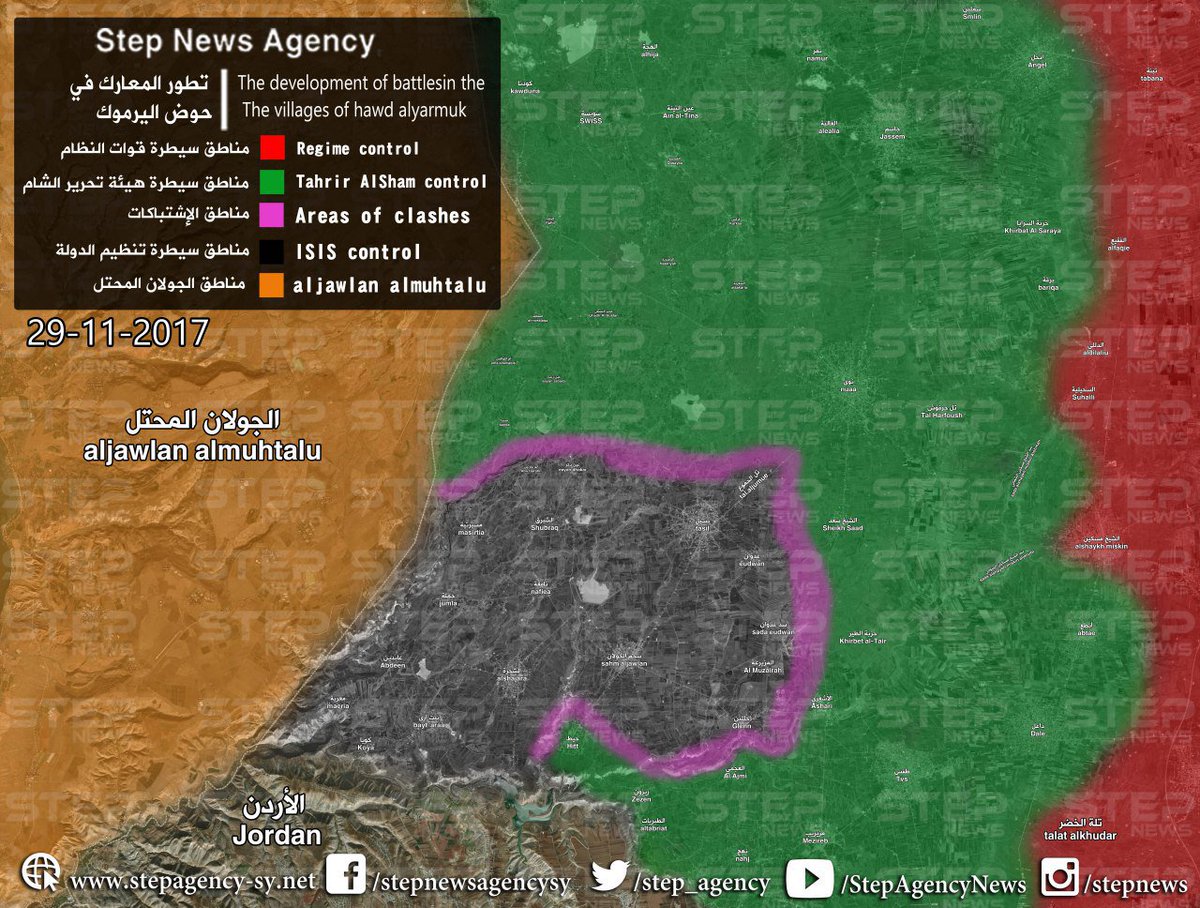 Situation in the southwestern Daraa governorate. Source: Step News Agency
Iraq
Kirkuk:
Islamic State's Amaq Agency reported death of two Al-Hashd al-Shaabi's (Popular Mobilization Units) fighters and injury of several others, due to clashes with the Islamic State in the village of Gharib, west of Al-Hawija.
Afghanistan
Faryab Province:
Islamic Emirate of Afghanistan (Taliban) assassinated one Afghan National Army's soldier in a surprise attack in Almar district.
Kunduz Province:
Afghan National Security Forces conducted operations in Imam Sahib district, killing one IEA fighter.
Badakshan Province:
Islamic Emirate of Afghanistan's fighters captured a gold mine in Bikador directorate of Raghistan district. IEA has already assigned a group of 40 fighters to start mining in one of the most important gold mines, which reportedly contains 30 tons of gold in it. Raghistan Police's commander, Mohammad Ishaq stated that their requests for reinforcements have been ignored, and that the complete district of Raghistan will come under IEA's control if the situation doesn't change.
Takhar Province:
Afghan National Security Forces captured IEA's commander, Qari Abdul Rahim previously responsible for the organization of the attacks in the province.
Kabul Province:
Afghan Air Force conducted 13 regular and 19 special operations, in support of the Afghan National Security Forces. The air force hit four enemy positions.
Former member of the Herat's provincial council, Mohammad Askar Anvari was executed, along with four other individuals in Pul-e-Charkhi prison, after being convicted for kidnapping.
Lagham Province:
Islamic Emirate of Afghanistan's and Islamic State's fighters entered Lagham's Alingar district and have already started to clash with each other.
Logar Province:
Afghan National Security Forces' operations in Charkh district killed three and wounded another three IEA fighters.
Ghazni Province:
Afghan National Security Forces' operations in Waghaz district killed seven, wounded 16 and captured four IEA fighters, as well as seized a vehicle along with weapons and ammunition. ANSF's operations in Nawa district killed an IEA fighter and destroyed a VBIED.
Islamic Emirate of Afghanistan's spokesman, Zabiullah Mujahid announced the capture of the Afghan National Army's checkpoint in Musa Walo area of Qarabagh district. Mujahid stated that 12 ANA's elements were killed, including the famous commander "Bashir", and one ANA's element captured. Furthermore, ANA's reinforcements to the checkpoint were ambushed, resulting in the destruction of an APC and a technical, as well as causing seven casualties in ANA's ranks.
Khost Province:
Islamic Emirate of Afghanistan's improvised explosive device killed an element of the Afghan National Police and wounded another element in Birk Tanh district.
Islamic Emirate of Afghanistan shelled the Old Khost airport, which is reportedly used by the United States' Special Forces and Afghan National Army Commando Corps as headquarters.
Nimroz Province:
Islamic Emirate of Afghanistan assassinated a high-ranking commander of the Afghan National Army, Najib Shirzi bin Khaddai Nazra and wounded his bodyguard in Zaranj district.
Helmand Province:
Islamic Emirate of Afghanistan attacked three ANSF's foot patrols in Jerash directorate, reportedly killing four soldiers and taking their weapons.
Afghan National Army Commando Corps destroyed a drug production facility in Musa Qala district. Before the destruction, the facility had in storage 1500 kilograms (3300 pounds) of opium, 300 kilograms (660 pounds) of heroin and several weapons.
Kandahar Province:
Afghan National Security Forces reportedly killed five and wounded one IEA fighter in Maywand district. In the same district, IEA's improvised explosive device reportedly destroyed ANSF's vehicle and caused casualties among the passengers on board. Another event took place in the same district, IEA ambushed ANSF's foot patrol without any information about casualties on either side.
Islamic Emirate of Afghanistan's improvised explosive device destroyed a motorcycle and killed two militia fighters loyal to the Afghan government, in Zhari district. Three more IEA's improvised explosive devices allegedly killed five and wounded three ANSF's elements and destroyed a vehicle, in Arghandab district.
Improvised explosive device exploded as a group of civilians was passing by on a road from Marouf district to their village. The explosion killed eight civilians. Kandahar Police's spokesman, Zia Durrani said that the explosion was the act of the IEA, even though the latter did not claim the responsibility for the explosion.
CJTF-OIR

:
CJTF-OIR announced a change in their publishing policy. Now two strikes reports will be published each week, on Mondays and Fridays.
Amaq Agency:
Somalia:
Islamic State's fighters assassinated a member of the Somali Armed Forces in the city of Afgooye, Lower Shebelle province.
Yemen:
Islamic State's Amaq Agency claimed responsibility for a VBIED attack that targeted the building of the Ministry of Finance in Khor Maksar area, Aden. Reports suggest that two people were killed by the explosion.
Other:
Intellectual credited property used may vary from an edition to edition.
Feel free to voice your opinion in the comments section below, constructive criticism is welcomed.
For those of you interested, you can follow us on an official Twitter account @SyrianWarDaily, or me personally on my biased twitter @joskobaric where I occasionally tweet some things.