Hello and welcome to the 256th installment of the SWD.
Military events/news are listed below by the governorates:
Aleppo:
Free Syrian Army's Firqat al-Sultan Murad (Sultan Murad Division) repelled Syrian Arab Army's infiltration attempt on the western neighborhoods of Tadef, south of Al-Bab. Commander in the Sultan Murad Division, Saqr Nur al-Deen said that several SAA's soldiers were wounded in the failed infiltration attempt, while the Sultan Murad didn't suffer any casualties. Al-Deen also added that the SAA is constantly trying to advance on Tadef, despite the de-escalation agreement.
Explosion took place near a shop selling fuel in the vicinity of Al-Farouq mosque in the city of Darat Izza, causing limited material damage to the surrounding buildings. The cause of the explosion is unknown.
Raqqa:
Left over Islamic State's improvised explosive devices killed eight civilians and four Syrian Democratic Forces' fighters in the city of Raqqa. The explosions occurred in Tal Abyad, Al-Qutali, Al-Wadi, and Sayf al-Dawla streets, as the SDF allowed civilians to enter their homes at their own risk.
Idlib:
Hayat Tahrir al-Sham arrested Tajmae Nasrat al-Mazlu's cell in the city of Sarmada. HTS' security official Amr Abbas stated that ten members of the group were arrested, including the leader of the cell, after being closely monitored for a while.
Hama:
Hayat Tahrir al-Sham clashed with the Syrian Arab Army near the village of Shattib, as the latter tried to advance against the former.
Islamic State reportedly captured Rasm al-Sakkaf, Shihat al-Hamra, Atshanah, Abu Ajwah, and Muesiwan from the Hayat Tahrir al-Sham in the northern Hama.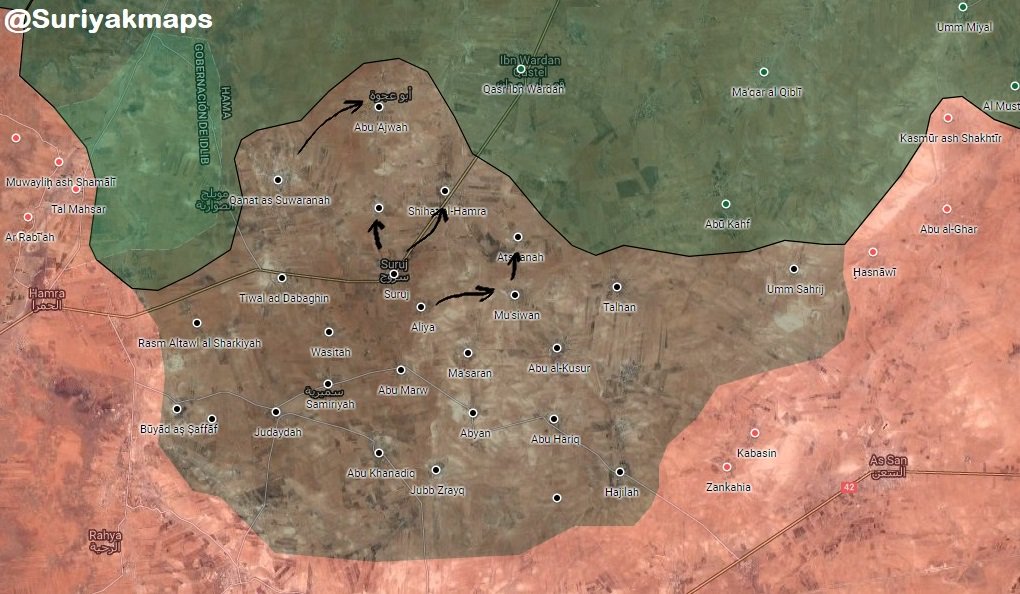 Approximate situation in Al-Saan subdistrict as the IS continues making progress against Hayat Tahrir al-Sham. Source: Suriyak
Deir al-Zour:
Syrian Democratic Forces made big advances against the Islamic State in the desertous area southeast of Tanak oil field, advancing 40 kilometers (24 miles) and reaching the Iraqi border. During the advance, SDF reportedly killed 11 IS' fighters and seized weapons and vehicles. SDF are now nine kilometers (five miles) away from the SAA-held Al-Bukamal (Albu Kamal).
Syrian Arab Army's commander, Major General Ali Ismail was allegedly wounded when an improvised explosive device targeted his vehicle in the vicinity of Al-Mayadeen.
Islamic State's Amaq Agency reported a suicide attack against the gathering of Syrian Arab Army's soldiers in the village of Al-Deblan, south of Al-Mayadeen.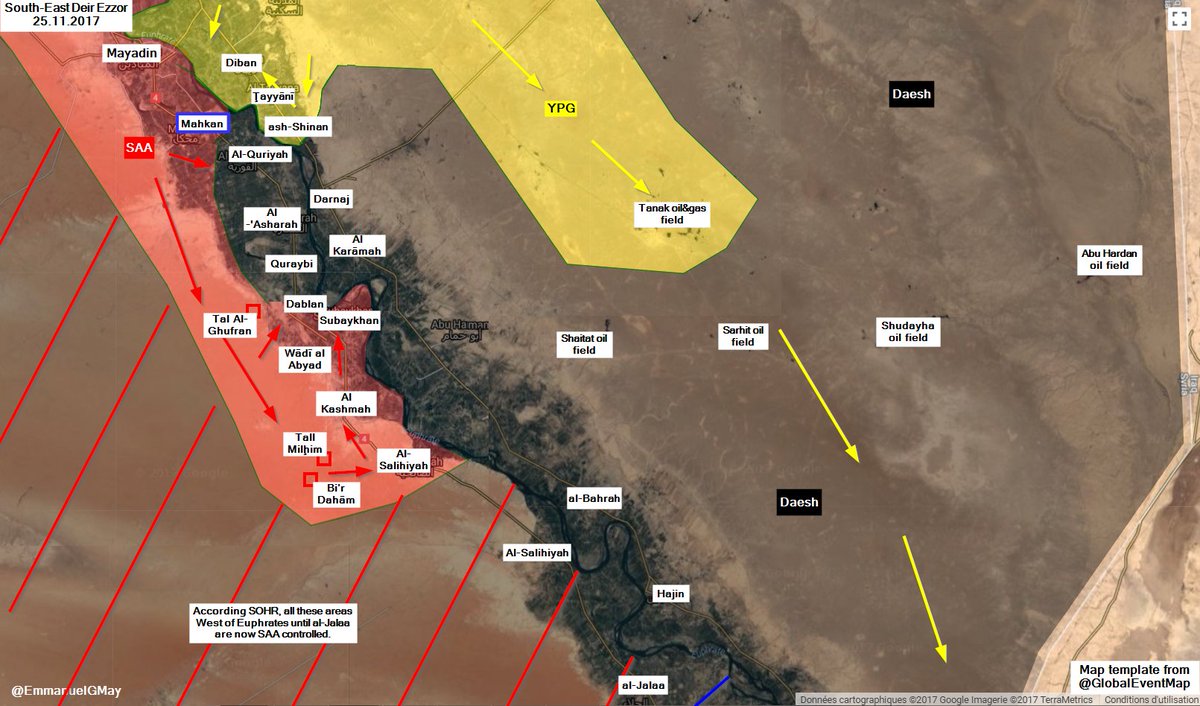 Situation in the eastern Deir al-Zour. Source: Emmanuel
Damascus:
Syrian Arab Army launched an attack against the Ahrar al-Sham's positions in the 'Army Armored Vehicle Base' in Harasta. SAA was able to capture one AAS' position inside the base, but the latter recaptured it immediately and killed five SAA's soldiers, according to the Ahrar al-Sham's spokesman for the East Ghouta, Mundhir Fares. Two Ahrar al-Sham's fighters were wounded in the attack. Syrian Arab Air Force carried out nine air raids over Harasta, in the support of SAA's attack.
Syrian Arab Army also launched an attack against the Faylaq al-Rahman in Jobar. Faylaq al-Rahman released a statement stating that they repelled SAA's attack. Faylaq al-Rahman's spokesman, Wael Alwan said that the SAA used three T-72 tanks, four BMPs and an armored bulldozer, in an attempt to advance against the rebel forces. FAR reportedly damaged one SAA's tank as the clashes are still ongoing at the outskirts of Jobar. According to Alwan, FAR didn't suffer any casualties in today's encounter with the SAA.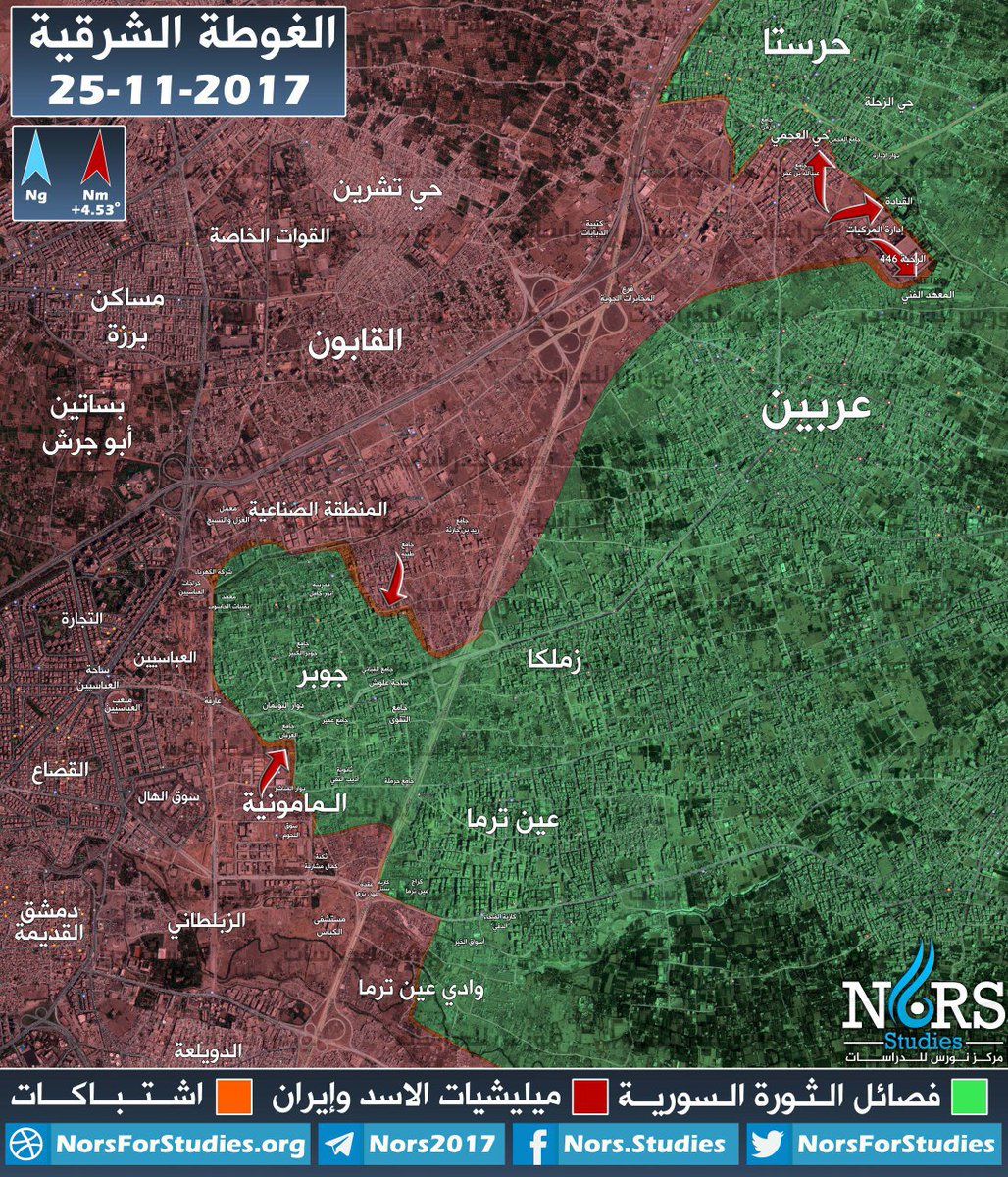 Approximate situations in the western East Ghouta. Source: Nors For Studies
Iraq
Nineveh:
Several sources, including the leadership of Al-Hashd al-Shaabi (Popular Mobilization Units) reported the complete capture of Al-Jazira area from the Islamic State. However, Iraqi Joint Operations denied these reports by saying that the operations are still ongoing in the area, with Iraqi forces in control of almost 50% of the area.
Iraqi Joint Operations reported capture of 36 villages from the Islamic State in the desertous areas of Nineveh and Salah al-Deen. Iraqi Army backed by Al-Hashd al-Shaabi destroyed ten IS' vehicles, four SVBIEDs and detonated more than 250 improvised explosive device, as well as destroyed an Islamic State's VBIED factory.
Anbar:
Iraqi forces started operations in the western Anbar, as a part of the operation to clear Nineveh, Salah al-Deen, and Anbar governorates from the Islamic State's presence. Iraqi Joint Operations reported capture of several villages, such as; Suhul Rawa, Al-Zarka, Muhairija, Farhan al-Rafiq, Kuayr, Mitrad, Karat al-Sufw, and Al-Kasr, spanning more than 950 square kilometers (366 square miles).
Situation in the western parts of Anbar and Salah al-Deen governorates. Source: Rr016
Baghdad:
Iraqi Security Forces dismantled improvised explosive devices in Al-Saedan, Skahka 1, and Al-Khudair areas, in the Baghdad's vicinity.
CJTF-OIR

:
CJTF-OIR announced a change in their publishing policy. Now two strikes reports will be published each week, on Mondays and Fridays.
Amaq Agency:
Afghanistan:
Islamic State reportedly made huge advances against the Taliban forces in Khukianu area, capturing over a dozen of villages, such as; Qaleatan Rahbar, Murki, Sabiyn Raghah, Tur Raghah, Abwakusib, Ankura, Husayn Khalil, Kandaw, Wati, Omar, Burur, Shame, Anar Maynah, Khuruti, Ghundi, Btlaw, Sanukani, Khalah Khayl, and Synah.
Yemen:
Islamic State claimed responsibility for the assassination of the Colonel Hamoud Mohammed Abdo Jamil Al-Humaidi, criminal investigation officer at Al-Qahira police station, Al-Sheikh Euthman directorate, Aden city.
Other:
Intellectual credited property used may vary from an edition to edition.
Feel free to voice your opinion in the comments section below, constructive criticism is welcomed.
For those of you interested, you can follow us on an official Twitter account @SyrianWarDaily, or me personally on my biased twitter @joskobaric where I occasionally tweet some things.