Hello and welcome to the 253rd installment of the SWD.
Military events/news are listed below by the governorates:
Aleppo:
Harakat Nour al-Deen al-Zenki and Hayat Tahrir al-Sham released prisoners captured during the infighting between the two. Harakat Nour al-Deen al-Zenki's spokesman for the media office, Mohammed Adib stated that HNDZ received 60 prisoners from HTS, in exchange for 40 captured HTS' fighters. As a part of the ceasefire agreement between HNDZ and HTS, the latter returned Al-Abzam to the former. Adib stated that HNDZ is still waiting for HTS to hand over Deir Hassan in Idlib governorate.
Hayat Tahrir al-Sham repelled Syrian Arab Army and allies' attempt to advance on Hijarah, Al-Rashadiyah and Rujm al-Aswan, according to the HTS' commander Abu Amara al-Hoss. Al-Hoss also stated that a group of SAA's soldiers were killed when they entered HTS' minefield in the area.
Commander of the Free Syrian Army's Firqat al-Sultan Murad (Sultan Murad Division), Fehim Issa resigned from his function in the group. After resigning from Sultan Murad, Issa was appointed as the commander of the second corps of the general staff of the Free Syrian Army.
Idlib:
Syrian Civil Defence's (The White Helmets) director of 'Awareness Department', Wael al-Omar died in a hospital in Maarrat Misrin after being shot by unknown gunmen. Raed al-Saleh, director of the Syrian Civil Defence said that Al-Omar was found wounded with two bullets in his neck, on the road between Shalakh and Maarrat Misrin. Another source in the Syrian Civil Defence, Abdullah al-Tawil said that Al-Omar was returning from a task assigned to him when he was targeted by the unknown gunmen.
Hama:
Hayat Tahrir al-Sham repelled another Syrian Arab Army's attack on on Al-Mustahira village. Hayat Tahrir al-Sham's Ibaa News Agency claimed destruction of SAA's tank after it drove over HTS' landmine.
FSA's Free Idlib Army reported destruction of Syrian Arab Army's tank with a TOW anti-tank guided missile, on Rabda front. FIA's spokesman, Mustafa al-Hussein also confirmed these reports by stating that they targeted SAA's T-72 with a TOW missile as it tried to advance towards Rabda. According to Al-Hussein, SAA lost four soldiers, including a commander in the TOW attack by the group.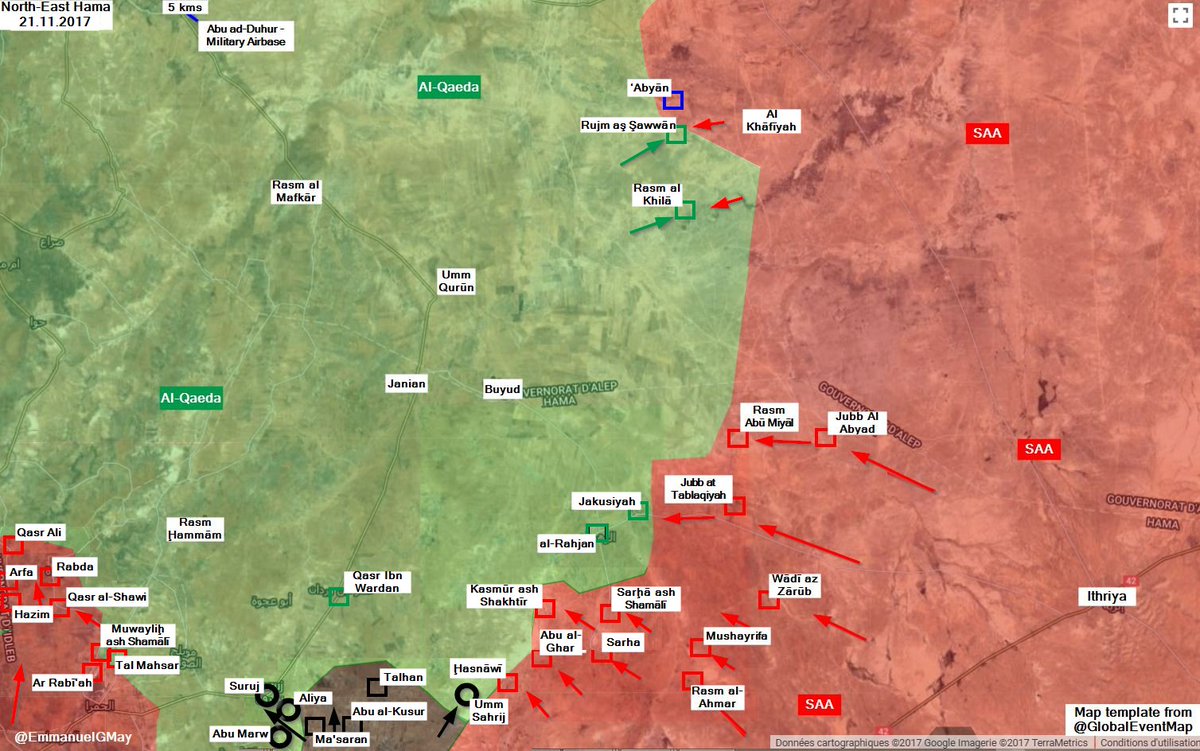 Situation in the northeastern Hama. Source: Emmanuel
Deir al-Zour:
Syrian Arab Army reportedly captured several localities from the Islamic State located between Al-Mayadeen and Albu Kamal (Al-Bukamal), such as; Al-Ward oil field, Wadi al-Ward, Al-Salihiyah, Safsaf, Subaykhan, Ajarjah, and Al-Jadlah.
Syrian Arab Army reportedly captured Hawijah Kati from the Islamic State, north of Deir al-Zour. The island was previously claimed as captured by the SAA on the 4th and the 17th of November.
Yesterday, Syrian Arab Air Force's L-39ZA Albatros crashed while attempting to land in Deir al-Zour, killing both pilots on board. The crashed aircraft reportedly came under the fire of the Islamic State's fighters.
Situation in the eastern Deir al-Zour. Source: Rr016
Damascus:
Syrian Arab Army's artillery targeted Al-Nashabiyah, Ain Terma, and Arbeen in the East Ghouta. Reports claimed that 15 civilians were wounded in the shelling on Ain Terma.
Food poisoning in Zamalka killed three children and affected at least 24 other individuals. The individuals with serious cases of food poisoning were transferred to Al-Quds hospital in Hammouriyah. The cause of the food poisoning is reportedly the salt, tests are underway to accurately diagnose the cause of the poisoning.
Daraa:
Rebel "Daraa Martyrs Documentation Office" reported death of a Free Syrian Army's fighter, after he was targeted with an improvised explosive device, planted by the Syrian Arab Army on the road between Busra al-Harir and Musika.
Unknown gunmen killed a civilian on the road near Saida town and then fled towards the road connecting Saida and Kiheel. Similarly, unknown gunmen kidnapped a displaced civilian from Al-Sheikh Maskin in Nawa.
Iraq
Salah al-Deen:
Islamic State's sniper killed a member of the Iraqi Federal Police in the city of Al-Tarmiyah, according to the Amaq Agency.
Diyala:
Islamic State's improvised explosive device destroyed a vehicle and killed a member of the Iraqi National Intelligence Service in Baqubah.
Baghdad:
Iraqi Security Forces arrested the main narcotics financier known as "Ali Ghourila" in Al-Nahriwan area, south of Baghdad. Security forces seized 660 narcotic pills from Ghourila during his apprehension. Furthermore, two drug traffickers were arrested at a checkpoint, and two people arrested in Al-Jadiriyah area with a large quantity of narcotic substances in their possession.
CJTF-OIR

:
CJTF-OIR announced a change in their publishing policy. Now two strikes reports will be published each week, on Mondays and Fridays.
Amaq Agency:
Other:
Intellectual credited property used may vary from an edition to edition.
Feel free to voice your opinion in the comments section below, constructive criticism is welcomed.
For those of you interested, you can follow us on an official Twitter account @SyrianWarDaily, or me personally on my biased twitter @joskobaric where I occasionally tweet some things.