Hello and welcome to the 251st installment of the SWD.
Military events/news are listed below by the governorates:
Aleppo:
Landmine explosion in the village of Al-Ghouz, close to Al-Bab injured a child. The injured individual was transferred to a hospital in Turkey for treatment.
Syrian Democratic Forces shelled Turkish Army's observation point on Jabal Semean (Mount Simeon) in the western Aleppo with five shells. Turkish Army's artillery responded to the shelling by shelling several localities in Afrin. SDF also reportedly shelled the city of Darat Izza, causing material damage in the locality.
Raqqa:
Syrian Democratic Forces handed over control of three neighborhoods in the city of Raqqa to the local council of Raqqa and Internal Security Forces. The neighborhoods of Al-Mashlab, Al-Jazira, and Al-Tayar were transferred to the local control after being demined. Syrian Democratic Forces will hand over the remaining neighborhoods to the local council, once they are fully demined.
Idlib:
Hayat Tahrir al-Sham's elements allegedly kidnapped a civilian from his home in Saraqib, in order to seize his house and give it to its foreign fighters. The house was reportedly fully repaired recently.
Hama:
Hayat Tahrir al-Sham repelled Syrian Arab Army's attack on Shekhter village. Hayat Tahrir al-Sham used an SVBIED, driven by Abu Salah al-Halabi, to disrupt SAA's attack on the locality. The SVBIED targeted SAA's gathering at the outskirts of Shekhter.
Russian Air Force carried out air raids over Al-Rahjan and Umm Miyal, while the Syrian Arab Army's artillery targeted Shekhter, Mustahira, and Al-Shakusiyah.
Islamic State took control of three villages from Hayat Tahrir al-Sham in Al-Seen area. Islamic State launched a surprising attack on Abu Harij, Abu Kusur, and Al-Mudabe, forcing Hayat Tahrir al-Sham to retreat from the localities. After capturing the aforementioned localities, Islamic State launched attacks on Tulayhan and Maesran.
Ahrar al-Sham's snipers infiltrated an area near Syrian Arab Army's checkpoint in the vicinity of Harbinafsah, adjacent to the rebel Northern Homs pocket. The snipers reportedly killed three Syrian Arab Army's soldiers.
Approximate situation in the northeastern Hama, HD version of this map can be found here. Source: Muraselon
Deir al-Zour:
Car bomb exploded in Syrian Democratic Forces-held Al-Dahleh village east of Deir al-Zour, killing three children and injuring two civilians. The injured were transported to a hospital in Al-Hasakah governorate.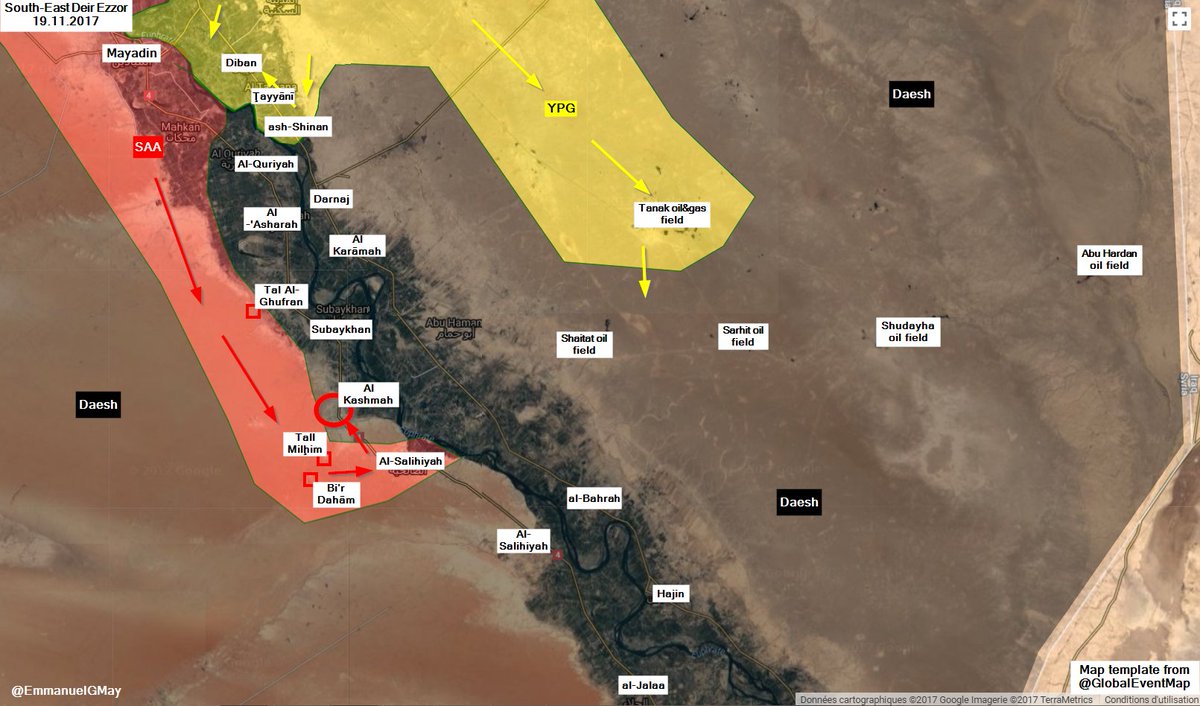 Situation in the eastern Deir al-Zour. Source: Emmanuel
Damascus:
Ahrar al-Sham reportedly repelled Syrian Arab Army's attack on its positions in the 'Army Armored Vehicle Base' in Harasta. Syrian Arab Army and Syrian Republican Guard Forces reportedly lost ten soldiers during the failed attack.
The local council of Harasta called on international organizations and institutions, mainly the United Nations, to immediately intervene and stop the targeting of the locality by the Syrian Arab Air Force and the Syrian Arab Army's artillery.
Iraq
Salah al-Deen:
Islamic State's sniper killed two Iraqi soldiers in Al-Mshahda area of Al-Tarmiyah, according to the Amaq Agency.
Baghdad:
Iraqi Security Forces conducted operations in Al-Ersan area, south of Baghdad. Security forces seized four improvised explosive devices, a 60mm mortar, an RPG-7 launcher, four grenade launchers, two RPK machine guns, and ten mortar rounds. Several wanted individuals were also arrested in the operations.
Islamic State's Amaq Agency claimed destruction of Iraqi Army's vehicle with an improvised explosive device, on the road between Baghdad and Samarra.
CJTF-OIR

:
Between the 17th and the 19th of November 2017 CJTF-OIR has conducted seven strikes in Syria. CJTF-OIR's main focus in Syria at the moment is Deir al-Zour region where they did two strikes supporting SDF's operations against IS engaging two IS tactical units.
Other area where five strikes occurred is Albu Kamal (Al-Bukamal) destroying three IS vehicles, a VBIED, a tactical vehicle and an IS construction vehicle. Full report on CJTF-OIR strikes conducted in both Syria & Iraq can be found here.
Amaq Agency:
Afghanistan:
Islamic State clashed with the militia loyal to the Afghan Government, reportedly killing one and wounding five elements of the militia. Clashes between the two occurred in Sholana and Karizu villages, Jabrhar directorate, Nangarhar Province. Furthermore, Islamic State also clashed with the Afghan National Army in Nangarhar province, killing three soldiers in Bagh Drah village, Ashen directorate.
Other:
Intellectual credited property used may vary from an edition to edition.
Feel free to voice your opinion in the comments section below, constructive criticism is welcomed.
For those of you interested, you can follow us on an official Twitter account @SyrianWarDaily, or me personally on my biased twitter @joskobaric where I occasionally tweet some things.