Hello and welcome to the 250th installment of the SWD.
Military events/news are listed below by the governorates:
Aleppo:
Turkish Army is reportedly preparing to establish an observation point in the village of Al-Sheikh Aqeel, west of Aleppo. The observation point will be established near SDF-held areas in Afrin. Turkish convoy that entered Syria yesterday through Kafr Lusin, was spotted today heading towards Al-Sheikh Aqeel. The observation point will overlook SDF-held Faqiratayn, Al-Dhawq al-Kabir, Kabashin, and Bashmara.
Civil Defense (The White Helmets) in Al-Bab received equipment for mine clearance and metal detection. Director of the civil defense in Al-Bab, Khalid Karim stated that they received equipment after three of their members were killed by mines in Al-Bab. Civil defense will send a team to Turkey to receive demining training. Since Al-Bab's capture by TFSA in February, 150 people were killed and wounded by the mines and other explosive devices left behind by the Islamic State.
Explosion targeted a vehicle of a fighter belonging to the Free Syrian Army's Firqat al-Hamza in the city of Al-Bab. The cause of the explosion is unknown and the injured fighter was transferred to a Turkish hospital for treatment.
Spokesman for the Syrian Democratic Forces' Military Council of Manbij and its countryside, Sharfan Darwish stated that several dozens of Free Syrian Army's fighters arrived in Manbij after fleeing from TFSA-held areas. Number of defected FSA's fighters is estimated at around 80, including the commander of Burq al-Shahil, known as Abu Sayyaf al-Shahil.
Raqqa:
Two civilians were killed by improvised explosive devices left behind by the Islamic State in the city of Raqqa. The incidents occurred on separate occasions in Bab al-Baghdadi area and in the vicinity of Al-Muwasat hospital.
Idlib:
Hayat Tahrir al-Sham seized control of the local council's market in Saraqib after a dispute that lasted two months. Saraqib's council rejected HTS' request to take over the management of the market, resulting in the latter's forceful seizure of it.
Turkish border guards wounded a civilian trying to illegally enter Turkey from northern Idlib. The civilian tried to sneak through the Turkish Gendarmerie's border positions during the night.
Unknown gunmen opened fire from a van on a market in the village of Al-Tah, killing a displaced civilian from Soran in Hama, and wounding two locals. Unconfirmed reports accused the Hayat Tahrir al-Sham-linked group of committing the act.
Hama:
Syrian Arab Army briefly took control of Shekhter village from the rebel forces in the eastern Hama. During SAA's control of the locality, HTS reportedly destroyed a BMP with an anti-tank guided missile. Hayat Tahrir al-Sham's Ibaa News Agency reported recapture of Shekhter from the SAA.
Free Syrian Army's Jaysh al-Nasr destroyed Syrian Arab Army's tank with a TOW anti-tank guided missile on Abu al-Ghar front.
Deir al-Zour:
Syrian Arab Army and allies took control of Albu Kamal (Al-Bukamal) city from the Islamic State. The capture of Al-Bukamal was reported by the Syrian Ministry of Defense. Islamic State's Amaq Agency claimed IS attacked SAA's positions north and west of Al-Bukamal.
Syrian Arab Army reportedly captured Al-Kashma (Tishreen) and Al-Salihiyah from the Islamic State, creating an IS' pocket between the captured localities and Al-Mayadeen. Amaq Agency reported destruction of SAA's tank with an anti-tank guided missile, west of Al-Kashma village.
Islamic State's Amaq Agency claimed death of four Syrian Democratic Forces' fighters due to an explosion of  an IS' improvised explosive device, north of Merkada.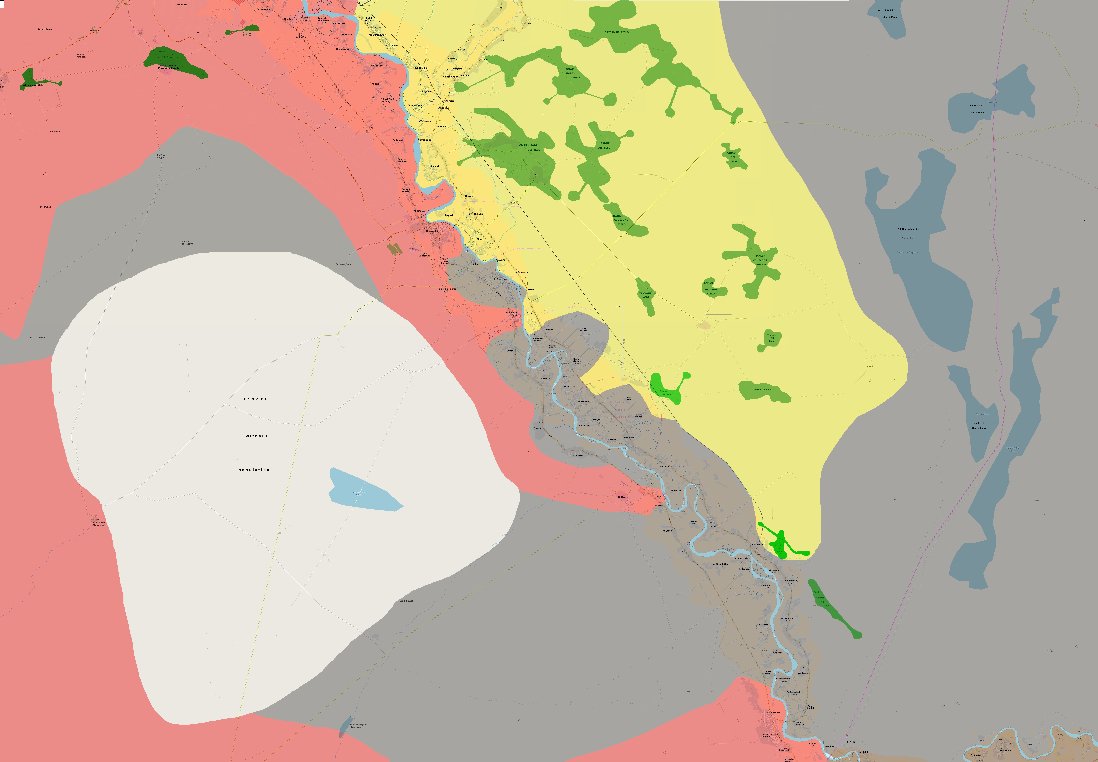 Approximate situation in the eastern Deir al-Zour, HD version of this map can be found here. Source: Lucio Cienfuegos
Damascus:
Syrian Arab Army reportedly recaptured even more areas of the 'Army Armored Vehicle Base' in Harasta, reversing almost all of Ahrar al-Sham's gains in the base.
Syrian Arab Air Force conducted several airstrikes over Arbeen and Harasta, while the Syrian Arab Army's artillery shelled Douma.
Syrian Arab Red Crescent in cooperation with International Committee of the Red Cross delivered relief aid convoy to Jayrud, in rebel Eastern Qalamoun pocket. The convoy consisted of 23 trucks and it is the first one to enter the locality in the last six months.
Daraa:
Landmine explosion at the outskirts of Barqah village seriously wounded a civilian. The landmine was reportedly planted by the Syrian Arab Army sometime in the past. The explosion occurred on a field when a civilian drove over a landmine with a tractor. He was transferred to a hospital in Inkhil where they amputated his left leg.
Local council of Bosra al-Sham elected a new president of the council, Bilal Qassem. Qassem stated that he was elected due to his 'revolutionary background' and good reputation.
Iraq
Diyala:
Islamic State conducted three operations in Diyala governorate in a short period of time, according to the Amaq Agency. Al-Hashd al-Shaabi's (Popular Mobilization Units) vehicle was destroyed by an IS' improvised explosive device in Al-Muqdadiyah. Al-Hashd al-Shaabi's fighter was killed in Qartaba village. Three Al-Hashd al-Shaabi's fighters were killed and a vehicle destroyed by an IS' improvised explosive device in Al-Eazim area.
Baghdad:
Iraqi Security Forces conducted operations in Al-Fotouh and Al-Zafraniyah areas, in the Baghdad's vicinity. In Al-Fotouh, security forces seized ten improvised explosive devices and four grenades, as well as arrested several wanted individuals. Large Islamic State's ammo cache was found in Al-Zafraniyah, containing 121 shells, two mines and two RPG-7 launchers. The shells were safely removed from Al-Zafraniyah.
CJTF-OIR

:
CJTF-OIR announced a change in their publishing policy. Now two strikes reports will be published each week, on Mondays and Fridays.
Amaq Agency:
Egypt:
Islamic State's improvised explosive device reportedly destroyed Egyptian National Police's vehicle west of Al-Arish. Furthermore, IS' Amaq Agency claimed assassination of a member of the Egyptian National Police in downtown Al-Arish, North Sinai governorate.
Somalia:
Islamic State's elements assassinated a member of the Somali Police Force in Afgooye city, Lower Shebelle province.
Other:
Intellectual credited property used may vary from an edition to edition.
Feel free to voice your opinion in the comments section below, constructive criticism is welcomed.
For those of you interested, you can follow us on an official Twitter account @SyrianWarDaily, or me personally on my biased twitter @joskobaric where I occasionally tweet some things.