Hello and welcome to the 245th installment of the SWD.
Military events/news are listed below the governorates:
Raqqa: 
The BBC published an article about the SDF-ISIS deal entitled "Raqqa's dirty secret". The deal, which let hundreds of ISIS fighters and their families (more than 3000 people) to escape from Raqqa as the US-led Coalition and the SDF left them to escape. The BBC reporter @Dalatrm comments on his twitter account (this chain) that he and his team already were reporting the deal during the week it took place. Although SDF denied the accusations multiple times and keep on reporting that fighting was ongoing, even us reported fighting in our Daily reports. Apparently, the deal was ready before 10th of October, but some ISIS fanatics rejected it and the US-Coalition just bombed their tiny area until the terrorist accepted the deal.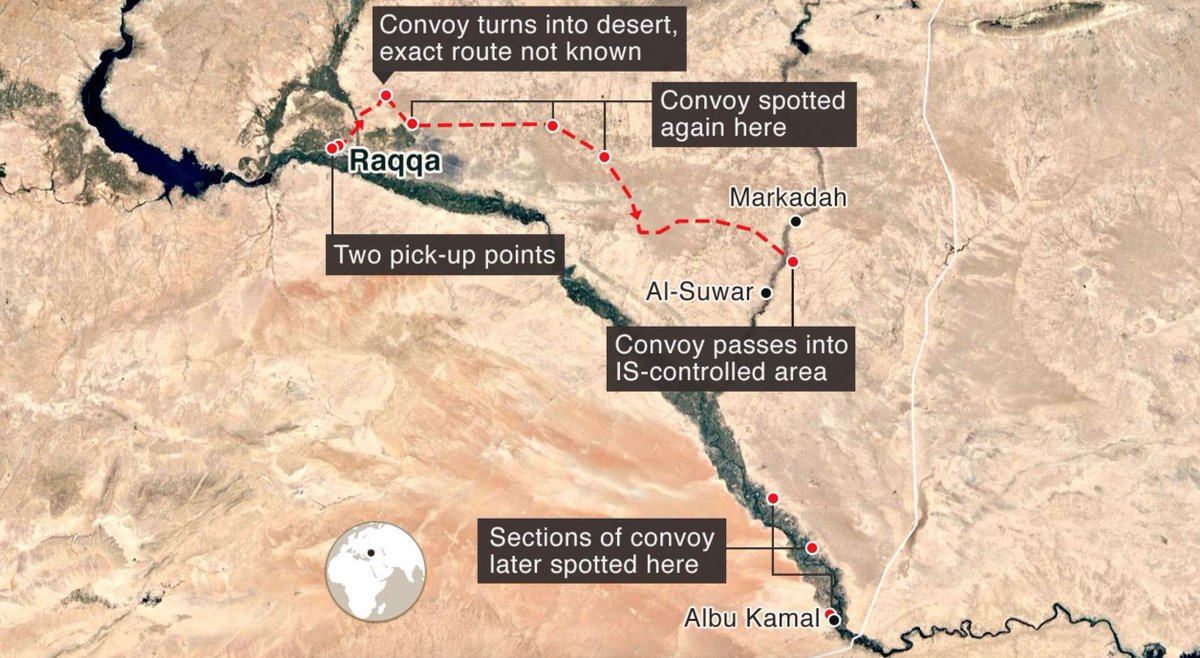 Further details show that the US-backed forces offered between $4000 to $6000 to each bus driver -a huge amount considering the current value of the Syrian pound. Problems arose when the only party paying the drivers was ISIS, which gave them around $800, the SDF did not pay the drivers and they became furious, as can be expected after such dangerous act. The Syrian War Daily team recommends for those of you who are interested in knowing more about this act, to read their article.
Some sources at the UK Defense Ministry reported the Ministry is "surprised at the numbers" of ISIS members that were able to escape. Without getting too much into the details, a huge bunch of ISIS members have been able to scape and, some of them will manage to escape Syria and Iraq. This was a missed opportunity for those countries reluctant to leave any national to get back to US and Europe after being an ISIS member.
Aleppo:
A project agreement between the pro-opposition groups Harakat Nur al-Din al-Zinki and Hay'at Tahrir al-Sham in Aleppo governorate was published today. The conditions for peace include HTS withdrawal from all the positions they captured from Zenki, restore the old rights Zinki and Ahrar had, and to release the prisoners of each factions. If these conditions are met within the time limit of two weeks the ceasefire will remain.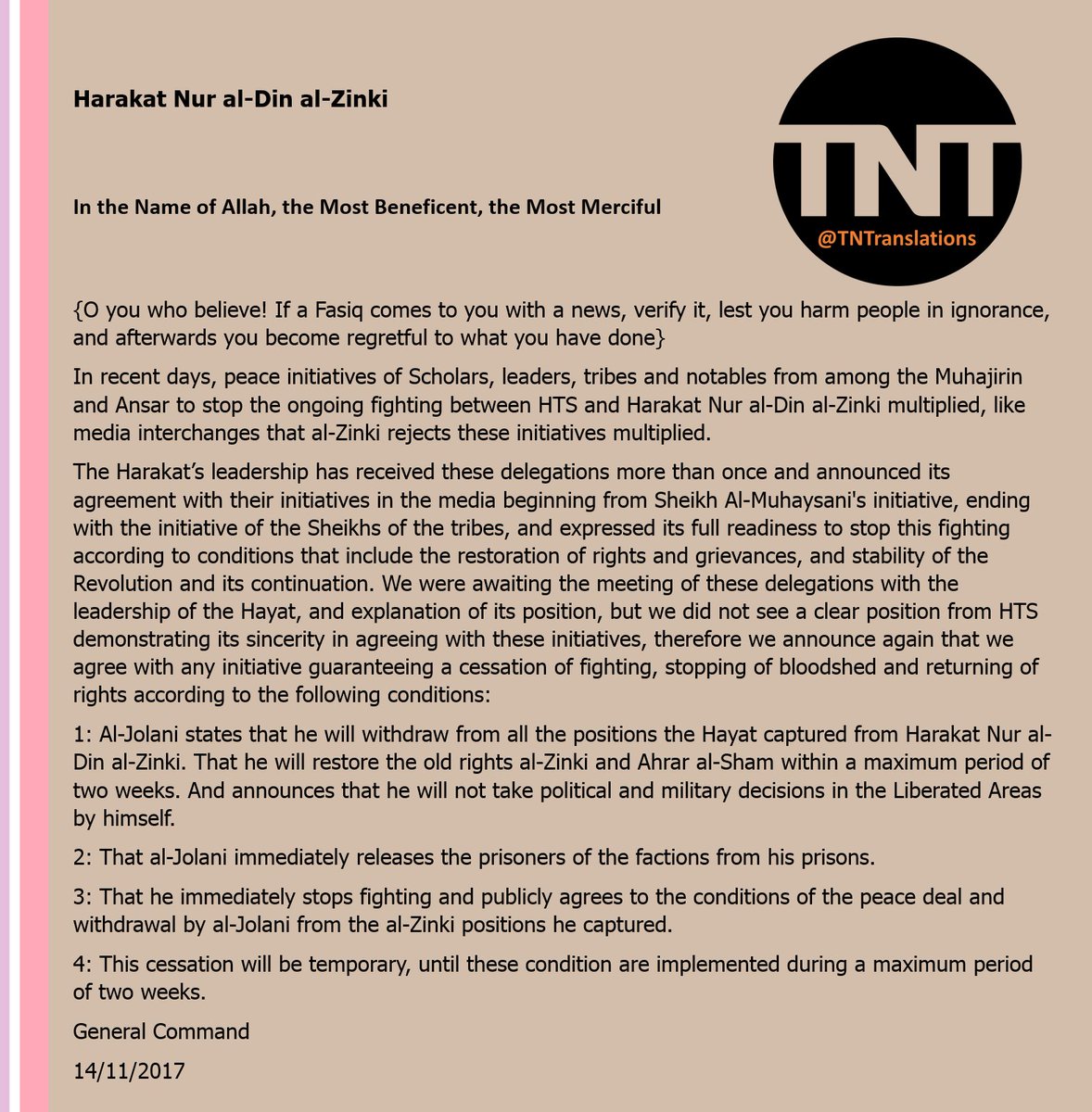 The terrorist organization Hay'at Tahrir al-Sham shoot at protesters of Atarib city, the targeted by Russian warplanes on the 13th November, that went to the streets to protests against Russian airstrikes.
Idlib:
The Syrian Arab Army targeted the city of Khan Shaykhun with heavy artillery, which resulted in four civilians injured.
Hama:
The Syrian Arab Army continued its advances in north Hama. Today, government forces captured Qasr Shawi and Tel Qasr Shawi. Government SAA forces, backed by NDF, captured the areas of Rabiyah and Jamilah, which are located a little bit to the east of the Qasr axis.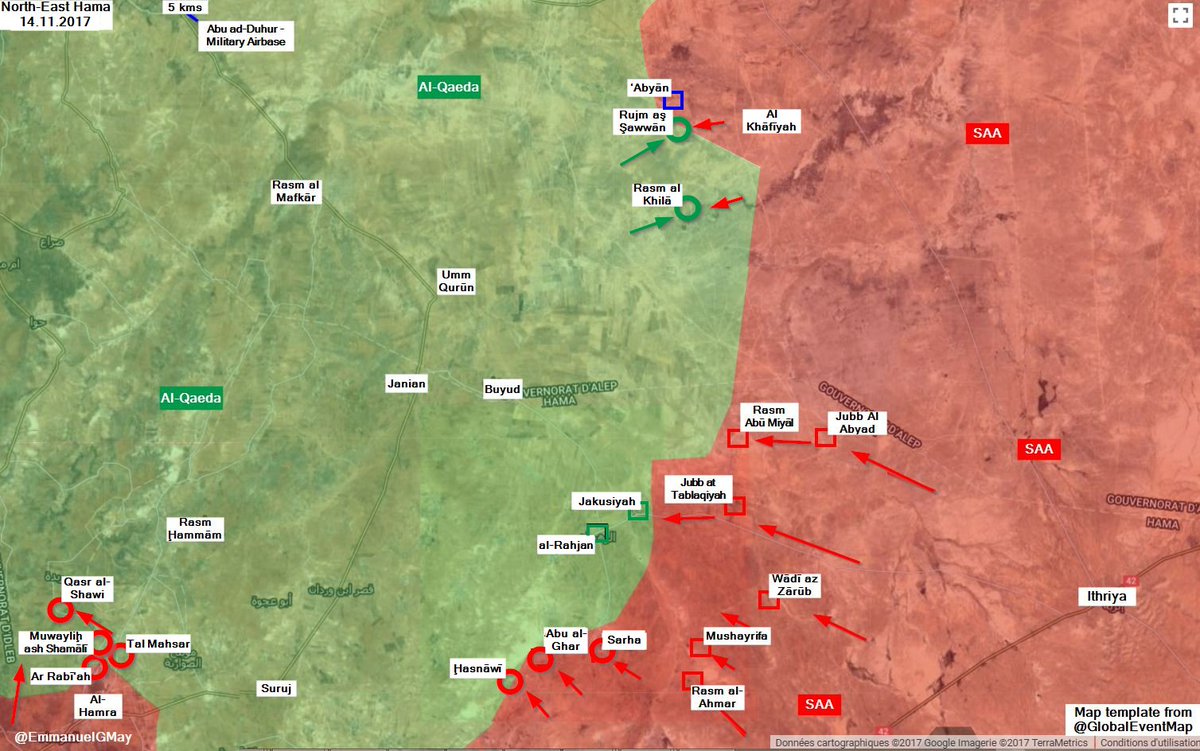 Damascus:
Government forces heavily bombarded multiple areas in East Ghouta pocket. The confirmed targeted areas include Hazeh, Arbin, Harasta, Duma, Madyara, Ayn Tarma and Jobar. At least five civilians have died and much more have been injured. The attack included airstrikes, heavy artillery, cluster bombs, IRAM missiles and guided missiles.
On the opposition side, a fresh advance attempt has been launched by pro-rebel forces with the objective to capture the HQ area of the Military Vehicles Administration complex located on the western front of East Ghouta pocket.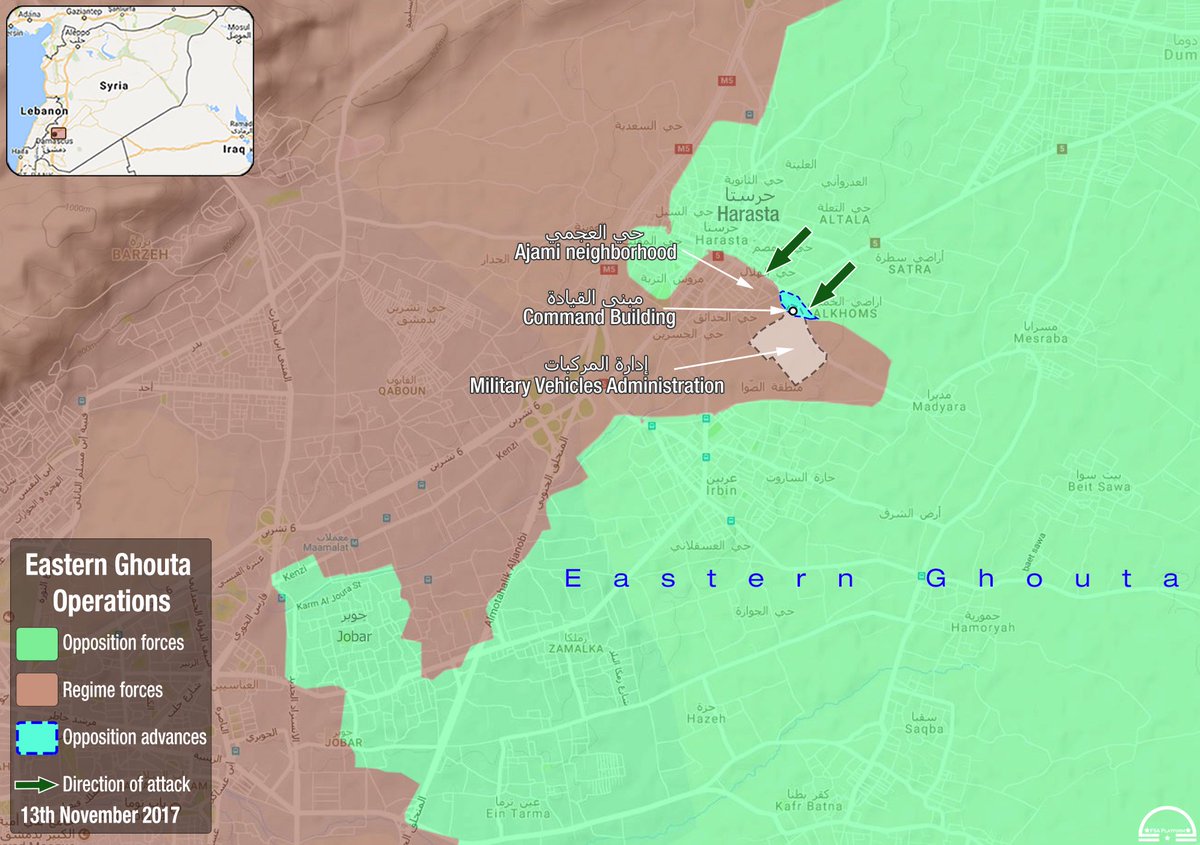 Opposition forces captured 10 government fighters in rural Damascus. The FSA forces killed an unknown number of fighters, damaged a Shilka vehicle, and took control of some government positions on Kafr Hawr area.
Deir ez-Zor:
Satellite images show that at least four vehicles were destroyed on yesterday's ISIS suicide attack on Deir ez-Zor airport. The possible destroyed vehicles are 4 warplanes and/or choppers. Syrian Arab Army forces reported that an ISIS commander surrendered with some of its militants to the SAA at Howeija Katea, Kati island located at north part of Deir ez-Zor.
Unconfirmed reports suggest that SAA next target is "YPG-controlled" Raqqa in order to prevent the US using it as a bargaining tool to exchange Assad's resignation by Raqqa city. These declarations rose after Russian authorities confirmed they would remain neutral in case SAA and SDF started fighting each other.
A minimum of five civilians were killed and ten were wounded due to pro-government raids targeting an IDPs camp in Jalib Ghanem.
Meanwhile, the Syrian Democratic Forces captured Al-Shil Al-Gharbi from ISIS. SDF reported having repealed two ISIS attacks on Tanak oil field and Shuhayl al-Gharbi village.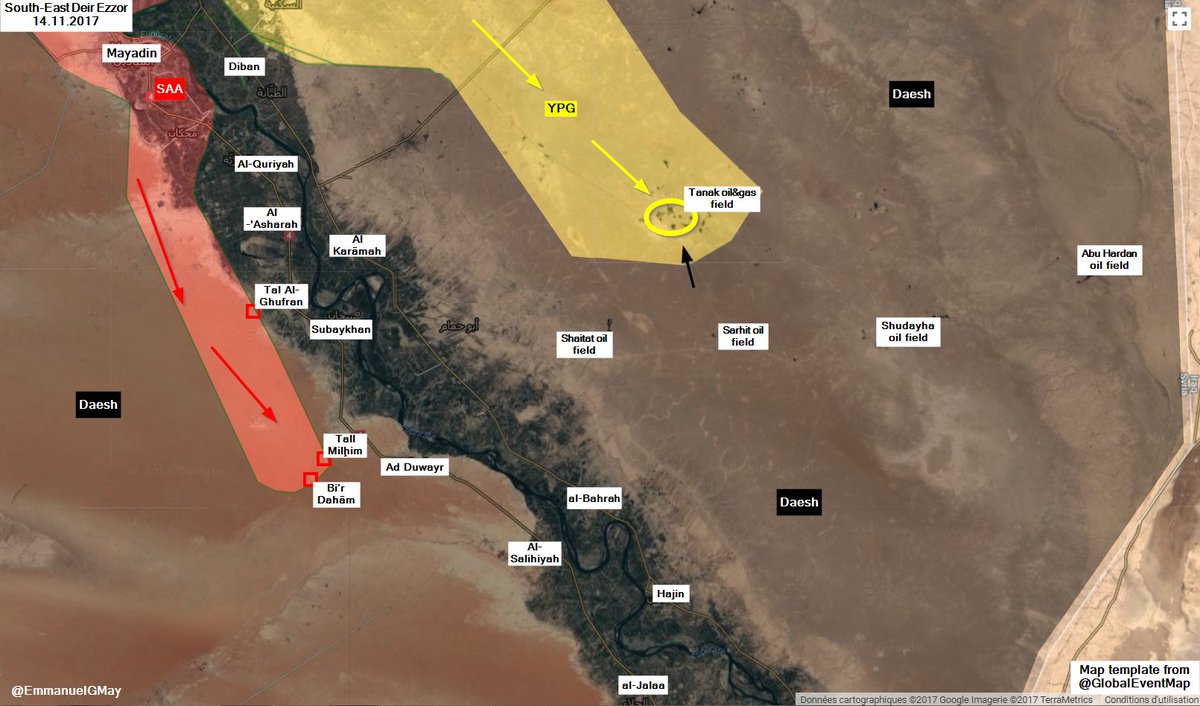 The Islamic State targeted a group of Hezbollah fighters in Hamdan village, located near AbuKamal village. Furthermore, Amaq reported that eight SAA soldiers were killed by ya sniper in Hizam area. Another eight soldiers were killed in clashes between ISIS and government forces west of AbuKamal village, and a bulldozer was destroyed by an ATGM next to the grain silos area. An SVBIED suicide attack on SAA positions took place by late afternoon in the area of Al-Hamdan village, west of AbuKamal. Additionally, ISIS destroyed a tank and damaged 2 with ATGMs.
The Russian Ministry of Defense used fake pictures to accuse the US to cooperate with ISIS in Abu Kamal area. The pictures displayed by the Russian Ministry proved to be computer game images.
Iraq 
Anbar:
The PMU Brigade 13 uncovered a total amount of 440 landmines from inside a home in Qa'im village which were left behind by ISIS while retreating.
CJTF-OIR:
CJTF-OIR announced a change in their publishing policy. Now two strikes reports will be published each week, on Mondays and Fridays.
Amaq
Yemen:
Islamic State forces claim responsibility for the suicide bombing on police headquarters in Mansoura district of Aden city.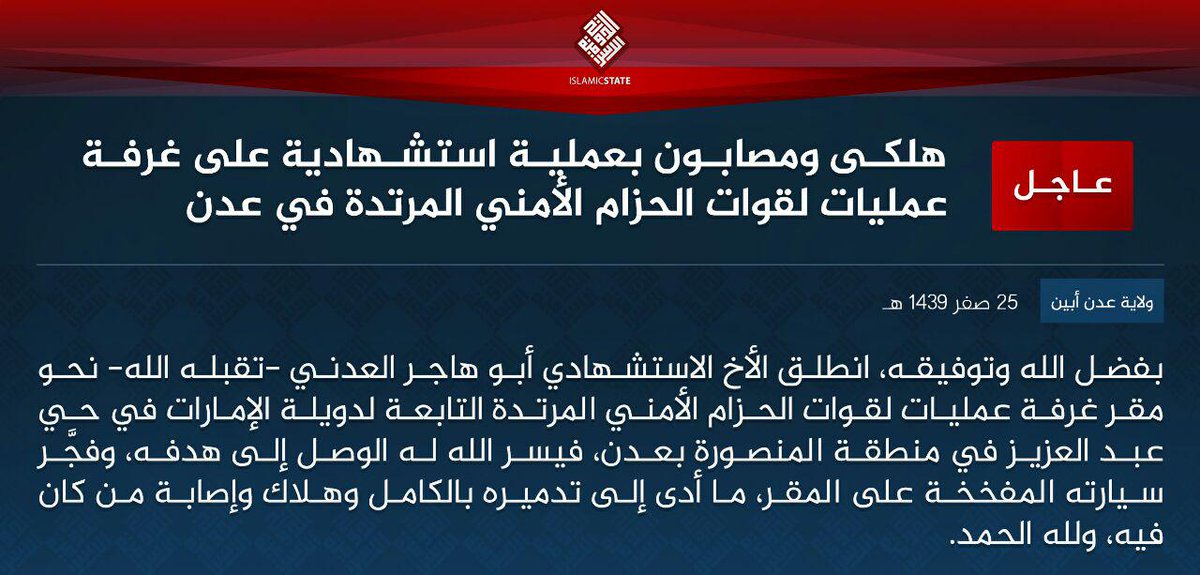 Egypt:
The Islamic State released a statement claiming responsibility for the killing of a soldier at a military checkpoint in Al-Kharouba area, northwest of Al Arish near Gaza strip.

Furthermore, the IS also published pictures attacking a cement factory in Sinai area with a Grad rocket.
Other:
Intellectual credited property used may vary from an edition to edition.
Feel free to voice your opinion in the comments section below, constructive criticism is welcomed.
For those of you interested, you can follow me on my personal, controversial twitter @alextorrell where I constantly tweet about different issues and conflicts.