Hello and welcome to the 244th installment of the SWD.
Military events/news are listed below by governorates:
Raqqa:
According to local sources, the southern entrance and river crossing points located on the southern parts of Raqqa city were closed early in the morning by the Syrian Democratic Forces. The Coalition confirmed to BBC that around 250 ISIS militants and with another 3500 family members left Raqqa in a ceasefire agreement. The agreement was made by local partners and not by Coalition mediation, although they had a present officer at the time negotiations took place. The agreement included the non-action by any Coalition member. This link shows some footage of ISIS forces taking photos before leaving Raqqa. Further details may appear in the upcoming days.
Aleppo:
The Syrian Arab Army shelled multiple rebel-held sites on the northern fronts of Aleppo governorate. The areas targeted by heavy artillery include Kafr Dael village, Zeba town and Atareb village; while Russian airforce strikes targeted the city of Atareb and its surrounding areas. The airstrikes killed at least 62 civilians and dozens wounded, local sources report more than 100 casualties.
Meanwhile, the SAA is gathering forces near Khanasir in order to launch an operation to recapture Abu Dhuhur military airport, located on the border between Idlib and Aleppo governorates.
The Turkish Army shelled YPG positions in Basufane and Iska Village. Additionally, Turkish warplanes flew over Afrin canton.
From the rebel side, an unknown group shelled al-Hamdaniya neighbourhood in Aleppo city, which resulted in one child wounded.
Idlib
A car bomb explosion took place in Idlib city.
Hama:
The terrorist organization Hay'at Tahrir al-Sham destroyed a Kornet position with a guided missile on al-Zughba village. On the government side, the Syrian Arab Army managed to advance from three different axis as they opened a new front near Rabiah village. The first area where advances took place is after the SAA and the NDF captured Duma city, east of Qasr Abu Samra; the second area where NDF managed to advance is at the beforementioned area of Rabiah village where they captured some silos; and the third area where government forces advanced is in Abu al-Ghar and Al-Hassnawi village, north to Al-Saan town, in north-east Hama.  
Homs:
Government artillery shelled the town of Talbisseh and the villages of Ameriyah and Ayoun Hussein in north Homs pocket.
Damascus:
The Syrian Arab Army targeted with heavy artillery Harasta town in Eastern Ghouta pocket. Clashes between SAA and Faylaq al-Rahman continued in Jobar and Ayn Tarma without major changes.
Deir ez-Zor:
Two explosions took place at Deir ez-Zor airport. Five ISIS members from Chechnya were wearing Russian Army uniforms and managed to pass through the checkpoints and attacked the airbase. One of them blew up himself at the gates of the airport and the other four inside the airbase. At least three Syrian Airforce warplanes were destroyed.
The SAA pushed the frontlines further south of the Sukhnah-DEZ road after capturing Bir Haba, Bir Duhul, Bir Abu Al-Habaya, Al-Dukhul and Bir Khudr al Mayy from ISIS.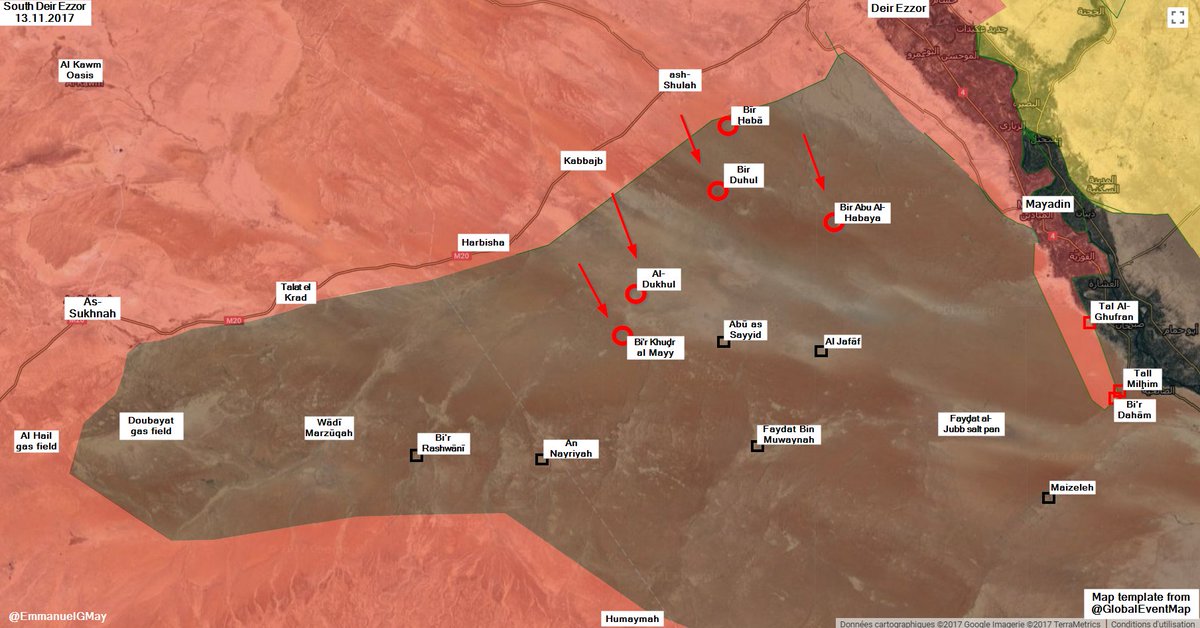 Clashes between ISIS and SAA continue in southern fronts, close to the borders with Iraq. On the Homs-DEZ border the SAA claim to have cleared the remaining ISIS pockets near Iraq, located between al-Qaim crossing to al-Waleed and al-Tanf border crossings. The SAA continued to make attempts to capture AlBukamal village from ISIS, which was recaptured by the terrorist organisation two days ago. According to the Islamic State sources two tanks were destroyed in the village of Al-Hamdan, while three soldiers were killed and other wounded in Al-Hiri village. Although, Al-Hiri village was captured by government forces.
The Syrian Democratic Forces took over control of the largest Syria oil field, the Tanak oil field. Meanwhile, the US-backed forces captured Shuhayl village from ISIS.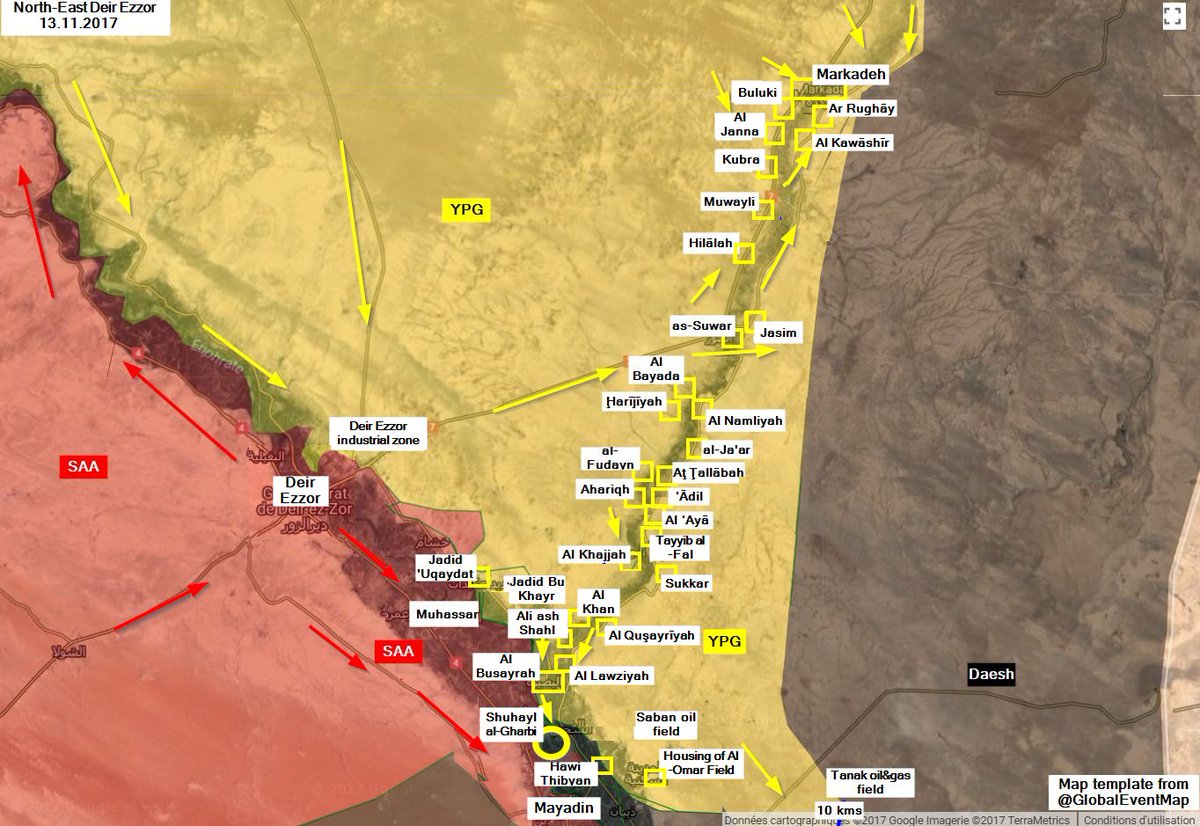 Iraq
Diyala:
The Iraqi forces launched a major counterinsurgency operation in north Diyala with the objective to hunt down ISIS cells in the area.
Baghdad:
The Islamic State claims to have destroyed an Iraqi oil pipeline in Baghdad area by using multiple IEDs.

Anbar:
The Iraqi Security Forces captured Samma, Ar Rumiyah, Al Baydah, Al Jabiriyah, Al Bubiyah and As Samsiyah from Daesh. According to the Coalition, the area is being rapidly freed from ISIS but also reminds that the terrorist organisation is still a threat to the advancing troops.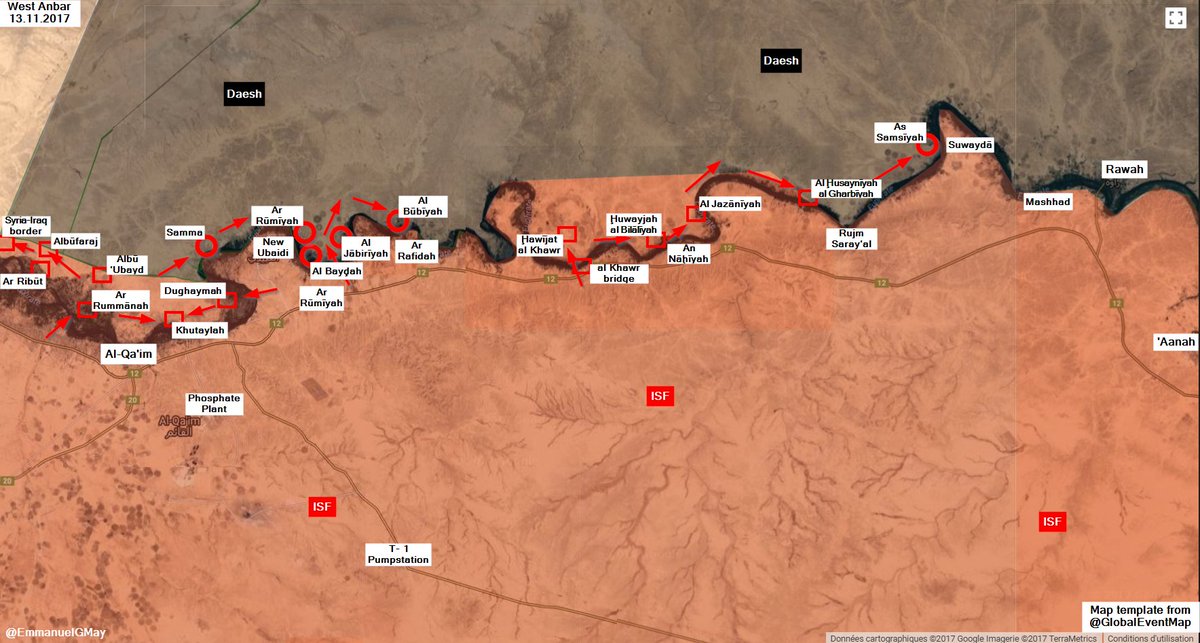 Salah ad-Din
The Islamic State claimed to have killed 20 ISF officers and soldiers in a six-man suicide raid in Tikrit city.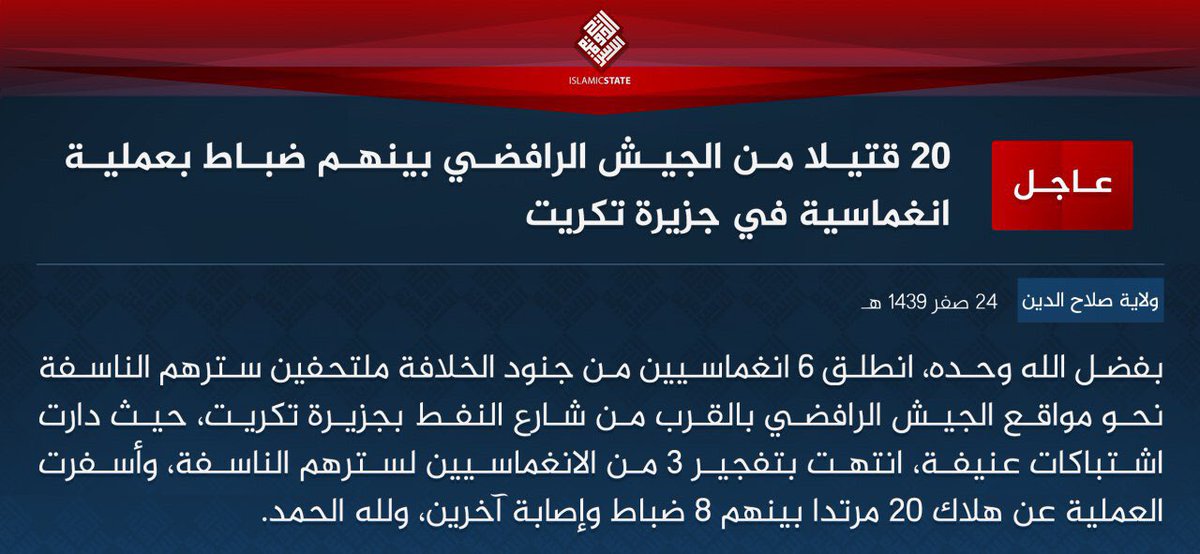 CJTF-OIR:
Between the 10th and 12th of November 2017, CJTF-OIR has conducted ten strikes in Syria. CJTF-OIR's main focus in Syria at the moment is Deir al-Zour region where they did seven strikes supporting SDF's operations against IS destroying a heavy machine gun, a fighting position and an ISIS vehicle.
Other areas where three strikes occurred are Al-Bukamal (Albu Kamal) and Al Shadaddi destroying two IS tactical vehicle and a fighting position. Full report on CJTF-OIR strikes conducted in both Syria & Iraq can be found here.
Other:
Unconfirmed reports dais that Bashar Al Assad sacked his youngest brother Maher Al Assad from the command of the Republican Guard and the Army's elite Fourth Armored Division. More information in this (it's written in Arabic) news channel.
Intellectual credited property used may vary from an edition to edition.
Feel free to voice your opinion in the comments section below, constructive criticism is welcomed.
For those of you interested, you can follow me on my personal, controversial twitter @alextorrell where I constantly tweet about different issues and conflicts.