Hello and welcome to the 237th installment of the SWD.
Military events/news are listed below by the governorates:
Aleppo:
Free Syrian Army's Liwa al-Shamal released a statement saying that they have repelled Syrian Democratic Forces' attack on Al-Halwanji front, and that the clashes between the two were still ongoing in the area.
Free Syrian Army's Ahl al-Diyar operations room made an exchange deal with the Syrian Democratic Forces in the northern Aleppo. According to the leader of the operations room, Captain Mohammed Abu Ibrahim, rebels received 10 bodies and one captured fighter, in exchange for one SDF's fighter captured around Ayn Dagnah in the July.
Even more reports emerged about Syrian Democratic Forces starting a widespread arrest campaign in the city of Manbij, as well as setting up checkpoints in the city. Reports suggest that SDF arrested around 100 individuals, aged between 15 and 35. However, the controversial decision to enact the forced conscription was reportedly suspended, which should bring stability back to the Manbij area.
Rebel "guerrilla" group Harakat al-Qiyam exploited the recent unrest in the Manbij area to advance their influence and sophisticate their attacks. The group's improvised explosive device targeted SDF's vehicle and killed five fighters.
Idlib:
Turkistan Islamic Party dismantled train tracks between Zayzun and Ashtabraq, in Jisr al-Shughur region. The iron from the tracks will reportedly be used to build bridges on the Orontes river or to strengthen bridges in other parts of the region. TIP has already used the same strategy on the Halfaya bridge, repairing it with the iron from train tracks after airstrikes damaged it. Another example of this TIP strategy is in Latakia, where they repaired a completely destroyed bridge on an M4 highway.
Russian Air Force carried out several airstrike over a number of areas in Idlib Governorate. The airstrikes hit Al-Tamanah, Sinjar, Saraqib, Abu al-Duhur, Maar Shamarin, and Haranbush. Syrian Civil Defence (The White Helmets) stated that they were targeted by a Russian airstrike while on the field, resulting in several damaged vehicles.
Hayat Tahrir al-Sham-affiliated group kidnapped and robbed Orient's correspondent, Shahir Samak. The fighters stole his equipment, failed to steal his vehicle because of a malfunction, and threw Samak out near Taftanaz Military Helicopter Base.
Hama:
Hayat Tahrir al-Sham and Free Syrian Army's Jaysh al-Izza started a joint attack against the Syrian Arab Army on Abu Dali Front. Rebel forces captured Umm Turikiyah, Al-Balil, Tall Umm Khazim, and Talal Abu Dulu. Jaysh al-Izza's statement claimed capture of a tank, a BMP, and a sizeable amount of ammunition. On the same front Jaysh al-Izza destroyed SAA's tank near Al-Zughbat. Target of the rebel attack appears to be Al-Zughbat village, and they have already started weakening defenses on another axis as an SVBIED attack was reported in Al-Qahirah's area.
Syrian Arab Army reportedly captured Sarha Shamaliya from the rebel forces. Hayat Tahrir al-Sham's Ibaa News Agency claimed that the group repelled SAA's attack on Sarha Janubiyah and hit one of the tanks with an anti-tank guided missile. Interestingly enough, Sarha Janubiyah was reported as captured by SAA yesterday, the locality should be considered as disputed until either side shows signs of control.
Hayat Tahrir al-Sham repelled Syrian Arab Army's attack on Al-Shakusiyah village. Furthermore, HTS damaged a tank with an anti-tank guided missile during the failed attack.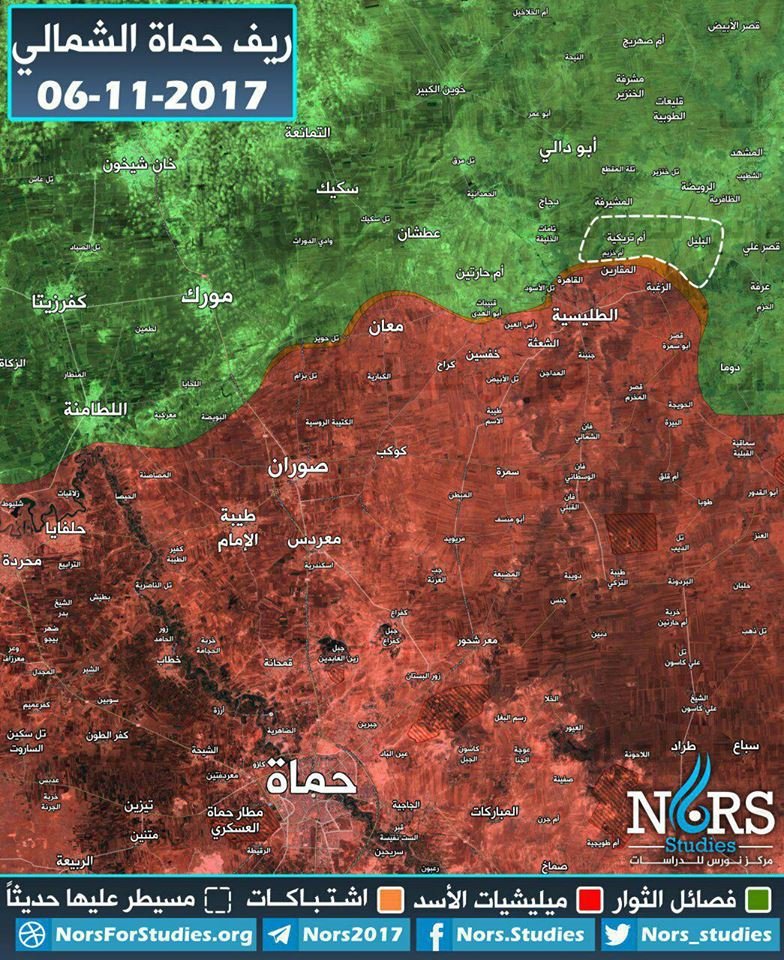 Situation in the northern Hama after rebels' advances. Source: Nors For Studies
Deir al-Zour:
Syrian Democratic Forces captured Al-Khajah, Al-Hujnah, Tayib al-Fal and Sukkar villages from the Islamic State. The Islamic State's pocket east of Deir al-Zour has now been completely cleared by the Syrian Democratic Forces.
Syrian Arab Army and allies repelled Islamic State's infiltration attempts on the roads between Palmyra and Deir al-Zour, and between Deir al-Zour and Al-Mayadeen. However, Islamic State's Amaq Agency released a statement regarding the event, according to the agency, 22 SAA's soldiers were killed, and a BMP and three other vehicles destroyed, west of Al-Mayadeen.
Islamic State continues to resist against the Syrian Arab Army in the desertous region east of T-2 airport area. Islamic State's Amaq Agency released two statements from the area. According to these statements, IS launched three anti-tank guided missiles against the SAA, killing two soldiers, and destroying two vehicles and a tank.
Situation in Al-Qaim and Al-Bukamal (Albu Kamal) region. Source: Rr016
Damascus:
Syrian Arab Army conducted a widespread shelling of rebel-held localities in the Eastern Ghouta. Artillery shelling targeted Douma, Beit Naim, Ain Terma, Harasta, Mesraba, and Al-Shifuniyah.
Iraq
Anbar:
Commander of the Iraqi Army's 7th Brigade, Major General Numan al-Zawbiei announced that the operation to capture Rawa district from the Islamic State will be lead from the axis. Additionally, three corridors for civilians to leave have been established.
CJTF-OIR

:
On the 4th and 5th of November 2017 CJTF-OIR has conducted six strikes in Syria. CJTF-OIR's main focus in Syria at the moment is Deir al-Zour region where they did two strikes supporting SDF's operations against IS destroying an IS line of communication and a fighting position.
Other area where four strikes occurred is Al-Bukamal (Albu Kamal) destroying three IS missiles.. Full report on CJTF-OIR strikes conducted in both Syria & Iraq can be found here.
Amaq Agency:
Afghanistan:
Islamic State reportedly killed two members of the Afghan National Police yesterday in Sayaf Famili area, in Jalalabad city, Nangarhar Province.
Other:
Intellectual credited property used may vary from an edition to edition.
Feel free to voice your opinion in the comments section below, constructive criticism is welcomed.
For those of you interested, you can follow us on an official Twitter account @SyrianWarDaily, or me personally on my biased twitter @joskobaric where I occasionally tweet some things.