Hello and welcome to the 236th installment of the SWD.
Military events/news are listed below by the governorates:
Aleppo:
Free Syrian Army's Liwa al-Shamal released a statement last night saying that they have repelled Syrian Arab Army's infiltration attempt on Tadef front. Furthermore, the group said that one of the SAA's units was targeted by a landmine, which caused several injuries.
Part of the locals in Manbij protested in several sections of the city and surrounding villages against the Syrian Democratic Forces' decision to enact forced conscription. Several shops in the city were closed as a form of protest. Leader of the Free Syrian Army's Liwa al-Shamal, Abu al-Faraq, claimed that SDF arrested a high number of civilians that were protesting. Al-Faraq added that the shooting happened in Jarabulus district.
Syrian Arab Army started a new advance against the rebels south of Khanaser, capturing Tal al-Sawan and Rasm al-Khala. However, Hayat Tahrir al-Sham's Ibaa News Agency reported the recapture of both localities.
Situation around Khanaser. Source: Global Event Map
Idlib:
Improvised explosive device planted by unknown individuals on a vehicle exploded at the computer school, in the city of Maarrat Misrin.
Hayat Tahrir al-Sham-affiliated group detained a media activist Amjad Bakri, south of Saraqib. The fighters confiscated his laptop, phone, camera, motorcycle and gun.
Syria Civil Defence (The White Helmets) found a mass grave in the village of Al-Hamidiyah, southwest of Maarat al-Numaan. The mass grave reportedly consists of 62 Syrian Arab Army's soldiers killed during the battles for Wadi Deif and Al-Hamidiyah army bases in the late 2014. Idlib's prisoners' affairs committee said it will transfer the remains to the cemetery in Idlib. However, Syrian Civil Defence's activist from Maarat al-Numaan, Mustafa Gharib said that the cemetery remained intact. The prisoners' affairs committee transferred the remains to an undisclosed location and they will reportedly be used in exchange deals with the Syrian government.
Hama:
Syrian Arab Army captured Hasiwat, Abu al-Ghar, and Sarha Janoubiyah from Hayat Tahrir al-Sham-led rebel forces. Hayat Tahrir al-Sham's Ibaa News Agency claimed that the SAA's attacks on Al-Tafariyah and Umm Turikiyah were repelled.
Approximate situation in the eastern Hama. Source: watanisy
Deir al-Zour:
Syrian Democratic Forces captured Dahlah, south east of Deir al-Zour from the Islamic State.
Syrian Arab Army and allies on the T-2 front advanced 15 kilometers (9 miles) in the desert and reached Iraqi border. This latest set of advances puts troops on this front around 30 kilometers (18.5 miles) away from the Islamic State-held Al-Bukamal (Albu Kamal). Islamic State's suicide attack reportedly targeted gathering of SAA's troops, east of T-2 yesterday.
Amaq Agency reported Islamic State's attack near SDF-held Abu Faas village on the Al-Kharafi road, northeast of Deir al-Zour. The attack occurred yesterday and Islamic State's elements allegedly killed 18 SDF's fighters and destroyed four vehicles.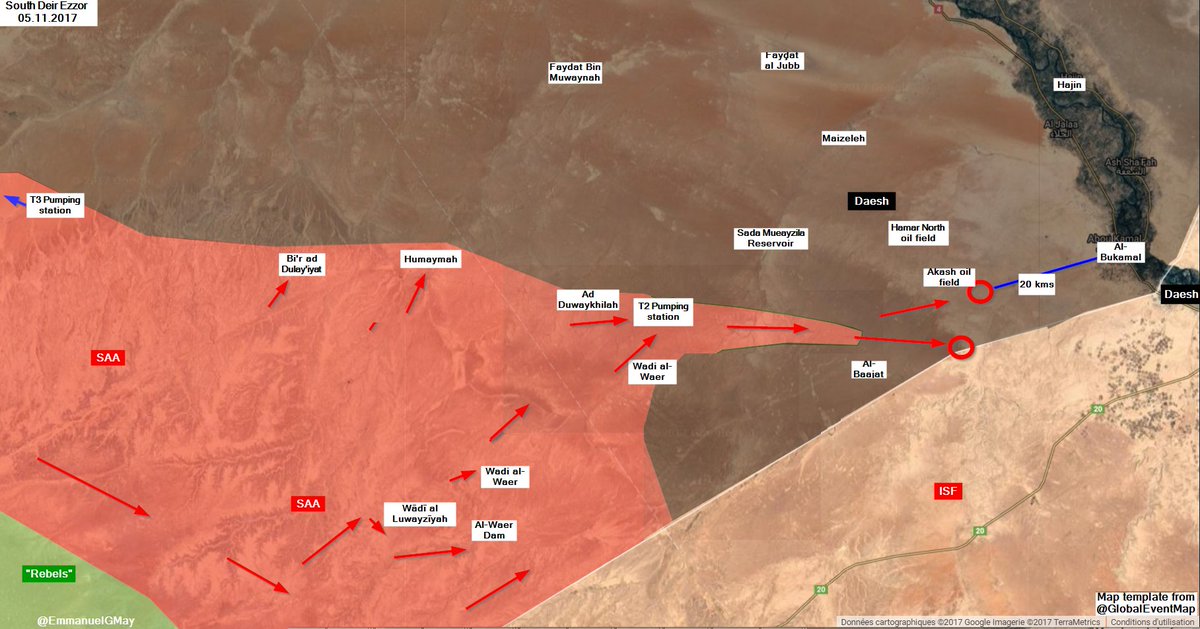 Approximate situation around Al-Bukamal. Source: Emmanuel
Damascus:
Unconfirmed reports claimed that the 'Local Council of Douma city' suspended its work until further notice, due to the air strikes and the recent bombardment that targeted the city.
Syrian Arab Army's artillery targeted Ain Terma, Al-Marj, and Al-Ashari areas, causing material damage in the localities.
Faylaq al-Rahman released footage of them destroying SAA's armored bulldozer on the Jobar front.
Iraq
Kirkuk:
Twin suicide attack took place on Atlas street, in the central Kirkuk, next to Saraya al-Salam's (Peace Companies – Peace Brigades) office. Saraya al-Salam is an armed group, part of Al-Hashd al-Shaabi (Popular Mobilization Units) and under the control of the cleric Muqtada al-Sadr. Iraqi Ministry of Interior stated the preliminary casualties for the twin suicide bombing, reporting death of a civilian and injury of additional 16. Unofficial casualty numbers have been reported at six dead and dozen more injured. No one has taken the responsibility for today's twin attack, at least for now.
Anbar:
Iraqi Prime Minister Haider al-Abadi visited the recently captured Al-Qaim. Al-Abadi also raised an Iraqi flag on the Al-Husaybah border crossing between Syria and Iraq.
Islamic State's Amaq Agency claimed destruction of Iraqi Army's BMP, mine-resistant ambush protected Cougar vehicle, and a bulldozer with anti-tank guided missiles in the Gaza neighborhood, the southern part of Al-Qaim.
Situation in the western Anbar, according to the Iraqi Joint Operations.
CJTF-OIR

:
On the 3rd of November 2017 CJTF-OIR has conducted four strikes in Syria. CJTF-OIR's main focus in Syria at the moment is Deir al-Zour region where they did three strikes supporting SDF's operations against IS destroying an IS transport vehicle, an indirect fire weapon, a crew-served machine gun, and two defensive fighting positions.
Other area where one strike occurred is Al-Bukamal (Albu Kamal) destroying an IS tactical vehicle. Full report on CJTF-OIR strikes conducted in both Syria & Iraq can be found here.
Amaq Agency:
Egypt:
Islamic State's Amaq Agency reported assassination of two individuals accused of working for the Egyptian Army. The assassinations happened yesterday in Al-Ahrash neighborhood of Rafah and Abu Shanar village.
Other:
Intellectual credited property used may vary from an edition to edition.
Feel free to voice your opinion in the comments section below, constructive criticism is welcomed.
For those of you interested, you can follow us on an official Twitter account @SyrianWarDaily, or me personally on my biased twitter @joskobaric where I occasionally tweet some things.