Hello and welcome to the 235th installment of the SWD.
Military events/news are listed below by the governorates:
Aleppo:
Free Syrian Army and Syrian Arab Army reached a deal regarding the prisoner exchange. Woman, accused of being a part of the Free Syrian Army was exchanged for a Syrian Arab Army's soldier captured by the rebels in the northern Aleppo.
Idlib:
Unknown gunmen stormed Hayat Tahrir al-Sham's headquarters on the road between Ariha and Nahliya. Three Hayat Tahrir al-Sham's fighters and a commander of the battalion, Safwan Brishu, were killed in the attack. The killed individuals were previously part of Ahrar al-Sham, before defecting to the Hayat Tahrir al-Sham in July.
Four children were killed in the farmlands of Kafrsajna (Kafar Sijnah), after a leftover unexploded Russian cluster bomb from the previous air raids exploded.
Hayat Tahrir al-Sham's Ibaa News Agency reported a prisoner exchange between Hayat Tahrir al-Sham and Syrian Democratic Forces. Six captured HTS' fighters were exchanged for the four bodies of SDF's fighters, according to the news agency.
Russian Air Force conducted a series of air raids across the Idlib governorate, but mainly focusing on the city of Idlib and surrounding areas. The Air Force targeted Sarmin, Jisr al-Shughour, and the eastern and western outskirts of Idlib city.
Hama:
Hayat Tahrir al-Sham's Ibaa News Agency released a statement saying that the group has repelled Syrian Arab Army's attack on Al-Shakusiyah village. Furthermore, HTS reportedly destroyed one SAA's tank during the failed advance.
Deir al-Zour:
Syrian Democratic Forces reportedly took control of Sarhit, Shudayha, Younes, Galban, and Shaitat oilfields from the Islamic State.
Syrian Arab Army captured Hawijah Kati from the Islamic State, north of Deir al-Zour, after completely capturing the city from the organization yesterday.
Syrian Arab Army's Qawat Al-Nimr (Tiger Forces) have been assigned the operation to capture Al-Bukamal (Albu Kamal) and its surroundings from the Islamic State. Unconfirmed reports suggest that Iraqi Forces have entered Syria and already started the process of capturing Al-Bukamal by capturing Huwajyat Baghuz, southeast of Al-Bukamal.
Islamic State's Amaq Agency claimed destruction of two SAA's bulldozer and a machine gun, east of T-2 airport yesterday.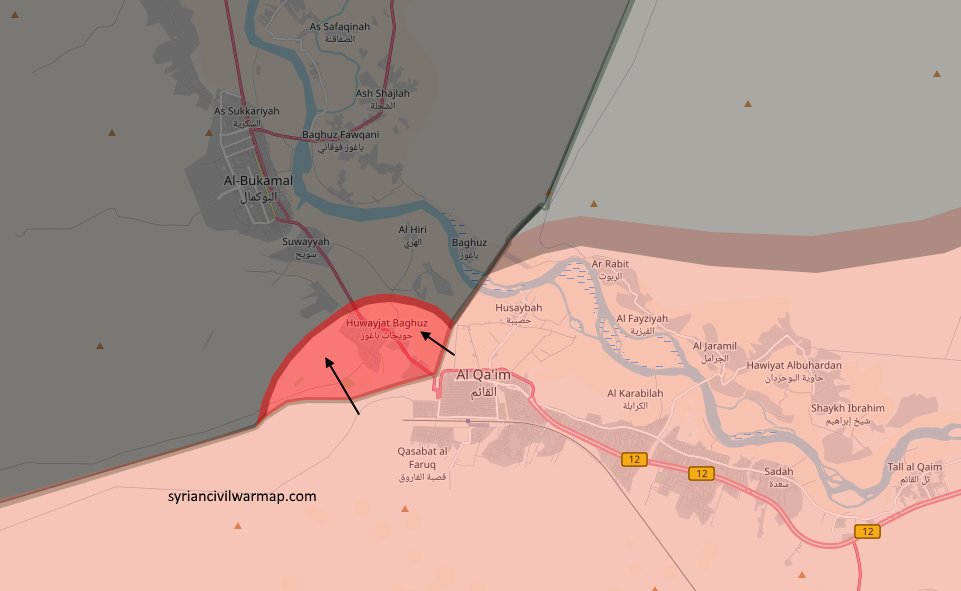 Unconfirmed situation around Al-Bukamal. Source: Syrian Civil War Map
Damascus:
Syrian Arab Army launched an attack against the rebel forces located on Jobar and Ain Terma Fronts. Before the attack was launched, several surface-to-surface missiles and artillery shelling targeted the localities. The attack was repelled by rebels, and Faylaq al-Rahman released a statement reporting the destruction of SAA's bulldozer on Jobar front.
Syrian Arab Army's artillery also targeted Douma and Hammouriyah, wounding several civilians in the latter location.
Situation on Jobar and Ain Terma fronts. Source: Global Event Map
Quneitra:
Rebel "Daraa Martyrs Documentation Office" reported death of three fighters from Hayat Tahrir al-Sham. The fighters were wounded in yesterday's clashes with SAA & allies on the outskirts of Hader. The office has confirmed five rebel deaths from the yesterday's assault, so far.
Yesterday's edition of SWD failed to include an information relevant to the military situation in Syria, so the information will be reported today. Israel Defense Forces shelled rebel positions in Trinjeh, during the latter's assault on Hader.
Jaysh Muhammad released a statement saying that the Israel has supported SAA & allies against their forces yesterday. The rebels' offensive to connect Beit Jinn with mainland rebel territory in Daraa & Quneitra has been stopped due to Israeli intervention. According to the military source, the offensive stopped several hours after launching, because Israel has reportedly opened the border, allowing the Druze reinforcements to come from Majdal Shams. The reinforcements also came from Al-Suwayda, Jaramana, and Sahnaya.
Iraq
Anbar:
Reports suggest that the Iraqi Air Force targeted IS' boats and killed around 20 fighters of the organization, as they were fleeing from the city of Al-Qaim.
Diyala:
Islamic State's improvised explosive device killed two Al-Hashd al-Shaabi's (Popular Mobilization Units) fighters in Al-Muqdadiya, according to the statement from the Amaq Agency.
Baghdad:
Iraqi Security Forces carried out anti-insurgency operations in Al-Amiyah area, southern Baghdad. The forces found six bags full of Trinitrotoluene (TNT), which were safely removed. Additionally, security forces arrested several wanted individuals.
CJTF-OIR

:
On the 3rd of November 2017 CJTF-OIR has conducted four strikes in Syria. CJTF-OIR's main focus in Syria at the moment is Deir al-Zour region where they did three strikes supporting SDF's operations against IS destroying an IS transport vehicle, an indirect fire weapon, a crew-served machine gun, and two defensive fighting positions.
Other area where one strike occurred is Al-Bukamal (Albu Kamal) destroying an IS tactical vehicle. Full report on CJTF-OIR strikes conducted in both Syria & Iraq can be found here.
CJTF-OIR released a statement regrading the Iraqi Security Forces' recapture of Al-Qaim from the Islamic State:
The Coalition congratulates the Government of Iraq and the Iraqi Security Forces (ISF) on their significant victory against ISIS in Al Qaim, western Anbar province Nov. 3.

The liberation of Al Qaim district and the key border crossing with Syria is a significant milestone in the ongoing campaign against ISIS. The ISF, with the support of the Global Coalition, have now liberated nearly all ISIS-held territory in Iraq.

"Iraqi Security Forces have fought hard to reach this point, and their battle-proven troops captured ISIS's last Iraqi stronghold swiftly and thoroughly," said Maj. Gen. Robert P. White, Commanding General of the Combined Joint Forces Land Component Command – Operation Inherent Resolve.

"The threat remains, and there is still hard work to do, but we will continue to stand side-by-side with the Iraqi Government and the ISF to ensure the enduring defeat of ISIS," said White.
Amaq Agency:
Other:
Intellectual credited property used may vary from an edition to edition.
Feel free to voice your opinion in the comments section below, constructive criticism is welcomed.
For those of you interested, you can follow us on an official Twitter account @SyrianWarDaily, or me personally on my biased twitter @joskobaric where I occasionally tweet some things.